2015 New Balance Indoor Grand Prix

Boston, MA
February 7, 2015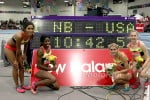 Sarah Brown (3:15.54), Mahagony Jones (53.59), Megan Krumpoch (2:05.68) and Brenda Martinez (4:27.77) got the world record (10:42.57) but they had to work for it; Simpson (9:18.35 2-mile) and Moser (2:37.86) picked up nice wins.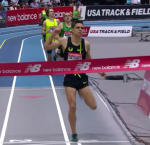 Bernard Lagat still has it at age 40, Nick Willis keeps getting better with age and Matt Centrowitz is pretty good too.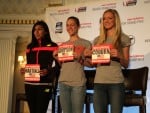 Lagat talked about how he is aiming for a slew of masters world records this year while Centro said that he and coach Alberto Salazar are looking to develop his speed this year. Emma Coburn made it clear that she's ready to put her non-American record debacle behind her; she, Simpson and Brenda Martinez also offered support for Boston's 2024 Olympic bid.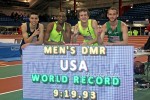 Oh baby is this one loaded. Season debuts for Bernard Lagat, Emma Coburn and Jenny Simpson. A three-way slugfest for the 1000m AR between  Centrowitz, Sowinski and Loxsom. A world record attempt in the women's DMR. Other stars like Mary Cain, Nick Willis and Lawi Lalang. Saturday's meet in Boston is going to be good.
Asafa Powell, Nick Willis, Sally Kipyego and Dejen Gebremeskel added to the meet that already includes Bernard Lagat, Jenny Simpson and Mary Cain.
Outside Letsrun