Week That Was: A Final Look At World Cross 2015, How Good/Bad Was The US, The Mercedes Marathon Drops The Ball, And More
by LetsRun.com
April 3, 2015
We're over our jet-lag and wanted to say a few things about last week. Previous versions of The Week That Was – our weekly recap – can be found here.
Questions, comments, please email us or post them in our running fan forum.
Article continues below player
Well another fantastic World Cross Country Championships is in the books. In case you missed our coverage from China, you can catch up here: 2015 World Cross Country Coverage. In case you missed the 30th edition of the Carlsbad 5000, where Lawi Lalang and Genzebe Dibaba got the wins, you can catch up on that here: *LRC Genzebe Dibaba (14:48) And Lawi Lalang (13:32) Take Home Titles At 2015 Carlsbad 5000 Results *LRC Photo Gallery .
*****
What The Hell Happened To The US?
Many American fans were shell-shocked after the 2015 World Cross Country Championships were over as only one American managed to get in the top 20 of any of the four races (Sara Hall) and she barely did so in 20th. The U.S. men, after their historic silver in 2013, didn't sniff a medal and were just seventh.
What the hell happened, you say?
Nothing out of the ordinary — a World Cross Country Championship was held. People born in East Africa are just really, really good at cross country. The seventh-place finish by the U.S. men was actually their second-best in the last five editions of the championship — not bad considering Bahrain ran a team this time but not in 2013. In many ways, this year's results were a return to normal. 2013 was a shocking aberration.
How much of an aberration was 2013? Here's what we wrote in our preview:
The Americans' silver in Poland required everything to go right: cold, muddy conditions, a DNF from Kenya's Jonathan Ndiku and most importantly, near-perfect races from the top four Americans. From 2004-2011, the U.S. recorded a grand total of one top-30 finish by a man in the senior long race — Jorge Torres's 19th in 2008. In 2013, the U.S. put five men in the top 30; Bobby Mack was 19th and he was the U.S.'s fourth man!
U.S. Men at World XC
2015
7th place, 131 points
Top finisher: Chris Derrick (24th)
2013
2nd place, 52 points
Top finisher: Ben True (6th)
2011
9th place, 195 points
Top finisher: Ben True (35th)
2010
9th place, 174 points
Top finisher: Patrick Smyth (34th)
2009
8th place, 168 points
Top finisher: Ryan Vail (33rd)
2008
7th place, 296 points (six men scored)
Top finisher: Jorge Torres (19th)
That being said, the U.S. men did lose to Tanzania and Employee 1.1, Steve Soprano, wasn't happy about that.
Soprano, who defended Chris Derrick in our race recap, had this to say about the U.S.'s loss to Tanzania:
"I know bronze was always going to be a stretch, and there's no shame in losing to Ethiopia, Kenya, the African All-Stars (Bahrain), Eritrea and Uganda, but TANZANIA!!! Come on. Please, tell me all the great runners from Tanzania. Go ahead … [insert crickets chirping].
"Let's match them up.
| | | |
| --- | --- | --- |
| United States (Place) | Tanzania (Place) | Advantage? |
| Chris Derrick – 27:31 10,000 PB, 10th in 2013 (24) | Ismail Juma – 28:17 road 10K, 62:42 half (9) | USA |
| Ryan Vail – 27:44 10,000, 62:04 half, 2:10:57 marathon (34) | Fabiano Sulle – 13:44 5,000 PB, 64:41 half (33) | USA |
| Patrick Smyth – 28:25 10,000 (28:12 road), 62:01 half (36) | Joseph Tiophil – 29:56 road 10K (only 19 years old) (40) | USA |
| Bobby Curtis – 27:24 10,000, 61:52 half (37) | Alphonce Felix – 62:58 half, 46:05 10-mile PB (48) | USA |
| Maksim Korolev – 13:42 5,000, 29:13 10,000 (57) | Bazili John Baynit – 3:40.93 1500 PB (65) | USA? |
| Andrew Colley – 13:40 5000, 29:11 10,000 | No 6th man | USA |
"On second thought, maybe this should have been a section about how well Ismail Juma ran? Everyone on the messageboards talking about the race at 2 a.m. was wondering who the dude in the bright yellow singlet was. The world has probably never seen that color at the front of a major international championship race."
Soprano is right. Juma as certainly was the surprise performer in the top 10. And he was the difference in Tanzania beating the U.S. Vail and Sulle were almost dead-even at #2 (34th vs. 33rd) and the U.S. picked up points at #3 (36th vs. 40th) and #4 (37th vs. 48th). But Juma beat the U.S.'s #1, Derrick, by 15 places, which was enough to nullify Tanzania's deficits at #3 and #4 and give them the edge by the narrowest of margins, 130-131.
****
Stat of the Week I/Look At The Scalps Chris Derrick Took at World XC
1:53 – amount of time between the finishes of Geoffrey Kamworor and Chris Derrick at World Cross Country.
Does that mean that Derrick ran awful? No it does not. It's more a testament to how good Kamworor was. He was 1:04 better than 10th place.
Derrick may not have run an 'A' race but take a look at the credentials of the 10 guys who finished directly below him. All but two of them have very nice credentials and were probably all hoping for a top-20 showing. Derrick beat a guy who was fifth in 2013 at World XC and another guy who ran 59:43 for 13.1 on March 1 of this year.
Credentials Of The 10 Guys Behind Chris Derrick At World XC
Philip Kipyeko – Uganda – ran 13:16 at age 18 in 2013.
Tesfaye Abera – Ethiopia – 60:32 half marathoner, won Mumbai Marathon in January.
Timoth Toroitich – Uganda – 5th at World XC in 2013. (27:31 pb)
Brett Robinson – AUS – 13:18 at age 22 in 2013.
Stephen Mokoka – RSA – 1:48 at 800, 60:47 half/2:08:33 marathoner
Pontien Ntawuyirushintege – RWA – This guy is our surprise performer of the meet. Only has a 14:03 pb.
Rabah Aboud – ALG – 13:19 guy was one spot behind Derrick in 2013 (11th)
Geofrey Kusuro – UGA – Ran 59:43 half marathon national record on March 1.
Fabiano Sulle – TAN – 13:44 pb
Ryan Vail – USA – 13:28/27:44/2:10:57, 17th in 2013.
****
Stat of the Week II
101 – number of points that earned the bronze medal for Uganda in the women's race, the highest point total ever to win bronze in world cross country history.
After Kenya (17 points) and Ethiopia (19 points) dominated to go 1-2, someone had to win the bronze at World XC. Maybe reigning European champ Great Britain is upset it didn't enter a full team as their two individuals, Gemma Steel and Rhona Auckland were both in the top 20 (18th and 19th). Through two runners, they had one fewer point than Uganda.
In all three of the other races, 101 points would have placed you sixth, but in the senior women's race it got you a medal.
****
Super, Super Slow Start / Super, Super Fast Finish
By now you should know that Kenya's Geoffrey Kamworor was fantastic in the final race of the day. After setting a blistering pace, the 2011 world junior XC champ and 2014 world half champ sprinted away from Bedan Karoki in the final 200 to take gold.
Clearly, he had the best final 2km lap in the field, right?
Not even close.
Two-time World xc medallist Teklemariam Medhin of Eritrea (silver in 2010, bronze in 2013), whom we became a fan of in 2013 when we learned he won bronze after sleeping in the airport, ran his last lap some 18 seconds faster than Kamworor but somehow only finished 17th overall. Medhin, who said he was in the form of his life coming into the championships, ran 5:44 for the last lap (and a little bit more to the finish) as he moved from 27th to 17th. His finishing time of 36:24 was 1:32 slower than Kamworor. Medhin's last lap was almost as fast as Kamworor's crazy-fast first lap (plus a little extra for the start) which is remarkable as the last lap was the longest (Kamworor's last lap was 22 seconds slower than his first).
Medhin's splits are truly bizarre. He first lap was incredibly slow — 6:13 — which placed him 93rd. Please realize there were only 119 people in the race. His second lap was another 6:13. His third lap was even slower — 6:17. He started moving on the fourth lap as his 6:00 tied him for eighth-fastest in the field. His fifth lap of 5:57 tied him for fifth-fastest and his last lap was 18 seconds better than the winner and more than 30 seconds faster than all but four people in the field.
His places at the end of the six laps was as follows – 93rd, 66th, 54th, 39th, 27th and 17th.
What the hell happened at the start?
We have no idea. If you know, please email us. We sent an email to two agents who mostly represent Eritreans but haven't heard back.
Update: We have an email from Julia Garcia Medhin's agent:
Thanks for your e-mail.
Yes I'm Medhin´s agent.
Teklemariam had some health problems from mid to begining of March and he can not training for this period. Things like this his final preparation had not been as we like. He was in an excellent moment as you can see in his last cross country competitions, he won 3 of 3 competitions. It was a pity because we were all winter thinking to push for the gold in this champs.
Athletics is like this.
Have a nice easter holidays, my warmest regards
Julia García
****
Teenage Women From Kenya/Ethiopia Impress
We wanted to say a thing or two about the senior women's race. With as much fanfare as the American teenagers Mary Cain, Alexa Efraimson and Elise Cranny get, it's only fair to give out some love to even more accomplished teens from Africa.
The biggest story coming out of the women's race was the win by 19-year-old Agnes Tirop, a two-time world junior bronze medallist at 5000 (14:50 pb). The runner-up at the Kenyan Trials took full advantage of the injury that kept 3:56 1500 performer Faith Kipyegon from competing and got the win. The silver medal went to another 19-year-old as Senbere Teferi, the third-placer at the Ethiopan champs. Teferi, who shares the same birthday as Cain but is one year older, has run 4:04/8:41 and was third at World Juniors in 4:08.28 in 2012 when Mary Cain ran 4:11.06.
The bronze medallist, Netsanet Gudeta, who was just fourth at the Ethiopian Trials, is 24. She's run 68:46 for 13.1 and 33:24 for 10k.
The winner of the Ethiopian Trials, Genet Yalew, was Ethiopia's last (sixth) finisher, although it's not as if she ran horribly. The 14:48 performer was still 10th overall.
###
One other thing worth noting about World Cross. We're sure those who follow the HS scene closely know this but most LetsRunners don't. Katie Rainsberger was the third finisher for the U.S. in the junior women's race in 55th. Why is that significant? Well, she's the daughter of Lisa Rainsberger — the last American woman to win the Boston marathon in 1984. Rainsberger, who is in her junior year of high school, was the Colorado 4A state champ in XC and was sixth at NXN in the fall.
****
2017 World Cross Country
In Guiyang, the IAAF had some people on site from Uganda, which will host the 2017 Worlds — just the second time Sub-Saharan Africa will host the championships. The 2017 Championships should be exciting as it's in the heart of downtown Kampala, Uganda's capital and largest city. The Ugandans said it will be the first time a World Cross has been held in a city center (we didn't check to see that whether claim is true; if it isn't, email us).
Update: Bart from the Netherlands writes: "The 1997 (Nebolio's race) were held in a parc in Turin: http://en.wikipedia.org/wiki/1997_IAAF_World_Cross_Country_Championships That's what I call city center."
The organizers from Uganda said the race will be the the people's championships as its location in the city center will make it accessible to the masses. It should be a lot of fun as the 2007 Championships in Mombasa, Kenya, featured a wild crowd. We're not sure if anything can top Kenya 2007, but records are made to be broken. You can read our recap of the 2007 champs here: 2007 World XC Recap: A Truly Unbelievable Day.
We sure hope Uganda star Moses Kipsiro competes in 2017. He was a last-minute no-show this year. We asked the Ugandan administrators about his absence and asked if it had anything to do with his reporting of multiple sexual assaults by a Ugandan coach against junior team members last year.
The Ugandan administrators said that they knew Kipsiro wasn't "in form" and they believed he didn't show for that reason. As for the sexual assaults/rape, they got one thing totally wrong. They referred to it as a "local thing" that is being handled by the authorities and said it was something they didn't think "should be reported to the world."
Are you kidding us? We 100% disagree. Sexual assault is never a "small" thing as they claimed. Kipsiro is a hero for standing up for the women impacted. Ignoring or downplaying the sexual exploitation of minors is what has gotten the Catholic Church in a ton of trouble over the last 50 years.
The Kipsiro incident has even gotten worse as the BBC says it now involves allegation of murder.
The Ugandans are right about one thing — Kampala 2017 should be unique and a ton of fun. The Ugandans hope fans from around the world will come to experience it and stressed the fact that Kampala is rated as Africa's fifth-safest city.
*****
The 2015 Prefontaine Classic Is Officially A "Must-See" Event
Last week's action in China and Carlsbad has made the 2015 Pre Classic a must-see event for distance fans. Geoffrey Kamworor will return to the track for the first time since May 2013 to get his 10,000 qualifier for the World Championships and potentially clash against Galen Rupp, who set an American record of 26:44.36 at Pre last year.
And Genzebe Dibaba announced last week she'll be going for the women's 5,000 WR of 14:11.15, currently held by her sister Tirunesh.
****
Recommended Read/5 Quotes Of The Day (That Weren't Quote Of The Week)
We'll only put one recommended read down this week so that you are almost forced to read this Bloomberg piece on the hardest race in the world – the Barkley (Ultra) Marathon in Tennessee where less than 1% of people finish it.
The article is amazing as are the quotes by race director Gary Cantrell:
"We have duct tape and Vaseline (as aid stations). That fixes anything….We didn't want this to be something that people could buy instead of earn. This is not a feat of finance. You pay for this with a chunk of your soul….Everybody deserves to know what it feels like to stand in the middle of the woods and cry for your mommy."
#2 Ken Goe On The Dedication It Takes To Be Great in Track and Field
"I never ran track or competed in a field event. I come to the sport as a mainstream sportswriter who began covering it because it was assigned to me. What rivets me to it now are the people who compete in it, their courage, their attention to detail and their willingness to spend months and years training for a single moment. Track and field athletes compete as individuals, by themselves, not hidden behind uniforms or among teammates. Their pain, their effort and their will all are on display fully for anyone who wants to watch."
–The Oregonian's Ken Goe "tipping his hat" to retiring Julia Lucas.
#3 Ryan Hall On Why He Pushes The Envelope
"I view it as going through a season of experimenting with my training. I'm one of those guys who likes to push the envelope, and I try to tweak things to get to the next level. I could stay in the same system, do exactly the same training since college and consistently run 2:08 to 2:06. I've already done that, and I know that's not the level that's inside me. When I ran 59:00 [for the half-marathon] or 2:04, those are the times I think there's something really special."
– Ryan Hall talking in a Chris Chavez piece on him on ESPN.com that came out last month (not last week). The piece also talks about the end of his first date with his now wife Sara Hall:
"Upon dropping her off at her door, he worked up the courage to ask for a second date. She said no. 'It was the longest awkward silence ever. My heart totally sank. I was bummed and she started laughing. That was her sense of sarcasm, but I was sweating bullets. It was not cool.'"
#4 USATF May Be Bad But Not Nearly This Bad
"Sometimes, they don't follow a schedule in Kenya, and anything can happen. … I was fourth in the semis at the Kenyan trials one year, but it seemed like some funny stuff happened with the timing. I thought I was third in the semi race with a 1:45, but then they told me I was fourth in 1:46. As soon as the results come out, they say 'official and final.' You can't protest."
– NCAA indoor 800 champ Edward Kemboi talking in an USTFCCCA.org article. Kemboi credits a drop of 10 pounds, after he greatly reduced his lifting, for his recent NCAA title.
#5 Yuki Kawauchi Wants More Money For Race Walkers?
"With regard to the National Corporate Federation's recent announcement of a 100 million yen bonus (~$1 million USD at normal exchange rates) for a new Japanese national record in the marathon Kawauchi said, 'In the marathon they should go earn that racing in prize money races overseas. That bonus money should be going into race walking and other minor sports where they have a chance of winning a gold medal.'"
– excerpt from a Japan Running News article.
****
April Fools' Day's Important Lesson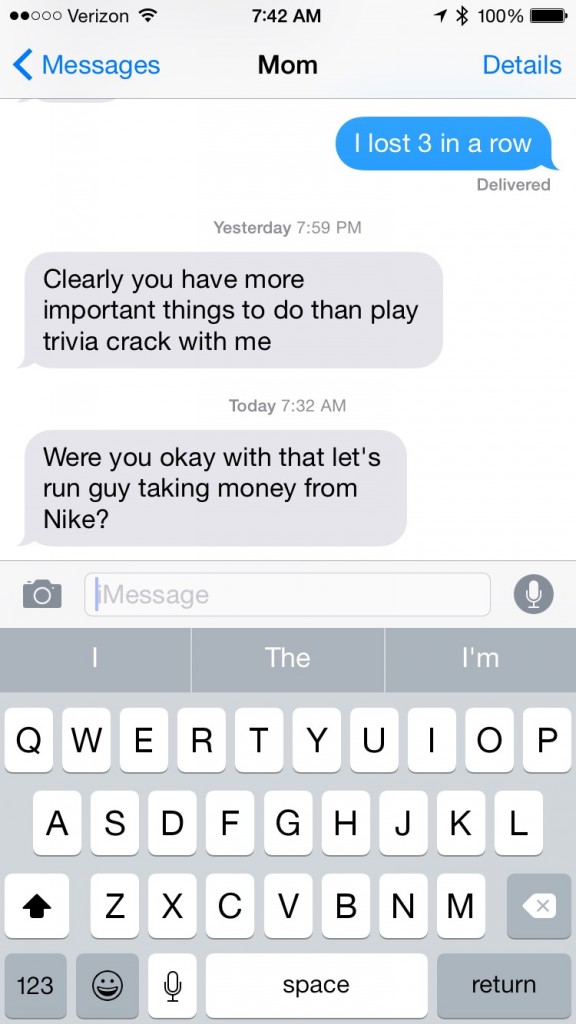 Yesterday, we told you how various members of the press and even the world's greatest track fan (a guy who moved from LA to Eugene so he could watch Oregon track and field) fell for our April Fools Day story. In case you missed it, the Pac-12 Network even had it on TV that Edward Cheserek and Eric Jenkins would be skipping NCAAs to run the Pre Classic.
We're happy to have 'fooled' the masses yet again but the reason so many people fell for it is an example of the #1 problem track and field faces in its uphill battle for popularity. It's actually believable that Jenkins and Cheserek would skip NCAAs.
The #1 problem track and field faces in becoming popular is every meet, save the Olympics/World Championships (or Olympic/World Championship Trials if a runner is from a country that doesn't select its teams) is optional. Thus fans are basically watching practice or the equivalent of exhibitions virtually all the time. It's actually this fact, though, that makes the Olympics so compelling. Four years of work, in some cases a runner's entire career, basically comes down to one or two races held every four years.
And our April Fools edition even fooled the mom of Erik, our web guy. Check out the text she sent him.
****
Thumbs Down For Birmingham Mercedes-Benz Half Marathon
We mentioned this on the homepage last month when we linked to a Runner's World article, but never got a chance to highlight it in our weekly review. We thought it deserved added attention so are mentioning it now.
On February 22 at the Birmingham Mercedes-Benz Half Marathon in Birmingham, Alabama, the top three runners in the race were taken off-course near the end by the lead vehicle. Rather than go straight to the half-marathon finish, they continued to follow the lead car (which somehow didn't know it was leading the half marathoners, not marthoners), turning right onto the marathon route.
Kenyan Peter Chebii was winning and followed by Hansons-Brooks Distance Project runners Mike Morgan and Luke Humphrey. The three were clearly on their way to finishing 1-2-3, but after making the wrong turn and having to backtrack, they ended up 2nd, 4th and 5th. David Marley (who was about 48 seconds back at the 15K mark) went the correct way and "won" the race in 68:02. After the race Marley said, "I thought there were three people in front of me" as he wasn't close enough to see the other three go the wrong way.
Marley ended up picking up a cool $1,500 for his run ($1,000 for the win, $500 for top American) while Chebii got $750 for 2nd. Morgan and Humphrey went home with nothing and were understandably upset after the race. Hansons sent out this tweet:
@Run_Mercedes dropped the ball this morning in the HM. Lead vehicle took top 3 men off course in the last mile. Pretend it never happened?

— hansonsrun (@hansonsrun) February 22, 2015
Based on Morgan's and Humphrey's post-race comments in the RW article and on Twitter, the race organizers largely ignored their complaints about the course confusion. RW spoke with race vice chairman Valerie McLean and wrote, "McLean said the race expects the athletes to do their homework prior to running the course." Our response to Ms. McLean is simply, "We'd expect the drivers of the lead vehicle to do their homework prior to driving the course." Human error exists and sometimes mistakes are going to be made, but we have a major problem with the way the organizers responded after the race — they blamed the runners. When the top three in a race are actively taken off course by a lead vehicle, the fault automatically lies with the race organizers. Whether it's a course marshal, the lead vehicle, a misplaced sign, the organizers need to take responsibility. If there was enough confusion as to which way to go that three professional runners went off course, then someone screwed up. The correct response here would have been for the organizers to accept responsibility, apologize and pay out the appropriate prize money to Chebii, Morgan and Humphrey. We'd even be fine with Marley being moved down to 4th-place money (or the race could pay out extra money since its vehicle made the mistake). Based on their comments (scroll down, also here and here) though, Morgan and Humphrey probably would have been satisfied with just the apology. Almost worse than the organizers non-reaction was the reaction from some recreational runners on Twitter and in the comments section of the RW article. The article sparked quite a debate with many criticizing Chebii, Morgan and Humphrey. It seems most of the criticism (comments here and here) came from locals who were fans of the race.
@hansonsrun @blaketrotter @Run_Mercedes @HansonsDistProj the only ball dropped was by your athlete not scoping out the course

— Jeff Martinez (@JNEZ23) February 22, 2015
@hansonsrun @Run_Mercedes the course is marked for two miles before the finish.You don't have to follow the lead vehicle. #MercedesMarathon

— Blake Trotter (@blaketrotter) February 22, 2015
That's easy to say for recreational runners, who are used to following the hundreds of people ahead of them. At the end of a half-marathon a runner going all-out is not going to have the mental awareness to question the authority of the lead race vehicle. They are going to assume that the lead vehicle knows what it's doing. Heck, most people — even if they know the finish is supposed to be somewhere else — are going to follow the lead vehicle. Perhaps the finish had to be moved due to a bomb scare or traffic accident. Following the lead vehicle is equivalent to following the instructions of a course marshal.
Should the lead runners also be stopping at all intersections and looking both ways for traffic or do most agree it is volunteers' responsibility to blocks cars from the route?
More: Lead Car Takes Top Three Runners Off Course In Birmingham Mercedes-Benz Half Marathon; 4th-Place Runner Gets The Win And Prize Money Peter Chebii was winning, with Hansons runners Mike Morgan and Luke Humphrey 2-3, but they ended up 2nd, 4th and 5th with David Marley 1st (68:02). The Hansons Distance Project was understandably upset, tweeting that organizers "dropped the ball."
****
Quotes Of The Day And Last Week's Home Pages
To see the actual quotes of the day from last week or last week's home page or any home page, go to our archive page.
Questions, comments, please email us or post them in our running fan forum.