Excessive Celebration, Where Are The Fans, Double Domination, Fast Moms, Slow Japanese and Running Backwards: The Week That Was
The Week That Was In Running – August 11 – August 17, 2014
by LetsRun.com
August 19, 2014
Want to know what happened in the running world last week? Keep reading below.
Article continues below player
Previous versions of the Week That Was can be found here.
Questions? Comments? Email us.
****
The Lack Of Fans in Africa
Last week, the last of the meets that the Americans aren't invited to – the African and European champs – were held.
US fans have had it tough this summer as for the last month they've been twiddling their thumbs waiting for the resumption of the Diamond League season.
We hope last week officially killed off the notion that, "The African distance runners are good at track because track is popular there but not in America."
We hear that argument fairly often and always respond, "Have you ever been to Africa? The sports pages are covered with soccer coverage and Kenya is awful at soccer. Track and field isn't super popular over there. They just are really good at distance running"
If you don't believe us, well here is a screen shot during the men's 1500 final at the African champs featuring Asbel Kiprop and Ayanleh Souleiman.
****
Video Of The Week I
Speaking of the African Champs, in the 24 hours after the men's 800 final ended, we tried to find a video of the race between Nijel Amos and Mo Aman but had no luck.
Watching Amos and Aman clash is always good fun but we really wanted to see a truly tactical 800 that went out in 56+. Well we looked again and have found it.
Enjoy:
If you missed the African 1500 final, it can be viewed here (and it's a good one with Souleiman vs Kiprop).
****
Video of The Week II
There can only be one original icon – whether it's Babe Ruth in baseball, Pele in soccer or Michael Jordan in basketball or Berlino for athletics mascots (in case you are under the age of 20, Berlino was the mascot who starred at the 2009 Worlds in Berlin).
That being said, as time progresses, other greats will arise that will mesmerize fans.
We must admit that while Berlino is our favorite mascot of all time, the mascot at 2014 Euros, Cooly was quite good.
Here is a highlight video:
https://www.youtube.com/watch?v=6wwYQy0I3c4
He hurdled, twerked and even pole-vaulted. Sadly, the video above doesn't show him pole vaulting. You can see that here.
*Berlino Archives on LetsRun.com
****
Excessive Celebration
The big story last week, one that even appeared on the NBC nightly news in America, was the fact that French steeplechaser Mahiedine Mekhissi-Benabbad was DQd after winning the European steeple title because he took off his shirt with 100 meters remaining and showboated all the way home.
Fans' reaction to the DQ was all over the map but a lot of people clearly felt like messageboard poster "Irish Red" who wrote:
Football players do more egregious things in every single match. And people wonder why athletics isn't more popular. The fastest guy in the race got DQ'd for some obscure violation that had no impact on the race itself. Stay classy, IAAF. 
What do we think?
Well considering one of the LetsRun.com co-founders coached Jimmy Wyner, who was DQd in a college race for putting his finger up and looking over his shoulder before the finish line, we certainly are hesitant for races to be decided by some old officials' interpretations of what acts are or aren't unsportsmanlike.
The race is over, everyone knows who 'won' (crossed the finish line first), so DQing someone after the fact is kind of pointless. That being said, truth be told,we did think Mekhissi-Benabbad's actions were over the top, particularly given his past antics. But we'd much rather see a penalty that looks ahead, not back.
The race is over. He won. Fine him, bar him from a future race or championship, but don't DQ him for a race he already won.
That's our opinion. We do KNOW one thing. The anti-celebration DQ has nothing to do with track and field being unpopular.
College football (American football) is very popular in the US. They have a rule where touchdowns are called back for taunting as profootballtalk explains:
"In college football, if a player commits a taunting penalty on a touchdown, the touchdown is called back and the 15-yard penalty is enforced from the spot where the taunting began."
The NFL, America's most popular sport, is even considering adopting the rule.
So track fans, debate the DQ all you want, just don't blame it for track and field's struggle for relevance.
More: LRC Mahiedine Mekhissi-Benabbad Does it Again – Wins Steeple, Loses Singlet and Respect And is DQd
*MB: Mekhissi-Benabbad is an idiot

****
Putting Things In Perspective For The Brits
Last week, the Brits had their most successful European champs ever and afterwards the long-suffering Brits got a little excited. After their men won gold in the 100, 200, 400, 4 x 100 and 4 x 400, check out these headlines from the British papers:
Calm down, Brits. We know you aren't used to doing well in sports but let's put this in perspective for you.
| | | | |
| --- | --- | --- | --- |
| | 100 | 200 | 400 |
| Winning Time at NCAAs | 9.97 | 19.91 | 45.02 |
| Winning Time at Euros | 10.06 | 19.98 | 44.71 |
The good news for the Brits is their 4 x 100 and 4 x 400 teams would have beaten the NCAA champs (37.98 to 38.73, 2:58.79 to 2:59.60) as well giving them the edge over the NCAA sprint champs 3 to 2 on the men's side (Yes, we know we aren't factoring in wind/temps.).
Golds in sprints without Jamaican/US competition isn't very significant, nor are distance medals without Kenyans or Ethiopians.
****
Performances Of The Week

"So stop talking about fluff, and analyze the action." We know that's what some of you are thinking.
Ok, we will. At some point last week, we started to wonder, "At Euros, which double was more impressive, Mo Farah's 10,000-5000 double or Mahiedine Mekhissi-Benabbad's steeple-1500 double?"
Since no one in Europe has run under 13:11 or 27:36 this year, Farah's double was basically a mere formality at Euros. His domination of the 5000 just made us wonder why he didn't give it a go at the Commonwealth Games.
As for Mekhissi-Benabbad, there was no chance he was losing the steeple given no one else in Europe has broken 8:16 this year. His 1500 win was a bit of a surprise given his 3:33 pb but not a shocker. His HUGE margin of victory was a shocker – he totally dominated – even if that was diminished a tiny bit by a fall at the bell. (Final lap embedded below). However, since he technically only won one event, it's certainly not what we were most impressed with last week. (And for the record Mekhissi-Benabbad celebrated big time in the 1500 before the finish but he keeps his shirt on).
https://www.youtube.com/watch?v=rvjCCMIUaxI
In terms of most impressive performance of the week, Nijel Amos's takedown of Mo Aman two weeks after his take down of David Rudisha has to be at the top of the list as does Caleb Ndiku's huge 1.46 margin of victory in the men's 5000 that included Yenew Alamirew, Isiah Koech and Hagos Gebrhiwet. 
The biggest surprise of all was  Almaz Ayana's nearly 10-second destruction of 2014 world leader Genzebe Dibaba and 2014 Commonwealth Games champ Mercy Cherono (silver 2013 Worlds) in the 5000 at the African champs.
That's our performance of the week.
With Genzebe Dibaba and Aregawi struggling to find the form they showed indoors, with Tirunesh Dibaba having moved to the marathon and with Meseret Defar out with pregnancy (more on that below), it's quite possible that the 22-year-old Ayana, who won bronze last year in Moscow, is the top distance woman in track right now. She's got a 14:25 pb from last year and has the #2 time for 2014 at 14:29.
****
Do you want to live longer? Prevent Dementia? Have your country win the World Cup?
We imagine you'd say yes to all of those questions. Well then you are in luck as we've got a simple, running-related solution for you. Apparently, all you need to do is start retro-running.
What the hell is retro-running? Well it's just the official sports name for running backwards.
Check out the claims that Ireland's Garret Doherty made for the sport to Ireland's Derry Journal after winning the 200 (32.3), 400 (70.6), and 1500 (5:54.8) at the 2014 Retro Running World Championships:
"It's interesting to find that the last three World Cup winning countries are big into backward running. Many famous sports people also do it. It's not hard to see why as the benefits really are immense and I have experienced them.
"When you're running backwards, your back is straighter. You stand taller, improving your posture and in turn, your confidence. It is a right-brain aerobic activity, which is low impact and gets the blood flowing, burning more calories.
"It can help you live longer and potentially prevents dementia."
If that's not enough for you, he also claims it burns three times as many calories as regular running.
Now we will admit we put this section into our weekly recap looking for a chuckle but to be honest, we'd rather have retro running in the Olympics than race walking. We have no idea how anyone decided that a walk should be a race. The origin of racing backwards actually makes some sense.
Doherty actually got into the sport one day when he was running forwards on a rare, sunny day. He was enjoying the sun so much, he didn't want to run in the shade when he turned around so he simply ran backwards and the rest is history.
We do know one thing. Doherty is a good-salesman as shown by the videos below. He's hoping the sport will be in the Olympics by 2020 and he compares the IOC's decision not to add retro-running to the 2016 Games to the corruption one often finds with FIFA.
###
Ok if retro-running isn't for you,maybe running indoors barefoot is your calling. Earlier this month, Andrew Snope set a new world record for the indoor, barefoot 24-hour run at 136.98 miles. That 10:37 mile pace.
More: Why going backward is the new going forward
*Irishman Garret Doherty Is The "Usain Bolt Of Backwards Running"
*http://www.retrorunningworld.org/
*Georgia runner breaks 24-hour barefoot running world record: 136.98 miles
****
Quote of the Week I (that wasn't quote of the day)
"I am running so fast now that I am not particularly bothered about any of the others who will be at the championships."
– Norway's Henrik Ingebrigtsen, talking to european-athletics.org at the end of July, referencing the 3:31.46 he ran in Monaco. So the 23-year old Henrik won gold right? Not exactly. France's Mahiedine Mekhissi-Benabbad won gold by a wide margin. Ingebrigsten settled for silver.
****
Quote of the Week II (that wasn't quote of the day)
"Perhaps people relate to me a bit more because I'm this age and a busy mum. When I was 25 I kept going on training camps all over the world and just ate, slept and trained – people can't relate to that."
– Jo Pavey, after winning European 10,000 gold some 11 months after giving birth to her second child.
It was quite a week for older women at Europeans as the winner of the women's marathon, Christelle Daunay, is 39 and silver went to 38-year-old Valeria Straneo.
*40-Year-Old Jo Pavey Talks About Balancing Running With Being A Mother Of Two *2nd Article
****
Speaking of Fast Moms
Five-time US 800 champ Alysia Montaño successfully gave birth to a healthy baby girl on August 15, Linnea Dori Montaño!!!
Considering Montano was running at Worlds last August, that's pretty good quick work on the pregnancy front. Many American fans may not realize that Montaño was crushed in terms of quickest post-2013 Worlds births by Meseret Defar.
Defar gave birth to a baby girl Gabriella way back on June 23rd.
****
Quote of the Week III (that wasn't quote of the day)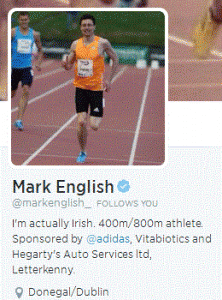 "I'm actually Irish,"
– opening line of Mark English's twitter handle as shown to the right.
The self-coached English, whom LetsRun.com keeps offering to coach for free, seems to be doing quite well on his own as he produced a seasonal best of 1:45.03 to nab European bronze last week.
*Mark English's Bronze In 800 Was Ireland's Only Medal At Euros And Their 1st Mid-D Medal In 36 Years
****
Quote of the Week IV (that wasn't quote of the day)
"I'm not going to sit here and say, 'Hey, there has to be a men's gymnastics program,' and blast the NCAA because there isn't an opportunity for a wrestler or a swimmer or a gymnast. But I will say it's time for the NCAA to look in the mirror and say, 'What is our purpose? Are we here to provide opportunities for people for every shape and size of athlete? What's our mission?'
"It's becoming clear, it's not to create a wide variety of sports opportunities for a wide variety of human beings. Let's look in the mirror and call it what it is."
– John Roethlisberger, a former Minnesota gymnast who represented the U.S. in three Olympic Games, talking to TwinCities.com/Pioneer Press about the recent decision by the NCAA Board of Directors' decision "to move ahead with plans to allow its five wealthiest athletic conferences to make their own rules."
Many NCAA track and field coaches are worried that increased money for men's football and basketball will be paid for by the elimination of men's track and field programs.
****
Quote of the Week V (that wasn't quote of the day)
"Mekhissi-Benabbad was certainly guilty of acting like an arrogant idiot but I don't think he deserved to be disqualified and lose his gold medal. …(In the 1500) he came away the victor. Some in the crowd greeted his win with boos and some commentators felt highly indignant by him celebrating the win with his arms out before the line. I've been at many athletics meets where drug cheats are running and I've never heard them receive such condemnation. As villains go, drug cheats are far worse than steeplechase strippers."
– former 60h world champ Derval O'Rourke writing in the Irish Examiner.
More: With NCAA ruling, are non-revenue sports in danger?
*A Look At Some Of The Possible Impacts Of The New NCAA Ruling Giving More Autonomy To The Top Conferences
****
Stat of the Week (that may only interest us)
2:00.45/4:07.86 – national record for women's 800 (Miho Sugimori) and 1500 (Miho Sugimori) in Japan.
We knew the Japanese weren't mid-d aces (in May we talked about how slow their men's 800 record is) but the slowness of these records certainly surprised us. We came across them after reading an article about how Japan's 2nd fastest 800 runner ever, Ruriko Kubo , who has a pb of just 2:01.90, is leaving her Edion team. We saw 2:01.90 and figured Brett Larner of Japan Running News had made a mistake and thus looked it up as we were going to email him.
MB: Pretty amazing; The second fastest 800 woman EVER in Japan has an 800 pb of just 2:01.90
****
Other News Of Note
####
Andy Downin Sighting
The second master at the Falmouth road race was 2001 USATF 1500 champ Andy Downin (that was the year the 1500 final was shown live on SportsCenter as it was the year Webb ran 3:53 in HS). Downin, who is now 41, ran 37:23 for 7 miles and was 33rd overall.
####
Stephanie Jenks Medals
From Race Results Weekly:
Stephanie Jenks, the American high schooler from Iowa who finished 15th at the IAAF World Junior Championships 3000m in Eugene, Oregon last month, earned a silver medal in the triathlon at the World Youth Olympic Games. "She had the second-fastest 5-K run segment only behind gold medalist Brittany Dutton of Australia."
###
Usain Bolt Individual Race Sighting
Usain Bolt Wins "Sluggish" 100m Race On Rio de Janeiro Beach In 10.06 He wanted a sub-10 but destroyed everyone as MLF was second in 10.42. Carmelita Jeter was only 3rd in the women's race won by Brazil's Rosangela Santos in 11.33 seconds.
*I need to compete in more races," Admits Bolt
*Bolt Race Video
###
Kenenisa Bekele Is Coming To Chicago
Kenenisa Bekele Will Run His Second Career Marathon At The 2014 Bank of America Chicago Marathon Bekele ran 2:05:03 in Paris and says his goal is to break the 2:03:45 CR in Chicago. *Discuss
****
Recommended Reads
LRC Profile The Long Road: Jordan McNamara's Injury-Filled Path to Success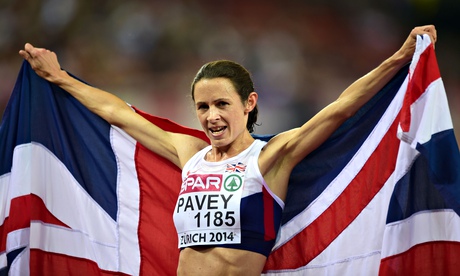 Good read for everyone over the age of 35: Jo Pavey proves you don't have to be child prodigy to be great Research has shown you can be a greater writer or athlete even at an advanced age.
A look at Jo Pavey: Britain's long-distance superwoman Pavey has matched Liz McColgan by winning gold 11 months after giving birth – all at age 40. Amazing for a woman who because of past injuries can't even straight one leg fully.
****
Quotes Of The Day & Last Week's Homepages:
Note: To see a particular day's homepage, click on the hyperlink of the date. The hyperlink below the date on the quotes will take you to that particular article – not that day's homepage.
---
– Azerbaijan's Hayle Ibrahimov (formerly of Ethiopia), talking about losing to Mo Farah in the European Championships 5,000m on Sunday. Ibrahimov's "feeling" is right as in their career (according to tilastopaja.org) he's had 6 losses to Farah and no wins. Here Ibrahimov finished runner-up by 2.5 seconds as he couldn't stick with Farah's 52.3-second final lap.
---
---
– Chris Solinsky, admitting he was willing to totally retire in his quest to become a college coach.
---
– OTC's Jordan McNamara talking about where his passion for the sport began. Many runners grow to love the sport after experiencing success. For McNamara, it was love at first sight.
---
– Mo Farah talking after making his return to racing by winning the European Championships 10,000m in 28:08.11 with a 54.4-second final lap.
---
– Robin Williams talking about Abebe Bikila's historic 1960 Rome Olympic marathon victory. Williams was a good high school runner with a 1:58 800 PR and mentioned running/marathons occasionally in his acts. In an interview, Williams said he thought that a sports movie should be made on Bikila.
*Video Of Williams' Act Talking About Bikila, Doping, Caster Semenya And More *NOTE: Video was removed from YouTube because of licensing. Here is another video, but if it is also removed, just Google "Robin Williams Weapons Of Self Destruction" and go to just after the 52-minute mark".
---
– Nick Willis after setting a new Michigan state record of 3:53.50 at the Michigan Track Classic on Sunday.