If You Received A Malware Warning On LetsRun.com, Click Here
LetsRun.com Goes To The New Balance Falmouth Road race*Results
MB: And the winners of 2014 Falmouth Road Race Are…Stephen Sambu and Betsy Saina (Molly Huddle 3rd, Ben Bruce 4th).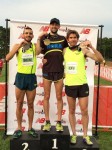 LRC Kyle Merber, Katie Mackey Win Titles At Falmouth Mile Merber left it late but swung wide on the final turn to beat David Torrence and get revenge on Garrett Heath, who beat him at the Michigan Track Classic last week, running 3:56.46 for the victory as Jordan McNamara was a non-factor. Mackey went wire-to-wire and ran away from Stephanie Brown and Morgan Uceny to win in 4:27.79.
*MB: Merber wins Falmouth mile! *MB: Katie Mackey wins back-to-back Falmouth Miles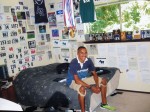 LRC Profile The Long Road: Jordan McNamara's Injury-Filled Path To Success A big fan of the sport since HS when he had pictures of Webb, Lagat and Goucher on his wall, Jordan McNamara is so determined to rise to the top that 14 stress fractures haven't been able to stop him from becoming one of America's best milers. Plus insight on OTC members Ben Blankenship, Pat Casey, Hassan Mead, Ciaran O'Lionaird and Andrew Wheating.
Historic Falmouth Road Race Is Sunday: Six Storylines Ahead Of 2014 New Balance Falmouth Road Race
Thursday at Europeans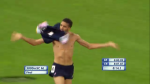 LRC Mahiedine Mekhissi-Benabbad Does It Again – Wins Steeple, Loses Singlet And Respect And Is DQed The man who threw punches in Monaco in 2011 and shoved a 14-year-old girl mascot in 2012 may have topped himself today in terms of bizarre behavior.
*MB: Mekhissi-Benabbad is an idiot
Mekhissi-Benabbad Aftermath
What's Going To Happen To NCAA Sports
With NCAA Ruling, Are Non-Revenue Sports In Danger?

 

With more money going to football/basketball, will sports like track and XC get cut? An insider said, "I'd be shocked if non-revenue sports continue, or how it's even conceivably possible assuming football and basketball get full cost-of-attendance (scholarships). Again, I'm not saying it's wrong, but let's be honest about it."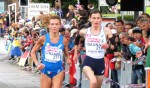 RRW
39-Year-Old Christelle Daunay Of France Becomes Fastest, Oldest European Marathon Champion

*
Fionnuala Britton 10th In Euro Marathon With Fourth-Fastest Time BY An Irishwoman In Her Debut
It's pretty amazing that 2:31:46 is the 4th fastest time ever for an Irish woman.
*
Triplets All Run In Marathon Representing Estonia
It was the first time all three ran in the same marathon.
Other Sunday Action:
IAAF Saturday Recap: Sandra Perkovic Wins With Best Discus Distance Throw (71.08) In 22 Years
*
Mascot Stuns Crowd By Taking On Pole Vault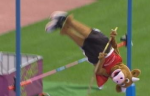 No one will ever
beat Berlino for best mascot honors
.
*
Eilidh Child Claims 400m Gold
Previous European News
M800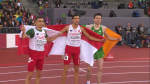 : LRC Poland's Adam Kszczot Destroys Men's 800 Field Over Final 150m To Take Gold, World #2 Pierre-Ambroise Bosse Stunningly Finishes Last There is a reason why they run the race. Two youngsters, a 20-year-old Pole and 21-year-old Irishman, got silver and bronze.
*MB: Bosse goes home DEVASTATED! 2014 world #2 (1:42.53) finishest last in European 800 final
*English Happy With Bronze For Ireland: "It's nice not to be known as a time triallist anymore, that I can actually medal!"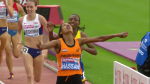 W1,500: LRC Sifan Hassan Outkicks Abeba Aregawi To Win 1,500 Next up for Hassan and Aregawi. A race with Jenny Simpson. Will the AR fall?
*MB: Sifan Hissan takes down Abeba Aregawi for 2014 European 1500 title, Laura Weigthman gets bronze.
*Steve Cram Told Laura Weightman To Chill Until 600m Remained
M1,500/WSteeple Prelims: RRW Henrik Ingebrigtsen And Chris O'Hare Win Two 1,500 Heats At Europeans To Advance To Final Women's steeple heats also are done – 10:00 got you into the final.
*Chris O'Hare: "I've got a healthy shot of the silver or bronze medal."
---
Good Read For Everyone Over The Age Of 35: Jo Pavey Proves You Don't Have To Be Child Prodigy To Be Great Research has shown you can be a greater writer or athlete even at an advanced age.
---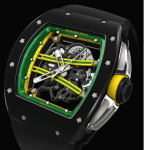 New Super-Expensive Yohan Blake Watch Debuts LRC has been unable to confirm rumor that the watch is designed to break down every 6 months.
More Thursday's Euro Champs News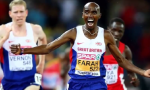 LRC Mo Can Still Kick: Wins 10,000m Gold At Europeans The last kilometer was slower than usual, but in the end, it was vintage Mo Farah with a 54.4 final lap. Recap, analysis and video of final lap. *Discuss Mo's Win Here
*RRW: Farah Dominant In European Champs
*Telegraph: Farah Back To Brilliant Best
Want a Better Running Shoe?
Beta Better Running Shoe Site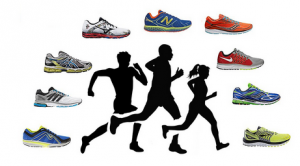 It's Time to Change How We Find Running Shoes