Women's Mid-D/Steeple: Laura Roesler and Shalaya Kipp Heavily Favored; Can Emily Lipari Finish Out Perfect 2014?
By LetsRun.com
June 9, 2014
The women's mid-distance and steeple races at the 2014 NCAA Outdoor Track and Field Championships feature two races – the 800 and steeplechase – with heavy favorites in Laura Roesler and Shalaya Kipp and a third, the 1,500,  in which one woman, Emily Lipari, will look to complete a 2014 collegiate campaign during which she's seemingly won everything she's raced.
Oregon's Roesler (NCAA indoor champ, NCAA leader by 2+ secs) and Colorado's Kipp (2012 NCAA champ, NCAA leader by 4+ secs) are expected to claim victories in the 800 and 3,000 steeplechase, respectively. In the 1,500, Villanova's Lipari has been unstoppable in 2014, winning an NCAA title indoors and anchoring 'Nova to not one, not two, but three Championship of America victories at the Penn Relays. She'll enter as the favorite, but will be challenged by Florida's Cory McGee (2nd last year, made U.S. worlds team for Moscow), Arkansas' Stephanie Brown (second indoors and anchored winning DMR) and Arizona State's Shelby Houlihan (third indoors, won 1,500 and 5,000 at PAC-12s). We break down all three events below, from shortest to longest.
Article continues below player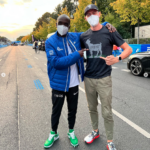 Kipchoge loves the 1:59:40 Shirt Get Yours Today
What a legend!
Women's 800 (Prelims Wednesday 7:45 p.m. ET; Final Friday 8:25 p.m. ET)
Name
Year
School
PR
Comment
Megan 

Malasarte

SR
Georgia
2:02.06
3rd at SECs; out in NCAA 

prelims

 '14 indoors and '13 outdoors
Laura Roesler
SR
Oregon
2:00.23
NCAA leader by 2+ secs, 

won

 convincingly indoors
Alexis Panisse
SO
Tennessee
2:03.61
Dominican went out in 

prelims

 indoors; 4th at SECs
Claudia Saunders
SO
Stanford
2:03.44
4th at 

PAC-12s

Ce'aira Brown
SO
Hampton
2:03.76
MEAC champ
Chelsea Cox
SR
Georgetown
2:04.02
Had only run 2:07 before prelim but ran 2:04 twice to advance
Thandi Stewart
JR
Miami
2:04.06
4th at 

NCAAs

 in 400 hurdles in '12

Yanique

 Malcolm
SR
Alabama
2:03.28
Jamaican went out in 

prelims

 indoors; SEC champ
Erika Veidis
JR
Harvard
2:04.69
Out in 

prelims

 indoors; Ivy champ
Rosalie Waller
SR
Utah
2:04.71
2nd at

PAC-12s

Sonia Gaskin
SO
Kansas St.
2:04.79
Barbados runner was #80 on NCAA list but 

PRed

 by 2+ secs to qualify
Amy 

Weissenbach

SO
Stanford
2:02.29
#2 time in NCAA; 6th last year
Katherine Camp
SR
Tulsa
2:04.49
Conference USA champ
Ejiroghene Okoro
SR
Iowa St.
2:04.49
Brit went out in 

prelims

 indoors; Big 12 champ
Katie Borchers
JR
Ohio St.
2:05.17
Big 10 champ
Hanna Green
FR
Virginia Tech
2:05.36
Didn't make final at 

ACCs

 but still qualified for nationals
Bre'Anna Smith
SR
Purdue
2:05.11
2nd at Big 10s
Andrea 

Keklak

JR
Georgetown
2:04.36
Princeton transfer was 4th indoors
Megan 

Krumpoch

SR
Dartmouth
2:04.61
6th indoors; 2nd in 400 hurdles at Ivy champs
Katie 

Hoaldridge

SR
Texas
2:05.68
2nd at Big 12s
Annie Leblanc
SO
Oregon
2:04.28
3rd at 

PAC-12s

Shea Martinez
FR
BYU
2:05.98
5th at 

MPSF

 indoors
Paige Stratioti
JR
North Dakota St.
2:05.94
Summit League champ
Annette Eichenberger
SR
Air Force
2:04.52
5th in Mountain West 1,500
Roesler is the HUGE favorite in this race. She's run over two seconds faster than everyone else this season (2:00.54, #8 all-time), won NCAA indoors easily by 1.68 seconds and is racing on her home track. Furthermore, for a variety of reasons, the women's 800 field isn't all that strong this year. Apart from Roesler, only one runner returns from last year's final (Stanford's Amy Weissenbach) and only two return from the final indoors (Georgetown's Andrea Keklak and Dartmouth's Megan Krumpoch).
So why aren't more of the top women running at NCAAs? The 800 is a notoriously fickle event, but of the 20 fastest women in the NCAA this season, only 10 will be in Oregon. Two didn't compete in the preliminary rounds (likely injured), four ran a different event in the prelims and four more didn't qualify in the 800. And then there's defending indoor/outdoor champ Natoya Goule, who still has eligibility but is sitting out this season after transferring from LSU to Clemson.
Roesler is a slam dunk for first. The favorite for second is Weissenbach, who was sixth last year and has the #2 time in the country at 2:02.29. Who you like for third depends on whether you're more impressed by times or past performance. If you go by times, Georgia's Megan Malasarte has the second-best PR in the field (2:02.06), but she was only third at her conference meet and didn't make the final at the last two NCAA championships ('14 indoors/'13 outdoors). Alabama's Yanique Malcolm, who has the fourth-fastest PR, didn't make the finals indoors either, though she did win SECs outdoors.
If you value past performances, watch out for Keklak and Krumpoch, who were fourth and sixth, respectively, indoors. Neither have broken 2:04, but that was also true in March and they both finished as All-Americans.
The Team Battle
The Oregon women have won five straight indoor titles but haven't won an outdoor crown since 1985. With a strong team and NCAAs at Hayward Field, this might be Oregon's best chance yet to end that drought. Track & Field News' form chart has the Oregon women coming in second with 67 points, three points behind Texas and one ahead of Texas A&M.
Oregon has five entries between the 800, 1,500 and steeple, while Texas and Texas A&M have just one combined (Texas' Katie Hoaldridge in the 800). The Ducks are counting on Roesler to bank 10 points for the win, but the biggest question mark is sophomore Annie Leblanc.
Leblanc has competed at NCAAs before, as she ran legs on Oregon's distance medley and victorious 4 x 400 relays indoors, but this is her first time running in an individual event. She enters with the 10th-best PR in the field and was third at PAC-12s, but Track & Field News has her getting third in the 800. That's a bit of a leap, and if Leblanc somehow fails to score – she's not even a lock to make the final – Oregon's projection suddenly drops to 61, well back of Texas (70). How many points Leblanc scores could determine who wins the title because outside of Roesler, Oregon's other mid-d/steeple entries aren't projected to score.
Side note: Another huge event in the women's team race is the women's 400. Texas has four entrants and Oregon has two, and Track & Field News has Texas going 1-3-4-9 and Oregon going 2-10 (only eight places score). It also pits Texas's NCAA outdoor record holder Courtney Okolo (50.03) against Oregon's NCAA and American indoor record holder Phyllis Francis (50.46). That should also make for an incredible women's 4 x 400. Could we see a repeat of the unforgettable finish at NCAA indoors?
LRC Prediction
1) Roesler 2) Weissenbach 3) Keklak
Women's 1,500 (Prelims Thursday 7:45 p.m. ET; Final Saturday 2:29 p.m. ET)
Emily Lipari
SR
Villanova
4:12.17
She's won everything in '14 – NCAA indoor champ & anchored 'Nova to 3 Penn Relays wins
Allison Peare
SR
Kentucky
4:14.91
9th in indoor mile; 2nd at SECs in 800/1,500
Carly Hamilton
JR
Georgia
4:12.15
5th in indoor mile; 3rd in SEC 1,500
Angel Piccirillo
SO
Villanova
4:15.16
2nd in Big East 1,500; part of two Penn Relays

CoA

titles
Elizabeth Whelan
SO
North Carolina
4:15.20
10th in indoor mile; 2nd in ACC 1,500
Shannon Morton
SO
Virginia Tech
4:15.44
3rd in ACC 1,500
Brook Handler
JR
Michigan
4:15.48
5th in Big 10 1,500
Cory McGee
SR
Florida
4:06.67
SEC champ made Team USA at 1,500 last year but was just 4th in NCAA indoor mile
Kirsty Legg
SR
Butler
4:15.83
Brit won Big East 1,500
Stephanie Brown
SR
Arkansas
4:11.40
NCAA leader was 2nd indoors + part of winning

DMR

; just 5th at SECs outdoors
Agata Strausa
SR
Florida
4:11.27
German went out in heats last year; 4th in SEC 1,500; #3 time in NCAA
Linden Hall
JR
Florida St.
4:15.51
9th last year; went out in heats indoors
Rachel Schneider
SR
Georgetown
4:16.15
Senior has been to NCAA outdoors three times but yet to make it out of heats
Katie Flood
JR
Washington
4:11.38
2012 champ

redshirted

last year; just 5th at PAC-12s
Shelby Houlihan
JR
Arizona St.
4:13.56
3rd indoors; PAC-12 1,500/5k champ; 7th last year
Mariah Kelly
SR
Baylor
4:18.35
2nd at Big 12s
Molly Hanson
SO
Wisconsin
4:15.55
3rd at Big 10s
Charlotte Arter
SR
New Mexico
4:16.94
Brit was second at Mountain West 1,500; went out in heats last year
Sammy Silva
JR
New Mexico
4:19.80
Grad student from Harvard

PRed

by 1.5 seconds at West

prelims

to advance
Rebecca Mehra
FR
Stanford
4:17.82
3rd at PAC-12s
Suzie Boast
JR
New Mexico
4:20.06
Brit wasn't in NCAA's top 100 entering West

prelims

but ran 2+ sec PR to advance
Sarah Penney
SR
Oregon
4:17.85
4th at PAC-12s
Raquel Lambdin
JR
UC Davis
4:20.89
Like Boast, wasn't in top 100 entering

prelims

but

PRed

twice to go through
Alli Cash
FR
Oregon
4:21.48
Unlikeliest of all: PR was just 4:24.08 before

prelims

but ran 2

PRs

to get last time qualifier
Few NCAA runners have put together a year as successful as Villanova's Emily Lipari. She won the Big East 1,000 indoors and also anchored the winning team in the 3 x 800, 1 x 600 relay at that meet (an officiating error caused one leg to run three laps instead of four). At NCAA indoors, she used a huge kick to win her first NCAA championship, in the mile.
She's been even more impressive outdoors. She won Big East in the 800, but her greatest accomplishment came in three days in April when she anchored the Villanova women to wins in the DMR, 4 x 1,500 and 4 x 800 in consecutive days. In all three races, Lipari used her killer speed to pull away for the win, even beating 800 stud Roesler in the 4 x 800 (though Lipari did get the baton with a 2+ second lead). After seeing what she can do at the end of races, it's hard to bet on anyone but Lipari in the 1,500 at NCAAs.
Who Could Beat Her?
Glad you asked. There are three women who could do it – and who also happened to have finished 2-3-4 behind Lipari at indoor NCAAs.
Stephanie Brown of Arkansas enters with the #1 time in the country at 4:11.40. She's got championship experience, as she was second in the mile indoors and anchored the Arkansas women to a win in the DMR. She was also sixth outdoors last year, making her the #2 returner. The only thing working against her is that she was only 5th at SECs in the 1,500 (almost 4 seconds back of the winner) and all four women who beat her will be in Eugene.
Cory McGee of Florida is #2 in the country this season at 4:12.50, but her PR of 4:06.67 is more than four seconds faster than anyone else in the field. She beat Brown and everyone else pretty easily at SECs (won by 1.66 seconds), was second at NCAA outdoors last year and was third at U.S. nationals to make the team for the World Championships in Moscow. She was only fourth at NCAA indoors but seems to be doing better outdoors.
Unlike seniors Lipari, Brown and McGee, Shelby Houlihan of Arizona State is only a junior and will have another shot at the NCAA title in 2015. But she's definitely a threat this year, with the #4 time in the country (4:13.56) and an extremely impressive double win at PAC-12s. She won the 1,500 by over 2.5 seconds and came back 2.5 hours later to win the 5k, beating Stanford's Aisling Cuffe (#3 NCAA all-time) in the process. She was third at the indoor mile.
You can make valid arguments for all four runners, but there's a mountain of evidence pointing toward Lipari in championship races in 2014. Running is a what-have-you-done-for-me-lately sport, so McGee and Houlihan get the nod over Brown after her rough conference meet.
Prediction
1) Lipari 2) McGee 3) Houlihan
PS. We imagine some of you may, like us, have been wondering where last year's 1,500 champ, Natalja Piliusina, of Oklahoma State is since she was only a junior last year. We reached out to Oklahoma State coach Dave Smith, who said she "had a string of successive stress injuries from August to March" but is healthy now and will have a full year of eligibility next year.
Women's 3,000 Steeplechase (Prelims Wednesday 9:45 p.m. ET; Final Friday 8:35 p.m. ET)
Name
Year
School
PP
Comment
Leah O'Connor
JR
Michigan St.
9:44.35
5th last year; 7th in indoor mile; won Big 10 1,500/steeple; #3 NCAA
Rachel

Sorna

SR
Cornell
9:43.38
4th last year; won last 2 Ivy steeple titles; #2 NCAA
Rachel Johnson
JR
Baylor
9:49.31
8th in indoor 3k; Big 12 champ; #4 NCAA
Pippa Woolven
SO
Florida St.
9:54.24
Brit ran 12-second PR to advance to Eugene
Grace

Heymsfield

SR
Arkansas
9:53.65
6th in indoor 3k; SEC champ; 7th last year outdoors
Alex Leptich
SR
Michigan
10:03.43
3rd at Big 10s
Maya Rehberg
FR
Iona
10:00.04
German was 6th at World

Jrs

. in '12; 3rd at Euro

Jrs

. in '13
Tori Gerlach
SO
Penn St.
10:03.55
Only 6th at Big 10s but

PRed

by 17 secs (!) to qualify
Shalaya

Kipp

SR
Colorado
9:35.73
2012 champ

redshirted

in '13 and has made last two U.S. teams in steeple
Alexa Aragon
SR
Notre Dame
9:56.21
8th last year; 2nd at ACCs
Victoria Voronko
JR
E. Michigan
10:04.89
Russian won MAC champs; didn't make final in '13
Liberty Miller
JR
Washington
10:07.52
3rd at PAC-12s; didn't make final in '13
Marisa Howard
JR
Boise St.
10:00.79
Mountain West champ didn't make final in '13
Mackenzie Chojnacky
JR
Toledo
10:07.87
2nd at MAC steeple
Madelin Talbert
SO
Lipscomb
10:08.21
Atlantic Sun champ didn't make final in '13
Cornelia Griesche
SO
Mississippi St.
10:00.58
German was 2nd at SECs
Tova Magnusson
FR
SMU
10:10.06
Swede won AAC title
Sarah Martinelli
SR
West Virginia
10:10.25
4th at Big 12s
Kristen Zillmer
SR
Illinois St.
10:04.51
MVC champ didn't make final in '13
Andrea Harrison
JR
BYU
10:09.86
6th at

MPSF

indoor 3k
Megan Patrignelli
SR
Oregon
10:03.82
2nd at PAC-12s, 11th in indoor 3k, didn't make final in '13
Tansey Lystad
SO
Portland
10:11.57
16:22 5k PP
Jessica Kamilos
SO
Arkansas
10:08.73
3rd at SECs
Catie Arrigoni
SO
E. Washington
10:14.99
PRed by 5 secs to get last time qualifier in West
Like Roesler in the 800, there is a heavy favorite in the women's 3,000 steeplechase: 2012 NCAA champ Shalaya Kipp of Colorado, who also was on the 2012 US Olympic and 2013 US World Championship teams. Kipp is the NCAA leader and her PR of 9:35.73 is over eight seconds faster than the next-fastest runner. Kipp, who won PAC-12s by 10 seconds, hasn't lost a collegiate steeple since NCAAs in 2011 (she was third). If that wasn't enough, Kipp's training group includes the two fastest American steeplers of all-time in Jenny Simpson and Emma Coburn. Simpson, of course, no longer runs the steeple, but Coburn is the #1 American in the event right now. As a result, many pundits have already handed the title to Kipp.
The race for second figures to be more interesting, with Michigan State's Leah O'Connor and Cornell's Rachel Sorna seeded well ahead of the rest of the field but very close to each other. Sorna comes from more of a long-distance background – she was third in the 10k at the Ivy League championships and was 14th at NCAA XC – while O'Connor is better at the shorter stuff – she won Big 10s in the 1,500 and had the lead in the mile at NCAA indoors before fading to seventh. Part of what makes sports appealing is a clash in styles, and it should be a good race between them seeing as the steeple is where they overlap. Sorna did beat O'Connor at NCAAs last year, 9:52.86 to 9:53.71, but O'Connor has slashed over five seconds off her 1,500 time since then (Sorna has improved by one second at 1,500).
That being said, O'Connor has never beaten Sorna, losing to her at NCAAs last year and again this year at Princeton when both runners ran their PRs.
Aside from the presumptive top three, four other runners have broken 10:00, led by Big 12 champ Rachel Johnson of Baylor and SEC champ Grace Heymsfield of Arkansas. Both were All-Americans indoors at 3k (Johnson was 8th, Heymsfield 6th), though they're a bit behind Kipp, O'Connor and Sorna once the barriers are introduced. One or both could sneak onto the podium with a strong race or a slip-up from one of the favorites.
Before we get to our predictions, we want to get you to think a little bit. Above, we said "many people" have already given the title in this one to the heavy favorite Kipp. But we pride ourselves on thinking differently.
Let's play Runner "A" versus Runner "B" for a minute where we ask you to consider runners' stats without their names being attached to them.
Runner A – 3,000 PR 9:09. 5,000 PR – 15:53
Runner B – 3,000 PR 9:15, 5,000 PR 15:54
Which runner do you prefer? Most would say Runner A. Well runner A is Rachel Sorna, Runner B is Shalaya Kipp. Now Kipp's got much better speed at 1,500 than Sorna and a better steeple PR but we're just trying to show you this isn't necessarily as much of a slam dunk as people think. In cross country, Kipp was 9th, Sorna 14th. The two are in the same league when it comes to 3,000-6,000 distance.
So remember, there is a reason why they run the race.
Don't misunderstand us. Yes, a Kipp loss would be an upset but weirder things certainly have happened in our sport even when they are coached by the great Mark Wetmore. Anyone remember when the 3:59 Jenny Barringer finished 163rd in NCAA cross-country?
Prediction
1) Kipp 2) Sorna 3) O'Connor