Track And Field At Its Finest: The Greatness Of Phyllis Francis Leads Oregon To Title
by: LetsRun.com
March 15, 2014
There is no way it can get any better than this.
Final event 2014 NCAA women's indoor track and field championships.
4 x 400. Oregon vs. Texas. The winner wins the NCAA Championship.
Article continues below player.
Texas anchored by former World Junior Champion Ashlee Spencer. Oregon anchored by Phyllis Francis, who set the American indoor 400m record (50.46) earlier in the meet. They get the baton side-by-side.
It is close, but Spencer leads the entire way. She has a couple of meters on Francis even coming off the final turn. All that is left is the short indoor straightaway. Oregon needs Francis to pass Spencer so it can win its fifth straight indoor title.
Dwight Stones on ESPN3, "I don't see it (Francis catching her). I don't see the gear shift."
30 meters from the finish, Francis gains a little.
20 meters from the finish.  She gains a little more, but she is running out of track.
Stones: "It doesn't (sic) going to happen."
10 meters. Francis keeps gaining, but she's really running out of track.
5 meters, 4 meters, 3 meters, 2 meters, they are now neck-and-neck. 1 meter, there is the line. There is a lean.
Who Won?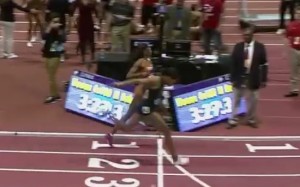 Francis by .02 in 3:27.40 to Spencer's 3:27.42.
Oregon wins its fifth straight NCAA title by half a point in the most dramatic fashion.
A battle between two 400m legends on a relay with the NCAA title on the line came down to .02 in the final race.
A new collegiate record.
It does not get better than this in collegiate track.
What a meet for Francis. She had never finished higher than third individually before at NCAAs and she leaves as the American record holder at 400, but also the team hero.
If you want to watch the race, ESPN3 has an archive of the broadcast. Click Here and go to the 2:55:00 mark.
****
LetsRun.com distance fans, take note. Francis was a better 800m runner in high school than 400m. She ran 2:04.83 as a 16-year-old. Mike Fanelli  was the only guy who noticed her at the time. Now all of you had better take notice. It was her endurance training that saved her that last 20m tonight, right?
****
Spencer was gracious in defeat. "I definitely felt her coming and I just tried to give it my all over the last 50. I really pushed it, I pushed it. I tried and I tried. And she got the best of me. Phyllis Francis is an amazing athlete. I knew it wasn't going to be easy. But it was a great race," she told the AP.
****
This was Francis' day: "Seeing my teammates' effort, they were really pushing. I didn't want to let them down. I totally went for it. I saw my team cheering us on and we just pushed us to the next limit. We won, the men's team won, the woman's team. It's just mind blowing right now," she told the AP.
Screen Shots Of Final Straight