Start Your Weekend Off Right
LRC Great New Running Film, Transcend, Debuts Today A new running documentary, Transcend, debuts today and is available for order or digital download. The film chronicles the amazing story of 2012 Boston Marathon Champ Wesley Korir, who is now a member of parliament in Kenya. This inspiring film not only tells a story, but it investigates why we runners do what we do. With cameos from Haile Gebrselassie, Ryan Hall, the Robertson twins, and author Malcolm Gladwell (whose favorite website is LRC), LRC's Wejo gives it a huge Thumbs Up.
What's Going On This Weekend Besides Chicago?
Who Was The Top American In 2014?
Somewhat Interesting Reads
Sport's Gender Controversy Continues
America's Blue Collar Pros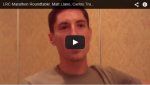 First Ever LRC Video Round Table With America's Blue Collar Pros: Matt Llano, Pat Rizzo, Jameson Mora, Carlos Trujillo And Stephen Pifer  Come on, we know you can't relate to the Mebs and Ryan Halls of the world but you can dream of being these guys who all have  jobs on the side. We discussed how they got to this point in their careers, about their training, and much, much more. Plus, they give their advice to debut marathoners. 21 minutes, with text highlights.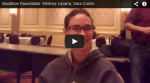 LRC Chicago 2014 USA Women Video Round Table: Whitney Bevins-Lazarra, Sara Cummings, Heidi Greenwood, Lindsey Scherf, Wendy Thomas Meet America's Blue Collar female marathoners. All with jobs. None with a traditional shoe sponsorship. All hoping to kick ass in Chicago.
Chicago: More News From Friday Presser
LRC The Titans Speak: Kipchoge And Bekele Ready To Battle Sunday In Chicago We've got everything covered from Kipchoge and Bekele: Bekele's best workouts ever, #firstworldproblems, who wins in a kick, whether Bekele gets nervous, and how far their longest runs are.
LRC It's Official: There Are Men Besides Kenenisa Bekele And Eliud Kipchoge Racing The Chicago Marathon The two all-time greats will be challenged by a slew of other top Kenyans and Ethiopians with PRs in the 2:04-2:05 range and it would not take a huge upset for one of them to come out on top.
LRC Amy Hastings And Lisa Uhl Ready To Take On The 2014 Chicago Marathon The two US 2012 Olympic 10K teammates have very different goals on Sunday.
LRC Men's Preview: Kenenisa Bekele And Eliud Kipchoge Clash Again – Is It Time To Say Bye-Bye To World Record Holder Dennis Kimetto's 2:03:45 Course Record? Last year's Chicago race was truly special. What will happen when Eliud Kipchoge and Kenenisa Bekele clash on Sunday?  The American field features 13:18/27:24 man Bobby Curtis (2:13:24 PR) and the red-hot Christo Landry (U.S. 10k road champ), but the biggest talker of all has been Matt Llano, who is dreaming of a 2:08 in his debut.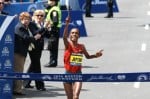 LRC Women's Preview: Rita Jeptoo Attempts To Win Fourth Straight World Marathon Major A win by Jeptoo would give her the best two-year run since Paula Radcliffe in 2002-2003, but it will be far from easy as half marathon world record holder Florence Kiplagat and 2:19:52 woman Mare Dibaba are in the field. The American contingent is led by Olympian Amy Hastings, Clara Santucci and Lisa Uhl.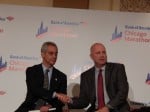 Thursday In Chicago: The Pros Do Matter: Carey Pinkowski Honored For 25 Years As Race Director, Mayor Rahm Emanuel Talks Dennis Kimetto When the mayor talks about Dennis Kimetto, it's a good day for LRCers. Marathon fever is officially in Chicago.
US Distance Runners' Q&As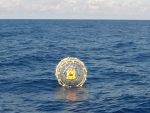 Perhaps you heard the story last week about Reza Baluchi trying to run across the Atlantic in a bubble and having to get rescued by the Coast Guard. Now he's claiming he didn't want to be rescued, his transponder went off by accident, and he wants his bubble back.
NCAA XC Review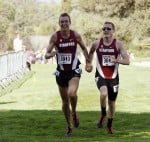 LRC Elise Cranny Debuts, Patrick Tiernan Dominates, Stanford Looks Great On Paper, The Greatest Colorado Team Ever? Seven Thoughts On The Weekend's XC Action We break down the action from last week for you. It was a challenging week for the Stanford women, but a big week for the UCLA, Michigan and Navy men. Along the way we introduce you to the Yankees of Canadian cross-country and wonder if we've finally found a challenger for Edward Cheserek.