Great New Running Film, Transcend, Debuts Today
by: Weldon Johnson, LetsRun.com
October 10, 2014
A new running documentary, Transcend, launches today at the Bank of America Chicago Marathon, and is now available for purchase or download.
The film primarily is about the amazing story of 2012 Boston Marathon Champion and former University of Louisville runner Wesley Korir, who not only won Boston, but then ran for parliament in Kenya as an independent candidate and won. However, the film also is about why we run, why we race, what motivates us, and shows the Kenyan running phenomena up close and personal.
The film primarily is shot in Kenya, but there is race footage, and scenes shot with Wesley training in the US.
The film has cameos from Haile Gebrselassie, Reid Coosaet, the Robertson brothers, Ryan Hall and extensive commentary from famed author, Malcolm Gladwell, whose favorite website is LetsRun.com, as they all explore why runners do what we do.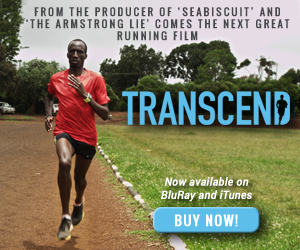 People who "get" running will love this film. (One of the co-directors of the film, Michael Del Monte, was a 1:49 800, 3:46 1500 runner). I watched it a couple months ago, and the next thing I knew on my run the next day, I was running uptempo for the first time in months, dreaming of winning races. I told the makers of the film that watching the Boston Marathon used to make me do the same thing. This film inspired me.
Article continues below player.
I highly recommend you buy it and watch it (Full Disclosure: LetsRun.com gets a commission if you buy the film from our links.). To prove I'm not just recommending the film, because of this commission, I'll refund the purchase price of the film to the first 10 people who buy it from our links and say they don't like it. I'll post on this page if we ever get to 10 people. I doubt we will.
Don't believe my word, see what Meb Keflezighi, Ryan Hall, and Malcolm Gladwell say about it:
"Transcend' is a great demonstration of the power of faith, hard work, and purpose." – Meb Keflezighi
"Transcend is a film about a runner that ends up being about so much more: faith, service and courage. I was riveted." – Malcolm Gladwell
"Transcend captures the heart of the power of running and the journey awaiting those who are brave enough to travel." – Ryan Hall.
The basic version of the film is $17.99. There also is a bonus "Runners Edition" for $24.99 that has a 30 minute film on the amazing Robertson twins who moved from New Zealand to Africa to become world class runners, a short documentary on Haile Gebrselassie, and more interviews with Malcolm Gladwell and Alex Hutchinson. (Originally as evidenced by this proposed trailer, the film makers were thinking about trying to make a more all encompassing film weaving the stories of Gebrselassie, Korir, and the Robertsons together, but the decision to focus on Korir I think makes a stronger story line).  I haven't watched the "Runners Edition" yet. For $29.99, you can get a digital download and a DVD.
The official trailer is below with the official movie press release. Click here to buy the film and find more about it. 25% of the proceeds from the first week go to help create a new foundation for Kenyan kids via the Transcend Running Academy. Also, thanks to Nike, every runner at this year's BofA Chicago Marathon gets a free digital download of the film.
The film's trailer as well as a press release on its release appear below.
Official Trailer:
Press Release Below:
A new documentary captures the spirit of long distance running
FOR IMMEDIATE RELEASE – Transcend, a new documentary following the heroic journey of Kenyan-born long-distance runner Wesley Korir, makes its worldwide release on October, 10, 2014.
"After two years of hard work and passion, we're proud to deliver the next great running film," said co-director Michael Del Monte, a former collegiate competitive runner.  "My co-director, Tad Munnings, and I partnered with The Kennedy/Marshall Company (producer of 'Seabiscuit', 'The Armstrong Lie' and much more) and set out on a long journey. We returned with a story that we believe runners everywhere will love and will want to share with their friends and family."
During the first week of sales, 25% of proceeds will go toward a new foundation for helping Kenyan youth. The Transcend Running Academy will open its doors in January 2015 to its first class, helping aspiring athletes in the impoverished country build leadership skills and receive scholarships to study in the U.S. – much like the film's main protagonist did.
You can watch the trailer, buy the movie or download it instantly here.
The special edition disc features one hour of bonus footage, including an intimate interview with Malcolm Gladwell on the power of running, mini-documentaries on Olympic champion Haile Gebrselassie and Kiwi runners Jake and Zane Robertson, and an extended chat with 'Running World' journalist Alex Hutchinson.
About the Film
"Transcend is a film about a runner that ends up being about so much more: faith, service and courage. I was riveted." (Malcolm Gladwell, best selling author)
Produced by Kennedy/Marshall (The Bourne Identity, Seabiscuit and The Armstrong Lie) the filmmakers follow Wesley Korir on his spiritual and life-changing quest after winning the world's most prestigious marathon in Boston. He risks it all and returns home to help his fellow Kenyans create better lives for themselves. In what proves to be the most challenging race of his career, Wesley takes on a well-financed, big-party candidate to run for a seat in Kenyan parliament, attempting to balance the frenzy of campaigning with the demands of marathon training.
Transcend is the story of the elusive spiritual energy that is somehow forged in the intense rigor of long-distance running, an energy Wesley Korir is using to transform the nation that has done more than any other to change the face of the marathon.
The film has been lauded by veteran runners, commentators and professional athletes alike for capturing the true spirit of long distance running:
"In every marathon I have covered, we've tried to explain the Kenyans. This film nails it," says Al Trautwig, the NBC, MSG Sports Commentator.
"A moving and enlightening look at a rare individual. . . It will be people like Wesley who set the pace for a brighter Kenyan future" (Toni Reavis – Veteran broadcaster, and Running Times columnist)
Official World Premiere In Chicago alongside Nike
The filmmakers are also proud to announce Nike and popular running store Fleet Feet Sports have partnered up to bring the world premiere of Transcend on October 10 to downtown Chicago at 6 pm.
The sponsors have made a limited number of complimentary tickets available to the public. The event kicks off the Chicago Marathon weekend. A special Q&A with main character Wesley Korir and the directors will accompany the screening. More details and ticket info can be found on the film's Facebook page.