The Gunslingers of Boulder
They say that great sports teams don't rebuild, they reload, but the Buffaloes did something entirely different: the reigning NCAA champions brought in more weaponry
By Mitch Kastoff, @mtchkstff 
September 2014
Editor's note: As freelance journalist Mitch Kastoff relocates from Austin, TX, to Portland, OR, he is travelling the US and stopping to take a peek at many of the country's top runners/ programs. Earlier this month, he spent a few days in Boulder, CO, where he caught up with the reigning NCAA champs on the men's side – Colorado. His time in Colorado also was instrumental in helping LetsRun staffer Jonathan Gault write a story on the architect of the Colorado program – Mark Wetmore: The Wetmore Formula.
Article continues below player
It is just another workout. The University of Colorado men's cross country team is heading northeast from campus to The Tank, where they'll be completing a fartlek session. Three sets of 10 minutes hard with 10 minutes rest should cover just over 12 miles along the course, but that shouldn't trouble the Buffaloes.
As the workout starts, a group of six, which consists of sophomore Ben Saarel, redshirt junior Pierce Murphy, redshirt junior Connor Winter, sophomore Adam Peterman, redshirt senior Jake Hurysz and sophomore Zach Perrin, tackle the daunting course with aplomb. The Tank, which is named after a large water tank situated about six miles into the trail, starts on a downhill for roughly 2.5 miles before leveling off for a bit and transitioning into rolling hills on the back end. Throughout the session, everyone in the group looks serious, yet they are not seriously affected by the sustained hard effort or the lack of oxygen at roughly 5,400 feet.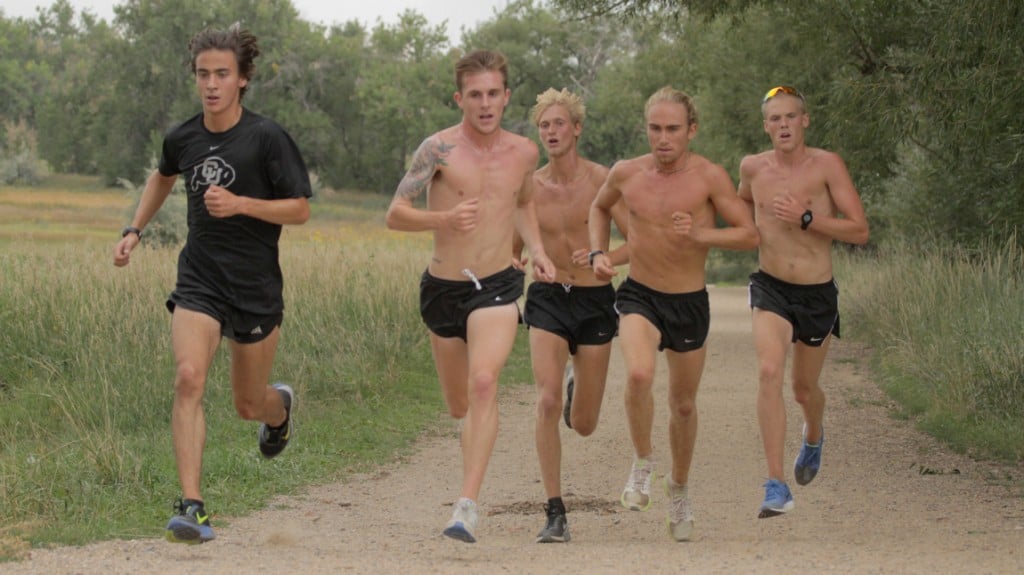 If some other team had done this workout, there would have been plenty to note. It was an impressive display of early-season fitness, but for Colorado, it was nothing more than a physiological checkpoint. This session is just one of many building towards the season's biggest goal, maybe the season's only goal, of the winning the NCAA Cross Country Championships. It's the first week in September and mid-November is an eternity away.
They say that great sports teams don't rebuild, they reload, but the Buffaloes are something entirely different. Colorado didn't just reload the same weapon that won the national championship last year; it brought in more weaponry. The team returns all seven from last fall's NCAA title team plus the experienced Hurysz, and the 2014 Buffs are well-positioned to win the program's first ever back-to-back team championship. With the exception of Peterman, everyone featured during this session has NCAA XC experience. With the exception of Peterman and Hurysz, everyone has won an NCAA Cross Country Championship.
Hurysz' story is one of unfortunate timing, but he might be the tether that keeps the defending champions' heads from soaring to the clouds. At NCAA XC in 2012, Hurysz led the Buffaloes to a third-place showing with his 32nd-place finish. Following a relatively quiet outdoor season, he was gearing up for a breakout fall before succumbing to an injury during the summer of 2013. In September, Hurysz and head coach Mark Wetmore decided that, despite his potential to help the team win a national championship, redshirting would be the best course of action for both Hurysz and the team.
"Last fall was one of the hardest things I've ever had to go through," said Hurysz. "Missing out on the workouts, missing being in the weight room, missing the banter on the trips. Having to watch the meets online versus actually being there was tough.
"When we pulled the plug, it took the pressure off of the other guys because they weren't out of the loop. They knew what their team was and what they had to do with me being out of the picture and I think it worked really well for them and for me."
From the sidelines, Hurysz watched his teammates capture the NCAA title, but knew that 2014 could be more of the same, albeit with a newly-established champion's mentality. Now healthy and running a consistent 80 to 85 miles per week, Hurysz knows to keep his eyes on the road as the Buffaloes drive towards Terre Haute, Ind.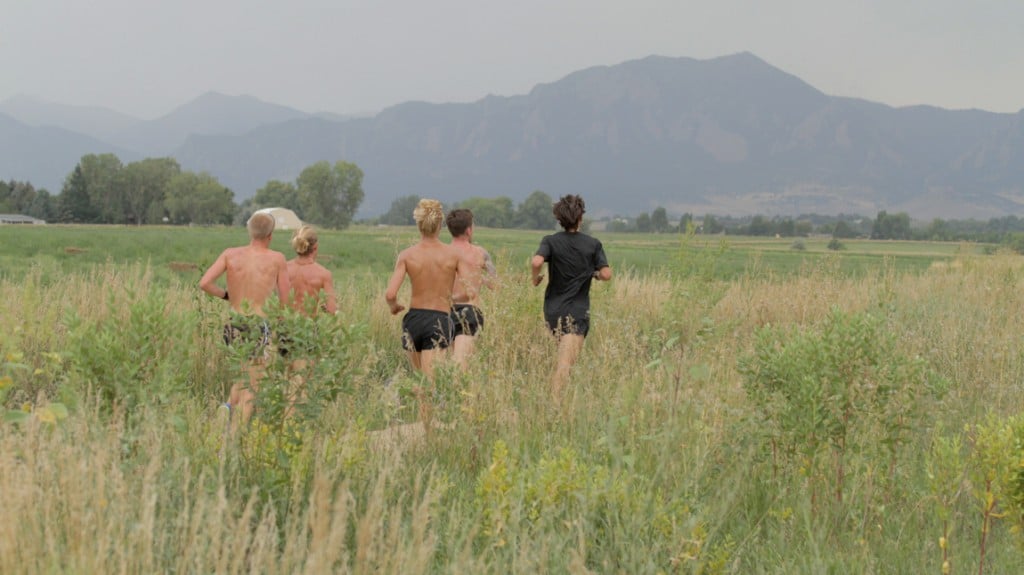 "The goal is to win NCAAs."
"Last year, the goals were more along the lines of 'Let's work really hard to see what we can accomplish' versus this year, where there's one goal on the table," he said. "We're not just necessarily trying to stay healthy or just get to nationals and see what happens. The goal is to win NCAAs."
While Hurysz, a 13:38 5,000-meter man with NCAA Championship credentials, is a known factor, Colorado's success last year was built on talented individuals rising to accomplish extraordinary feats. To borrow a phrase from former U.S. Secretary of Defense Donald Rumsfeld, Saarel was a known unknown. Labeled a "special talent" by LetsRun, the hype ahead of Saarel's freshman year was palpable. Mentioned in the same sentence as high school phenoms such as Matt Centrowitz, German Fernandez, and Lukas Verzbicas, Saarel came to CU and had a much greater impact than even he could have imagined.
"Last fall, for me, was an experience I've never had in my life before," he said. "I went in with the hope to maybe get top 50 or 40, so maybe All-American. So taking eighth was a huge deal for me."
Growing up at altitude, (Saarel is from Park City, Utah, which sits at an elevation of 7,000 feet) and coming from an aerobically-based training program, Saarel adjusted to Wetmore's program with relative ease. After finishing as Colorado's #2 man at the Pre-National Invitational, Saarel was the team's #3 runner at the Pac-12 Championships before sliding up to the second man at the NCAA Mountain Regional. Then, at the NCAA Championships, Saarel was CU's top finisher in eighth overall and led the Buffaloes to a national title.
"Pure Ecstasy"
"The moment when we won was pure ecstasy. It was one of the great moments of my life so far, winning that national championship and being part of that team."
Hovering around 85 miles per week depending on how he's feeling, Saarel's mindset at the current moment is to duplicate last year's proven formula.
"If I can stay healthy and keep that training intensity where it was last year, if not a little bit higher, everything will fall into place."
While Saarel had the spotlight on him, then-junior Morgan Pearson, a transfer from Duke, was backstage, waiting to dramatically burst through the curtain and onto the national scene. To borrow another phrase from Rumsfeld, Pearson was an unknown unknown. At last year's Pre-National Invitational, Pearson, who was the team's alternate at NCAAs in 2012, was the first Colorado jersey across the line, finishing seventh overall in 23:39.7. In his ensuing interview with Flotrack's Ryan Fenton, Pearson remarked, "I don't know if you guys know I'm on the team or you know who I am…"
He's wasn't wrong.
"I wouldn't say I was super into running my junior year [of high school], or even the first bit of my senior year, so I chose to go to Duke for a lot of reasons outside of running," he says. "But after a year, I kind of fell in love with running and fell in love with chasing the goal of being a great runner, so I decided to look somewhere to transfer."
Eventually choosing Colorado, Pearson, a talented freshman who had run 14:03 for 5,000 meters, had dreams of grandeur. But like Saarel soon learned, the level of intensity was something he didn't expect.
"I came in and kind of got my butt kicked by all these All-Americans. I ran that season, but I ended up being the alternate for the team at nationals. That was definitely an experience which I don't want to live through again."
Pearson went home and put his nose to the grindstone. His [over]work ethic was rewarded with an injury during Christmas break. Injured on and off for the next six months, Pearson went into the summer with a more conservative mindset, but contracted mononucleosis around July.
"I cried when I found out that had happened," he says.
To draw another parallel, Pearson had the kind of fire that Hurysz has now. Sometimes even the most passionate runners struggle to be successful, but in the end they may know what it takes to be great better than those who never battled adversity. Injuries made Pearson an unknown unknown on the national level, but it also threw fuel onto his fire to become one of the top cross country athletes in the NCAA.
"After I got mono, no one was expecting much out of me. I think it was after I put these expectations off myself and this pressure of transferring from Duke to Colorado just to be these great runner, it was after that that I released all of these emotions and fell in love with running again, just as I had before."
"I started having good workouts and ran well at Pre-Nationals. The rest is history, or so they say."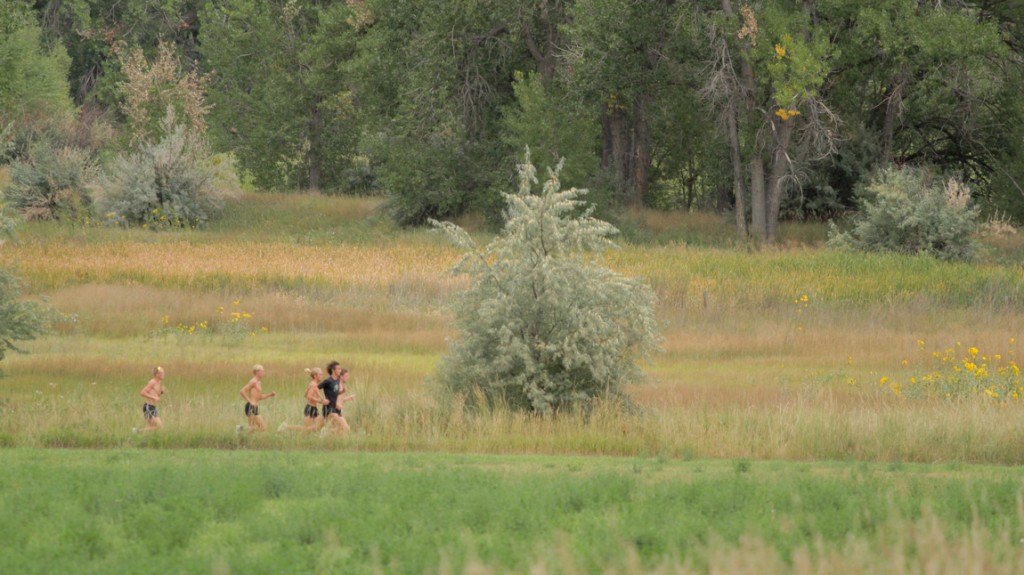 The Leader
Pearson is absent from the afternoon session as he had opted to workout with redshirt senior Blake Theroux. Labeled as a leader by the rest of the team, Theroux's demeanor is one you expect from a co-captain of a national championship team (the relaxed Connor Winter is the other captain). They acknowledge the mounting pressure that comes with a title defense, but the two, and the rest of the Buffaloes, don't even think about breaking a sweat.
"We're a lot more businesslike," Theroux says. "That's a different mentality compared to last year. We're more experienced. I think we're just more mature. We've done it. We know what it takes to do it. We know how to do it.
"It's just a matter of doing what we know we can do rather than what we think we can do, which was last year: thinking that we can win, telling ourselves that we can win. Now we know we can win."
Theroux, who's progressed steadily in each of his seasons under Wetmore's training, has been at CU since 2010. But the current squad, which includes the entire 2013 title team, is special. Last fall, Colorado had four different #1 finishers at its four biggest races. At the Pre-National Invitational, it was Pearson; at the Pac-12 Championship, it was Theroux; at the NCAA Mountain Regional, it was Murphy; and at the NCAA Championships, it was Saarel.
"I said it last year after NCAAs, and I'll say it again: I've never been on a team like this that's interchangeable in that respect," Theroux said. "I think it just takes a humongous load off of everyone. We have total trust in our guys, faith in each other, that we're going to run hard and however that one through seven plays out, it just happens on any given day. It helps our team mentality because we can really think of ourselves as a team instead of just a sum of our parts."
One of the best examples of that adage was at the 2013 Pac-12 Championships, where Colorado placed an astonishing five in the top nine to win the team title with 28 points. Oregon was second with 54.
Theroux knows that the Pac-12 is the most competitive it has ever been. In the U.S. Track and Field and Cross Country Coaches Association preseason coaches' poll, Colorado was the unanimous #1, with the University of Oregon and Stanford University grabbing third and fifth, respectively. The Pac-12 Championships on October 31 will be a slugfest, a small-sample-sized prelude of what's to come a few weeks later at NCAAs. But for Theroux, and the rest of the team, conference rivalries don't factor in to how CU prepares for Pac-12s or NCAAs.
Focused On Themselves
"You talk to Pierce [Murphy] and he can't even tell you any other runner in the NCAA," Theroux jokes. "He can't. That's not just a cocky thing, he just doesn't care to look at results or other teams. He cares about us, cares about what we're doing, and cares about his goals."
Theroux's professional attitude is most likely attributed to his maturity as an athlete, which comes from having spent years listening to Wetmore's philosophies on running, life, and everything in-between.
"I'd like to think that we know when we're prepared and we know what the job is," Wetmore said. "And there's nothing personal about it. There's no one team that we're after, whose picture we have in the locker room with knives stuck in them. It is kind of just businesslike. And then, yes, when it's done it's done, and we go back to work."
A century ago, Boulder was part of the Wild West. Legend has it that men would sneak away to the basement of the Hotel Boulderado, where they would drink from flasks hidden in the walls.
"That city block…has quite the shoot 'em history as you might have imagined from the Wild West," Wetmore said.
So it is fitting that this team's style is similar to that of the famous 1953 Western, Shane. The titular character, Shane, is a drifter who rides into the desolate Wyoming plains and is welcomed by a loving pioneer family. Eventually, Shane finds himself caught between the family and a wealthy cattle baron who wants to seize the family's land for his own personal gain. Shane's mysterious past as a gunslinger is soon revealed and as the film climaxes, his newfound compassion for the family forces him to confront the villains, successfully defeating them in a bar gunfight. Despite the famous final line "Shane! Come back, Shane!" from the family's lovable son, Shane rides back into the mountains, and the film ends.
Eventually, like Shane, the Buffaloes will descend from the mountains, guns blazing, for the postseason, take care of business, and ride off into the distance. But for now, the Buffaloes finish their workout, and drive southwest back towards the Flatiron Mountains. It was just another workout.
---
Want to know about the architect of the Colorado program? Read Jonathan Gault's feature of Mark Wetmore: LRC Feature The Wetmore Formula.
Discuss Colorado in our forum: LetsRun.com Investigates: What Makes Mark Wetmore So Special?