Marathon Season Is About To Be Upon Us *Unofficial 7th Major Dubai Is Fri. (Thur. 10pm ET) – Full Dubai Fields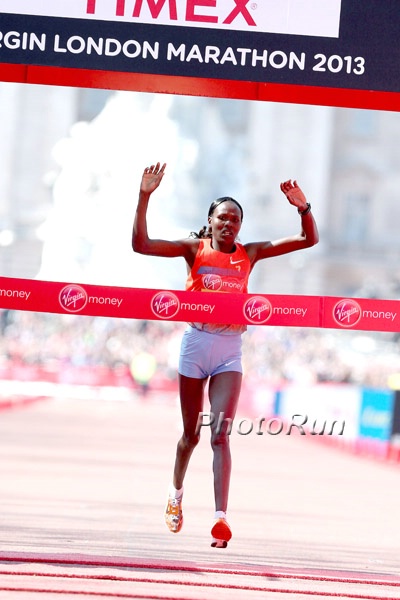 2014 London Women's Field Released: LRC 4 Quick Takes – Priscah Jeptoo To Try To Defend As Tirunesh Dibaba Debuts At Star-Studded 2014 London Marathon The 2014 London field is totally stacked as Priscah Jeptoo, who was totally unbeatable in 2013, will clash with Tirunesh Dibaba, who is making the most anticipated women's marathon debut in 10+ years (maybe ever?).
2014 Boston Field Released LRC Three Thoughts About The 2014 Boston Marathon Field There certainly won't be talk of Boston being watered down in 2014 as both fields are quite strong. The men's field includes TFN's world #1 and #2 marathoners from 2013, Dennis Kimetto and Lelisa Desisa, and the women's field is led by sub-2:20 women Mare Dibaba and Rita Jeptoo.
*Boston Marathon Releases Fastest Field Ever For 2014 Race
*MB Talk: Ritz is going to get rocked at Boston
Don't Forget Dubai - Thursday Night Marathoning
The unofficial seventh Major, with the biggest prize in marathoning ($200,000), is Thursday night. The men's race features six sub-2:07 performers, whereas the women's race has three sub-2:22 performers and 7 sub-2:24 performers, but most eyes might be on debut performers Atsedu Tsegay (Ethiopian half record holder - 58:47 PR), and Abera Kuma (13:00/26:52).