Sunday Marathon Action - 2013 Scotiabank Toronto Waterfront *Results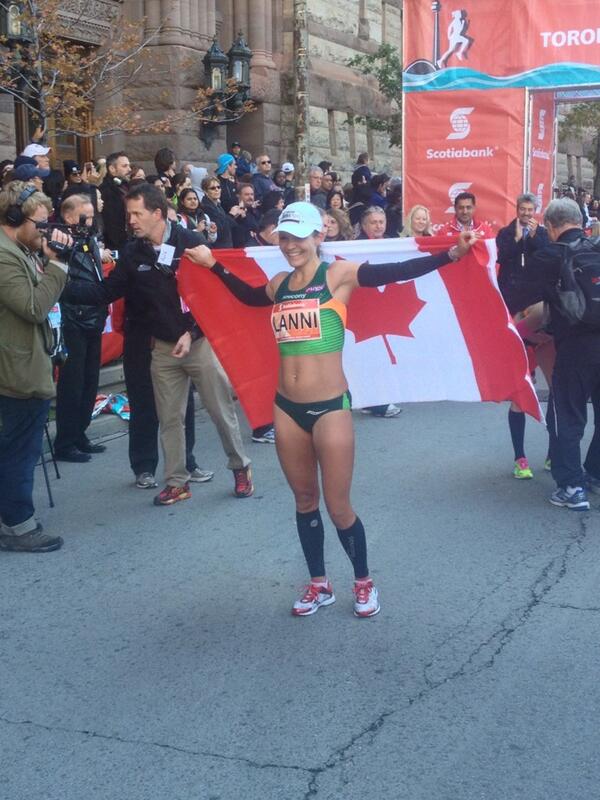 LRC Lanni Marchant Sets New Canadian National Record In Women's Marathon - Runs 2:28:00 In Toronto Deressa Chimsa of Ethiopia has set a new Canadian soil record of 2:07:05.
CBC: Canadian Records Toppled At Toronto Marathon Eric Gillis ran 2:11:49 and came up short in his bid for the Canadian men's record.
Toronto Star: Marchant Smashes Record
*IAAF Recap
Masters: MB: Ed Whitlock ran 3:41:58 to set age 82 record, Hosaka misses age 62 record
*MB: 2013 Toronto Marathon coverage

Amsterdam: 3-Peat: Wilson Chebet Wins Amsterdam For Third Ttime, Breaks His Own Course Record With 2:05:36 Valentine Kipketer won the women's title in 2:23:02 as American Serena Burla was second in a new PR of 2:28:01.

Beijing: Tadese Tola Breaks 27-Year-Old Beijing Marathon Course Record With 2:07:16 Sprint Finish Win (link fixed) Zhang Yingying won the women's title in 2:31:19.

Birmingham: Uganda's Thomas Ayeko Wins BUPA Great Birmingham Run Half Marathon In 1:02:32 As GB's Chris Thompson Was 2nd (1:03:03) And Abdi Abdirahman 3rd (1:03:08) Aussie Collis Birmingham was 4th (1:03:44) and Olympic 10,000 bronze medalist Tariku Bekele was way back in 5th (1:04:36). GB's Gemma Steel broke her own CR to win in 1:10:19.

Tokyo: Kenyan Benjamin Ngandu Outkicks Yuki Kawauchi To Win Tokyo 20K 59:14 To 59:17

Detroit: 22-Year-Old Former Michigan Runner Zachary Ornelas Wins In 2:20 He's got a 14:12 5,000 PR.

Kenya: 2012 Berlin Marathon 5th Placer Agnes Jepkosgei Wins Kimbilio Marathon In 2:49 Alfred Kipsane won the men's race in 2:16.
Other Marathon News
Track News In The Off-Season
Not Directly Running-Related But Interesting: Tribute To Recently Passed 87-Year-Old Japanese "Marathon Monk" Yusai Sakai Sakai is famous for being one of only one of three men to complete the Sennichi Kaihogyo twice. The Senichi Kailhogyo is a seven-year "quest for enlightenment" that by the end has the monks walking 51 miles a day for 100 days on barely any sleep.
Desire By Some To Race Under A Fake Name Or Anonymously At Odds With Increased Security At Road Races Some are worried about privacy while others just want to run as Bruce Wayne, "Hugh Jass" or Kermit Frog.
Former Head Of Jamaican Anti-Doping Renee Anne Shirley Throws Out More Accusations Against The Organization, Claiming They've "Never Carried Out A Blood Test" She claims they received 30 blood testing kits, but never used them and also says that she thinks Veronica Campbell-Brown's positive test for a diuretic should have resulted in a 2-year ban.
Week That Was
LRC Week That Was: Dennis Kimetto, Rita Jeptoo And All Things Chicago Marathon, Kim Smith, Stephen Sambu Pick Up $100k, Haile Gebrselassie Still Has It We look at just how good Kimetto's and Jeptoo's Chicago performances were, explain why we're not crazy about the BAA Distance Medley's gimmicky prize money structure and remind you that even at 40 years old, Geb is still very, very good.
Running Science
Russian Athletic Federation President Really Wants Yelena Isinbayeva To Continue Her PV Career Through Rio 2016
Some Chicago Talk To Spice Up Your Day:
*What are the US men missing in marathon training???? A lot of discussion.
*Chicago winner today has never run a track race
*Kimetto 150 mpw. Ritz 110 mpw, once 120 mpw.

LRC Dennis Kimetto Wins, Shatters Course Record With 2:03:45 Clocking Wow, what a race! 61:52 for the first half, 61:53 for the second half. Dennis Kimetto put on a show and staked his claim to being the #1 marathoner on the planet as he beat Emmanuel Mutai, who became the first man to break 2:04 and lose on a loop course. Americans Ritz and Teg didn't get what they wanted.
Analysis: Eight Quick Takes On The Men's Race: Kimetto Is A Stud, Mutai Is Mr. Silver, Teg & Ritz Struggle Final 10k, Abshero Goes For It We've got a lot to say about this great race, so it appears in a separate piece.
*Top 30 Chicago Marathon Results


LRC Rita Jeptoo Wins, Sets World-Leading 2:19:57 Time By Running A Big Negative Split (updated with quick takes) Jeptoo lost in agonizing fashion last year in a sprint. This year, she left no doubt as she crushed the second half (68:42) to become the first person under 2:20 in 2013. Her final 12.2 k was simply unreal, as she did her best Paula Radcliffe impersonation and ran faster for her final 12.2k than both Ritz and Teg.
*Top 30 Chicago Marathon Results

*Race Results Weekly Recap
*Chicago Tribune Women's Recap
More Chicago
*Phil Hersh's Men's Recap
*Race Results Weekly Recap

Chicago On The Boards:
MB: OFFICIAL 2013 Chicago Marathon Play-by-Play Thread
*I love Ritz but.....
*Kimetto 150 mpw. Ritz 110 mpw, once 120 mpw.
*What are the US men missing in marathon training????
*No US guys currently within a mile of the best Marathoners. Sad.
*Teg would not have won US champs last weekend in MN
*Was Ritz crying in his flotrack interview?
*Hall v. Ritz
*Ritz' shoes- 2013 Chicago Marathon
*Teg was Jerry's best male marathon so far
*Chicago winner today has never run a track race
*Kawauchi ran 2:11:40 today in 8th marathon of '13. Will Tegenkamp beat his time?


The Inside Scoop
Friday: LRC Will The Race Go Out In 61:45 And How Will Dathan Ritzenhein React? (link fixed) With good weather in the forecast, the leading Africans may want to go out more than a minute faster than Ritz wants. Will they be slowed to please Ritz or will he have to solo it alone? Also, Emmanuel Mutai reveals he's healthy and Moses Mosop is going to be tough to beat.

Thursday: LRC 5 Takeaways From Thursday's Presser: Mosop Is Healthy And Fit, Tadese Is Ready For Another Crack At 26.2, Kimetto And Abshero Are Confident, And Kogo Hopes He's Ready For Uncharted Territory We broke down the race earlier for you on you on paper, but you never know what really to expect until you get the inside scoop on-site. We've got it and you can as well if you read our piece. Plus was there a fix at the 2012 Berlin Marathon?

More Chicago Men's Pre-Race Coverage:
LRC Teg Does The Marathon: Matt Tegenkamp Shares His Thoughts Ahead Of His Highly-Anticipated Marathon Debut Teg is full of confidence: "I feel so much more comfortable on the roads than I do the track, and I never thought I'd say that."

More Chicago News:
Journalism At Its Finest:

If You Read One Thing All Month, This Should Be It: Inspiring Story On US's Stephanie Pezzullo: Running For Her Life The Charlotte Observer's Théoden Janes has written a masterpiece after Pezzulo opened up to him about her struggles in life. A tough upbringing with a bipolar dad who allegedly sexually abused her led to crushing anxiety and even a suicide attempt. She was saved by sports (first soccer, now running) and faith.
*Excellent Recommended Read: One Of The Good Guys In The Sport Team Eugene's Craig Leon Hoping For 2:11-12 In Chicago We enjoyed meeting Leon in Boston and Curtis Anderson has written an excellent profile on Leon, who works a job and has "never had a bad marathon" according to coach Ian Dobson.
*Article On Matt Tegenkamp From Chicago Tribune
Other Weekend Action
European News
Doping News
Fionnuala Britton And The Irish Women's XC Team Looking To Defend Their Individual And Team Euro XC Champs Titles This December In Belgrade
SA Olympic Committee Unhappy With IAAF As Organizational Mess With Suspended ASA Continues
Track News
Nike / Oregon News
Elite Women In The News
Pro Distance News
Mo Farah Doesn't Actually Think He Can Run Sub-2 Hours
US Distance News
Drug News
Jamaica Anti-Doping Programme Set To Be Investigated By WADA This investigation is in response to allegations made by former JADCO director Renee Anne Shirley. WADA is unhappy, though, that the visit will not happen until 2014.
Monday's Tufts 10k For Women *Results
LRC With An Assist From Meseret Defar, Sentayehu Ejigu Sets Course Record At Tufts Health Plan 10-K For Women, Emily Infeld Second Sentayehu Ejigu of Ethiopia was encouraged to run this race by Meseret Defar and she left breaking the 25-year-old course record of Anne Hannam. Emily Infeld's strong 2013 continued with a second-place finish. Janet Bawcom was fourth and led Team USA Arizona to the $10,000 team title over Boulder Running Company/Adidas.

More: Chicago Tribune From 1996 On Anne Hannam: Running On Empty: "In that magical summer and fall of 1988, Anne Hannam ran nine road races from Alaska to Massachusetts, won all nine and set seven course records. She also weighed 96 pounds and was starving herself slowly ..."
LRC Forums: Whatever Happened to Anne Hannam?
*Emily Infeld 31:47 Road 10k
The Week In Review
LRC WTW: Zola Budd, Running Models, Veronica Campbell-Brown, Twin Cities Past And Present, Guelph, And Bad College Sports Publicity This week we praise college XC winners old (Zola Budd) and young (Alexa Efraimson), talk about the juggernauts of Canadian collegiate XC, talk about Twin Cities winners past and present, and tell the Yale and Lousiville Sports Info departments that our sport deserves better. Since we had to be a little shorter than normal to get ready for Chicago, we leave you with photo album full of Oiselle models, including Kate Grace and Lauren Fleshman.
Other Marathon News
Pro / HS XC News
Kenyan Marathoning News
Big One We Missed From Weekend: