The Weeks That Were: 2011 NCAAs Go According To Form, Chris Derrick's Career Comes To An End, Tim Tebow = Don't Overtrain, And Alan Webb Has Sex
By LetsRun.com
December 2, 2011
It's a good thing that LetsRun.com is free of charge, as you - the loyal reader - would have every right to be upset, since our weekly recap is once again a bi-weekly recap and once again we feel we have a legitimate excuse - the Thanksgiving holiday.
This week we are full of NFL Football analogies, as outside consultants have informed us that any and all sports segments that mention Tim Tebow get huge ratings. So this week, Tim Tebow is used to give out free training advice, the 2004 Wisconsin Dream Team is compared to this year's underachieving Philadelphia Eagles, Chris Derrick's amazing career comes to an end, and Alan Webb has sex.

****
2011 NCAAs Go According To Form
The 2011 NCAA Cross-Country Championships are a thing of the past as the favored Wisconsin Badgers came through and the Georgetown women, who were third at Big East, came through with an "upset" win.
But in reality, the meet and the season went largely according to form. Of the top 10 ranked teams in the pre-season men's poll, eight of them ended up in the top 10 at NCAAs, as only Oregon (didn't qualify) and Florida State (who ended up 12th) "faltered."
On the women's side, many people seemingly forgot that Georgetown was pre-season #1. Three pre-season top 10 teams didn't finish there for the ladies - Providence (didn't qualify but beat GTown at Big East), Duke (didn't qualify) and Arizona.
Men's Pre-Season Top 10 - Where They Ended Up
1 Oklahoma State (10) 357 Midwest Big 12 Stillwater, Okla. - Ended up #2
2 Stanford (1) 342 West PAC-12 Palo Alto, Calif. - Ended up #5
3 Wisconsin (1) 335 Great Lakes Big Ten Madison, Wis. - Ended up #1
4 Oregon 299 West PAC-12 Eugene, Ore. - Didn't Make Meet
5 Iona 292 Northeast Metro Atlantic New Rochelle, N.Y. - Ended up #9
6 Oklahoma 288 Midwest Big 12 Norman, Okla. - Ended up #6
7 Colorado 284 Mountain PAC-12 Boulder, Colo. - Ended up #3
8 Florida State 261 South ACC Tallahassee, Fla. - Ended up #12
8 Indiana 261 Great Lakes Big Ten Bloomington, Ind. - Ended up #7
10 Portland 252 West West Coast Portland, Ore. - Ended up #8

Pre-Season Ranks Of Teams That Ended Up In Top 10 That Didn't Start There
#13 NC State - Ended up #13
#16 BYU - Ended up #4

Women's Pre-Season Top 10 - Where They Ended Up
1 Georgetown (10) 358 Mid-Atlantic Big East Washington, D.C. - Ended up #1
2 New Mexico (1) 334 Mountain Mountain West Albuquerque, N.M. - Ended up #9
3 Providence (1) 333 Northeast Big East Providence, R.I. - Didn't Make Meet (2nd at Big East ahead of GTown, though)
4 Colorado 324 Mountain PAC-12 Boulder, Colo. - Ended up #1 (but won PAC-12s)
5 Villanova 308 Mid-Atlantic Big East Villanova, Pa. - Ended up #3
6 Florida State 278 South ACC Tallahassee, Fla. - Ended up #4
7 Stanford 276 West PAC-12 Palo Alto, Calif. - Ended up #10
8 Arizona 242 West PAC-12 Tucson, Ariz. - Ended up #19
9 Duke 241 Southeast ACC Durham, N.C. - Didn't Make Meet
10 Iowa State 236 Midwest Big 12 Ames, Iowa - Ended up #7

Pre-Season Ranks Of Teams That Ended Up In Top 10 That Didn't Start There
#11 Washington - Ended up #2.
#24 West Virginia - Ended up #8.
Unranked - Vanderbilt (Got votes as #38) - Ended up #6
More: 2011 NCAAs Are History *LRC Men's Photo Gallery *LRC Women's Photo Gallery *Men's Results *Women's Results *Entire Race Video Replays *Women: LRC Georgetown, Reid Win Tight Battles *LRC: Women's Preview: Can Florida State Stop 'Nova? Will Reid Turn Back Hasay Again? *Men: LRC Wisconsin Badgers Take Control Early As Lawi Lalang Dominates *Men's Preview: LRC: Men's Preview: Wisco Vs. Oklahoma State, Lawi Lalang Vs. Leonard Korir
****
How Did The 2004 Wisconsin "Dream Team" Lose?
Wisconsin came through as the favorites on the men's side at NCAAs this year, but they didn't back in 2004 when their "Dream Team" (sorry, 2011 Philadelphia Eagles fans) lost despite having on it two eventual sub-13:00 5,000m runners, and two other eventual sub-27:30 guys, including one who won two NCAA XC titles and a 5th guy who at the time had a PR of 13:47.
How is that possible you ask? Well, we decided to take a look at the team they lost to - Colorado.
The guys running for the Buffs that day definitely were pretty good, as four would end up with lifetime PRs of 13:44 or better, but not nearly as good or as experienced as Wisconsin on paper.
Wisconsin's 2004 Dream Team
Finish At NCAAs/PR At The Time/Eventual PR
1. Simon Bairu - Jr. - 13:45/28:28 - 13:25/27:23
9. Matt Tegenkamp -Sr. - 13:30 - 12:58/27:28
11. Chris Solinsky - So. - 13:42 - 12:55/26:59
34. Tim Keller Sr. - Sr. - 13:47 - (Sr) - 13:47
39. Bobby Lockhart -Jr.?- 8:01/29:11 - 13:54/29:07
63. Josh Spiker -Sr. - 3:42 - 3:40
74. Tim Nelson - 1(So.) - 4:03/29:11 - (So) - 13:20/27:28

Left Off Team:
Matt Withrow - Freshman - Foot Locker Champ - Would make US senior Men's XC team that winter, where he was the #1 US finisher. Eventual PRs: 13:35/28:26.

Colorado's 2004 Winning Team
Finish At NCAAs/PR At The Time/Eventual PR
4. Brent Vaughn - So. 8:07/14:18 - 13:18
5. Bret Schoolmeester- Jr. 13:50 - 13:39
15. Jon Severy -Sr. 14:22?/30:18? - 14:10
31. Stephen Pifer - Fr (redshirt) 8:04 - 13:33
35. James Strang - Fr. 4:11/9:18 from HS - 13:44
56. Jared Scott - Sr. 14:22?/30:18?
91. Brad Harkrader - Fr 4:18/9:15 or 9:05 - 13:54
Do you like track and field photos? Then be sure to check these out: *LRC Men's Photo Gallery *LRC Women's Photo Gallery
****
We Feel For You, Chris Derrick
The collegiate cross-country careers came to an end for Chris Derrick, Luke Puskedra and the fantastic class of 2012 (high school class of 2008). Derrick was, incredibly, all four years a top 10 placer at NCAAs. More impressively, he was twice the top American finisher at NCAAs and yet never emerged with a title.
We feel for you Chris. Kind of reminds of LetsRun.com's predcition guru John Kellogg's old college teammate Todd Harbour of Baylor. Harbour is a guy who was very good in college as he ran 3:50.34 for the full mile the summer after his senior year at Baylor. Yet he never won an NCAA 1500 title despite being three times a runner-up. But there is no shame in losing to Sydnee Maree twice and Don Page once. The same thing goes to Derrick. The winners his four years of college were all incredibly good, Galen Rupp, Sam Chelanga (twice) and now Lawi Lalang. All of those guys are basically sub 27 10,000 talents.
So, how has the U.S. high school class of 2008 done at the NCAA level? Well, NCAA super visitor David Graham came up with a the cross-country results for a few selected individuals from the HS class of 2004 at NCAA nationals as well as a few comments below the places:

2008 2009 2010 2011
Chris Derrick: 7th 3rd 5th 2nd
Luke Puskedra: 5th 21st 3rd 6th
Colby Lowe: 80th 10th 9th 10th
German Fernandez DNF 97th 8th 11th
Diego Estrada: 76th DNS 16th 7th
Ryan Hill: 104th 23rd 22nd 12th
Elliot Krause: DNS 75th 137th 17th

Hats off to Chris Derrick for four competitive years of racing, four top 10 finishes - Mr. Consistent. Luke Puskedra also does well at NCAAs each year. Both men earned All-American honors four years in a row.
Colby Lowe has been consistent - except for the last mile of his freshman year NCAA meet, he has run consistently well there.
Ryan Hill had a great trend; that's what you hope for - improvement every year: 104, 23, 22, 12th. Ditto for Diego Estrada: 76, 16, 7.
Elliot Krause must be happy: no collapse in the finishing straight this year, so an All-American finish ... and an NCAA team championship.
Hats off to the U.S. high school class of 2008.
****
Photo Of The Last Few Weeks
****
Weekly Free Coaching Advice: A Reminder - Sometimes The Best Training Is No Training At All
(It's Better To Undertrain Than Overtrain)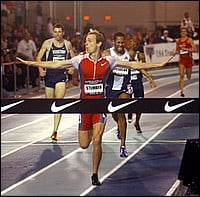 Recently, we caught up with 2000 US Olympian Michael Stember, who is now a successful businessman in California. Stember reminisced about his career as he began a mini-comeback in an attempt to break 18:00 on Thanksgiving for 5,000 as part of a promotion for CharityBets and in an attempt to raise money for his favorite charity, the American Indian Model Schools (Stember came up way short - with a 19:30).
In the interview, Stember recalls how in 2004 after bombing at the US Olympic Trials, he didn't run a step for 3 months as he was basically retired and focused on his new career - real estate. For three months, he "immersed (himself) in in real estate culture and cadence which involves agents, tenant reps, brokers, developers, landlords, bankers, and everyone linked to the game to gather around a watering hole 3-4 times a week and socialize around large amounts of alcohol consumption." Yet a race in Hawaii called him and begged to run so he put on the trainers, trained for 16 days and was fantastic.
And what is the lesson to be learned?
No, it's not a good idea to drink heavily. Often, runners are overtrained.
Stember summarized this point perfectly himself with a great quote:
Sixteen days later, I won the Front Street Mile in Maui, beating handily guys who had torched me during the entire outdoor season and I recall breaking four minutes in the mile or running 4 minutes flat. So it begged the question, why the hell was I performing better after 3 months of living like a Normal Joe and socialising like Mick Jagger, compared to when I was preparing diligently the past few seasons. The only answer was I was overtrained, and never had a chance to tap into the potential of my fitness. This was true since the day I left the Jesuit campus as an 18-year-old and joined the Stanford training program. The more I watch runners in this country continually do well early in the season, and fail to run fast when it matters most, the more I realize I am not alone.
But if you are young college athlete, you probably don't even remember Stember being a stud. So if you don't want to take his word for it, then take the same advice from Oklahoma State cross-country coach Dave Smith, whose men won the NCAA championship in 2009 and 2011 and were second this year.
"I probably didn't run as well as I should have (at Michigan State) because I was always exhausted by the end of the season. One of the things we really incorporate into our program here (at Oklahoma State) is just it's not always about how hard you can run and how fast you can run, but how hard you should run, which is usually different. Our training is much more conservative here. I think we put a high emphasis on getting guys to the starting line feeling fresh and ready to go."
We know as an athlete, it's hard to not do too much and that applies in all sports. Think about Tim Tebow. How does he win in Denver without impressive stats? By not turning the ball over.
We heard someone recently say that more NFL games are lost (via turnovers) than are won by stellar play.
In running, if you overtrain and get injured or anemic, you basically aren't turning the ball over, you are basically forfeiting.
More: Collected Wisdom: Dave Smith, OSU Cross-Country Coach
*LRC Catching Up With Olympian Michael Stember: Olympian Stember On Dunking A Basketball, Nerds Running Cross-Country, And Trying To Break 18 Minutes For 5k We know it drives a few people nuts when we call one of our own interviews a MUST read, but we are quite proud of this one. Stember talks about everything - from wondering if he really should have been an 800-meter runner, to having figured out the inner-city school problem, to solving the energy crisis and much more. Along the way he admits he once ran a 4-minute mile after months of drinking and only 3 weeks of running, admits to Gallowalking during his current training and says he has secured a rabbit to pace him to a sub-18 5k so he can win his bet on CharityBets.
*1,500m Olympian Michael Stember Trying To Break 18 Minutes For 5k For Charity Thanks to LRC advertiser CharityBets, washed-up former Olympians (and you too) can race for charitable causes. Michael is racing for the amazing American Indian Model Schools. If you want to support the cause, click here. *Stember runs 19:30
****
12 Quotes Of The Week (That Weren't Quotes Of The Day)

#1 - The Washington Post's Amy Shipley Writing About How Seb Coe Is Trying To Get London Ready For 2012 While Facing An Impossible Task Of Trying To Match The Chinese, Who Basically Had An Unlimited Bank Account
"If you are Sebastian Coe, the famous former British miler who is now heading the committee in charge of next summer's London Games, you don't try to top the 2008 Games in Beijing. Instead, you attack the Olympic challenge like you did all of those gritty middle-distance contests in the late 1970s and early '80s. They required tactics as much as pure speed, and sometimes weren't quite as fast as expected, or as pretty."
More: Washington Post Looks At How Seb Coe Is Getting London Ready For 2012 In Midst Of Economic Meltdown
#2 - Christophe Lemaitre's Coach Pierre Carraz Talking About What He First Thought Of His Star Pupil
"In the beginning, I was seriously asking myself if I wasn't dealing with someone who was autistic. He hardly talked at all and even now he doesn't talk much. But I'm beginning to think that he's gifted in some way."
More: Good Profile On Christophe Lemaitre From The NY Times
#3 - An Illinois High School Cross Country Coach Talking About How Lukas V's Decision To Leave Oregon Didn't Surprise Him At All
"As a CC/Track Coach from IL I could see this coming a mile (or 3) down the road. LV was a cross-country mercenary who only competed with his team for the championship series and all the glory that is related to it. Most people marveled at his performances but he was granted special privilege to train on his own and compete with his team only when it counted. The 99.9% of us who slug it out with our team day in, day out, through good practice/performances and bad, are allowed a little schadenfreude in seeing that one of the greatest high school runners of all time couldn't handle the stuff that we all deal with on a daily basis in being part of a TEAM.

If you are looking for an Illinois Cross Country Track & Field hero - look to Nequa Valley's (now Stanford) Chris Derrick. There's a guy who ran faster than Verzbicas at Detweiller (almost breaking Virgin's record) and competed with his team all year - now a 10-time All-American at Stanford. He embodies the best of IL CC & Track!"
- "Coach R" commenting below a flotrack post on Lukas' decision to bolt.
#4 Former Tennis Great (And Father Of NBA Star Joakim Noah) Yannick Noah Accusing The Spanish Athletes Of Being Dirty (In All Sports)

"Today (the Spanish Athletes) are running faster than us, are much more stronger and only leave us the bread crumbs. We look like dwarves. Did we miss something? Did they discover some avant-garde techniques or training facilities that nobody before them had imagined?"
More: Angry Nadal hits back at Noah's doping allegations
#5 At Last - A Runner Admitting That He's Just Not Talented Enough (And That Talent Has A Ton To Do With It)
"I couldn't reach my target of a 2:32 because of the limits of my ability. I'm in shape and felt good. It's disappointing."
- Newly-minted Cambodian citizen, professional comedian and former Japanese national Hiroshi Neko ran the Nov. 16 Southeast Asian Games marathon in Indonesia in a bid to make Cambodia's Olympic team for next summer's London Olympics. Neko ran a ten-second PR of 2:37:39 for 5th place.
The above quote and description come from Japan Running News. More: Neko Runs PB for 5th at SE Asian Games; Olympic Status Unclear
#6 More Training Advice - Having A Good Training Group & Changing Things Up Might Be More Important Than Altitude
Question: Do you think the altitude tents and rooms work? Can you actually get a good night's sleep in them?
CB: I can sleep anywhere, and I have proven this on numerous occasions. I do think they work, I haven't spent a lot of time in them but I have heard only good things from many of our American counterparts. But for our group it's always been about the training camp, that's what we feel works the best. Getting a group together in a new location often brings out the best in athletes.
- Australian 13:10 and 27:29 man Collis Birmingham talking in a Runnerstribe article where he talks about a new training camp he's having this year in Canberra.
More: A Quicky with Collis Birmingham
#7 British Olympic Head Calling For Stiffer Drug Bans
"(Having a lifetime Olympic ban for drug cheats) sends out a very strong and positive message that doping in sport is wrong and in contravention of the values of the Olympic Movement. The system put in place by WADA has failed to catch the major drug cheats of our time. The likes of Marion Jones, many cyclists and the BALCO operation are only a few of those who have been tracked down and prosecuted, not by WADA but by the law enforcement officers. So now is a time for change. Now is a time for informed review."
- Lord Moynihan, chairman of the British Olympic Association, saying it's good that the Brits have a stiffer doping ban than everyone else. We agree that an "informed review" is required and think doping bans need to be made stiffer, but also think everyone's rules should be fairly. In our minds, intentional, systematic doping should result in one thing - a lifetime ban. Major infractions that might be unintentional should result in possibly an Olympic ban and definitely a 2-year ban and this 2-year ban needs to be applied to the major US sports like baseball and basketball. But the anti-dopers needs to stop diluting their message by testing for recreational drugs and tiny stimulants. Go after the big fish. The doping people should view think of themselves as like the IRS where catching lots of people on $2 worth of tax fraud isn't worth it. Catch a few on $10,000 worth of fraud.
The good news is WADA is apparently going to initiate a review of it's world anti-doping code, but it won't be finalized until 2013.
More: London 2012 Olympics: BOA's Lord Moynihan wants tougher sanctions in fight against drug cheats *The World Anti-Doping Agency (WADA) Is Initiating A Review Of The World Anti-Doping Code
****
The Millrose Games Pro Track Will Be in Madison Square Garden in The Winter
In the last two weeks it was announced that there will be a pro track meet in Madison Square Garden in 2012 and it will be televised on tape delay on ESPN. It can't be called the Millrose Games, so it will be called the US Open (we'd have preferred it to be called the Madison Square Garden Games). The Meet Formerly Known as the Millrose Games has moved to the youth/college track and field center the Armory. This whole debacle is a shame. It's like if the Masters Golf Tournament said it was moving to a publinx course and would not be on national tv.Yet at the same time there was going to be a huge golf tournament at Augusta on national tv (correct us if the Armory meet will be on national tv). Which one would most people care about? The easy solution is for the people putting on the meet at the Armory to give the Millrose name back to the people putting on the US Open. We still wonder how they hell the Armory got the rights to the Millrose name? The Armory is a non-profit and seemingly would have paid six figures for the Millrose brand name. If not, they got a sweetheart deal in our mind. If you have any info on this email us.
It is kind of comical how the Armory meet may be able to use the Millrose name, but it doesn't have access to the Millrose website.
Tickets for the new MSG meet went on sale December 1. They are priced from $15-75. If people don't actually go to the meet, this whole discussion will be moot as there won't be any meets in the Garden soon. We believe Millrose shouldn't have quit until it had to. Kudos to USATF for putting on the meet in the Garden.
More: Track And Field Will Be Back In The Garden *MBoard Thread *USATF Article
****
Recommended Reads
*Science Of The Sport Examines Talent Vs. Training And Refutes The "10,000 Hour Rule" Says the "10,000 hour rule" is "nothing more than the realization of genetic potential."
*Orphan To Olympian: Reese Hoffa's Long Road Reese Hoffa lived most of his life in guilt after his teenage mom put him up for adoption shortly after he burned down their house at 4 years old. When he spoke to her years later, his first words were: "I'm sorry I burned down the house."
*Good Profile On Christophe Lemaitre From The NY Times
*A Look Back At The '54 Drake Relays Jav Winner, Marion Hudson An amazing 3-sport athlete from the now non-existent Dana College. Many say racist attitudes in the 1950s kept him from going pro or competing in the Olympics. Article calls him "one of the greatest athletes no one has ever heard of."
*Collected Wisdom: Dave Smith, OSU Cross-Country Coach
*Former Wisconsin Runner Ryan Craven Thinks Mick Byrne's Relaxed Approach Is Ideal For NCAAs
*Kyle Merber Blogs About His And Columbia's Long Road To Their First-Ever NCAA Berth
Point - Counter Point *Toni Reavis: "Distance Racing Has Hit The Wall" Reavis complains about the economic status of US distance running and like us, he criticizes the Competitor Group for cutting prize money and paying one big pro to "solo effort" their races for an easy win.
*Blogger Refutes Reavis And Says Distance Running Is Healthier Than Ever (Even If Not Financially) "Running is really about other things - competition, testing boundaries, being fit - isn't it? And by those measures the sport has never been healthier."
*****
Other News Of Note From The Last Two Weeks
LRC Jason Vigilante Leaves The University Of Virginia Vigilante (the coach of Alan Webb and Robby Andrews), who rose to fame as the mid-d and distance coach at the University of Texas, has confirmed to LetsRun.com that he is no longer leading the Virginia program after three-plus years in Charlottesville. *Discuss: Vig out at UVA
Manchester: Brian Olinger, Sally Kipyego Win 75th Manchester Road Race ZAP's Landon Peacock and Team USA Minnesota's Andrew Carlson were 2nd and 3rd.
*Local News Coverage
*MB:Brian Olinger, Sally Kipyego Win

Silicon Valley: David McNeill, Jackie Areson, Win Silicon Valley Turkey Trot McNeill ran 13:33, Diego Estrada was 3rd only 3 days after NCAAs, Ritz was 5th (13:49). Race videos/photos posted here.
*Video Interviews With McNeill, Areson And Estrada
*MB: Ritz running 5K on Thanksgiving
Pre-Race: Ritz, Stephen Sambu, David McNeill Racing At Thursday's Applied Materials Silicon Valley Turkey Trot/5K Sambu was the NCAA XC runner-up last year and has apparently turned pro.
Japan
Tsuyoshi Ugachi Breaks Japan Domestic 10k Record With 27:41 Fastest 10k by a Japanese man on Japan soil; link includes video.
Super-Fast Delhi Half
Delhi Half Marathon Recap Ethiopian Lelisa Desisa (59:30) won by less than a second over World XC Junior Champ Geoffrey Kipsang; World Half Marathon bronze medallist Sammy Kitwara (58:38 PR) was 4th. In the women's race, 2006 Commonwealth Games 10k Champ Lucy Kabuu Wangui won in 67:04 over Sharon Cherop (3rd in World Champs marathon) and defending champ Aselefech Mergia. Mary Keitany's 65:50 WR Did NOT Go Down
High School
Foot Locker NE: A Man Amongst Boys: Edward Cheserek Wins Foot Locker XC Northeast Region, Breaking John Gregorek's Course Record Gregorek was a 2-time Olympian.
*Foot Locker NE Runner-Up Abbey Leonardi Commits To Oregon

Foot Locker South: Texans Cali Roper, Craig Nowak Win Foot Locker South As Nowak Upsets Ahmed Bile Bile is the son of 1987 World 1,500m Champ Abdi Bile.

Midwest: Futsum Zeinasellassie, Molly Seidel Win Foot Locker Midwest

California State Meet: Saugus Wins Its Record Sixth Straight California State Title On The Boards: DQ at California Meet May ShakeUp NXN Bids

NXN NY: Fayetteville-Manlius Survives
****
News On The Anti-Doping Front
*Steve Mullings Found Guilty *2nd Article *Steve Mullings Banned For Life *Commentary: Mullings ban "sad day in Jamaica's track and field history" *Observer: Banned for life! - Doping panel shows sprinter Mullings no mercy *Jamaica Gleaner: Banned For Life *Did Steve Mullings Get A Raw Deal? Nope.
More Doping News:
*BOA Chariman Colin Moynihan Accused Of Making "Misinformed Allegations" By Angry WADA Chief
*Colin Moynihan To Defend Anti-Doping Policy Against WADA
****
Quotes Of The Day From The Week:
Monday 11/28: "The Americans have raised their standard now, and they're not afraid to compete anymore with the African runners who come over here. It was very odd to see a group of Americans leading the way."
- Irish Olympian Martin Fagan, complimenting the resurgence of American distance running after the US took the top 6 spots at the Manchester Road Race on Thanksgiving. They were led by Brian Olinger's win; before this race only 2 Americans had won since 1980.
---
Sunday 11/27: "The baby is due the week of the Trials.

How will that affect his (Alan Webb's) chances?"
- 4th post in a thread announcing Alan Webb's wife Julia is pregnant and due on June 22nd (the 1st day of the Olympic Trials - the 1,500m starts on June 29th). Congrats to Alan and Julia.
---
Saturday 11/26: "When I entered him in 12 events, he didn't have too much to say about it. He went out and did it."

and
"We were afraid to let Marion throw the javelin in practice because he might kill somebody."
- Dana College track coach Wayne Armer, talking about amazing 3-sport (football, basketball, track) Marion Hudson, who is "one of the greatest athletes no one has ever heard of." He probably could have gone pro or to the Olympics in any of his 3 sports if it weren't for 1950's racism, but today Dana College is shut down and no one remembers who he was.
---
Friday 11/25: "Then there is largest purveyor of road races in the nation, The Competitor Group ... despite its name, is almost devoid of true competition ... CGI's working model pays one marquee athlete (like American Olympic medalists Shalane Flanagan in the recent Rock `n' Roll San Antonio Half Marathon, or Meb Keflizighi at their Los Angeles and San Jose half-marathons) a healthy appearance fee to run a solo effort without the inconvenience of competition. This reductive market approach minimizes athlete expenditures, guarantees the marquee athlete as no-fuss winner, while covering the elite-athlete angle for the local press which doesn't cover the sport on a regular basis.

While theirs is a for-profit, growth-seeking business with every right and privilege to run that business as they see fit, when combined with the other atrophying trends evident in the sport, the CGI model is particularly ill-timed for the health of the sport overall , and just another indication that, while going faster than ever, the sport of distance running has hit its own wall. (Not to be confused with participatory Activity of running which is healthier than ever.)"
- Toni Reavis, in a blog entitiled "Distance Racing Has Hit The Wall", talking about the status of US distance running, mentioning subjects such as foreigners winning NCAAs, the lack of interest in World XC, and Lukas Verzbicas. Here he criticizes The Competitor Group for killing competition by cutting prize money and instead paying one big name professional to "solo effort" an easy "win".
---
Thursday 11/24: "That gold medal (at the Junior Olympics when he was 15) was as important to me as the one in Mexico City. It proved to me that I might come through with something worthwhile in my life."

and
"I was all nerves. I went out and had a few shots of tequila (the night before the Olympic final) - a little something to settle myself in. (I had sex with my girlfriend). I had committed the cardinal sin in sports."
- Long jumper Bob Beamon talking about his amazing career and the 1968 Olympics where he shattered the world record in the long jump in the moment the Guardian has called the second greatest moment in Olympic history. Excellent read.
---
Wednesday 11/23: "But this is his biggest race ever and there are great expectations. You still have to race on the day. I am eager to see how he responds."
- Arizona coach James Li, talking about Lawi Lalang prior to Monday's NCAA championships. Even without grade inflation, we'd most definitely say he passed with flying colors.
---
Tuesday: 11/22: "When I saw that two 19-year-old girls were fourth and fifth (for us) - and had never been at this meet - I knew we were in trouble ...
"I felt like I was watching a nightmare. I really thought there was no way this is happening."
- Florida State coach Karen Harvey, talking about what she was feeling during the 2011 NCAA Cross-Country Championships as her heavily-favored and #1 ranked FSU women picked a terrible day to be a little bit off. After two straight runner-up finishes, FSU finished 4th, as Georgetown - a team which finished third at its conference meet three weeks ago and was trounced by FSU at Pre-Nats - won its first NCAA title. It wasn't a terrible day for all favorites, as three of the four favorites in the Wisconsin men, Lali Lalang and Sheila Reid won.
---
Monday 11/21: "Coming here to win makes me proud. There was of course the fear of the wildlife, but I knew there was enough security so I had time to focus on the race."
- Kenya's Nicholas Kipkemboi, who won the Masai Half Marathon in Kenya in 62:28. How many non-Africans could go out and run 62 minutes in the heat/wind while dodging lions on the trail at altitude? Then how many of them would be willing to do it for a chance to win only 2 grand?
---
Sunday 11/20: "Everybody asks me (about the first national championship) and says, 'That must have been fun.' It really wasn't. That whole year wasn't fun. I went into the year with the mindset, 'This is it. This is the window.' I think we all ran that season pretty tight and thinking, not that we have an opportunity. This is going to be fun. Let's enjoy it. Let's go get it done. It was more, 'We have to do it now.' We won, but really, the feeling was just relief. I was like 'Thank goodness it's over. I'm done, I can go to Hawaii,' which I did."
"... We haven't been as dominant this year as we were last year. There's a team out there, Wisconsin, that is much better than the teams we were facing last year, I think. In fact, they're ranked No. 1, and deservedly so. They're a really good team. But, like I told my guys, I would rather lose with the guys I've got now than win with anybody else."
- OSU's head coach Dave Smith, talking about the first year they won NCAAs and their chances to three-peat this year.
---
Saturday 11/19: "After the Regional meet my freshman year at Columbia, I had an upsetting realization that a lot of people probably experience. There is always someone faster. Earlier that day, I had placed 54th at the meet and finished as our 6th guy. I despondently complained to my friend and teammate, Gary, who sat beside me. He was trying to balance the act of comforting me and watching football over the sounds of my misery. 'I was so far behind our pack today. And there were guys who destroyed them today. Now we don't get to go to Nationals. But the guys from our region are going to just go get their asses handed to them by Rupp. And then Rupp goes to the Olympics and gets crushed. What's the point?'"
- Columbia's Kyle Merber, in a blog talking about the long process of building a program at Columbia which, in his senior year, is now finally on its way to its first-ever NCAA Championships.
---
Friday 11/18: "Lemaitre is important to sprinting for the same reason that the black quarterback is important in the N.F.L. It flies in the faces of what USED to be conventional wisdom. I can tell you that, for years, while we were at the top of the hill, Maurice Greene and I, while we rattled off countless sub-tens with ease, wondered aloud how it was possible that a single white sprinter had not YET done it. So I am glad to see Lemaitre do it often, and his better event is probably the 200."
- Ato Boldon, talking in a NY Times article about "White Lightning" Christophe Lemaitre. In the same article, Lemaitre's coach, Pierre Carraz, said: "In the beginning, I was seriously asking myself if I wasn't dealing with someone who was autistic. He hardly talked at all and even now he doesn't talk much. But I'm beginning to think that he's gifted in some way."
---
Thursday 11/17: "Plus, unlike most of the LetsRun traffic, I never felt comfortable running long distances. Remember, I played soccer at a top competitive level for 15 years and was a starting point guard at Jesuit. I could dunk a basketball my freshman year in High School at 5'9" ... So running track was tertiary, and it took some lobbying by our athletic department to convince me that I should dump other sports I knew I could compete in at the college level to pursue the nerdiest endeavor of them all - Cross Country. Not only was it the nerdiest gig on one of the most talented sports campuses in the country but it proved to be the most difficult, a true test of will and pain tolerance, without the luxury of the stadium, the gym, the crowds, or the cheerleaders. It proved to be the best decision I ever made athletically."
- Former Stanford star and 2000 US Olympian Michael Stember talking in a LetsRun.com exclusive about how he got serious about running late in HS.
Stember, now a successful solar energy executive in California, shares his insight into training (and overtraining), the inner-city school problem, renewable energy and explains why it will be hard for him to win his CharityBet and break 18:00 for 5k.
---
Wednesday 11/16: "The days spent in a hotel room before a championship race can be daunting on the mind of an athlete. When all one wants to do is think about something besides the race, the options are typically limited to cards, homework, and cable television. There is no escape from the wait.

Now add to that fidgety mindset a coach who is every bit as anxious for that gun to go off as you are. In other words, Jerry's own worries, the well-founded observations that he'd learned from years of coaching, the same ones that kept him up at night as he cautiously calculated who was on or off their game, had a habit of trickling down to his athletes. He was at times too attached to the race and its result and as athletes tend to do, they followed suit.

Mick on the other hand seems to have it pretty figured out these days. After spending over 20 years in the NCAA, those trivial concerns don't seem to plague him as much any more ... and if they do, he's savvy enough to keep them to himself. And the good spirit and genuine excitement Mick brings around is contagious. It's the same spirit that Mick's athletes have felt confident and calm with all season long, the same one that has seen them have one of the most dominant regular seasons of any collegiate team ever. But how will it all end?"
- Former Wisconsin Badger Ryan Craven contrasting the coaching styles of former Wisco coach Jerry Schumacher and current Wisco coach Mick Byrne, both of whom he ran for, in an article that has resulted in an explosion of activity on the message board as several former Badgers took the piece as a hit job on Schumacher and have come to his defense. We'll find out how it ends on Monday when the Badgers try to live up to their #1 ranking - a ranking they didn't live up to a few times under Schumacher.
More: *Simon Bairu Blasts Ryan Craven *Lost all respect for BAIRU and SOLINSKY
---
Tuesday: 11/15: "It's really exciting. It was cool, because you could smell the ocean. It was my first time, you know how at the end (of the race) you run though the tape? Yeah [that was cool."
- 9-year-old Tsion Yared, who won the women's Karhu 5k outright this weekend. Tsion didn't even think she'd finish and she won it in 21:19.
Last Two Weeks' Homepages
*Mon (Nov. 28) *Sun (Nov. 27) *Sat (Nov. 26) *Fri (Nov. 25) *Thu (Nov. 24) *Wed (Nov. 23) *Tue (Nov. 22)
*Mon (Nov. 21) *Sun (Nov. 20) *Sat (Nov. 19) *Fri (Nov. 18) *Thu (Nov. 17) *Wed (Nov. 16) *Tue (Nov. 15)
---
Runner's World &
Running Times



Combined Only $22
a Year
Save $87

---

Running & Track and Field Posters
---

Offers of interest: Nike Lunar Glide Discount Discounting on this shoe not allowed until recently.
---