Big Injury, Verzbicas 3:56, Bolder Boulder, UK 10k Record ...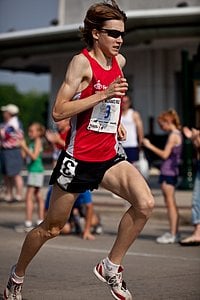 LRC Photos - Lukas Verzbicas 3:56 Road Mile The winner ran 3:53 but the debate is on - how much did the 400m of downhill improve the time?
*Results, Discussion *Local Recap

Usain Bolt Out Of adidas NYC With Achilles Stiffness Track's Sprint King apologizes to the fans but Dr. recommends 2-3 weeks off to prevent further damage.

Race Video Of The Week - Gregson Races King Of The Hill Sprint In Australia

Boards: Bolder Boulder Elite Race
*Results Colorado men Vaughn, Braun and Carney take it to Team USA and Team Kenya.
*Race Video Guy fully decked out as Moses sprints out to the lead.

Boards: NEW UK RECORD - FARAH BEATS KOGO AND THOMPSON AT BUPA 10000m
*Official Recap Mary Keitany won the women's race easily in just over 31 minutes.
More New York City Running News
Get Under The Big Tent - Mary Wittenberg Writes Unofficial USA Running CEO Mary Wittenberg wants to see more events working together to promote the sport in a fan-friendly format.

*Haile Gebrselassie Coming To NYC For Wednesday's National Running Day

*Shalane Flanagan To Announce Fall Marathon While In New York As the folks at Track Focus point out, it's pretty unlikely the choice will be Berlin or Chicago though ING NYC has not been confirmed.
Comrades Excitement: Muzhingi Repeats, Cox Struggles Get the full story of the 2010 Comrades, including the suicidal opening pace, Muzhingi's patient, tough comeback, 1-2 domination by the Nurgalieva twins and even a little video of the finish and post-race comments.
*Boards: Cox 6:51:29
Josh Cox apparently struggled with stomach issues and crossed the line 20 minutes behind US woman Kami Semick, who was 4th in the women's race.
*More Boards: Josh Cox (the human hype machine) gets destroyed
*Profile: Zimbabwe's Stephen Muzhingi, Reigning Comrades Champion
Hengelo Meet - Bad Weather Doesn't Stop Defar - 14:38
*Event-by-event Hengelo Recap Christin Wurth-Thomas 2nd to Nancy Lagat in a fast 4:04 for 1,500m. Abubaker Kaki is back with 1:45 win - will match up with David Rudisha in a few days in Bislett Games. In 7:41 3,000, Saif Saeed Shaheen of Qatar was only 9th (7:46.82)
*FBK Games Video From our friend in the Netherlands.
*Video: Dayron Robles Not Amused After Crashing Out Of Wet Hengelo Hurdles

More From Europe: Bryan Clay And Jessica Ennis Win Goztis Combined Events Challenge
*Thorkildsen Launches 90m Javelin
Oregon Elite Scene
*OTC Elite Help Out At Oregon's HS State Meet - Run Elite 1,500 Nick Symmonds was the surprise, finishing only 7th in 3:45. Flanagan was 2nd in the women's 1,500 as the pros mixed in with the HS kids in Eugene.
2.04m 6'8.25" - Chaunte Lowe Breaks American High Jump Record

Ottawa Race Weekend 10k *Results *LRC Photos
Dire Tune Wins Gender Challenge, Feyisa Lelisa Wins Men's Race In Ottawa Feyisa Lelisa, Deriba Merga and the men were 1 minute off WR pace, so Tune took the gender prize purse home.
Comrades - All 89km - Coming Sunday! *Wiki Page
Amazing Read: Zimbabwe's Stephen Muzhingi, Reigning Comrades Champion Muzhingi's story - to start, he's the first African not from South Africa to win Comrades - is simply incredible. Find out what his occupation is, how he got into running, why he needed someone from his country at the awards stand, why he wants to present the trophy to President Mugabe and more.

Unlike Soccer, American Runner Has A Prayer In South Africa
Josh Cox Ready To Roll Race, Then Check Progress Of Team World Vision Charity Work
Matt Fitzgerald: Doctors Reporting "Born To Run" Causing Epidemic Of Running Injuries It's best to remember that switching to Vibram or barefoot is not a magic bullet for health or running success.
*Latest Boards: Can minimalism help a beginning runner who is highly prone to shin splints?
LetsRun.com's The Week That Was In Running

Last week was light in terms of domestic US action, but we've found plenty to talk about. In roving the globe from Shanghai to Daegu to California, we find time to rip the new 2012 Olympic mascots, wonder if long years are in store for top US pros Shalane Flanagan and Jacob Hernandez, catch up with Lukas Verzbicas, give out free coaching advice from Jerry Schumacher and bow down to the great Japanase sprinters with an introduction to Shota Iizuka.
Usain Bolt is human after all as he could not break Michael Johnson's world 300m record. Bernard Lagat was third in the 3k.
*Powell Breaks Charlie Green's 100yd World Best

*Ben Johnson Talks To Media - Warns Usain Bolt Of Sabotage 22 years later, Ben Johnson is opening up to the media with appearances, new book.
West Regional Photo Galleries Courtesy Of LetsRun Reader Bert Richardson From Texas

Photos: *Heat And Spills
*M/W 5,000
*M/W 1,500
*Sprints And Relays

College Talk On The Message Boards:
*Bucknam has excuses for being a s..t coach.... 3 highly seeded Razorbacks DNFed in the 10,000, but they werent the only program to struggle, as NCAA XC champs OK State only advanced 1 distance runner to NCAAs.
*Texas A&M coach RIPS NCAA regional system
*43.94 Split in the 4x4 at NCAA East Region

Results: East Results --- West Results
Renegade Fujiwara Runs 2:09:33 Course Record In Ottawa Brett Larner, Japan Running News

Fujiwara: "When I drove the course earlier, I saw cafes and pubs and thought it would be nice to go in. Now that I've won, I'll have a few drinks." Ottawa Citizen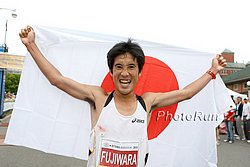 LRC Exclusive The 24/8 NCAA Qualifying Plan Explained - Day 4: Women's Field Events
This year in outdoor track, we have the Pure Regional system. Last year was regionals plus time qualifiers. The NCAA plan for next year may likely be a totally different version. As a way of looking ahead, we took the time to find out exactly who would make NCAAs this year if the proposed "Wilson Plan" or "24/8 Plan" was already in place.
Day 4: Women's Field Events
Day 3: Women's Running Events
Day 2: Men's Field Events
Day 1: Introduction/Men's Running Events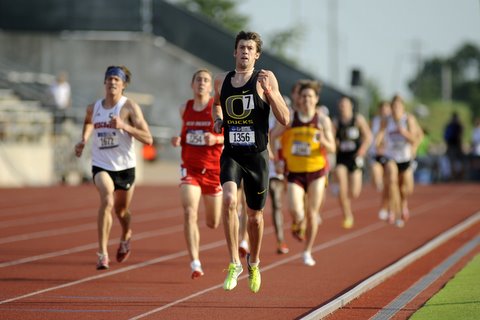 IAAF Notices: Strong Sprint Times Highlight NCAA Regionals We were blown away by the number of top sprint times. In terms of distance, a lot happened but the big highlight was Andrew Wheating dominating in 1:46, 3:37.

*Lananna Uses Puskedra To Rabbit McNamara To NCAAs Maybe regionals aren't all that bad.
*DEAR VIN LANANNA: Here are the reasons to have regionals
*Below: A&M's 4 x 1 Not Exactly Struggling To Advance ...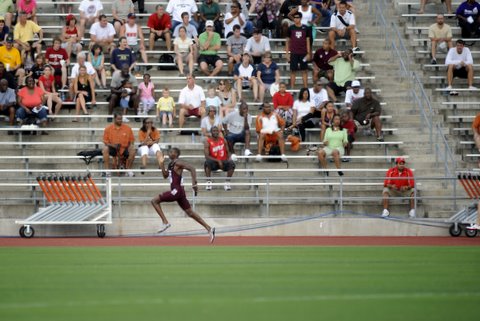 Apparently This Is Controversial
USATF Launches Coaches Registry Program In order to become a coach registered with USATF you must now undergo criminal, terrorist, sex offender and identity verification procedures and sign a code of conduct.
D2 And D3 Nationals This Weekend
*D2 Results
*Boards: ADAM STATE SCORES 2PTS IN 10,000M D2
St. Augustine's wins another men's title, Angelo State takes women's. Adams State got 8 in the 5k and 13 in the 1,500.

*D3 Results, Recap
*Boards: DIII Outdoor Nationals
North Central men win XC/indoor/outdoor triple crown, Illinois Wesleyan takes women's championship.
Inspiration From Billy Mills
Believe, Believe, Believe - Billy Mills Continues To Inspire
Recommended Read: Sports Illustrated: Army 800m Runner Andy Ferrara Follows Brothers To Battle After Regionals
Scientists, Medicine, Testosterone Deodorant And Sport
Upcoming Events For The Sport That Never Sleeps
Thursday: Usain Bolt To Run Golden Spike Ostrava 300m David Rudisha will contest the 800m as well.

Friday And Saturday: Preview Of NCAA Regional 800m Regionals will run from Thursday - Saturday to determine who makes NCAAs in Eugene.

Sunday: Josh Cox And Team World Vision Head To South Africa For Sunday's Comrades Ultra We're fascinated by Josh Cox's attempt to win this race.

Monday: Boulder, CO Getting Excited For Memorial Day Bolder Boulder
More Weird Cheating News From China
Shandong Marathon Winner Banned After Ringer Revealed Video revealed that the supposed race winner actually hired a ringer to run for her.
Another Rising Star - Titus Mbishei
Titus Mbishei Announces His Arrival With Big Win Over Kipsiro, Lelisa, Tola and Merga 19-year-old Titus Mbishei truly left his mark this weekend by defeating some big names by big margins in Bangalore, India.
*Young Kenyan Mbishei Will Use Prize Money To Help Teammates An amazing gesture from Mbishei, who won $21,000 and trains with 25 other guys in Kenya.
*Titus Mbishei Profile World junior XC and 10,000m silver medalist has run 27:31 for 10,000m. Stats courtesy of Pace Sports Management
Video Of The Week? Gregson In Bamoral Burn Uphill Run
Bolt Is Human - Misses MJ's 300m WR
Freshman Japanese Sprinter Runs Unbelievable 4 x 100 Anchor