Today's All About Running History
*Recommended Read: Former UW Roommates Broke Pole Vault And Long Jump World Records 47 Years Ago The long jump record (ridiculous 8.33m) is still a point of contention as there was no wind gauge, while the pole vault record breaker suffered a massive trampoline injury soon after his WR.

*World War II Bombardier And US 5,000m Olympian Lou Zamperini To Be Subject Of New Laura Hillenbrand Novel Nicholas Cage is slated to play Zamperini in a film based on the Seabiscuit novelist's 7-year research project.

John Meyer: Boulder Group Helps End "Shamateurism"
*Trust In Boulder - How Frank Shorter And Co. Helped End Age Of "Shamateurism"
*How Distance Runners Helped Professionals From All Sports Compete In Olympic Games
*Herb Lindsay Talks About Getting Paid Under The Table In Early '80s Things were a lot different for the top runners 30 years ago. Then again, $1,000 went a lot farther in 1980 than it does today.
RIP - Deaths In The Sport
*Bill Bowerman's Widow Barbara Bowerman Dies At 96
*IAAF Honorary Life Vice President Hanji Aoki Passes Away
*35th Anniversary - Death Of Prefontaine Still Felt By US Track
Laura Roesler Ends Prep Career With Record 20 State Titles And Now She's Off To ... Oregon This probably should have been our quote of the day: "On Friday in the 100 preliminaries, Milbrath became the first North Dakota competitor to beat Roesler in any event since Roesler was in seventh grade." Yes, that's right, Roesler failed in her bid to win 5 state titles for 4 straight years, as she was finally beaten in the 100, where she said she is "vulnerable" - but mega props to her for her amazing run.
News From Britain
Big Injury, Verzbicas 3:56, Bolder Boulder, UK 10k Record ...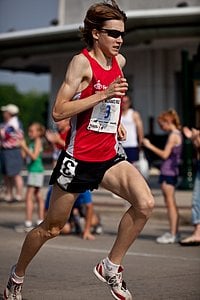 LRC Photos - Lukas Verzbicas 3:56 Road Mile The winner ran 3:53 but the debate is on - how much did the 400m of downhill improve the time?
*Results, Discussion *Local Recap

Usain Bolt Out Of adidas NYC With Achilles Stiffness Track's Sprint King apologizes to the fans but Dr. recommends 2-3 weeks off to prevent further damage.

Race Video Of The Week - Gregson Races King Of The Hill Sprint In Australia

Bolder Boulder: Ethiopian Teams Sweep, Team Colorado Beats Team USA The Ethiopian men had a perfect score of 6 and the women took 2 of the top 3 places.
*Results Colorado men Vaughn, Braun and Carney of Team Colorado took it to Team USA and Team Kenya.
*Race Video Guy fully decked out as Moses sprints out to the lead.

New UK 10k Road Record as Mo Farah Beats Olympic Bronze Medallist Micah Kogo A big road win for Mo Farah as he beat recent UK 10k track record holder Chris Thompson as well. Farah will go on the track and try and get the UK 10k track record next week. Mary Keitany won the women's race easily in just over 31 minutes.
*On the boards: NEW UK RECORD - FARAH BEATS KOGO AND THOMPSON AT BUPA 10000m
More New York City Running News
Get Under The Big Tent - Mary Wittenberg Writes Unofficial USA Running CEO Mary Wittenberg wants to see more events working together to promote the sport in a fan-friendly format.

*Haile Gebrselassie Coming To NYC For Wednesday's National Running Day Somehow we hope the unverified report of Geb running Berlin this year is wrong. Him being in NY can't be a bad thing.

*Shalane Flanagan To Announce Fall Marathon While In New York As the folks at Track Focus point out, it's pretty unlikely the choice will be Berlin or Chicago though ING NYC has not been confirmed.
Comrades Excitement: Muzhingi Repeats, Cox Struggles Get the full story of the 2010 Comrades, including the suicidal opening pace, Muzhingi's patient, tough comeback, 1-2 domination by the Nurgalieva twins and even a little video of the finish and post-race comments.
*Boards: Cox 6:51:29
Josh Cox apparently struggled with stomach issues and crossed the line 20 minutes behind US woman Kami Semick, who was 4th in the women's race.
*More Boards: Josh Cox (the human hype machine) gets destroyed
*Profile: Zimbabwe's Stephen Muzhingi, Reigning Comrades Champion
Hengelo Meet - Bad Weather Doesn't Stop Defar - 14:38
Event-by-event Hengelo Recap Christin Wurth-Thomas 2nd to Nancy Lagat in a fast 4:04 for 1,500m. Abubaker Kaki is back with 1:45 win - will match up with David Rudisha in a few days in Bislett Games. In 7:41 3,000, Saif Saeed Shaheen of Qatar was only 9th (7:46.82).
FBK Games Video From our friend in the Netherlands.
Oregon Elite Scene
*OTC Elite Help Out At Oregon's HS State Meet - Run Elite 1,500 Nick Symmonds was the surprise, finishing only 7th in 3:45. Shalane Flanagan was 2nd in the women's 1,500 as the pros mixed in with the HS kids in Eugene.
A Gift On National Running Day
Getting Ready For Friday's Diamond League Meet In Oslo *Tentative Entries
Random Links