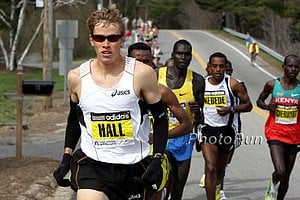 LRC Ryan Hall To Run 2011 Boston Marathon It will be his first marathon without a coach.
*Message Board Thread
Interesting Read Sports Economics: Daegu, Korea To Spend $190 Million On World Championships Asia apparently is the only one with money left to burn.
HS Distance News
Other Articles That Are Possibly Worth A Click/Listen
Scientists Used MRI Scans To Study Runners Over Trans-European Foot Race And Have Some Interesting Findings On Fat Burning, Injuries Nothing groundbreaking, but if you're into this stuff, it's worth a read.
LRC In Monaco
LRC US Sprints Stars Jeremy Wariner And Allyson Felix Look Back At 2010 And Ahead To 2011 Wariner wants to keep getting stronger as he has put his knee surgery behind him. Felix is preparing for a possible quadruple in London but first she'll have to beat VCB in an Olympics- something she hasn't done.
Previous From Monaco:
LRC 800m World Record Holders: Juantorena, Coe, Kipketer And Rudisha All Together In One Room For The First Time Ever We didn't hype this enough last week because of NCAAS but you'll learn something if you give this a read or watch.
LRC Bernard Lagat Says The 5k Is His Focus; Watch Out For His Brother, Robert Cheseret
LRC Dayron Robles And David Oliver Agree On One Thing - Allen Johnson Is The Best Hurdler Of All Time Robles and Oliver were really entertaining. Oliver is now one of our favorite US runners.
XC News
Update On Nike - Foot Locker Rivalry
Indian Track & Field Athletes May Receive Monthly Stipend Of Slightly More Than $2,000 Per Month 100,000 of their dollars is $2,182 to us. The lowest paid people would make about $1,300 per month.
Valerie Adams' Coach #3 Of Year Speaks
Weekend Marathon Action
Bad Weather Results In 2:12 And 2:28 Winning Times In Florence

Korea's Ji Young-Jun Breaks Away From World Silver Medallist Mubarak Hassan Shami And Wins Asian Games Marathon Shami is the guy who was going to win the 2005 World Half Marathon but celebrated too soon and was caught at the line.

Rags To Riches: Isaac Kosgei, Who Was Discovered Last Year At Nairobi Slums Talent Search 10k, Wins Kass Eldoret Marathon And $20,000 We're not sure how a $20,000 marathon was won in 2:20 in Kenya, but this is a big race and Paul Tergat was on hand along with Hendrick Ramaala. More here.
Three Foot Locker And Lots Of NXN Regionals Held We know a ton of Nike regionals were held, but the schedule is so confusing we don't care to figure out how many.

Foot Locker Regional Champs

Northeast Girls: Last year's Northeast champ Aisling Cuffe (4th in the Finals last year and now a 3-time qualifier) left the field behind on Cardiac Hill at the new meet venue of Sunken Meadow Park (moved from Van Cortlandt Park) and cruised to a comfortable repeat win. Abbey Leonardi repeated as Regional runner-up. Holmdel record setter Megan Venables was only 4th but advanced with plenty of room to spare. Full Girls Seeded Race Results
Northeast Boys: Converted soccer player Chad Noelle, running in his first high school XC meet (he does have 4:09 and 9:04 track PRs) caught frontrunning Morgan Pearson with just under a mile left and prevailed in the sprint. Full Boys Seeded Race Results (PDF)
South Girls: Florida twins Kathryn and Erika Fluehr reversed the order of their state meet finish, with Kathryn winning as she normally does, and took the top two spots to both earn a repeat trip to Nationals. Third-placer Rachel Johnson had her first loss of the season (after winning NXN South a week ago and Texas state a week before that) but also made the Foot Locker Finals for the second year in a row. Full Girls Seeded Race Results
South Boys: With last year's South champion Craig Lutz opting to run only NXN this year (he won NXN South last week), recent Florida state meet course record setter Jimmy Clark took advantage and used a big kick to make it a Sunshine State win on both the boys' and girls' sides. Runner-up Blake Williams earned his second trip to the Finals in as many years. Full Boys Seeded Race Results
Midwest Girls: With temperatures in the 20s, Allison Woodward pulled steadily away from Gabrielle Anzalone with just over a half mile remaining. Third-placer Shannon Osika booked her 2nd trip to Nationals. Full Girls Seeded Race Results
Midwest Boys: Defending Foot Locker National Champion Lukas Verzbicas blasted a 4:35 second mile in the chilly weather and ran the 3rd-fastest performance in meet history (14:45) to hold off fellow 11th grader Futsum Zeinasellassie, who finished 7th at Nationals as a freshman in 2008. Full Boys Seeded Race Results
West Regional Races coming Saturday, Dec. 4.

For more in-depth coverage of Foot Locker regions, as well as NXN regions, you can find plenty of articles at ESPN RISE.
The Age-Old Question
The limit of human performance: How much faster? Science of Sport It seems like ever since people started recording how long it took to run a certain distance, they've speculated about what the final, unbreachable barriers of performance might be. Sixty years ago, most people thought a 4:00 mile might be the limit. Now the record is over 16 seconds faster than that. Where does it end? Will somebody eventually break 2 hours for a marathon? Do we now really know enough about human physiology to reasonably predict where the human body eventually reaches an asymptotic limit which can only be further approached but never surpassed? Or are we still imposing arbitrary limitations on ourselves?
Random Sunday News
*Two Kenyan Frosh Go Sub-28 For Takushoku (JPN) University We've always wondered how much damage the top Japanese universities could do at NCAA XC or how the top NCAA teams would fare in a major Ekiden. These teams are extremely good.
*More Uproar Over Gender Issues What happened to just stating the obvious?
Sad News
Bob Wheeler, Former NCAA Champ, 1972 Olympian Dies At Age Of 58 More info here.
Webb's Comeback Continues On Turkey Day!
Boards: Webb Over Rupp In Silicon Valley Trot
Alan Webb (13:36) kicked past Galen Rupp for the win in a last-minute matchup of training partners at the Applied Materials Silicon Valley Turkey Trot.
*Top 10 Men's Results NAU junior Diego Estrada wasn't happy with his 16th at NCAAs on Monday so he ran 13:50 for 4th on Thursday.
*TrackFocus Recap
*Mercury News Recap With Webb Quotes
*LRC Reader Gets Race Photos Word from out west is Webb looks fitter than ever.
*Video: Salazar Talks After The Race, Plus Men's Finish
USATF News
*Aftermath From Colorado: Runners Blame Wind - Wetmore Blames Himself Wetmore's men had their worst showing since 1989.
*Aftermath From Wisconsin: Badgers Felt Like They Were Going To Win It Recommend Watch: Video: Elliot Krause Talks About His Collapse In The Final 400, Which Moved Him From 16th To 137th
*Aftermath From Oregon Puskedra is pleased to prove freshman year wasn't a fluke but stunned that Chelanga could talk mid-race; Lananna said the guys went out too hard but that's the only way they know how to do it at the U of O.
*Aftermath From Gtown Ladies pumped to go from 21st to podium.
*Aftermath From Stillwater Everyone is obviously pumped that they won and ran great.
*Aftermath From Tallahassee "It was a great day to be a Seminole."
*Aftermath From Arizona Sambu ditched his pre-race plan to run with the second pack and Coach Li was pumped the women were 11th.
*IAAF Recap
2010 NCAA XC Men's Race
*LRC Oklahoma State And Chelanga Repeat!!! History repeated itself but things didn't necessarily go as expected, as Oklahoma State dominated and Sam Chelanga didn't win until the very end. Florida State went from 2nd-from-last to 2nd as the Cowboys' only real challenger on the day in Wisconsin faded, as their third runner totally blew up in the final 2k collapsed some 250 meters from the finish line.
*High Winds Hurt Colorado As Their Run-From-Behind Strategy Ran Into Difficulties The Buff men had their worst showing since 1989, as they were 15th.
*Okla. State Newspaper: Cowboys Bring Home School's 50th NCAA Title & Third Largest Margin Of Victory 5th man Jonathan Stublaski had to lobby his way onto the team after bombing at conference and he came through with All-American honors. Meanwhile, the Okla. State paper features a LetsRun.com photo as we decided to be nice and give the poor college students one for free. T. Boone Pickens, please send us a check.

NCAA Men On The Boards:
*Oregon men only five runners?
*Stanford FAILS again!
*OSU's Ryan Prentice ran with one shoe for 9000 m
*Chris Derrick in elite company
*161 31:42.0 A.J. Acosta SR Oregon 31:42.0
*What happened to 25 year old David McNeil?
*Show Luke Puskedrsa some love, he earned it!!
*What if Ryan Sheridan had run for Iona?
(NCAA women's coverage in 2nd column)
800-Meter Royalty
Kenyans Are Pumped Rudisha Is 1st Ever Kenyan To Be Named World Athlete Of The Year *More On IAAF Athletes Of The Year David Rudisha And Blanka Vlašić
*Blanka Vlašić And David Rudisha Win IAAF Athlete Of The Year Awards *IAAF Release Additionally, both athletes will receive $100,000 despite the IAAF's financial situation.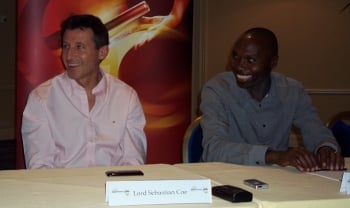 LRC Juantorena, Coe, Kipketer And Rudisha All Together In One Room For The First Time Ever There may never be a night like it for the 800m. The last four world record holders, Alberto Juantorena, Seb Coe, Wilson Kipketer and David Rudisha all gathered together to reminisce about their record runs, to pay their respects to one another and to discuss the uniqueness of the 800m. It was a truly special occasion and these greats were almost giddy about it. They mesmerized the room for 40 minutes. Juantorena and Kipketer wanted their own photos, Coe said the photo would be his Christmas card, and Juantorena also wanted a video of the occasion. We then were notified we have the only video of it in the world. Recap and video.
Sponsored Post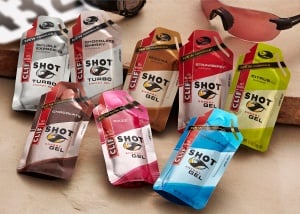 New Improved CLIF SHOT Gels For The Performance Runners CLIF, the incredible company we've been telling you about the last few months, has a improved the formula on their new CLIF SHOT Gels. Now with up to 50% more electrolytes, the new gels have a thinner consistency to go down smooth no matter what mile you're on. 100% natural and 85-90% organic, read more about the new CLIF SHOT gels.
More Great Stuff From The IAAF Meetings In Monaco
LRC Bernard Lagat Says The 5k Is His Focus; Watch Out For His Brother, Robert Cheseret The American 3k and 5k record holder talks about his 2010 season, what took him so long to get the American record, raising the bar for Americans, and the bar being raised by Dathan Ritzenhein. Plus he says watch out for his brother, Robert Cheseret.
LRC Dayron Robles And David Oliver Agree On One Thing - Allen Johnson Is The Best Hurdler Of All Time Robles and Oliver were really entertaining. Oliver is now one of our favorite US runners.
*Vlašić, Felix, Lemaitre And Wariner Meet The Media In Monaco
*President Diack's Remarks At The 2010 Athlete Of The Year Press Conference
Kara Goucher To End Maternity Leave At Rock 'N' Roll Half On Jan. 16th That's less than four months after giving birth, for those of you asking. Clearly, she's not following the Paula Radcliffe "take it slow" approach.
LRC The Week That Was We keep things brief as we talk about lowering expectatons for Haile's comeback and give props to Tulsa, Toledo and Richmond and Megan Venables and the great state of NJ.
US Stars Of Present (And Future?) In The News
Despite Protests, Olympic Marathon Almost Certainly To End In London Mall Meanwhile, we wonder if anyone thought about trying to recreate the marathon course that gave us the 26.2 mile distance from 1908.
Recommended Read Former Kansas Great And World 1,500 Record Holder Wes Santee Dies The NY Times Frank Litsky recaps Santee's career and life in great detail. He was America's best hope to be the first sub-4 guy in history. Want to know more about Santee? He was featured in The Perfect Mile.
*KU Release On Santee *2nd Article On Santee With Pic Of Him In Prime *3rd Article On Santee With Recent Picture
News From Europe & Kenya
Post-Commonwealths/NYC Marathon News
Week In Review WikiLeaks Style
LRC NCAA Week In Review We didn't steal the data or jeopardize national security, but in the tradition of WikiLeaks we have a data dump in our Week In Review that covers the NCAA XC Meet. Also, last week Alan Webb took down Galen Rupp on the roads at 5k.
NY Times: Babies And Toddlers Now Getting Sports Tutoring
News From Australia
Drug News
Awards Season Is Upon Us
European XC Meet Is Next Weekend
USOC Hopes IOC Participates In LaShawn Merritt's Arbitration We're the biggest anti-dopers out there and think the IOC needs to follow the WADA code and let Merritt compete in 2012 ... or change the rules.
You Ask And You Shall Receive
LRC NCAA Division II NCAA Prediction Contest The national champs in the DII ranks are this weekend.

Preview Of This Weekend's North Face 50-Miler In Marin A loyal LetsRun.com viewer asked us to give this race some love. It's got a field from all over the world, and a $1,000 $10,000 first prize. All it's missing is some top guys from Africa (see below).
Nigerian Mountain Race Has A Ton Of Prize Money, Which Means Africans Start Winning, Europeans Quit Coming $50,000 for first.
US News
Family News: Russian News: European Steeple Champ Yulia Zarudneva Got Married, Jumper Tatyana Lebedeva Pregnant
Lots Of European Weekend XC Action
International News
Asian Games Are Over
Korea's Ji Young-Jun Breaks Away From World Silver Medallist Mubarak Hassan Shami And Wins Asian Games Marathon

Thrilling 10k Battle Between Ethiopia & Kenya Bahrain And Qatar Highlight Next-To-Last Day Of Asian Champs A new record of 27:32 was set as the winner came back from 60 meters down over the final 3 laps to win narrowly.
*Reminiscent Of Beijing 2008, Host China Puts On An Impressive Show The host nation once again wowed spectators with dazzling ceremonies, top-notch security and a record haul of 199 gold medals (all sports). Liu Xiang was of course one of the major stars.
*IAAF Day 6 Recap


Thursday News:
*Chinese Fans And Media Ecstatic With Liu Xiang's 13.09 Return
*Iran's Sajad Moradi And Iraq's Adnan Taees Akkar Go 1-2 In Men's 800
*Guangzhou Spent 20% More On Asian Games Than London Will On 2012 Olympics $18.3 billion in funds went to hosting the games in a a move local officials hope will pay off in long run with more events being hosted.
*Singapore Govt. Condemns National Flag On Front Of Swimmers' Speedos

Wednesday:
13.09 For Liu Xiang As He Wins Asian Games A surprisingly good time for Liu. In other action, World 1,500m champ Yusuf Kamel did not start the 800 a couple days after criticizing team officials for making him running the 1,500. He said then, "I know that I can't achieve anything."
Some NCAA XC Tidbits
Sprint News
Diamond League News - North American Viewers Go From 2 Million To 21 Million?
Pre-NCAAs Week That Was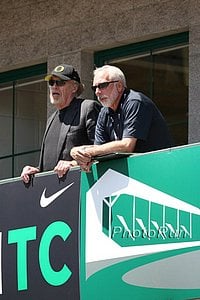 LRC Week That Was We give some props to a guy you may not be familiar with (Geoffrey Mutai), analyze Vin Lananna's dig at other collegiate XC programs, compare the American men marathoners to the American women, look at the 15k WR by Leonard Komon and discuss a 400m star who may move up to the 800.
More Rudisha AOY News
Famed Coach Brother Colm O'Connell Says Rudisha's "Not There Yet" To truly be considered great, the world record holder needs a world and Olympic title.

"The Party Continues" The Standard of Kenya The worldwide domination of little LetsRun.com continues as this Kenyan article quotes from LetsRun.com detailing the incredible gathering of David Rudisha, Seb Coe, Wilson Kipketer and Alberto Juantorena in one room for the first time ever. If you haven't read our recap of the event or watched the exclusive video Juantorena wants a copy of, click here.
*LRC Sheila Reid Leads Villanova To Repeat Title!!! Individual champ Sheila Reid led 'Nova to a record 9th title as Florida State was 2nd and #10 Texas Tech was 3rd.
*Reid The Leader Of The Pack As 'Nova Repeats Reid has overcome the injury that ended Bo Jackson's career.
*Oregonian: Oregon Ends Up With Two 3rd Place Individuals In Hasay And Puskedra
*AP Recap Of NCAA Meet *ESPN.com Recap *Philly.com Recap Of 'Nova And Reid
(More Men's Coverage in 1st Column)
2010 Co-Ed Chiba Ekiden
Recommended Read: Q&A With Famed Track And Field Journalist James Dunaway He'll be only the 2nd journalist inducted into the T&F Hall of Fame and he deserves the honor after more than 50 years in the sport. A great guy and an LRC visitor.
A Truly Crazy Read: Two Rochester, NY Old Guys Battling It Out To Become 1st Marathoner To Run 1,000 In History One is 79 years old and had a stroke and lives in a nursing home and has a walker but plans to run some more while his 90-year-old friend is playing catchup as he's 220 behind.
Other News Of Note
Pro Overseas Distance Action
Amazing 50-Year-Old Elina Zvereva Aiming For 2012 Games In Discus She's no slouch, as she did win Olympic gold at age 39.
Alberto - Read This: Scientists Say They Have No Idea How Form Really Works & How Fast People Can Truly Run This article seems to be written for people who believe Alberto Salazar's obsession with form is all wrong.
HS News: CBA's Mike Mazzaccaro Claims Title As Greatest CBA Runner In History As His 15:20 Leads Team To Fastest Avg. Time In NJ History
*Weekly HS Recap NJ MOC, MA state meet and a lot more.
IAAF Meetings In Monaco (Wejo On Site)
LRC IAAF Rights Its Financial Ship While much of the running world is getting ready to travel to wonderful Terre Haute, LetsRun.com's beloved Wejo is living the life of luxury, attending the IAAF meetings in Monaco. Fortunately, after running into Bernard Lagat in front of the beautiful casino, he took the time to give you a few insights from Day 1 of the IAAF meetings, where it was announced the IAAF will balance its book through 2015 by cutting back on expenditures. Plus he looks at the sports popularity in Europe.
Haile Gebrselassie News
Gebrselassie Says Public Appeal Of Fans In Ethiopia Changed His Mind On Retirement
LRC Update Former Imprisoned Ethiopian Journalist Says Hermens'/Gebrselassie's Leak And Then Denial Of NY Times Report Is Part Of Attempt To Raise Awareness Of Geb's Plight In Ethiopia, Where He's Had A Lease To Land Worth At Least $7.2 Million Taken By The Government The story talks about the land being worth between 120,000,000 and 150,000,000 birr, which converts to $7.2 and $9.1 million US dollars.

Gebrselassie Says He's Still Planning To Run Tokyo Marathon In February Geb's team is now smartly trying to change the topic of conversation. We'll hopefully have an update tomorrow on some of the emails we've received on the news below.

LRC Update The NY Times Stands Firm: "The New York Times stands by its story." Plus we have commentary from an Ethiopian political expert who says making Geb and Hermens deny the story is typical of the government.

LRC Jos Hermens And Haile Gebrselassie Take To National TV To Deny NY Times Story - Were They Forced To Do It? Hermens has denied telling the New York Times Haile's phones were tapped and Haile also ripped the paper. *Coverage On Ethiosports.com

Geb's Knee Pain Is Gone & He'll Run In Tokyo In February
Marion Jones Continues To Lie - Thankfully, We Aren't The Only Ones Who Are Outraged
Fukuoka Field Announced Jaouad Gharib & Kebede Tekeste will headline in December. Fasil Bizuneh and Andrew Lemoncello will race as well.
Swimming Reminds Us Of USATF
Swimming National Coach Fired Even Though He Was Promised He Could Continue For Six To 10 Years
LRC Tributes Pour In For The Great Haile Gebrselassie Last week, the world was shocked as the great Haile Gebrselassie retired. The retirement was short-lived but our inbox was flooded with tributes to the great Haile. We share some of them with you, including one from a man who calls Haile an inspiration for millions, another who admits he cried when he watched Haile retire and painted a picture of Haile in victory in Berlin, and lastly a note from a college sophomore in the US who found it easy to be inspired by Haile but hard to be inspired by US stars like Prefontaine, whom he calls an "alcoholic frat boy who refused to listen to anyone" or drug cheats like Alex Rodriguez and Marion Jones or others who have "sexually harassed women (Brett Favre, Kobe Bryant, Ben Roethlisberger)" or "abandoned his family or fans (Tiger Woods, LeBron James)."
Paul Tergat Tells Daily Nation He's Happy To See Old Rival Geb Unretire Three Great Tergat Quotes:
1. "Legends of any sport do not retire; instead, they fade off the stage graciously and continue working in the disciplines they know best."
2. "Gebrselassie has done everything in the sport except win a marathon with stiff competition."
3. "Deep down, when he is all alone sitting by the fire, Haile must realise he dropped one of the biggest clangers of his running career."
Public Service Announcement
Our sub-forums (training, college, high school, shoes/gear) are working again. Our apologies.
Relive Men's NCAAs: *Recap *Results *Photos *New (2nd Photo Album Added Here)
Relive Women's NCAAs: *Recap *Results *Photos *New (2nd Photo Album Added Here)
800m Royalty Together For The First Time Ever: Juantorena, Coe, Kipketer And Rudisha (It's Well Worth A Watch If You Have The Time, Or Read The Recap Here)
Webb Beats Rupp - Silicon Valley Turkey Trot Finish Video - More, Including Interview With Salazar, At Spiked Up Psyched Up Blog
Previous Asian Games News
Old 15k WR Holder Interviews New WR Holder
They Both Crossed The Line First At Worlds
LetsRun.com's Message Boarders Rejoice
Despite Being European 400m Champ, Kevin Borlée's Dad Wants Him To Move Up To The 800 He is the "slow" Borlée twin yet was the European champ this year. He's not ready to move up.
NYC Champ Edna Kiplagat Getting Props In Boulder
Random News
Save Some Cash

2010 ING NYC Photos
Geb's Emotional Retirement Speach
Fred Lebow Documentary Trailer - More Info Here
LRC Poll
Powered By