2005 World Half Marathon Champs: Two Different Sort of Surprises
LetsRun.com
October 1, 2005
(Men's Recap First, Jump to Women's Recap here)
The final World Half Marathon Championship (the event next year will be replaced by the World Road Running Championships) were full of drama on the streets in Edmonton, Canada as both the men's and women's races were full of surprises, but of different sorts.
First up under the cold and raining condition in Edmonton, Canada was the men's race. Triple Olympic and World 10,000m silver medallist was Sileshi Sihine was the heavy favorite and he helped pushed the pace early on. The pace settled and a lead pack formed that was surprisingly short of Kenyan runners. 2005 US road racing sensation Gilbert Okari tried to hang on to the pack but soon fell off and by 15k, the pack was down to 5. Sihine, Yonas Kifle of Eritrea, 2 time runner-up at this event Fabiano Joseph of Tanzania, Mubarek Shami of Qatar (formerly Richard Yatich of Kenya) and Abebe Dinkessa of Ethiopia. The athletes took turns at the front but Shami was often doing the leading.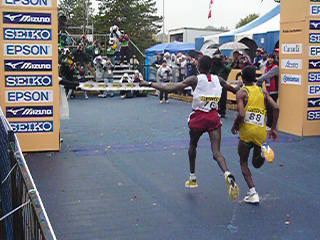 The pack stayed together until nearly the final kilometer when the pace increased with the athletes fearing the track speed of Sihine. Dinkessa was the first to drop off, and then it was Kifle who felt the strains of the pace and lost contact. Shami was been pushing the pace, and soon it was too much for Sihine. Coming into the finish it seemed to be too much for Joseph as well. Sihine maintained a narrow but definite lead (3-4 meters) over Joseph as they sprinted in front of the grandstands towards the finish. It looked like the 20 year old Joseph (he is officially reported as 19, but he told us he was 20) would be runner-up at these championships for the third straight year.
Shami, like everyone else thought the race was over, and he put up his arms to celebrate the final 10 meters. The problem was, he was not quite yet at the finish and Joseph was not giving
up and was right on his heels. Shami slowed his pace just enough in his premature celebration over the final 5 meters to let Joseph outlean him at the line for one of the most surprising victories ever. (Photos of Shami celebrating with Joseph closing the gap are on this page (all the photos of the finish except for the first are from Victor Sailer), but to really appreciate it you need to download this 3mb quicktime video of the finish of the finish).
A fast closing Kifle was able to pass Sihine just meters before the finish to take 3rd. Nonetheless, the Ethiopian team picked up the team title over Eritrea (Kenya was only 5th). Ryan Shay of the United States, ran with Jason Hartman for most of the race but held on better than Hartman to finish in 15th, the highest finish ever by an American at these championships. Hartman was 20th (1:03:50), and Matt Downin 30th (1:04:53) to finish off the scoring spots for the Americans (Jason Lehmkuhle was close behind in 33rd (1:04:58)), as the US team finished 6th, their highest finish ever.
Afterwards, both Joseph and (surprisingly to some) Shami were both pleased with their races. Shami admitted to not seeing Joseph right behind him during the final stretch. "I didn't see him (coming up). In competition, the winner is not known (until you cross the line)." Shami truly seemed pleased by his race even though a bizarre mistake cost him the World title. He said with sincerity in his voice, "No, I am not disappointed. I am satisfied. This is my first time to run a good competition like this (a major championships). I got a medal, so I'm happy."
For the road specialist, Joseph, it was sweet redemption after being runner-up at this championship twice already just as a teenager. As he huddled under a gas heat lamp after the race he said, "I am very happy for finishing first." He tried to push the final kilometer to get away from the strong kickers like Sihine, "Because I am not a (good) finisher, I like to be moving, moving (fast) so I can (at least) be #1 or #2 (in the race)." Joseph who has never competed in an Olympics, continues in a great, but small tradition of Tanzanian distance runners. He credits the great 1500m runner and Olympic steeplechase medallist Filbert Bayi for some of his success. He hopes to make his marathon debut in 2007. For more on Joseph click here.

(Other item of note: LetsRun.com poster and Qatari coach Renato Canova said Nicholas Kemboi who many expected to be the #1 Qatari in the race (ahead of Shami) fell in his bathroom last Sunday and had problems with the injury in the cold weather of Edmonton.)
Women's Race: Tomescu Surprsises
In the women's race, the big surprise was the winner. The race was expected to be an African dual up front between Susan Chepkemei (3 time runner-up here), Lorah Kiplagat of the Netherlands, and Derartu Tulu of Ethiopia.
Tulu was never a factor in the race as she fell behind by 5k in the cold rain of Edmonton. (Afterwards Tulu said, "My race was very good looking at the fact that I had bronchitis and the flu before and threw up right before the race. That is the race I did not go out hard... No I am not really disappointed, things like that happen.") Chepkemei, Kiplagat, and Constantina Tomescu of Romania (3rd at the recent World Champs in the marathon, and winner of the 2004 La Salle Bank Chicago Marathon) were leading the race until in the 24th minute when Tomescu blew open the race. She seized the lead as Chepkemei and Kiplagat continued to run together behind her.
By 10km 32:07 (16:02 for her second 5k), Tomescu's lead was 18 seconds. Tomescu actually slowed over the next 5k (16:35 3rd 5k, 48:42 cumulative), but extended her lead even further to 41 seconds. Baring a monumental collapse the race appeared to be hers to win. Despite Tomescu running 16:57 for the 4th 5k, she extended her lead as Kiplagat and Chepkemei both complained of cramping after the race due to the cold and were content to battle it out for 2nd. Tomescu took the world title in 1:09:17. Kiplagat would outsprint Chepkemei for 2nd (1:10:19 to 1:10:20), over a minute behind the dominate Tomescu.
Mihaela Botezan in 5th, and Nuta Olaru in 8th, would give the team title to Romania by a 2 minute margin over Russia. A weak United States team would finish last (Laura Turner (38th- 1:16:11) and 1996 US Olympic marathon trials winner Jenny Spangler (43rd- 1:16:41) were the first Americans)
Dita, the ironwoman of distance running (this race was just a month and a half after her bronze at the World Marathon Champs, and one week before she defends her Chicago Marathon title), was very pleased to pick up her first Worlds title. "I am very, very happy," she said afterwards. She plans on getting "a lot of rest" before she takes on Deena Kastor at the Chicago Marathon next Sunday, but said god must have "gave her a lot of energy" to be able to race so frequently. She is hoping for a personal best and national record in Chicago despite racing here just 8 days before. (She ran the World Half one week before winning Chicago last year). For a profile on Tomescu from the IAAF click here.
Silver and bronze medallists, Kiplagat and Chepkemei, are both training for the ING NYC Marathon in November, and both complained of leg cramps do to the cold, but both were pleased with their results. For Kiplagat, one of the top road runners in the world, it was her first medal of any kind at a World Championships. "There is nothing to complain about when you are second." Kiplagat was pleased to have outsprinted Chepkemei for the silver as she said with a smile on her face, "This is the first time I've outsprinted anybody".
Chepkemei came up short of the World Half gold one again and now has a bronze to go with her 3 silvers. She was pleased with her race and optimistic about the future "My day will come one day."
Full Results here.
Video and Photos:
*Great video of the men's finish here
*Men's Photo Gallery
*Women's Photo Gallery