New Improved CLIF SHOT® Gels For the Performance Runner
By LetsRun.com (Sponsored Post)
November 23, 2010
We've told you the amazing Clif Bar story (more info here, Clif was started by Gary Erickson who on a 175 mile bike ride decided he could make a better energy bar) and highlighted some of the benefits of CLIF SHOT® ROKS™ Protein Bites for Recovery and CLIF SHOT® BLOKS™ Electrolyte Chews.
This month we're back to tell you about the new and improved CLIF SHOT® Energy Gel.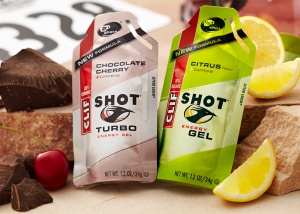 New Improved CLIF SHOT Energy Gel: Up to 50% More Electrolytes, Goes Down Smooth
The popular CLIF SHOT Energy Gels now have a new improved formula. The new formula not only has up to 50% more electrolytes for increased performance, it has a thinner consistency to go down smoother no matter what mile you're on. The new gel combines two carbohydrate sources that work together efficiently – organic maltodextrin and organic evaporated cane juice – to deliver energy to the bloodstream in five minutes or less.
Chris McCormack may not be a pro runner, but he did pull away in the final miles of the marathon to win the 2010 Ironman World Championship at the age of 37. Pretty impressive. And he likes the new CLIF SHOT Energy Gels. He said, "I use gels because my body craves carbs and electrolytes and nothing else. CLIF SHOT's new energy gel not only tastes great but now has a thinner consistency to help it go down easy no matter what mile you're on."
100% Natural, 85-90% Organic, 8 Flavors, Customizable Caffeine
Coming in 8 different flavors the CLIF SHOT Energy Gels are 85-90% Organic and 100% Natural. The flavors are designed to taste like real food. CLIF SHOT gels have up to 70 percent fewer ingredients than other gels, which can be loaded down with preservatives and non-essential additives.
CLIF is concerned about the environment and the gels come in new streamlined packaging features rounded corners for carrying convenience and a smaller opening for easier eating. The packets also feature the patented Litter Leash® to keep the torn-off tops from littering trails and roads.
For the true performance athlete the gels come in customizable caffeine options ranging from no caffeine to 100mg. So pick the caffeine sweetspot that works just for you. The caffeine is derived from all-natural green tea extract, which has been found to improve endurance capacity, according to a study in the American Journal of Physiology.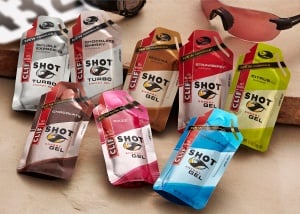 Base Flavors:Vanilla, Chocolate, Strawberry (25 mg of caffeine), Mocha (50 mg of caffeine), Razz® and new Citrus (25mg of caffeine)
Turbo Flavors: Double Expresso and new Chocolate Cherry (each with 100 mg of caffeine)
For more info on the CLIF SHOT Gels or to order click here.
Previous Clif:
*CLIF SHOT® BLOKS™ Carbohydrate and Electrolyte Replacement for Performance Athletes
*CLIF SHOT® ROKS™ Protein Bites for Recovery
*USAToday Story on Clif Bar founder Gary Erickson
---
Runner's World &
Running Times



Combined Only $22
a Year
Save $87

---

Running & Track and Field Posters
---


More Nice Offers: Nike Lunar Glide Savings Super popular shoe from Nike featuring Flywire and Lunar Foam

*Nike Air Max Moto Sale $69.99 for this shoe from our partner.
---