Honoring Some Legends Of The Sport
More On Some Of This Past Weekend's Marathons
Weekend Marathons
Largely Unknown Ethiopian Getu Feleke Runs 2:05:44 In Amsterdam In ideal conditions, Feleke lowered his PR from 2:08:04 to 2:05:44. Wilson Chebet, who was the runner-up at Falmouth in August, was the runner-up on Sunday with the 2nd-fastest debut in history at 2:06:12. Finishing 4th in his debut at 2:07:29 was Abreham Cherkos Feleke, who ran 12:54 at age 16.
*Bib #3294 Pulls Stunner In Baltimore Declined travel expenses by the race organizers, David Rutoh stunned himself by winning first and $23,000 with a 2:13 win.
*2:10/2:27 Wins In Istanbul
*2:09:13/2:32:09 Wins In Korea
*Michael Aish Wins In Denver In 2:30
Congrats To Alan And Julia
NCAA XC Pre-Nats
Pre-NCAAs Pre-NCAAs is all about one thing: at-large points for teams and with its 4 races, it is super-confusing for XC fans out there. The one thing we're taking away this year is that the top 3 on the Stanford men are very, very good. If you want to know how things stand in NCAA XC after Pre-Nats try this thread or this one. Results below. More Pre-Nats coverage here.
Results:
Men Blue Team: #1 Stanford Crushes Iona, FSU, Depleted NAU Team
Individual: Stanford's Top 3 Finish Together 1-2-3 Faster Than Anyone Else On The Day

Men White Team: Martin Smith's #16 Oklahoma Chocks #4 Colorado, #8 Portland
Individual: Sam Chelanga Cruises As Expected

Women Blue Team: #3 Florida State Over #6 Arizona
Individual: Risper Kimaiyo Of UTEP Wins By 5 Seconds Over Alex Banfich Of Princeton

Women White Team: #5 Georgetown Over #9 Colorado
Individual: Lucy Van Dalen Of Stony Brook Over Laura Tremblay Of Colorado

Oregon Bill Dellinger *Results And Message Board Thread The Oregon women dominated. The men beat Wisconsin but Wisconsin sat their #1 runner.
*Oregonian Recap

Chile Pepper
LRC Message Board: OSU wins Chile Pepper Invite with first 4 going 1-4! Arkansas and Indiana, both in the top 10, were present.

Penn State: #1 Villanova Women Win *Men's Results
NYC Is 3 Weeks Away
WSJ: It's Time For Women To Run Faster The article looks at how the Boston qualifying times are way softer for women than men.
Have An Extra $3,215 Lying Around? Then Maybe You Should Consider Buying The Best Seat To The Opening Ceremonies At The 2012 Games Ticket prices came out yesterday.
*AP Article: 25% Of Tickets Go To Bigwig Sponsors
Better Late Than Never
LRC Week In Review: Geb Vs. Wanjiru This week saw one of the greatest marathons we've ever witnessed with Sammy Wanjiru battling mano-a-mano with Tsegaye Kebede at Chicago for not only the Chicago title but also the $500,000 prize for the World Marathon Majors title. Wanjiru is the best marathoner in the world in our book and we compare his performances to Haile Gebrselassie's. Plus a look at the Commonwealth Games and more.
New York City Marathon News (Or No News)
RIP Antonio
Antonio Pettigrew's Death Ruled A Suicide He reportedly took a bottle of sleeping pills. He also reportedly told his wife to pray for him the day before his body was found. Our thoughts and prayers are with his family.
NYC News
Can USATF Be Trusted To Get It Right?
USATF Set To Name Man Whose Team Was Next To Last At ACCs As Olympic Coach 18 points over 21 events at ACCs is apparently enough to get Andrew Valmon the Olympic head job. We guess it's not that big of a deal since the US coach does little more than babysit, but it's certainly surprising. In 2009, Maryland scored 21 points, in 2008, they had 54 and in 2007 they had 30.
Distance News
Monday's US 10k Road Champs *Results
Molly Huddle Wins Third Straight US Road 10k Title At Tufts Health Plan 10k For Women Huddle capped a great 2010 with the the overall win by 5 seconds over Genoveva Kigen. Jen Rhines was 16 seconds back.
LRC Wanjiru Wins Epic Battle With Kebede, Shobukhova Dominates
In a epic, late-race, back-and-forth battle of attrition between the world's two greatest marathoners for $500,000, Sammy Wanjiru stamped his career as legendary with his 2nd straight Bank of America Chicago Marathon victory. This time Wanjiru had to dig deep to come back repeatedly against London and Fukuoka champ Tsegaye Kebede. In the women's race, front-running Atsede Baysa blew up in the final 10km as Liliya Shobukhova motored steadily to her 3rd consecutive World Marathon Major win, sealing a $575,000 $615,000 payday in the process. Americans Jason Hartmann and Desiree Davila impressed with PRs of 2:11 and 2:26 and 53-year-old Joan Benoit-Samuelson ran sub-2:50 for the 5th consecutive decade with a 2:47.

More: *Philip Hersh Chicago Tribune Article On Shobukhova Winning And Picking Up $615,000
*Joan Benoit Samuelson Runs 2:47:50, Just Missing Olympic Marathon Trials At 53 Runnersworld
*Chicago Tribune Article Top Americans Jason Hartmann And Desiree Davila
*Desiree Davila Leads US Women At Chicago As 3 Get In Top 10
*Sammy Wanjiru Outlasts Kebede To Win Chicago (And $615,000)
*US Men Take 11 Of Top 20

Recommended Read: Because Of $$$, Marathon Getting Younger & Younger Phil Hersh talks about how so many of the top contenders in Chicago are very young. There is a reason for that - $$$. Nowadays a 2:09 debut will get you $20,000 but a 13:00 will get you $250.
NY Times Profile Of 53-Year-Old Joan Benoit Samuelson She once promised her mother she'd stop running marathons when she quit smoking, but 20 years later, her mom isn't smoking but Joanie is still racing 26.2.
Elites Will Be Done Way Before 80-Degree Heat Hits Chicago Race director Carey Pinkowski: "I would imagine that the first two hours of the race should be very accommodating.. For them, it's going to be optimal opportunity to go fast."
Roads Action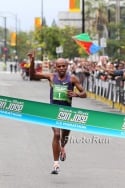 San Jose: Meb Tunes Up For New York With 1:01:45 Win In San Jose This was a glorified training run for Meb, as he had training partner Patrick Smyth with him for 10k and then was all alone. Up next for Meb - defending his ING NYC Marathon crown. Blake Russell won the women's crown and 49-year-old Linda Somers-Smith ran 1:13:31 for 2nd.
On The Boards: 1 Meb Keflezighi 1:01:45

Europe: Gilbert Chepkwony Runs 2:08:33 To Win Kosice Marathon, The Oldest In Europe At 87 Years
Fifth Avenue Mile Behind The Scenes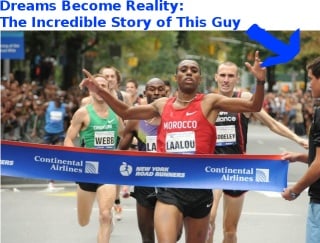 Story Of The Week!!! 4 college cross-country teammates from UMBC went up to NY to watch the 5th Avenue Mile. Before the day was over, they were holding the finishing tape and hanging out with some of their heroes. How did it happen? A GREAT read.
In Case You Don't Want To Know The Results
The Last Minute Of The 2010 Berlin Marathon:

Merritt
Updated: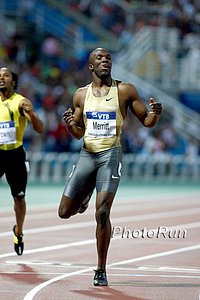 LaShawn Merritt Gets 21-Month Drug Suspension, Panel Rules He Was Trying To Have Better Sex, Not Dope Panel Rules IOC Can't Ban Him From Olympics 3wiresports.com blog above goes beyond the BBC news story we had up earlier. And you might want to read the decision itself. A 7-11 clerk testified she would sell Merritt lottery tickets and jungle juice and later he would come back for condoms and ExtenZe (a male enhancement product). The arbitrators accepted that Merritt was not trying to dope and even said USADA believed it as well (USADA pointed to another product that had similar ingredients). Merritt gets a 21-month ban nonetheless. The news outlets are pointing out he will be eligible for Worlds next year, but that is not the big story and is irrelevant as he will miss USATFs and not be able to qualify (unless his doping suspension is considered an injury and he gets exempted in as defending World Champ). The big story is the panel ruled the IOC cannot ban athletes with more than a 6-month doping ban from the next Olympics. The IOC had implemented that rule but also is a signer of the WADA code and the panel ruled the banning from the Olympics is an extra penalty that is not allowed. The IOC will likely appeal this ruling.
*Arbitration Ruling: "He saw the commercials about the product and its claims that it helped you last longer and stay firmer. He wanted those qualified in dating his lady friend ... He alleges the product works ... His mind set when purchasing the product was thinking about having sex with a women. (sic)."

*BBC Story
Different Type Of Running News
NYC Is Less Than 3 Weeks Away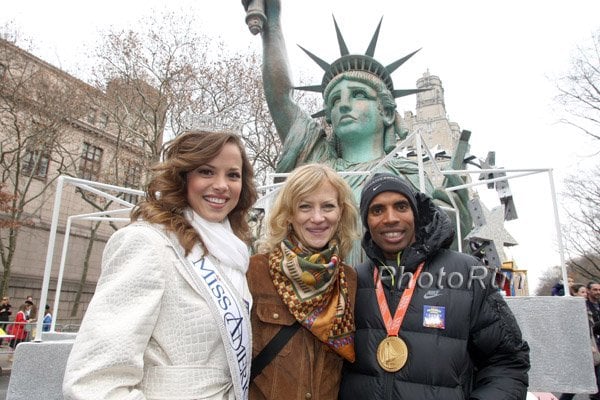 WSJ: Meb Excited To Defend His NYC Title As An American *LRC MBoard Talk About Meb Article
*NY Times Looks At Mary Wittenberg's Busy Sunday Routine She - like Wejo - is a former Marine Corps marathon winner.
*Christelle Daunah Sets French National Record 68:34 In Reims As She Prepares For NYC Translated from French.
News You Might Have Missed: NY Times Profile On Ritz And His Preparations For NYC A lot of detail on Alberto's fixation on changing Ritz's stride and the extent Nike goes to keep him healthy. Ritz also smartly downplays his fitness and chances, "I wouldn't count myself out of winning, but I'm not going to think that I'm going to win and it's a failure otherwise."
*Shalane Flanagan A Bit Scared By Marathon Distance Good to see the first marathon scares all the greats except for Rexing and Menjo. New York Times
Random News
*Photo Of The Year?: Story With Photo Of Washing Machine Being Thrown Off Very High Story At Commonwelath Games By Australian Athlete
*India Starts High Level Probe Into Possible Corruption/Mismanagement Of Commonwealth Games
*Carmen Douma-Hussar Wins Canadian 10k Road Title In 33:23
Men's Race: Zersenay Tadese Is Human After All His drive for five straight world titles was upended by Kenya's Wilson Kiprop. The 59:33 PR guy defeated Tadese, who got the silver, by 4 seconds. Tadese walked across the finish line and was limping soon thereafter. He had to be helped up the awards stand. The US men, led by Sean Quigley (63:23), were 6th.
*Women's: Favorite Florence Kiplagat Takes Down Dire Tune In Last 800 The US women, led by Stephanie Rothstein (73:37), were 7th.
*Kenyans Overcame 40-Hour Trip To Nanning, China Whoever planned the trip should be fired.
Pre-Race: Men's Race Preview - Tadese Drives For Five
*Women's Race Preview Florence Kiplagat, the 2009, World XC champ, is the favorite.

Interesting: Wilson Kiprop Was Scared Before His World Half Marathon Championship Win
Interesting Distance News
Look Out, Kenya - Moses Kipsiro Says There Are Many People In Uganda Who Can Beat Him Kipsiro was the 5k and 10k champ at the Commonwealth Games and is trying to cultivate the talent in Uganda.

Jim Ryun Ran High School XC Races Barefoot Including the state meet in snow. Minimalism definitely the key to sub-4:00 miles in high school.
Commonwealth Games Wrap-Up
Recommended Read NY Times Looks At Why Tommie Smith Is Selling His Medal
Oregon Related News
After Running So Well In Chicago, Joan Benoit May Try For 2:46:00 Trials Standard In our minds, like a past winner of the Masters, she deserves a lifetime entry into the Trials. *Samuelson USATF Athlete Of The Week
Random US News
Drug News - We Swear These Aren't Jokes
Sports Governing Bodies To Face 30% Cut In UK
Menjo Caps His 2010 Season In Style By Taking Down Eliud Kipchoge And Shaheen To Win In Belgrade "Menjo" finished his remarkable 2010 season, during which over the span of 11 days earlier this year he ran a solo 12.55.95 for 5,000 meters, a solo 3.53.62 mile and a solo 26.56.74 10,000 meters, with a narrow win over Kipchoge. *Pre-Race Artilce On Historic/Scenic Belgrade Race That Is One Of Paul Tergat's Favorites
Chilean Miner Ran 10km A Day While Being Trapped Underground?
Tommie Smith Selling His 1968 Olympic Gold Medal He's not desperate for the cash but will take the $250,000 if he can get it. He does not have fond memories of the incident.
The Marathons Are Thursday, No Track Action Wednesday:
Australian Marathoners Inspired By Kerryn McCann She won gold at the last Commonwealths and soon after died of cancer.

More CWG News: Darren Campbell Writes About MLF Being An Animal, India's Emerging T&F Prowess
*Chaos Surrounding Commonwealth Games Closing Ceremonies
*Steeplechaser At Commonwealth Games DQed For Stepping On A Flower Pot To Help Him Get Over The Water Barrier Nice photo of his transgression at the link above.
Previous Commonwealths News
Tuesday: Silas Kiplagat Caps Incredible 2010 With Gold, Nick Willis Gets Bronze
*Mr. Clutch Mark Lewis Francis Walks Down Jamaican Anchor & Delivers 4 X 100 Gold For England The guy also brough it home at the 2004 Olympics.
*Brave Steph Twell Fights Kenyan Women To End In 5,000 But Ends Up 4th This article is a great recap of the ladies 5,000.
*Baddeley Disgusted With 6th In 1,500 Baddeley: "I ran that race like an idiot and there's no excuses for that."
More On 1,500: "If you're not familiar with the story of Silas Kiplagat, take a minute to read this excellent profile on him. Earlier in 2010, Silas in his first European race EVER ran a 3:29 1,500m, which was not only a 5-second PR but also the fastest time in the world in four years. Pretty amazing. On Tuesday, he capped his emergence with a Commonwealth Games Gold as countryman James Magut got silver and former Michigan alum and Olympic silver medallist Nick Willis got bronze.
More Tuesday: World Champ Vivian Cheruiyot Gets 5k Gold As Indian 4 X 400 Wins Gold Cheruiyot's win over Worlds silver medallist Sylvia Kibet was not a shocker but the Indian 4 x 400m gold sure was. The Indian women had a great meet.
*IAAF Recap: Double Wins By Langat, Kipsiro, Indian 4 X 400 Gold Highlight Final Day Of Indian Champs
Photos: Men's 1,500m *Tuesday Results
On The Boards: Letsrun poster makes the final of CWG 1500!


Monday: Nancy Langat Wins 800m To Go Along With Her 1,500m Gold The Olympic champ just edged Nikki Hamblin of New Zealand. Hamblin got silver in the 1,500m as well. This race had the Indian crowd going nuts, as Indian Tintu Luka opened a big lead on the first lap only to fade. The Indian female distance runners are having a good meet.
*Uganda's Moses Kipsiro Blasts 54-Second Lap To Complete 10k-5k Double Kipsiro is very good and the CWG are letting him and Uganda earn some accolades.

*Richard Mateelong Leads Kenyan Sweep Of Steeple The Olympic champs Brimin Kipruto and Ezekiel Kemboi filled out the medals.
*Milkha Singh Gives India Its First Athletics Gold In 52 Years She won the discus. Kenya got its first track medal of any kind in 52 years earlier in the week with a bronze in the 10k.
*Sally Pearson Wins 110m Hurdles To Get Her Commonwealths Gold Pearson is the woman who won the 100m only to be DQed after the race.
*Steve Hooker Gets Pole Vault Gold

Sunday: Kenyan Men Sweep 800m The Kenyans are performing well at the CWG so far.
Saturday: Kenyan Wins Men's 400 As Kenyan Ladies Sweep Steeple
Great Early Results For Kiwis Are Inspiring Nick Willis The defense of his 1,500 title starts on Monday.
Friday: Nancy Langat Gets 1,500m Gold At Commonwealths Langat is the best 1,500m runner in the world and she still unbelievably has never broken 4:00. The Olympic Champ got it done in India. We hope she goes undefeated the rest of her career never breaking 4:00.
*After Commonwealths 1,500m Bronze For 21-Year-Old Stephanie Twell, Her Future Is Bright

More: 400: Botswana Gets Its First CWG Gold Ever Thanks To Amantle Montsho's 50.10 Win
10K: Grace Momanyi Of Kenya Wins 10k Gold At CWG
110H: English, Led By Andy Turner, Go 1-2-3
Decathlon: Canada's Jaime Adjetey-Nelson Wins Commonwealth Games Decathlon

Thursday: Chaos On The Track:

Women's 100m: Sally Pearson Wins 100m At Commonwealth Games Only To Be DQed Hours Later The IAAF board DQed her for a false start even though she false started after another athlete. So 2 people were DQed on the same false start. Video of race at link above or on right hand side of page.

Men's 100m:
*MLF On Cloud 9 After 100m Silver At Commonwealths

Condoms Are NOT Clogging The Toilets At Commonwealth Games The message boards were all excited about all the sex going on at the Games. Guess it wasn't true.

Wednesday:

Uganda's Moses Kipsiro Starts Commonwealth Games Off With Gold At 5,000m Over Eliud Kipchoge The track action got underway and the highlight on day 1 was a gold by Uganda's Moses Kipsiro. Kipsiro is the guy who kept Matt Tegenkamp from getting a WC bronze in 2007 and in '08 and '09, he was 4th at the Olympics and WC. The non-Africans took spots 5-8, as Chris Thompson was 5th, Collis Birmingham 6th, Ben St. Lawrence 7th, and David McNeill 8th.
*Kenyan Papers Recap Of Men's 5,000 Kipsiro: "I wanted this badly, badly, badly and God has given me the gift."
Last Week's Week In Review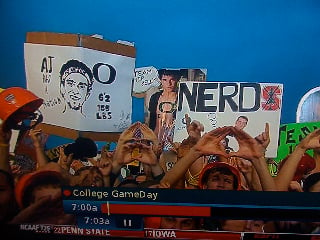 LRC Week In Review: Ryan Hall Drops Out And AJ Nation Sweeps America This week in our week in review, we look at Ryan Hall not running Chicago, we compare the NY and Chicago Marathon fields and we heap praise on AJ Nation making it big time on ESPN Game Day.
European News
Final Minute Of Battle At World Half Marathon Champs (Rewind The Video Below If You Want The Final 10 Minutes)
NCAA XC On The Boards
Menjo On Video! Winning One Of The Coolest Races We've Seen (Race Through History In Belgrade)
The Chicago Finish Was Epic, But This Was The Closest Finish Of The Weekend (3-Way Sprint At Eindhoven Marathon)
Jared Training For NYC Gets Subway Commercial
2 World Championship Golds, 2 Olympic Silvers - There May Never Be A Championship Marathoner Like Her. She talks about her career and how Joan Benoit was a hero: "That was my dream that came true that day. I remember meeting Joanie Benoit before that race. Back when I was in high school my coach had told me about a lady from the United States who did a fantastic job one month after surgery at the 1984 Olympic Trials Marathon, then she got a Gold Medal in Los Angeles and her name is Joanie Benoit. So when I met her in 1996 I thought, 'So this is the person my coach always talks about - Wow!'"
Finish Of Leonard Komon's 10k WR And Interview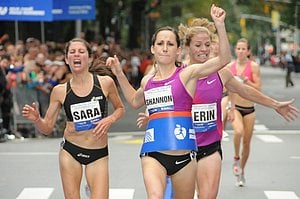 LRC Recap: Shannon Rowbury Caps Season With Win In NY Many people expected Shannon Rowbury to repeat on Sunday on the streets of New York but she had a tough brawl with New Jersey's finest, Erin Donohue. Rowbury won last year and used her road skills to time her kick perfectly.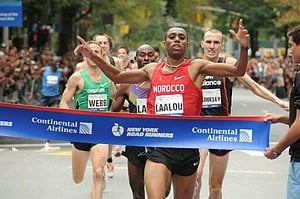 Men: Amine Laalou Earns Some American Respect Amine Laalou had the top 800 and 1,500m times coming in, but everyone was focused on the strong American contingent. All the main contenders, including Bernard Lagat, were there with 100m remaining, but Laalou got the win.
*Photo Gallery *Race Videos
Learn From The Greats
Train Smarter
Last Lap (Or Full Race) Of Lagat's 3k American Record (It's Super-Impressive)
Recent Photo Gallery: Milan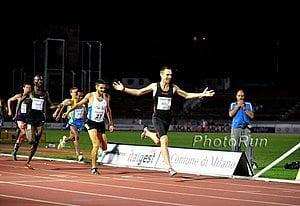 Great Deals

Rudisha's 1:41.01!!!!!
Great Deals