Nearing 50th BDay, Steve Cram Takes A Walk Down Memory Lane And Remembers The Glorious Summer Of 1985 25 years ago, he set world records at 1,500, one mile and 2k all in the span of 19 days.
AJ Acosta, Andrew Wheating, Bernard Lagat and Lee Emaneuel To Clash in 1500 ion Sunday Hicham El Guerrouj has assembled a nice field for Sunday's meet which also includes world indoor silver medallist Abdelati Iguider in the 1500. *Complete Start Lists
We Agree IAAF Calls Allen Johnson A "Role Model, A Friend, An Inspiration"
CAS Rules Marion Jones Teammates Don't Have To Give Up 4 x 100 And 4 x 400 Relay Medals Ridiculous, but the court says it's all about the rules that were in place at the time, which didn't explicitly say if one relay member was doped, the whole team got a DQ.
Janeth Jepkosgei Says Despite Semenya's Absence African Championships Won't Be A Cakewalk"
Caster Semenya Returns Victoriously *Race Video
Caster Semenya Returns To Action And Is Pleased To Win Comfortably In 2:04.22 In Race She Calls "New Beginning"
IAAF Recap Of Semenya's Win/Lappeenranta Meet In other action, Finland's Tommi Evilä jumped 8.19 in the LJ as Steve Mullings ran 10.02.
AFP Recap: Semenya: "I'm very happy."
Reuters Recap
USA Gets To Keep Marion Jones 2000 Relay Medals
Court Of Arbitration Of Sport Rules US Gets To Keep 2000 Marion Jones Olympic Relay Medals The athletes don't deserve them. The US cheated to win.
Day 3: Back From 3-Month Pseudoephedrine Ban, Anna Alminova Dominates Russian 1,500 Final She ran 4:00.84 and 2nd place was 4:04.56. Even more interesting than that is the fact she is scheduled to run her 3rd 1,500 in 3 days in Paris on Friday. *IAAF Recap Of Final Day Of Russian Champs
Day 2: Yuriy Borzakovskiy Wins 5th National Title As Lyudmila Kolchanova Becomes Third Woman To Break 7 Meters In LJ In 2010 Borzakovskiy won a tactical 800 in 1:48.
Day 1: Russian Championships Are Underway In Hot Weather Surprisingly, Yuriy Borzakovskiy has never won an outdoor European 800m title.
Sad News: Legendary CT HS Coach Irv Black Passes Away He led New Britain HS to 28 state titles during his career.
Interesting Read: Citing Edwin Moses, Columnist Says, "The secret to being a sporting great is not realy trying."
Nancy Lagat And Alfred Kirwa Yego Return Home To Kenya Training Camp For African Champs It's a shame Lagat isn't running the 1,500 in Paris.
Nick's Silver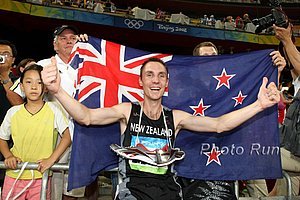 Nick Willis Is Still Awaiting New Olympic Silver Medal The IOC had previously sent him a second-hand medal that was totally scratched. When New Zealand requested a new one, the IOC needed to have one made.
More Sprint News
LRC The Week That Was This week, celebrate the fact that the near 13-year-old wait for a 1:41 is over, as is the eternal wait for a white man to break 10-flat. We also tell you how Leo Manzano improved by 16 seconds in a week in the mile, we take a trip down memory lane and remember when Galen Rupp outkicked Chris Solinsky to win a 5k in 13:30 and then ponder what Rupp will run in the marathon now that he has his mentor Alberto Salazar beat at both 5k and 10k, we take a look at Alysia Johnson's first big European win and we rip Caremelita Jeter and praise Tyson Gay/rip Asafa Powell.
Defending European LJ Champ Andrew Howe Is Past Injuries And Ready To Repeat
Feds Circling In On Lance Armstrong Even If Media Outlets Don't Agree Exactly How
Study Finds Belly Buttons Are the Key To Different Races' Geographic Regions' Success In Various Sports Like they say, 97% of all statistics ... *2nd Story On Belly Buttons
More Action We Didn't Cover Monday
France: Christophe Lemaitre Follows Up 9.98 With 20.16 200m

Brasschat: Results: Molly Huddle 4:09 1,500m Win, Jeff See 3:40 Win, Shannon Rowbury 2:03 800m Chris Solinsky remains the world leader at 10k, as the 10k was won in 27:30.
African Champs Are Coming Soon
More Sprint News
Good Idea