College Action
17-Year-Old Alabma Freshman Kirani James Runs 45.02 To Break 32-Year-Old School Record At CARIFTA Games It's going to be an unbelievable year in the 400 in the SEC.
*UF 4 x 400 3:00.31!!!!!


Florida Relays: *Results
*Jeff Demps Runs 10.11 At Pepsi Florida Relays Christian Taylor, best known as a long and triple jumper, showed what an unbelievable athlete he is by running 45.55 to win the open 400. Francena McCorory and Shana Cox set world leads in the 200 and 400. In distance races, Julius Bor nipped Ryan Foster in the 1,500, both running 3:41.
*Penn State 4 x 800 Runs 7:18 More amazing is that it's only the 7th-best time in school history.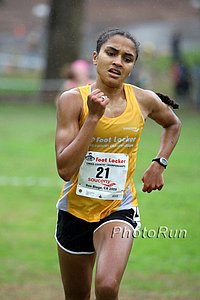 Texas Relays: *Results
*Boards: Will Chelsey Sveinsson be a bigger phenom than Jordan Hasay?
*Texas A&M Dominates Texas Relays AP article
*Ashton Eaton Misses NCAA Record In Decathlon At Texas Relays
*Chelsey Sveinsson Runs 10:07 3,200m To Break State Record At Texas Relays
*UTEP Olympic Medalist Blessing Okagbare Wins Texas Relays LJ In Record 22'7"
World XC - A Story Almost Too Good To Be True
LRC Training Talk 7: Joseph Ebuya's Coach And Manager Talk With LetsRun.com
Women's 800m - Most Dramatic Event In Track
*Pamela Jelimo Returns And Records 2:06-Flat On Muddy Nairobi Track Unbeatable in 2008, Jelimo couldn't find top gear in '09.
*Maggie Vessey Makes Debut Running 400, 800, 200 Vessey hopes to follow her remarkable 2009 with a more consistent 2010. Last year hardly anyone even knew her name and she had no sponsor. Vessey: "I literally won Prefontaine in like a surfer tank top that I've had since I was 16."
*Caster Semenya Told She Must Wait Until June For IAAF Test Verdict
Wilfred Bungei Tells Is Like It Is
*Wilfred Bungei Says Kenyan Defections Will Kill Athletics If Kenyans keep defecting, Bungei says, there will be 12 Kenyan-borns in every distance final at the major events. 3 Kenyan males who didn't even make their team have run 27:22 or faster on the roads this year.
*Bungei Says David Rudisha Can Break WR And Cautions Media In Dealing With Athletes
Caster Semenya's Comeback Compared To Tiger Woods'
Employee #1 Saves Your Time And Gives His Friday Top 5
1. Old LetsRun.com Favorite - He even trains in Flagstaff.
German Jan Fitschen - 2006 Version Of Billy Mills - Hopes To Relive 2006 10,000m European Champs Magic
*LetsRun Page From Kitschen's 2006 Win: "This morning I was hoping to be top 10. Now I'm the top of the top 10."

2. Recommended Read: Why Jamaica's Champs Is One Of The Best Track Meets In The World We keep a list of "meets to see before we die." This one is in about the top 3.

3. Decathlon News: The Old And The New
*Roman Sebrle Approaching Ripken-Esque 100th Multi-Event Appearance
*Eaton's Windy Season-Opening Decathlon Falls Just Short Of NCAA Record One of these days you'll hit it big, kid. Oh, my bad ...

4. Lisa Koll - With the World XC madness, some of you might not know she ran an NCAA record on Friday night.
Lisa Koll Wins USATF Athlete Of The Week

5. IAAF Nightmare Scenario Continues
*Semenya Barred From Running As Unexpected Announcement Causes Stir
*Semenya May Race Next Week If "She Talks To The Right People"
*Clever Headline: Semenya's Lawyers Planning Legal Action What else do lawyers plan besides a $300/hour bill?
*Suspended South African Athletics Officials Won't Face Hearing For Few More Months Anything the IAAF can do, the South African legal system can do better.

Bonus: Kenya swept all 8 World XC golds. They easily won the men's senior team title. And look at guys not even on the team. Micah Kogo, Moses Masai and Martin Mathathi (see video, right) have all run road 10ks in 27:22 or faster in the past few weeks.
LRC The Week That Was
In breaking down the greatest distance race on the planet for you, we try to put the US women's bronze medal in perspective, we wonder if we have another Asbel Kiprop in the making and we scour the results for the first non-African-born finisher. Along the way, we remember the last US men's team to medal at World XC and then we move on to talk about Lisa Koll's amazing run and then talk about Usain Bolt's future rival at 400 meters.
Interview With Bernard Lagat Where He Says He Wants To Run 12:50 And Shares Training And Mental Advice Lagat says he's going to Flagstaff to train himself to get ready to break the American record in the 5k. He also discusses why he's so good at 35 and his A sample EPO positive from 2003.
Spring "Marathon Major" Updates
Easter Weekend Road Races - 30:45 For Lineth Chepkurui In New Orleans
Track Greats From India And Jamaica - 2 Good Reads
American Road Race Section
Japanese News From The Man In Japan
Running Greats Interviewed
American Buzz