LetsRun.com: The Week That Was In Running: March 22 - March 28, 2010
By LetsRun.com
March 29, 2010
To read last week's LRC Week That Was, click Here.
To read any 2010 LRC Week That Was, click Here.
Last week was dominated by the World Cross-Country Championships. In breaking down the greatest distance race on the planet for you, we try to put the US women's bronze medal in perspective, we wonder if we have another Asbel Kiprop in the making, and we scour the results for the first non-African-born finisher. Along the way, we remember the last US men's team to medal at World XC and then we move on to talk about Lisa Koll's amazing run and then talk about Usain Bolt's future rival at 400 meters.
World XC Notes
The greatest and most competitive race on the planet was held over the weekend and the story of the day was one word - Kenya. We guess it was only fitting that Kenya - a country that has had more success over the years at World Cross-Country than anyone else - dominated the proceedings in the first edition of the race after the IAAF has threatened to make World Cross a bi-annual affair.
Kenya won team and individual gold in the first three races of the day - junior girls, junior boys and senior women. But honestly, unless they got the individual gold in the final race of the day - the senior men - they would have likely gone home disappointed, as Kenya has longed to win individual senior men's gold since 1999.
But individual gold (as well as team gold) is what Kenya got in the senior men's race. Finally, after 11 years of waiting, a Kenyan was the king of cross country. In Kenyans minds, just as a lion rules the jungle, the individual men's xc champion rules the running world and that man is now Joseph Ebuya.
So Kenya went a perfect 8 for 8 in Poland. Kudos to them for a fine display of cross-country running.
If you don't know who Joseph Ebuya is, we suggest you read this great IAAF profile of him. But really all you need to know about the 22-year-old can be summed up by the following paragraph from the IAAF profile:
"I started running in 2004 by joining in with the PACE Sports Management runners when they went for morning runs. After a few months, they saw I had potential and invited me to come and live in their camp. I did not have money for food or running shoes so this was a big opportunity for me. Ricky brought me to Europe in 2005 for experience and I ran 13:03 in Holland in my second race, I think he was impressed."
13:03 in your 2nd 5k. That is a raw talent. Admittedly, it took a few years for that talent to get everything figured out, as he flamed out at 2007 Worlds in track as well as in 2009, but that can be expected for someone who was so raw that he wasn't used to having a reliable meal source, let alone wearing shoes.
Odds & Ends From World XC
Kenyan Leonard Komen had finished 2nd-4th-2nd-4th at the past four World Championships. This year he was??? Well not 2nd - but rather 4th. We suggest he start playing the lottery with every combination of 2 and 4.
And since the average of two and four is three, we thought we should point out that senior women's bronze medallist Meselech Melkamu of Ethiopia clearly likes the number three, as this is the third time she's won an individual bronze. She's a six-time World Cross-Country medallist, having earned five bronzes as well as a junior gold in 2004.
Speaking of junior women's gold, it was a big surprise that two-time junior women's winner Genzebe Dibaba of Ethiopia was only 11th. Of course, she did drop out of the Ethiopian junior trials, so it's not a total shocker. Probably the biggest shocker of all on the women's side was that Genzebe's big sis, Tirunesh Dibaba, didn't even medal as she was just 4th individually. The only four times that Tirunesh had run the long course as a senior she had finished 1st, 1st, 2nd and 1st (in 2005, 2006, 2007 and 2008 respectively) so to see her out of the medals was a bit of a surprise.
Strike that; the biggest surprise of all was that Emily Chebet was the winner of the senior women's individual title. For the 2nd straight year, 2009 Worlds track 10k gold medallist Linet Masai did all the work at World Cross-Country only to end up with a silver as she got outkicked at the end.
It was a big surprise that Chebet - who was only 5th at the Kenyan trials - won, as Chebet's claim to fame prior to this win was for being 9th at the World Champs in 2007 in the 10,000 on the track. She didn't even compete at all in 2009 and the only result we can find for her in 2008 was a 11th at the World's Best 10k and now she's the world champion.
We should point out that Chebet's win was a surprise to all except for world junior champ Mercy Cherono, who correctly predicted it.
Another Asbkel Kiprop In The Making?
In terms of the junior boys, world youth 1,500 meter silver medallist Caleb Ndiku was the winner. The guy is maybe someone you want to remember, just like Asbel Kiprop, who took home the world junior title back in 2007 at age 17 before winning Olympic gold in 2008. Expecting that type of success for Ndiku would be a bit much, but we should point out that the guy ran 3:38 for 1,500 in a championship, non-rabbited race last summer as a 16-year-old.
Let us try to put Ndiku's talent in perspective for you. Remember when American Leonel Manzano won the NCAAs as a freshman way back in 2005 in 3:37 and everyone was very excited about it because he was so young and talented? Well take that and subtract four years. When Manzano, who finished 12th in the 1,500 at the World Championships last summer in Berlin, won NCAAs as a freshman, he was 3 months shy of his 21st birthday.
And The First Non-African Is ... (Actually, we mean the first person competing for a country outside of Africa who was born in the country they are running for)
Annually, we give our respects to the men and women who weren't born in Africa who show up at the greatest race in the world and proceeded to get drubbed instead of taking the easy road and skipping the meet, claiming they are getting ready for the track season.
In the junior boys, kudos goes to Japan's Akinobu Murasawa, who was 28th in 23:29, just edging the US's Trevor Dunbar, who was 29th in 23:29, some 1:29 behind the winner. Dunbar finished about where he should have, as we always say the world junior champ would certainly give the NCAA champ a run for his money and at NCAA's, Dunbar (who was 76th) was 1:37 behind Chelanga at 8k.
In the junior women's race, Russia's Gulshat Fazlitdinova finished 16th, some 1:04 off the win.
In the women's race American Shalane Flanagan was 12th, 1:01 off the win.
And in the senior men's race, Spain's Carles Castillejo was 33rd, some 1:40 off the win. And to those people thinking that if a top American had showed up at World XC, they might have medalled on the men's side, we say "Get real." Castillejo isn't chopped liver. The guy has PRs of 13:11 and 27:39. So basically, he's Galen Rupp (13:14/27:33) in terms of PRs and he couldn't finish within 1:30 of the winner.
We guess technically we should praise Canada's Simon Bairu for being the top non-African born runner in the senior men's race as the Canadian, whose mom is Somalian and father Eritrean, was actually born in Saudi Arabia. So kudos to Simon (who starred at Wisconsin and is a great XC runner with 2 NCAA titles) for finishing 13th.
In summary, no one not born in Africa or whose parents weren't born in Africa came within one minute of the winner in any of the four races.
Putting The US Women's Bronze In Perspective
The US women should be congratulated for earning a bronze medal as a team. It's great that Shalane Flanagan, Molly Huddle, Magdalena Lewy-Boulet, Amy Hastings and Renee Metivier Baillie and Emily Brown all ran and got the US some hardware.
But let us put the medal in perspective for you. A non-African nation medals on the women's side nearly every year. In the 10 editions of World Cross-Country starting in 2001, a non-African country has medalled in the long race every single year except in 2007, when Morocco got the bronze behind Ethiopia and Kenya. Starting in 2001, the non-African medalling teams (every year it was a bronze except in 2002) were as follows: France, USA (silver in 2002), USA, UK, Portugal, Japan, Morocco, Australia, Portugal and the USA.
On the men's side, only once in the last decade has a non-African nation medalled at World XC (for these purposes, we are counting Qatar as an African nation, as all of their runners were born in Africa) and that came in 2001, when the US - behind Bob Kennedy (12th), Mebrahtom Keflezighi (13th), Abdihakem Abdirahman (15th), Nicholas Rogers (47th) - got the bronze and France the silver.
The difference between men's and women's running is simple. Africa is still very much a male-dominated society. Consider that in the junior boys and men's races in Poland this year, the top five teams were identical in both races. It was some combination of Kenya, Ethiopia, Eritrea, Uganda and Morocco. That is the big five in terms of men's XC. On the women's side, many of those countries don't even field teams. This year for example, Eritrea and Morocco didn't field a team in junior women's race and Eritrea and Uganda didn't field a team in senior women's race.
On the women's side of things, it normally comes down to if you can beat the Muslim-dominated Moroccan squad , you are likely a medallist.
Photo Of The Week
Before we end our World XC talk, can we give a major Thumbs Up to the organizers in Poland for putting out some old-school logs for the competitors to jump over. Our photo of the week is undoubtedly the following one:
More: *World XC Photo Album
The Rich Get Richer
One thing you might not know about the World Cross-Country Championships is the fact that both the individual gold winner Joseph Ebuya and individual bronze winner Moses Kipsiro (click here to see a LetsRun.com profile of Kipsiro) are both coached by Ricky Simms - the man perhaps better known as Usain Bolt's agent. What a life. If being Usain Bolt's agent wasn't fun and lucrative enough, on the side, you get to coach some of the greatest runners on the planet.
This Week's Sign That The Apocalypse Is Upon Us
If one was looking for a sign that World Cross-Country is declining in popularity, they need to look no farther than our email of the week. The meet was not broadcast live by universalsports.com in the US and because of a spat between the IAAF and BBC, it wasn't in the UK either. Thus, no one knew where to watch the meet live (including ourselves). Our email of the week comes from Ricky Simms:

Hi Weldon,
Do you know if the WCC will be broadcast on any TV or internet channel in the USA?---
Regards,

Ricky Simms
If Simms doesn't know where to watch and we don't know where to watch, then the average fan is completely screwed.
The IAAF should have a rule, if you have the rights to an event and you are not going to broadcast it then the IAAF is allowed to stream the meet in your country. This way everyone wins. The IAAF is concerned about the declining popularity of cross-country, yet no one in the US or UK can watch one of its global championships. Embarrassing.
While the World XC Champs were not even available online last week, the Primary (Elementary) School Championships in Nevis, West Indies were streamed live throughout the globe. We watched the meet. The announcers were really into it, and the there were multiple camera angles. Just shows in today's age, and free streaming on livestream.com just about anyone (except the IAAF) can stream a meet online.
US Outdoor Collegiate Action Heats Up
The NCAA outdoor season got underway last weekend in full force, as the Stanford Invitationl was held. Some fast distance times were put up, as the winners were as follows:

Men: 800: Dylan Ferris (Stanford - 1:48.72), 1,500: John Mickowski (US Army -3:43.01), Steeple: Kyle Heath (Stotan Racing - 8:34.23), 5k: David McNeill (13:25.63), 10k: Lex Williams (Michigan - 28:34.28).
Women: 800: Dianne Cummins (Mountain Wes - 2:05.00), 1,500: Jordan Hasay (Oregon - 4:14.67), Steeple: Shayla Houlihan (10:03.26), 5k: Jessica Pixler (Seattle Pacific - 15:44.07), 10k: Lisa Koll (Iowa State - 31:18.07 NCAA Record).
But the story of the night was obviously Lisa Koll's 31:18.07 collegiate record in the 10k. Do you realize how good that was? The old collegiate record was Sally Kipyego's 31:25.45, so Koll got that by more than 7 seconds. But in terms of American collegiate records, the previous best by an American collegiate was Koll herself, who had run 32:11.13. Behind Koll, the next best American in college history was Stanford's Alicia Craig, who ran 32:19.97 in 2004. So Koll is more than a minute faster than the next best American in collegiate history.
Koll negative split the race and ran 15:50/15:28. Her 15:28 would basically tie her for 14th with Kara Goucher on the all-time collegiate list according to this message board post.

Lisa Koll Post-Race

All Time U.S. Women's 10,000-meters list


1. 30:22.22, Shalane Flanagan, Nike, Aug. 15, 2008
2. 30:50.32, Deena Kastor, Asics, May 3, 2002
3. 30:55.16, Kara Goucher, Nike, Aug. 15 2008
4. 31:13.78, Amy Yoder, Nike, Aug. 15 2009
5. 31:17.31, Jen Rhines, adidas, April 29, 2007
6. 31:18.07, Lisa Koll , Iowa State, March 26, 2010

All time collegiate 10,000-meter list


1. 31:18.07, Lisa Koll, Iowa State, March 26, 2010
2. 31:25.45, Sally Kipyego', T. Tech, May 4, 2008
3. 32:17.1, Christine McMiken', OSU, 1986
4. 32:19.97, Alicia Craig, Stanford, April 30, 2004
5. 32:22.5, Kellie Cathey, Oklahoma, 1982
6. 32:22.97, Carole Zajac, Villanova, April 23, 1992
More: *Lisa Koll Shatters Collegiate Record *Results *Photos *Men's Distance Videos *Women's Videos

Only In The SEC
Imagine if you are Georgia sophomore Torrin Lawrence. Indoors, you run a world-leading 45.03 and win NCAA indoors in a time that would have garnered you gold at World indoors. You must be feeling really good about yourself, right?


Yes, until you wake up on Sunday and realize that you very well may not be the favorite for the 400-meter title in your own conference. How could that be, you say?
Because over the weekend, Mississippi State freshman Tavaris Tate decided it was time to run the first collegiate race of his career (Mississippi State doesn't sponsor indoor track). His first collegiate race might end up being one of his last, as his first one was so fast. He blitzed a 44.86 over the weekend. To put 44.86 in perspective for you, please realize that it would have garnered the bronze at last summer's World Champs. At the Olympics, it would have barely missed out on bronze (44.80). Tate, who ran 45.48 as a prep, clearly is the real deal. We can't wait for the SEC 400 final.
Oh yeah, it's not like Tate took off indoors. Indoors, he did run - he was 4th at indoor USAs and won a gold on the US 4 x 400 World Championships team.
More: 19-Year-Old MSU Freshman Tavaris Tate Runs 44.86 To Open Outdoor Season *Interview With Tavaris Tate After His World Indoor Team Experience *Profile On Tate After Running Shocking Leg Of USA 4 x 4 Qualifying Team
Road Race Of The Week
Because World Cross was going on, we thought we'd highlight a road race or two to show you the amazing depth that exists in the world of distance running currently. At the Cooper River Bridge Run, Kenya's Simon Ndirangu's return to action after being in the Kenyan military proved to be a successful one, as he won in 27:49, with last year's winner Tilahun Regassa in third with 27:52, as 3 guys broke 28:00.
Props to Regassa for once again going for it as seems to be his style. He reportedly covered the first mile in 4:08.
You can read all about the men's race here. Sadly, if you want to see how racism still exists in America, we suggest you read the comments below the race recap. For a women's recap, which was won by Ethiopia's Meskerem Assefa, please click here.
All told, there were six road racers that broke 28:00 flat across the globe for 10k last weekend, as at the Parelloop 10-K in Belgium, Martin Mathathi ran 27:22 to defeat Micah Kogo (27:52). Last year, Kogo had set the world record at the race. Also, at the Azalea Trail Run 10k in Alabama, 19-year-old John Kemboi of Kenya ran 27:59.
More: *Preview Of Azalea 10k *Recap Of Azalea 10k
LetsRun.com Hero Of The Week
Last week, there was a story we linked to from the UK on European junior 10,000 meter silver medallist Simon Lawson quitting the sport at the ripe old age of 19. Apparently, Lawson was tired of getting zero support from the federation and from having his 180-mile week training regime criticized.
The Athletics Weekly story on Lawson is a must-read in our book. Some of the highlights:
Quote Of The Week #1 - Lawson On His Lack Of Funding
"I must pay £3.75 to use the local track. I do not think in any way that I am worthy of huge support but get frustrated that, as a UK record-holder and European medallist, I can't even get into a track for free."
Quote of The Week #2 - Lawson Complaining That He Wasn't Allowed To Double At Last Year's Europeans
"A 30-minute race on a Thursday and a 15-minute race on a Saturday is not going to kill anyone. I think I would have won silver but was denied the opportunity. With this attitude, British distance running is never going to improve."
Quote of The Week #3 - Lawson On His Future Aspirations
"I never saw athletics as a long-term thing. I was half-decent, trained like a mad man and think I would have run 29.63 (sic) and 2:15 this year. However my main aim is to be a doctor."
Lawson clearly is an old-school guy who likes to train a lot and race a lot and it's a shame he's giving up the sport. He's certainly got our respect. It shows that if you train enough, almost anyone can be good.
Weekly Free Training Advice
This week's free training advice is meant for coaches and it comes from Brother Colm O'Connell. It can be summarized very quickly - don't think you know it all, don't over complicate things and don't think you are the reason for the athlete's success.
"I had to ask questions and was willing to learn. If I came here and knew it all, I would be telling everyone what to do. So I learned from the athletes. There is a danger, if you are a very qualified coach, that technique will start taking precedence over the ability of the athlete ... The secret is that there is no secret. And we won't tell you what it is because there is none. But we'll keep pushing it to make you think there is."
More: Colm O'Connell Profile

Bureaucrats Strike Again - This Time In Australia
Whatever the name - AAU, USATF, Athletics Australia - bureaucrats have long been easy targets in athletics circles. It seems as if the bureaucrats are well on their way to forever being hated. The latest from Australia's Daily Telegraph:
As if there weren't enough barriers placed in front of amateur athletes, new Sydney mum Hayley Butler qualified for the Commonwealth Games in the 100m hurdles last weekend only to have her time and title rubbed out because she forgot to check in before the race.
We're not making this stuff up. It was Butler's first race in three years due to her pregnancy. To read more about this travesty (and see a great photo of her training with her baby), see the full article here (Editor's note: Attention ignorant Americans - the word mum is the same as mom over here).
LetsRun.com Back In The Olympic Trials
We probably should have mentioned this last week, but we were still too happy Cornell was in the Sweet 16 to do much of anything. We're pleased to report that the famed LetsRun.com singlet is back in action.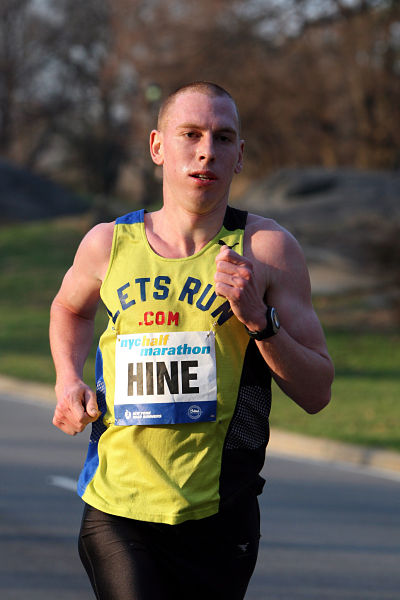 And when the LetsRun.com singlet is in action - it produces. Congrats to Zac Hine for his 64:14 clocking at the New York Half Marathon, which qualified him for the 2012 US Olympic Trials Marathon.

In the process, the LRC singlet also defeated Haile Gebrsleassie. For those of you keeping score, that's LetsRun.com singlet 1, Haile G 0.
On a serious note, do you want to qualify for the Olympic Trials wearing the LRC singlet? Email us and we might pay you if you do it.
Father Time Wins Again/2010 USA Indoor Masters
Depressing news of the day. Ultimately, we all are going to get old.

The 2010 US Indoor Masters championships were held in Boston last weekend. Kudos to LRC visitor Neil Clark who wrote us the following:
Weekly Anti-Doping News
The most interesting news on the doping front was that an Austrian official wants to investigate whether or not Olympic silver medallist Stefanie Graf blood doped during her career.
Recommended Reads/Listens/Watches From Last Week

*Profile Of Tavaris Tate
*Flashback: Rojo At Worlds XCs In Amman:
*Geb's Impact Extends Beyond Running
*Ashton Eaton On Breaking The World Record
*Moses Kipsiro And The Legacy Of John Akii-Bua
Remembering The Last Week With The Quotes Of The Day - Day-By-Day:
Monday: "I was not certain I would win because I had not raced before with the one who was following [Mehdin], but when I opened up a 10m gap, I started praying as I was racing, and I thank God that he has given me this win that I have dedicated to the Kenyans."
- Joseph Ebuya, the first Kenyan man to win the World Cross-Country long course title since Paul Tergat in 1999.
Sunday: "The rains made the course softer. The start of the course is on a slanted hill, and with the mud, you'll certainly see some people go down. The logs that you have to navigate are taller than what I expected, and are surrounded on either side by mud."
- US junior team captain Shelby Greany on the eve of World Cross-Country.
Saturday: "God is always teaching me more about who He is and who I am while I am out there. For me running is the ultimate school ground."
- Ryan Hall talks openly about faith and his running as he gets ready for 3 weeks of training in Boston to prepare for the April 19th race.
Friday: "She goes, 'Wait, wait, wait. You mean like the meet record? The American record?'" Eaton recalled. "I said 'No mom. I broke the WORLD RECORD - the never-been-done-before record.'"
- Oregon senior Ashton Eaton in a Recommended Read AP story about his shocking heptathlon world record set at the NCAA championships 12 days ago.
Thursday: "... it is every man for himself when they get on the start line."
- Ricky Simms, coach of Uganda's Moses Kipsiro, in a LetsRun.com exlcusive profile on Kipsiro by Irish journalist PJ Browne.
Wednesday: "I must pay £3.75 to use the local track. I do not think in any way that I am worthy of huge support but get frustrated that, as a UK record-holder and European medallist, I can't even get into a track for free."
- European junior 10k silver medallist Simon Lawson talking in an Athletics Weekly, where it was announced he's quitting the sport at the ripe old age of 19 as he's tired of dealing with the British bureaucrats, who (among other things) criticized his 180 mile weeks, wouldn't let him double at Europeans and make him pay to practice on the local track. Lawson would make old-timers smile as he never considered himself much of a talent - he just "trained like a mad man."
Tuesday: "He (Khalid Khannouchi) was a role model for me. I watched how he lived, from the time he wakes up till the time he goes to sleep. For six weeks, he only went out once ... He just trains, comes back, showers, eats his lunch, watches TV, relaxes, takes a nap, wakes up, has coffee, goes to run, comes back, showers, gets a massage, eats dinner, relaxes. Sometimes he talks on the phone, but not too much. He doesn't turn on the Internet or anything like that. I copied that routine to my own routine. It works. The more you sleep, the more you recover."
- Moroccan-born American Mo Trafeh in a Brief Chat with Peter Gambaccini. Trafeh has turned heads this year with a sub-43 Gate River crushing of some leading Americans and then a sub-61 3rd-place performance in the NYC Half Marathon.
Last Week's Homepages
*Mon (March 29) *Sun (March 28) *Sat (March 27) *Fri (March 26) *Thu (March 25) *Wed (March 24) *Tue (March 23)

---
Runner's World &
Running Times



Combined Only $22
a Year
Save $87

---

Running & Track and Field Posters
---

Great Offer: Nike Lunar Glide Sale Multiple colors of this shoe available.

*Nike Air Max Moto 7 Get 2 Pairs for a Crazy $112
---