Hall Backs Out While Wanjiru Signs Up For Mardi Gras Half Marathon Disappointed after his Phoenix 64-minute half, Ryan Hall told New Orleans he's out. But along comes the half marathon world record holder Sammy Wanjiru, who is returning from a back injury sustained in Chicago.
London Marathon Being Investigated For It's Relationship From Charities Our previous headline on this was wrong. There is nothing about any of this being illegal. The Marathon, a charity, raises some of its money by charging other charities fees for guaranteed entries into the race. The charities then raise money from runners in the race.
New: Episode #3 - Training Talk With Brett Gotcher & Greg McMillan
Training Talk made its first appearance of 2010 on Wednesday night and the featured guests were Brett Gotcher and his coach Greg McMillan. The show was so good we went on for an extra 30 minutes. Along the way, we talked about greats such as Arthur Lydiard, Rod Dixon, Steve Jones, Galen Rupp, Vin Lananna, Dathan Ritzenhein, Ryan Hall, and Alberto Salazar. In terms of training advice, McMillan tells you how much you need to run to be great and whether or not he thinks the Africans are beatable. Text highlights of the podcast appear at the link above or you can download here. *LRC MBoard Thread On Greg McMillan Here.
LRC The Week That Was After a Christmas break hiatus, The Week That Was is back in full force. This week we praise two US debutante marathoners before telling you why one of them will never PR again, we introduce you to a film about the great Brother Colm O'Connell, before giving you scientific evidence that "elite athletes are different from the general population, especially on desire to win." We even give you a test to see if you have the psychological makeup of an elite. Along the way we talk about Frank Gagliano, Jenny Barriner, Lukas Verzbicas, Craig Virgin, Haile G, Chris Derrick and others.
Barefoot Running/Minimalism Reaching "The Tipping Point"?
*Harvard Researchers Launch Website For Those Interested In Barefoot/Minimalist Running LetsRun.com received an email from one of the report's authors who thought our readers would be interested in their research and findings. We agree and are glad that LetsRun is being visited by Harvard Researchers.
*LRC Very Lively Thread On Mark Plaatjes' Article On Barefooting
*Brooks CEO Jim Weber Canded On Barefoot Running Perhaps the most straightforward take, we appreciate his honesty.
*LA Times Discusses Study On Barefoot Running
*WebMD On The Latest Research On Barefoot Running
Sign Of The Exciting Times!
John Hancock Financial CELEBRATES 25 Years Of Boston Marathon Sponsorship By Announcing TWITTER Page Party like it's 2010!
*Recent Study: US Youth Spend 7.5 Hours AVERAGE PER DAY On Internet, TV Or Texting
News From The Top - Wanjiru And Haile
Wanjiru Says Haile Won't Race Top Kenyans And Shut Him Out Of Berlin Last Year
Wanjiru is saying what we've been saying all along about Haile in his marathon career: race the world's best marathoners in a real race! We're going to find out if real,-Berlin actually had a contract with Haile that allowed him and his agent to hand pick the field for a World Marathon Major.

We Missed This: Watching TV In Hotel Room Caused Haile's Back Injury
According to The Emperor, watching TV the night before his marathon in Dubai caused him to sleep on his back and suffer to a 2:06:09 win.

*Sammy Wanjiru Thoroughly Beaten In X-Country In Kenya Today Wanjiru is just coming back from a back injury sustained after the Chicago Marathon and finished 39th in the Kenyan Armed Forces XC. Back injuries don't usually bode well for marathoners.
Japanese Hoping For Win In Tokyo Marathon With Atsushi Sato
Sato got 6th at the '09 WC marathon.
Weekend In Review - Photo Edition (Our Favorite Way To See What Happened In Races We Couldn't Watch)
*LRC Photos: Top Races From NYC's New Balance Games Andy Baddeley and Erin Donohue pick up pro mile wins (see which college stars are running post-collegiately).
*LRC Dubai Marathon Photo Sequence - How Race Unfolded It's a disgrace Haile wasn't on television or the internet, but our photo sequence is the next best thing to watching the race (or the official message board thread).
Look At The Team That Keeps Heptathlete Jessica Ennis Rolling
We are amazed by how much press Jessica Ennis gets.

Briton Ricky Stevenson Off To Good Start In 2010 With Edinburgh Short Course XC Win And 3:56 Mile At New Balance Games
UK Media Company Launches Campaign To Give Regina Jacobs' 2003 Indoor Gold To Dame Kelly Holmes
This prompted us to look back in the old days for a LetsRun.com classic - Rojo's Regina Jacobs Answers A Few Drug Related Questions - that we remember reading using dial-up internet.
LRC Boards: The REAL Story About The Oregon HS XC Situation
Thousands of XC fans from around the country have responded to the OSAA, who discussed eliminating or significantly altering the team aspect of Oregon HS XC (there's a facebook group with 3,600+ members).
*DyeStat Article: Oregon's OSAA Hears From XC Fans, Loud And Clear
800m World Medalist Jenny Meadows - Training In South Africa - Describes Semenya's Treatment As Inhumane
We don't understand why this article assumes Caster Semenya will win in London 2012 if she's allowed to compete. Nobody would ever have thought a certain female named Pamela Jelimo would be a non-factor in 2009, would they?
National Pro Ekiden Recap And Results From Japan
Almost 1/3rd Of Top 100 At Chinese Marathon DQed For Cheating This isn't some minor scandal. It was a big one because if you're under 2:34 in China, you get extra credit for the incredibly competitive college entrance exams. *LRC: MBoard Thread On Chinese Cheating For College
Interview With America's 2:10 Marathon Debut Surprise Brett Gotcher
Stanford grad Brett Gotcher was on pace for 2:09 or faster until the last couple miles in Houston. Looking back, he "only" ran 28:51 for 10,000m in college but he also ran 28:59 in his sophomore year at the age of 20.
Millrose Games And Wanamaker Mile
*Results: Men Pro, Women Pro, Other
Lagat Gets #8 3:56.34 runaway win over Olympic champ Asbel Kiprop was the highlight of the Millrose Games.

*LRC Recap Of Distance Events And Other Action From Millrose We made sure we were there to take in one of the best indoor meets in the world. It was well worth it to see the Kiprop/Lagat duel come down to the last lap.
More From Millrose
*NYTimes Devotes Its Lead To Christian Cantwell's Third Win In Shot Put All 4 throws of his were over 70 feet and would have won.
*USATF Winner's Quotes
*Dyestat Recap: Trevor Barron New HS Record In Boyd Racewalk (6:03!) - Just Kidding; Pat Schellberg Runs 4:14 In Boys Mile Tim Seaman ran/walked 5:52 for the mile.
*Olympic Champ Asbel Kiprop Added To The Mile Field A GREAT addition. Olympic champ is probably Lagat's best-ever competition. He was planning on making his indoor opener an 800 next month but when Mekkonnen couldn't get a visa, he was called in. Kiprop: "I feel good about tomorrow."
*Bernard Lagat Goes For Record In Perhaps Final Wanamaker Mile The thing to note for fans is that Lagat, who's getting well into his 30s, is thinking this will be one of his last big mile races before focusing on the 5,000m.
*Millrose High School Mile Fields Announced Last year, Robby Andrews made our jaws drop as a rare, rare talent. Not long after, he broke Alan Webb's American HS record for 1,000m.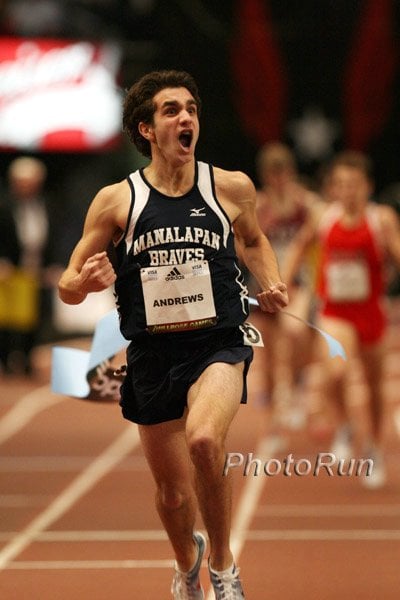 *LRC 2009 Millrose Photos

*Washed Up Football Players In Millrose 60m Dash Make NY Times Editor's Cut While there is hardly a hint in the mainstream media about Millrose or the Wanamaker Mile, the NY Times has an article about mostly washed-up former NFL Super Bowl players running a 60m dash during the event.
*USATF CEO Talks About "Super 60" Gimmick Event At Millrose Purists are rolling over in their graves (if dead) or chairs at this event. We think it's fine and says the truth about the sport - we (except for Usain Bolt) are a drop in the bucket of American sport compared to the NFL. We're actually more excited for the football sprint than we are for basically what amount to pre-season 60m dashes.
*Britain Too: Aviva Grand Prix To Have "Extreme High Jump"

*Women's Mile: Sally Kipyego and Sarah Bowman Headline
*Anna Willard, Blanka Vlašić, Jenn S., Deresse Mekonnen Out
*Brief Chat With Bernard Lagat
*Brief Chat With Andy Baddeley
Inspiring News For Runners
*Nolan Shaheed Becomes First 60-Year-Old To Break 5:00 For Mile That's one hell of an accomplishment.
*"Honda LA Marathon" - Honda Becomes Main Sponsor Of LA Marathon And they make good cars.
*Rochester NY's St. John Fisher College To Add Track, XC Thanks To Private Donations We heard about these two track additions from readers of the site. Keep the good news coming and keep supporting the sport!
*Carroll College Adds Track and Field This news comes from Montana (yes, we have readers in Montana).
Pros In The News
*Video Interview With Haile G And Marathon Expert Sean Hartnett One of the beautiful things about the internet is that we can watch an interview with the greatest runner of all time (okay, before Bekele). We recommend you listen to our training talk with Gotcher and McMillan and watch Haile and learn from the best ever.
*2:15 Marathoner Pat Rizzo Talks About Car Accident And Leaving Hanson's For Boulder The training isn't as important as being positive or negative.
*Meseret Defar And Tirunesh Dibaba Will Take Further Shots At Indoor 5,000m World Record Defar in Stockholm (Feb. 10) and Dibaba in Boston (Feb. 6).
Xavier Carter Quadruple Failure
XMan Arrested Again, The Fourth Time Since He's Turned Pro The X-Man was legendary for quadrupling at NCAAs and pulling off the incredible 100-400 double at NCAAs. Now he's pulled off a much sadder quadpruple - his fourth arrest. As we said the last time, "Somebody help him fast."
LRC Archives:
*Arrest #1
*Arrest #2 We actually expressed some sympathy for him after this one.
*Arrest #3
Stop Pre Cutting Track
Frederick County Maryland Looking To Cut Indoor Track To Save $62k
LetsRun readers, you make a big impact on these decisions. Join the group and voice your opinion.

We found out about Frederick County because neighboring Carroll County Maryland is considering cutting their indoor track program to save $32k. One of our readers wrote to us with the heads up.
*Join Save Carroll County Indoor Track Facebook group here.
*Baltimore Sun Article Here
Pat Butcher Writes - Haile And "Sporting Mortality" We always are interested in Butcher's take on things. Especially Haile, as Butcher knows him well and respects him a great deal. He was in Dubai and sensed something different in Haile after his latest marathon.
LRC MB: Jenny Barringer ... Over Before It Started
Some are arguing that Barringer signing with New Balance and staying with coach Wetmore (rather than going with Nike and living in an altitude house in Portland) is the end of her career.
We like this post by "hoopla": This reliance, or assumed need, of resources is a huge issue with the state of running in the U.S. A pair of shoes, some healthy food, and being surrounded by positive people is all that is needed for a super talent to succeed. running is simple.
*LRC Photos: Jenny Barringer Signing Ceremony In New York City Armory
Results Wire
Congrats From LetsRun: Cal Poly SLO Grad Brian Baker Hits Oly Trials In Debut Marathon With 2:18 In Carlsbad
Wesley Korir won the half marathon in 64 flat.

Westly Keating Gets Austin 3M Half Marathon Win, Running 63:22 On Windy Day

Oklahoma State's Tom Farrell Ran Fastest Indoor 3,000m (8:02) By A British Teen In 16 Years
Miles Highlight New Balance Games *Results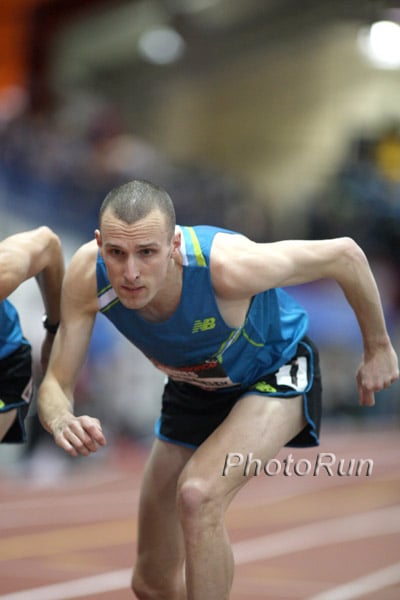 Baddeley And Donohue Win New Balance Miles
Next up for the flying Brit? A chance to stop Bernard Lagat from passing Eamonn Coghlan for most ever Wanamaker Mile wins on Friday in Madison Square Garden.

*Coaching Erin Donohue Keeps Gagliano Going After Losing Daughter-In-Law
A good read about the duo that are keeping each other going. Gagliano says Erin Donohue will run a fast 800 this year. She opened up with a solid 4:28 rust buster in the Armory.
Georgia Phenom Torrin Lawrence Runs World's 5th-Best Time Ever In 300m (32.32) ... Without Blocks
Lawrence didn't need blocks to run a time for 300m that most of us would be pretty hard-pressed to run for 200m. (for the record, Employee #1 ran a 32 for 200m the other day and it wasn't easy).