Fundraiser for Jenny Crain, February 4th in Milwaukee
Editor's note: Jenny Crain an Olympic Marathon hopefully was involved in a horrific accident while out on her morning run in August 2007. She still needs your support 2.5 years later. There is a touching RunnersWorld article on her here.
The Jenny Crain Make it Happen Benefit which is to raise funds for local Olympic hopeful, Jenny Crain, who's dreams were shattered following a traumatic runner/car accident a few years ago. The money raised at this party will assist in the coverage of costs for her ongoing therapy and rehabilitation.

The Benefit is set to kick off on Thursday, February 4, 2010 at 4:00pm at The Whiskey Bar 788 N Jackson St. Milwaukee, WI.
For entertainment, there will be 2 live bands. There will also be a silent auction with great running products and apparel. There is no cover charge for the event, however, donations will not be refused.

This page will continue to be updated with the latest items available.

http://www.facebook.com/pages/Jenny-Crain-Make-it-Happen-Benefit/227019891628?ref=ts

Further details of the fundraiser as well as can be found thru this link:

http://www.facebook.com/profile.php?v=app_2344061033&ref=profile&id=707814016#/event.php?eid=229655799043&index=1

And the family has been periodically updating Jenny's progress on this site:
http://www.jennycrain.net/
If you want an image of the poster for the benefit, it can be downloaded at jennycrain.net within the copy about the benefit.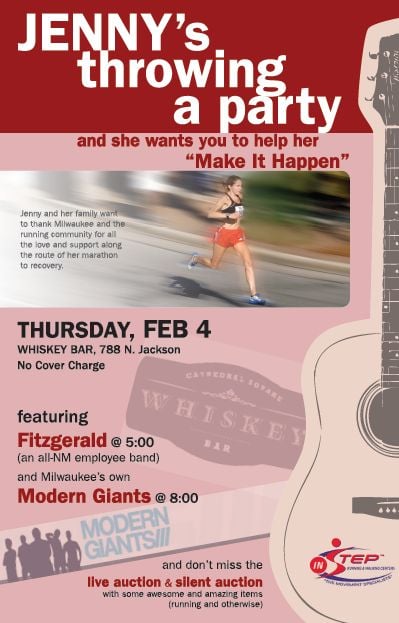 ---
Runner's World &
Running Times



Combined Only $22
a Year
Save $87

---

Running & Track and Field Posters
---

Great Offer: Nike Lunar Glide Sale Multiple colors of this shoe available.

*Nike Air Max Moto 7 Get 2 Pairs for a Crazy $112
---