LetsRun.com: The Week That Was In Running: January 18 - January 24, 2010
By LetsRun.com
January 25, 2010
To read any 2009 LRC Week That Was, click Here.

*****
Last Week's Homepages
*Mon (Jan. 25) *Sun (Jan. 24) *Sat (Jan. 23) *Fri (Jan. 22) *Thu (Jan. 21) *Wed (Jan. 20) *Tue (Jan. 19)
We may have been taking a much-deserved break from The Week That Was recap the last few weeks, but clearly US distance runners weren't taking a Christmas break. The big news of the last few weeks has been the nice marathon debuts of two up-and-coming USers. Normally a 2:14 marathon debut by an American would be the story of the last few weeks. Jeff Eggleston ran the 24th-fastest American debut ever, thanks to his 2:14:36 in Arizona. Very impressive for someone whose track PRrs from what we can tell are only 14:22 and 29:45. Certainly a Thumbs Up to Jeff, but the debut of the month certainly belongs to Brett Gotcher, who ran the 4th-fastest debut for an American ever in Houston with his 2:10:35 showing.
Very impressive for both of them.

Now let's kill the buzz with some depressing news.

Depressing fact #1. Despite his 2:10:35, Gotcher was only 7th in his race in Houston. It's crazy how deep and good the marathon is these days.

Depressing fact #2. 10 of the top 20 fastest debut marathoners in US history still today hold their debut time as their PR. The belief that a lot of them are going to come way down once they figure out the marathon is for the most part a myth. If you ran well enough to get into the top 20 in US history for debuts, a lot apparently went right. Looking at the list of the top 20 debut marathons in US history is fascinating (it's a great list and definitely worth looking at); only five of the 20 ever ran a time that was more than 2 minutes faster than their debut.

But we're trying to overcome our negative view and rejoice in Gotcher's stellar 2:10. Many kudos to him and coach Greg McMillan. There was a nice competitor.com article on Gotcher's breakthrough, where Gotcher talks about how McMillan was able to get him to believe he could run 2:10 even though he'd only run a 65:43 half at the World Half Marathon Championships in October. We'll use it as our Quote of the Week #1.
"Greg and I had been talking about times for the marathon and pace. He had mentioned me running 2:10 and under. In my mind, I was like, "Whew, I just ran 2:11 pace for a half marathon. How can I possibly expect to turn this around in a couple of months?" So I took a couple days and got my mind back to where it needed to be. Once the marathon training started, I was into it full-on. I then completely forgot about the last race and looked forward to the next one."
More: *Anatomy Of A Breakthrough *Houston Chronicle: Gotcher Makes Splash
*****
Moving on to more depressing news. In Oregon - yes Oregon, the land of Nike and Prefontaine - a proposal is being considered to kill off team cross-country as we know it at the high school level. Thankfully, the power of LetsRun.com has flexed its muscle and the info has gotten out on this travesty and it looks like it won't happen, but give us a break. Kudos for runnerspace for letting us know about the travesty and kudos to everyone in the LRC community that has flooded Oregon with complaints. To read more, click on this message board thread which also has a link to a nice dyestat feature on the debacle.

And if you are fired up from saving Oregon XC, maybe you can try to save Carroll County, Marlyand's HS indoor track program. It's on the chopping block to save $31,000. Join their Facebook group here.

More: LRC MB: Oregon High School Cross Country *Baltimore Sun Article On Carroll Indoor Track
*****
And how about this for a photo of the week? From a high school cross-country team's reunion, somehow they got the Illiniois greats of the past, present and future to show up. Here's Lukas Verzbicas, Craig Virgin and Chris Derrick.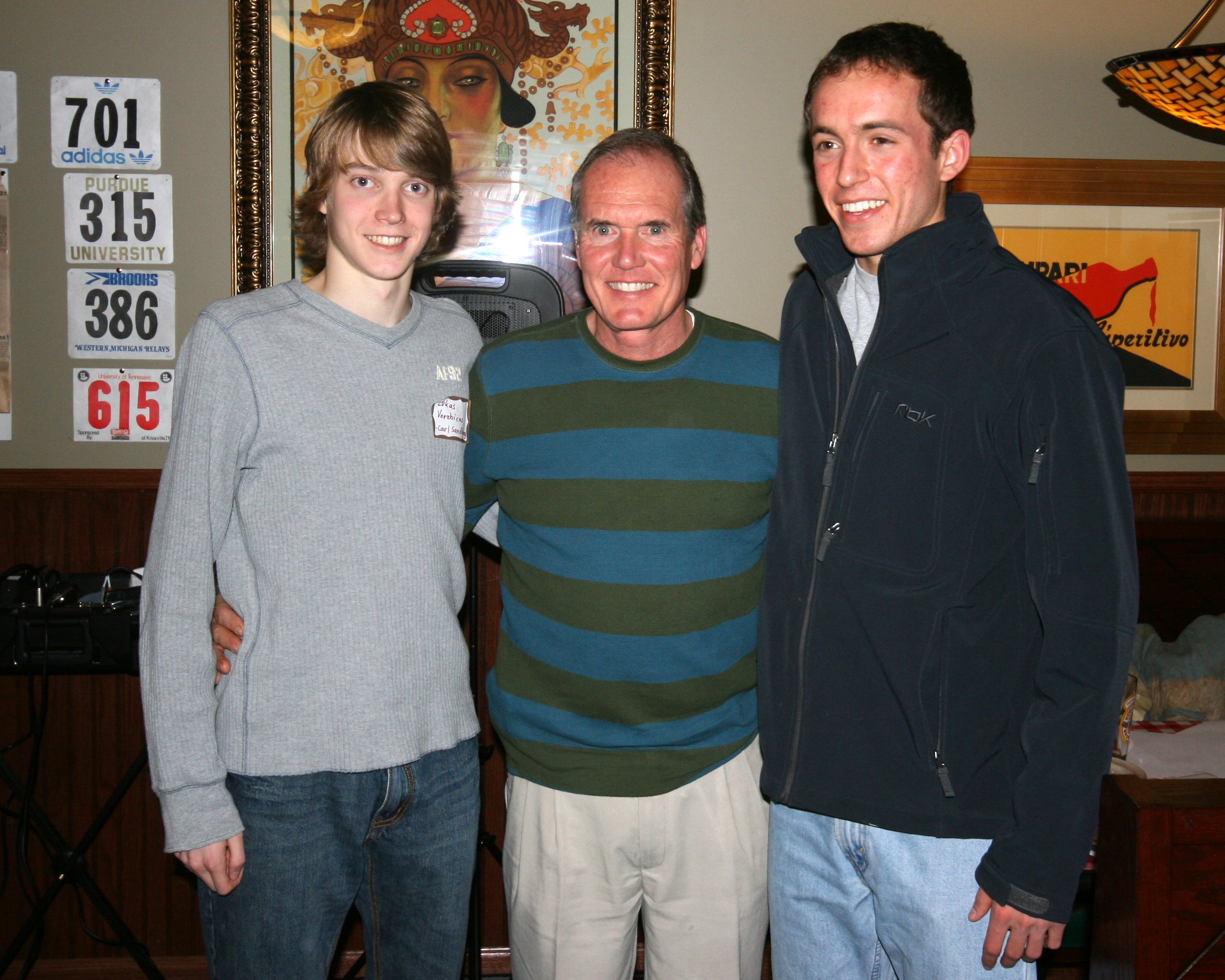 *****
Well, that photo hopefully got us out of our negative funk. If that didn't do it, then the movie trailer below certainly should.

Filmmakers Ed Sunderland and James De Zoete are working on a film on Brother Colm O'Connell - the legendary former head of St. Patrick's High School in Iten, Kenya and one of the most famous athletics coaches in history. Writer/Producer Sam Cryer wrote to let us know the group needs some funding to finish up the project (it was filmed in 2004, but they've been missing the funding to get it finished) and that they've been in negotiations with the Irish film board to get that funding. The more people realize there is interest in this film, the more likely they are to get it funding and to get it finished. So please take a minute to join their Facebook group, to visit the the film's blog or to visit the official film site.
Oh yeah, the name of the film is "Catching An Antelope."


*****
Quote of The Week #2
"I don't have golf clubs, I have a stopwatch."

- legendary coach Frank Gagliano speaking in a nice David Monti profile on him that focuses on how he's re-energized coaching Erin Donohue after the death of his daughter in law, Meighan Coughlin-Gagliano. Gags reveals that he never wanted to stop coaching, but the desire to be with his family rightfully caused him to leave the Nike Oregon Track Club. As only Gags could classically say, "I didn't want to stop coaching. Why would I leave Nick Symmonds?"

Speaking of Donohue, she had a nice opener last week, as she won the New Balance mile in 4:28.92 along with Andrew Baddeley (3:55.64).

And speaking of New Balance ... they signed Jenny Barringer last week to a pro contract. Honestly, what shoe someone is wearing isn't the biggest of concerns for us, but we are glad to see that their still is some competition out there for Nike. We're also glad to see that at least one college star plans on staying with her college coach, as Barringer is going to keep Mark Wetmore as her coach.

More: *COACHING DONOHUE LIFTS STILL-GRIEVING GAGLIANO *Baddeley And Donohue Win New Balance Miles *LRC Photos: Top Races From NYC's New Balance Games *LRC MB: Jenny Barringer ... Over Before It Started *LRC Photos: Jenny Barringer Signing Ceremony In New York City Armory
2010 New Balance Games Men's Mile
1. Andy Baddeley, GBR 3:55.64 PB (3:40.6 at 1,500m)
2. Ricky Stevenson, GBR 3:56.31 PB (3:41.1)
3. Mark Draper, GBR 3:56.80 PB (3:41.5)
4. Adrian Blincoe, NZL 3:58.53 (3:42.6)
5. Tim Konoval, CAN 4:01.64 PB (3:45.2)
6. Bobby Curtis, USA 4:01.73 PB (3:44.9)
7. Kyle Boorsma, CAN 4:03.60 PB (3:46.0)
8. Neil Speiaght, GBR 4:05.72 (3:48.1)
9. Dustin Emrani, USA 4:16.46 (3:58.2)
Rob Novak, USA DNF (pace)
Chris Spooner, USA DNF (pace)

2010 New Balance Games Women's Mile
1. Erin Donohue, USA 4:28.92 PB (4:12.0 at 1,500m)
2. Nicole Edwards, CAN 4:29.42 PB (4:12.4)
3. Sarah Bowman, USA 4:32.14 (4:13.6)
4. Frances Koons, USA 4:33.24 PB (4:15.2)
5. Hilary Stellingwerff, CAN 4:34.28 (4:15.0)
6. Elizabeth Maloy, USA 4:35.12 PB (4:16.6)
7. Maggie Infeld, USA 4:35.37 PB (4:17.4)
8. Amber McGown, CAN 4:35.72 PB (4:16.8)
9. Marina Muncan, SER 4:36.05 (4:17.9)
10. Megan Metcalfe Wright, CAN 4:36.44 (4:15.6)
11. Heidi Dahl, USA 4:36.99 PB (4:17.6)
12. Dana Buchanan, CAN 4:46.42 PB (4:26.4)
Lesley Higgins, USA DNF (pace)
*****
Performance Of The Week
This one was easy. Some guy we've never heard of - Sergio Sánchez of Spain - ran the third fastest indoor 2,000 meters of all time when he ran 4:52.90. That's pretty sick, but when you consider it was run on a 180-meter track, that's officially ridiculous. And to think coming into the meet, he had PRs of only 1:49, 3:39 and 7:43. On Saturday, he went through 1,500 in 3:39.84 (just .05 off his PR). His new goal is to break 7:30 in the 3k later this year.

FYI, the world record for 2k indoors in 4:49.99 set by Kenenisa Bekele in 2007.

And if we are talking about the sprint performance of the week, how about Georgia sophomore Torrin Lawrence, who ran 32.32 for 300 meters without blocks? That is staggering.
More: Sanchez Runs European 2k Record *Lawrence Runs 32.32
*****
He's Human In More Ways Than One
Last week, the ultra-rich Standard Chartered Dubai Marathon was held. Back problems apparently prevented the great Haile Gebrselassie from mounting yet another attack at the world record, but he did manage to win in 2:06:09 after getting caught by two Ethiopians late in the race.
The only problem was that race organizers apparently weren't planning on there being a race, as their website updating fans of the race's progress only had the leader's splits - it failed to have the leader's name, as shown by the screen shot below: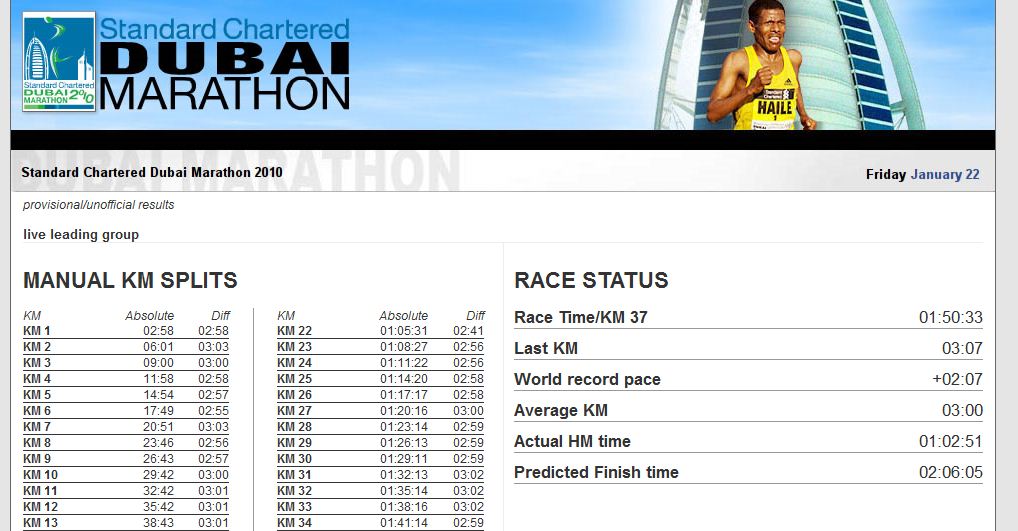 So for that Dubai, we've gotta give you a Thumbs Down. The race is the richest marathon in the world in terms of prize money ($250,000 for first), but there was seemingly zero ways to watch the race live as it wasn't on television or on the Internet - certainly not in the US. And the one place that was offering live updates didn't tell you who was in first. It only offered you splits on the "live leading group." Well, considering the pace was never on record pace, that wasn't too exciting, was it?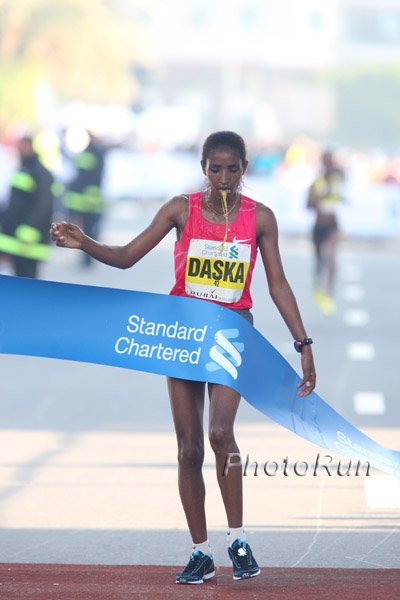 We propose a new verison of, "If a tree falls in a forest and no one is there to hear it, does it make a sound?" for the running world. "If some of the greatest runners on the planet run a race but no one watches them run, did they really run it?"
The women's race was a thriller, as Ethiopia's Mametu Daska literally gave everything she had to hold onto the first place $250,000 payday, as shown by the photo on the left. Daska won in 2:24:18 to Aberu Sheway's 2:24:26.
Gebrselassie proved last week that he's human in more ways than one. Athletically, the first signs that maybe his age is catching up to him were revealed. But earlier in the week, Geb revealed he's truly human, as in a nice universalsports.com profile on him, he revealed that balancing a lucrative business career and 2:03 marathons isn't too tough, but balancing training with fatherhood is very hard.
Our Quote Of The Week #3 is Geb talking about fatherhood:

"Being a father isn't easy. It is tough for me. It is difficult to know all the needs of your children. If you ask me why, [it is because] my children are at different ages and their needs change from time to time as they grow up and your responsibility gets more difficult and difficult."
That might not have even been the best quote from the article. Geb seemed very confident that he will eventually break 2:03:59 assuming he stays motivated.

"I don't know when, but I know I will break my own record again. If I keep on my training as a full time job, I know I can run faster than the time I already have.
More:
*
LRC
Photo Sequence - How Race Unfolded
*
Km-By-Km Splits
*
Official LRC
Dubai Marathon MBoard Thread
*
Top 24 Male Finishers
*
Top Female Finishers
*
Geb Runs 2:06:09
Geb's record attempt came up way short, as he got caught in the race by two Ethiopians but was able to obliterate them in the sprint. The
women's race also was close
, as Mametu Daska (2:24:18) ran herself to exhaustion but was able to prevail over Aberu Sheway (2:24:26).
AP:
Geb: "I wasn't feeling very good this morning because I had a back problem but I'm very happy to win the race. I think I slept in a different position, on my stomach, and that caused the problem."
IAAF:
Geb Needed Physio Treatment Prior To Race
*
Bad TV-Watching Position May Have Cost Geb
*****
And speaking of Haile, the greatest marathoner on the planet -
Sammy Wanjiru
- made some big news last week when he seemingly trash-talked Haile by
telling The Standard
:
"He does not competing strong runners from Kenya like (Martin) Lel, Robert Cheruiyot and myself. Look at the Kenyans entered in the Dubai Marathon he ran yesterday (Friday)? They are not strong. He has done well on track and marathons and credit goes to him for being the great runner he is, but his time is up. It is the turn of young runners like myself to own the world record."
We agree that Haile doesn't race the best anymore, but we also agree that Wanjiru needs to be a classy champion. We were most disappointed actually to read that Wanjiru is obsessed with the world record, as he said, "After winning gold in Beijing, my only aim is to break the world record." To us, world record attempts are by-and-large boring. We'd rather watch London each and every year.

*****
Last week was a big one in terms of sports scandals. In fact, the biggest amount of mass cheating in marathon history was uncovered last week in China. Amazingly, EPO wasn't involved. Rather, cars and mass transit were the culprits, as almost 1/3rd of the top 100 in a Chinese marathon were DQed for cutting the course or giving their chip to someone else. Apparently, if you're under 2:34 in China, you get extra credit for the incredibly competitive college entrance exams.

We imagine if, in the US, they offered the same extra credit on the SAT, you'd have lots of kids on EPO.
More: Almost 1/3rd Of Top 100 At Chinese Marathon DQed For Cheating LRC: MBoard Thread On Chinese Cheating For College
*****
Weekly Free Training Advice
We guess it's time for our Weekly Free Free Training Advice. We feel that the 800 is one of the least understood events in track and field and this week we provide advice from Olympic 800 champ, Wiflred Bungei, who will be coming back from injury for a blockbuster race at 600 meters in Russia against Borzakovskiy, Ismail, Belal Mansour and Milkevics. Bungei says that having the lead and holding onto lane one is sometimes all it takes to be a global champion.
"(2009 world champ in South Arica's Mbulaeni) Mulaudzi did what I did in Beijing and ran a tactical race. In Beijing, I dropped this whole idea of aiming for a fast kick on the last bend that had cost me at major finals in the past. I did not to allow anyone to dictate my pace and I held on to the inside lane from the start. Kenyans (2007 World Champion and 2009 silver winner, Alfred Kirwa and Jackson Kivuva, sixth) and Gregory Konchellah (Youssef Saad Kamel/Qatar) had a chance for gold but Mulaudzi beat them since he ran the way I did."
We agree with that advice. The lead isn't a bad spot to be in during today's super competitive 800s, where it's super-crowded if you are trying to come from behind as so many seemingly are.
The quote comes from the following article: Kenya's Olympic Champion to Come Back After Injury

*****
Last week, the New York Times' Gina Kolata wrote an article on how the group of medical experts convened by the IOC to talk about athletes who sex is ambiguous had issued some recommendations.
And all we can say is that we hope the recommendations are further refined or the women's sports as we know it will soon be over.
Kolata wrote that "... the issue of athletes whose sex seems ambiguous be treated as a medical concern and not one of fairness in competition."
We are fine with it being treated as a medical concern, but the concept of fairness has to be considered or in the future, there will be no women's sports.
The following quote from Dr. Joe Leigh Simpson of Florida International University is simply laughable and very scary for any supporters of women's athletics: "We did not address fairness. The entire concept was that these individuals should be allowed to compete."
We hope Dr. Simpson is wrong or hope that down the road that fairness is addressed. We imagine it will be, as Kolata did also write, "The experts also said that rules should be put in place for determining an athlete's eligibility to compete on a case-by-case basis - but they did not indicate what those rules should be."
More: I.O.C. Panel Calls For Treatment In Sex Ambiguity Cases
*****
Before we get to our recommended reads section, we wanted to point out that the New York Times had another great running-related article last week that hasn't received much attention. It's definitely our Newpaper Article Of The Week. Apparently, elite athletes are totally different than the rest of the population psychologically.
You've probably heard of the Goldman Dilemma even if you don't know it by that name. The Goldman Dilemma was uncovered by researcher Bog Goldman, who began asking elite athletes in the 1980s whether they would take a drug that would guarantee them a gold medal but also kill them within 5 years. More than half of them said yes. The survery was repeated every other year for a decade and always nearly one out of two said yes. Well, as Gretchen Reynolds writes in the New York Times:
"Only recently did researchers get around to asking nonathletes the same question. In results published online in February, 2009 in the British Journal of Sports Medicine, exactly 2 of the 250 people surveyed in Sydney, Australia, said that they would take a drug that would ensure both success and an early death. 'We were surprised,' James Connor, Ph.D., a lecturer at the University of New South Wales and one of the study's authors, said in an e-mail message. 'I expected 10-20 percent yes.' His conclusion, unassailable if inexplicable, is that 'elite athletes are different from the general population, especially on desire to win.'"
The excerpt is part of a larger article that is interestingly enough on how dangerous EPO is and how many strokes/heart attacks it causes. Definintely worth a read in our minds.
More: Phys Ed: Will Olympic Athletes Dope If They Know It Might Kill Them?
Recommended Reads/Listens/Watches From Last Week
*Coaching Erin Donohue Keeps Gagliano Going After Losing Daughter-In-Law
*The REAL Story About The Oregon HS XC Situation
*Haile Gebrselassie's Daily Life As He Trains For Marathons And Operates Huge Business
*Interview With America's 2:10 Marathon Debut Surprise Brett Gotcher
Remembering The Last Week With The Quotes Of The Day - Day-By-Day:
Monday: "Wanjiru's plans to race in Berlin last year were nipped in the bud by reluctance of organisers to enlist him at the event since they had a contract with Haile, who was responsible for selecting the field."
- Mutwiri Mutuota writing for The Standard. In the article, Sammy Wanjiru talks about getting shut out of Berlin last year because Haile Gebrselassie had a contract with Berlin that said he could essentially pick the field. He calls out Haile for not racing the good Kenyans and says this year Haile's contract with Berlin is up, so expect Wanjiru in the German capital.
Sunday: "Haile has really made the difference in marathon running. But he has reached the peak comparing his age and I do not think he is possible to run any faster."
- Sammy Wanjiru talking about Haile Gebrselassie after the Kenya Police National Championship XC race on Saturday. Wanjiru is wanting to run Berlin in September. Considering he has set the course record at Fukuoka, London, the Olympics and Chicago, one might think Haile's 2:03:59 might be in play in Berlin. Someone with some extra money needs to pay to get Haile in Berlin, too, along with Tsegaye Kebede.
Friday/Saturday: "This night was not a good night for me. I slept in a wrong position, on my stomach, and when I woke up, I knew I had a problem, it was not good. I called my physiotherapist, and he came and cracked my back, and said, 'what have you done?'"

- Haile Gebrselassie after seeing his world record attempt at the Dubai Marathon go wrong. After getting caught by two runners late in the race, Geb was still able to power home to victory in 2:06:09.
*LRC Photo Sequence - How Race Unfolded Don't worry if you missed the race; fans were irate that the only way to follow the race was with online km splits.

Thursday: "If you start to do this you are making a joke of the fact that there are two classifications - male and female ... They might as well open it up and have women competing with men."
- Duke law professor, Cornell grad (NCAA champion) and former Nike-sponsored 800m star Doriane Lambelet Coleman reacting to an IOC and IAAF-assembled panel that met to discuss what to do with runners with "ambiguous-seeming genders." The panel recommended allowing the athletes to compete as long as they agree to treatment for disorders that may be harmful.

Wednesday: "We came in here knowing [Hall] wasn't in great shape ... With a race like this, he doesn't bring the same mindset so he doesn't have the capacity to compete because he hasn't done the mental prep for it. This guy (Bairu) has been training for half marathons, so he's more amped up to run a race like this than [Hall] was."
- Coach Terrence Mahon talking to Arizona Republic's Jeff Metcalfe after Ryan Hall finished well behind 2-time NCAA XC Champion Simon Bairu on Sunday in Phoenix.

Tuesday: "The people are very nice here and really respect runners; I have been like 'wow.' Where I am from people do not respect runners, they will be honking their horns at you and telling you to get out of way."
- Shadrack Kiptoo-Biwott talking after winning the mile, 10k and half marathon in a 24-hour span in Bermuda this weekend. We think he's talking about Track Town USA ©.
---
Runner's World &
Running Times



Combined Only $22
a Year
Save $87

---

Running & Track and Field Posters
---

Great Offer: Nike Lunar Glide Sale Multiple colors of this shoe available.

*Nike Air Max Moto 7 Get 2 Pairs for a Crazy $112
---