Pardon the Interupption
By Emory Mort
LetsRun.com
June 2, 2009
Pardon the Interupption, but Galen Rupp is on the verge of putting the finishing touches on a legendary year.
As it stands, Galen Rupp is only 20,000m away from becoming an ex-Oregon Duck. Despite early rumors of Rupp doing three individual events, Rupp will finish his career by competing in his best events, the 5000m and 10000m, on Wednesday, Thursday and Friday in Fayetteville, Arkansas at the NCAA Outdoor Track & Field Championships (the 5000m has a preliminary round, hence the 20,000m total). Though he qualified to run the 1500m thanks to his 3:39.14 runner-up performance to teammate Matthew Centrowitz Jr. at the NCAA West Regional, it was decided that "the triple" (1500, 5000, 10000) was either too much, too risky, or just plain unnecessary.
Oddly enough, it was the event that Rupp is NOT running at NCAA's, the 1500m, which prompted me to spend almost an entire 90-minute run thinking about what he has done in the past calendar year. Simply put, Rupp's 3:39.14 the day after running a 1500m prelim in addition to besting the tough West Regional 5000m field in what for him (the American indoor record holder over the same distance) has become a pedestrian time of 13:46 was incredible. Sure, he was running at Hayward Field in front of thousands of those who have become his biggest fans and the weather was surely helpful. But he ran essentially a 3:56 mile. Galen Rupp! The man who for five years could hardly crack 4!
And that brings me to my biggest reason for wanting to write this essay: Galen Rupp should get a new nickname. Judging by how a lot of people view him, he probably needs a minor image makeover as well, but winning championships, breaking American records and a few Nike ads will take care of that over time. Rupp probably has a nickname, but I'm giving him a new one. Galen Rupp will now be known as Galen "Up Until This Year" Rupp.
Disappointed? Yes, so am I. "Up Until This Year" ? That is a 100% crappy nickname. I'll come up with a new one just so you will keep reading. My new nickname for Rupp is "The Rupp-ocalypse," As in The Apocalypse but with Rupp on the front. It doesn't really work for Rupp either. Oh well, I'll let the Rupp lovers of Eugene come up with something better. But I digress.
Why "Up Until This Year" ?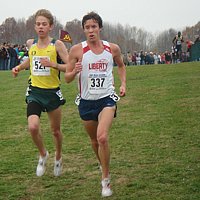 In case you haven't noticed, Galen Rupp (right, racing in 2007 against Josh McDougal) has a had one hell of a year. But it wasn't always this way. Up Until This Year, Rupp had one NCAA title and that was the 2007 NCAA XC team crown. Up Until This Year, Rupp had never been a legitimate player in senior world competitions. Up Until This Year, Rupp wasn't known for winning big championship races. Up Until This Year, Rupp was a 4:00 miler but no faster. Up Until This Year, Rupp got outkicked by guys like McDougal in the big moments.
I know, you get the point. But seriously, Up Until This Year there were way more people who liked to see Rupp lose than liked to see him win. And those who liked to see him lose liked every NCAA championship race he ran in - because he failed to win a single one. In many people's minds, he was "The Golden Boy" with every advantage and privilege possible. But despite it all he wasn't really a big-time champion.
To see proof that many people didn't think Rupp (now a 4-time NCAA champ) could win, we looked back to 2008. In October of 2008 LetsRun.com ran a poll and the responses looked like this:
Will Rupp Win an NCAA Title? (October 16th)
Yes 940 52.2%
No 861 47.8%
Total 1801
Only a few months ago, 48% of almost 2000 LetsRun.com poll respondents thought Rupp would never win an NCAA title. The numbers show it almost exactly: for every person who built him up and believed in him, there were fans who anticipated performances that came up just short. That is, Up Until This Year.
This Year Changed Everything
I talked to my Dad the other day on the phone. I told him Rupp ran 3:39 at regionals in the 1500. He reacted with such surprise that I thought he was watching something on television and had forgotten I was on the phone. But he was just floored that Rupp ran so fast (how my Dad knows what 1500m times are good is beyond me). Then he proceeded to ask me: "Didn't he win two events indoors plus a relay?"
Futher shock ensues. My Dad doesn't even follow running at all. How did he remember this?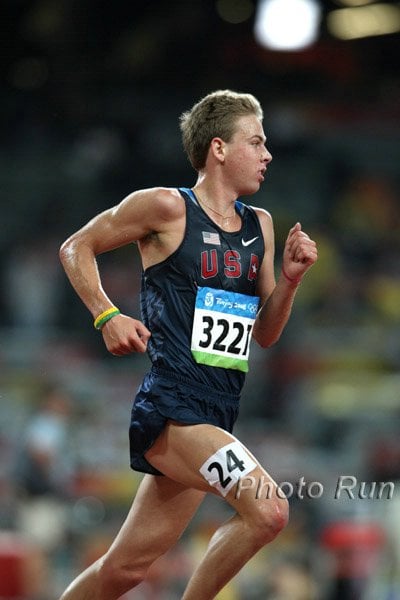 He remembers because Rupp has become almost unbelievably Relevant. Always a topic of conversation in running circles, Rupp has backed up his notoriety with a variety of dominating performances against the best in the country and best in the world. Rupp has won 6 NCAA titles this year alone including two team titles, a relay title (for which he was the essential piece to the puzzle, the indefatigable anchor), and 3 individual title including the NCAA cross country title which basically means you're the best distance runner in the NCAA.
He has had to beat NCAA record-holder Sam Chelanga a couple times already when it mattered most. The Oregon DMR he anchored beat an insanely fast group of DMRs (by far the fastest group in the history of the NCAA indoor competition). Those DMRs were anchored by milers taken from one of the NCAA's richest pool in history (there are about 7 3:55 milers in the NCAA this year).
Earlier in the indoor season, Rupp lowered the American record in the indoor 5000m to 13:18 with a superb tactical race where he displayed the patience, poise and explosiveness only the most mature runners can posess.
Yet amazingly, it can be argued none of these performances are his best of the year. His best performance of the 2008-2009 year came in August in Beijing where Rupp ran 27:36 in the Olympic 10,000m final to finish 13th and, most importantly in my mind, the first non-African in the world. Time-wise, it didn't quite match his 27:33 then-NCAA record p.b., but to run that fast in those tough conditions halfway around the world in a race that you have no idea quite what the pace will be, to do that is impressive. He basically ran 6 miles in 26:30. There haven't been that many people born outside of Africa in the history of mankind who could do that and he did it in the Olympic final on a humid summer day while still a college student.
It seemed to me like few people noticed the Olympic performance. Everyone gets too wrapped up in who is winning everything. We lose perspective. If there's no American getting a medal around their neck (and sometimes even if there is - see Dawn Harper), many will call it a failure. Galen Rupp didn't fail in Beijing any more than he failed in his previous big NCAA races. Sure, he didn't finish in first or the top three, but he was learning, growing, getting better.
How Did Rupp Become So Dominant?
The answer to the question above is simple. It's not an altitude house. It's not Nike. It's not Eugene. It's not Salazar. It's not Breathe Rights. It's not special doctors. It's not Rupp Certified XC Courses (still one of my favorite threads of the year).
If you have read Malcolm Gladwell's Outliers you will immediately recognize what I have to say. Studies have shown that people who perform at the genius level at anything: Mozart-esque composing, Jordan-esque basketball playing, Fisher-esque chess playing, Dostoevsky-esque novel writing have one thing in common: It took them about 10,000 hours of disciplined work at their field to become great, and they had to be born in the right era.
Rupp started his disciplined practice about 8-9 years ago. Or, in practice hours, about 11,000 hours of practice ago. When did he get to 10,000? Oh, probably about the time when "the kid who couldn't win anything" or "the kid who couldn't kick" or "the kid who always choked" started winning, kicking and "clutch-performancing" his way to every title he could get his hands on.
He obviously practiced in a disciplined and consistent manner until finally he could not be beat. Think to yourself: "Self, is there anyone I can think of who has practiced more and in a more disciplined manner and in a better setting and with better coaching in the last 10 years than Galen Rupp?" I don't think there is.
Among his peers at the 2003 Footlocker competition were Matt Withrow, Josh McDougal, Ben True and Shadrack Biwott. Compared with those five highly talented athletes, Galen Rupp had probably trained the most in high school, though McDougal was probably right with him. What's amazing is that the guy who had practiced most in high school has progressed more than any of his studly peers. He has likely progessed more because he has outworked those other guys in a more consistent and disciplined manner. He stuck with it and was rewarded with the rare ability (earned, not inherited) to consistently perform at a very high level.
Of course, it's not all in those 10,000 hours. Having an unbelievably experienced, hard-working, flexible, creative and motivated coach in Alberto Salazar... that certainly helps. Being able to race all over the world when you're 17, 18, 19 years old and basically for the rest of your adult life... that certainly helps. Going to school at Oregon and making the Nike campus your personal playground... that certainly helps.
As Malcolm Gladwell pointed out, Bill Gates doesn't become the Bill Gates we know him if he was born in 1895 in Saskatchewan. Rupp doesn't become Rupp if he picks up travel soccer in his middle and high school years and goes to Indiana as an extremely fit but slightly clumsy center midfielder. Your environment, the people around you, the era you grow up in... that stuff matters.
But NOTHING makes up for 10,000 hours of disciplined practice. And Galen has clearly put in the work and now is reaping the rewards. Now that he has become a young but legitimate "master of his craft", I wonder where he can go. How much more improvement does he have in him?
Where Does Rupp Rank?
Line them up today. Who could beat Rupp over 10,000m?
Sitting at the top of the 10,000m on the USA national list are the two guys I thought of as being Rupp's best domestic competition if he were to compete hard on the pro circuit this year: Anthony Famiglietti and Tim Nelson. Other than that, Abdi is always a threat, but no one from the US else has cracked 28:00 this year (though in the NCAA ranks both the Kenyan Chelanga and Australia and Arkansas runner Shawn Forrest have run in the 27:xx's).
Rupp's going to be tired from all the racing he has done this year, and I wouldn't blame Salazar if he just had Rupp skip the USA Championships and Berlin altogether. Hey, whatever he has done thus far is working pretty well. But I like his chances in the 10,000m against any of those guys. Watching him close his PAC-10 10,000m in about 53 seconds makes me think he's going to be tough to beat. He had the look of ease, the glide if you will, of a great.
In the 5000m, if this were Rupp's focus (which, the more I think about it, isn't a bad plan considering all of the shorter preparation he has done), he again faces a tough competitor in Famiglietti (who will likely run the steeple but play along) plus current 13:10-13:20 types Matt Tegenkamp and Chris Solinsky (who both ran superbly at Pre thanks in part to Alistair Cragg leading their threesome up to the front group). Other than that, who is there? Answer: nobody as good as The Ruppocalypse.
Pardon Another Interupption - A Plan For Rupp
Coach Salazar, if you're reading this and feel like taking advice from a 26-year-old, I would totally support Rupp taking a stab at the 5k this summer and leaving the 10k for another year. Running it (the 5 large) at USA's, running it at worlds, and finding a fast race or two in Europe. I am amazed that Rupp has raced as much as he has and done so well so often. The 10k seems like it might push him over the edge.
Something tells me Alberto has probably thought of this plan already.
I think Rupp has to get tired at some point. I could see him skipping the whole summer season.
What He Will Leave Behind
When I think of Oregon and legacies I think of Prefontaine. I think of Bowerman. In a way, Rupp and Vin Lananna are leaving their own legacies at Oregon. Of course, their imprints are being made in a different era. They are competing in an era where any person can get online and say whatever they want about them. These days Nike is a gigantic bohemoth of a company, back then it was just starting up. Nowadays the Ducks have a new holographic uniform every week with color-coded accessories such as arm warmers and nasal passage expanders. It's not exactly small, organic, manly and quaint. It's more corporate, money-driven, image-conscious and vain. To many, it's not lovable. It's polarizing.
But back to the runner. Rupp will likely graduate from Oregon with 5 individual NCAA titles in one year, plus the team sweep, plus a relay title.
I'm not an historian and I don't have time to pore through the record books, but I don't really have to. If he completes the 5k/10k double, he won EVERYTHING. He did not crack. He did not falter. Who cares whether someone else has done it "better" or has run faster. For all of the abuse Rupp and his mentors and sponsors have taken, we all better suck it up and give the man his due.
Rupp Rocks. He will have done everything. Even if he loses a race at NCAA's and Oregon doesn't win as a team. I don't care. Give the man his props. I can't imagine a guy having a better year.
And if he does take down Chelanga and Forrest in the 10k and the rest in the 5k the next day, and if Oregon does score more team points than A&M and the rest of the teams, then what will Rupp leave behind as a legacy?
He leaves behind a PERFECT senior year. It can't be done better. It won't be done better. It hasn't been done better. The last one to do it this consistently was Alistair Cragg, who won 5 indoor individual titles and 2 outdoor individual titles over the course of 3 years. But he couldn't come up with the outdoor double as Rupp will attempt (and my money's on Rupp, though not literally).
For Rupp, the 3k/5k/DMR triple championship indoors plus the team win. Individual xc title plus the team win. 10k/5k outdoors plus the team win. First non-African to finish in the Beijing 10,000m final. Hello!! That's perfection. I'm not saying he's perfect as a PERSON. None of us are even close. But that would be something else. And WHO WOULD HAVE PREDICTED IT? Remember, 48% of LetsRun poll respondents in October didn't think he would win a single title! Despite holding three American junior records, many thought he would graduate empty-handed.
Boy were they wrong.
He's Still Going To Get Bashed
Rupp might complete a flawless year of running, but he is still going to have detractors. Oh well! Maybe northwesterners don't understand how rabid, emotional, slightly psychotic sports fans work. Growing up surrounded by Yankees and Red Sox fans, growing up with a father who hated the Lakers more than he loved the Celtics, watching my extended family start popping corks when Notre Dame loses... I understand the polarization of great sports teams.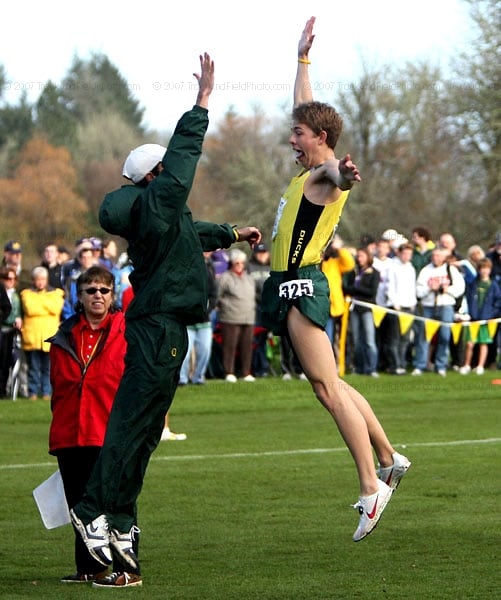 Oregon is one of those teams. Galen Rupp might as well be the Derek Jeter of distance running. Jeter led the Yankees to 4 championships with one incredible clutch play after another. He has been one of the most consistently great baseball players of his generation. He might get 4,000 hits and win 5 or more championships. And there are probably hundreds of thousands of baseball fans around the country who would LOVE to see him test positive for a steroid or would openly admit that they wouldn't be all that upset if he were hit by a bus.
The Jeter hatred has died down in the past few years. Why? Because the Yankees haven't really been AS relevant since 2001 when they lost to the Diamondbacks led by Curt Schilling and Randy Johnson and 2003 when they lost the World Series to the Marlins. Sure, the Yankess are always relevant, but when Jeter and the Yankees were really rolling, people hated him. Hated how clutch he was. Hated people (like me) who wanted to talk about how clutch he was. Plus he was the Nike posterchild and the Gatorade posterchild. He had it all. He was dating Mariah Carey but even she wasn't good enough. He was a Relevant superstar in his prime on a top team.
Rupp and Oregon are extremely Relevant in the distance running world. If Rupp sucked, nobody would talk about him. If Oregon was some low-profile team that never got any press, far fewer people would talk about him. If he kept on losing all the time, he wouldn't be as Relevant. But he followed all of his close call defeats in 2005-2007 with blowouts and narrow nail-biting wins in 2008 and 2009.
For the Rupp bashers, the Rupp haters, it has been a good and a bad year. Bad because they've had to suffer through victory after victory for the Ruppocalypse. Good because he has been so relevant that everyone still wants to talk about him. The Rupp bashing may die down, but all of you sensitive types out there: your Golden Boy is still going to get bashed for no good reason.
God Bless The NCAA Running Seasons
The NCAA system (I'm talking as a whole, covering all sports) is complicated, imperfect and often bewildering on a deep level (see Memphis basketball under sleaze-magnet John Calipari). But thanks to the internet and being able to watch and follow almost any NCAA race, this year has made me realize that NCAA running really is a super product. Unlike many, I don't really personally care if running or track become more popular. What is popular? Starbucks is popular. Britney Spears is popular. Sean Hannity is popular. Wal-Mart is popular. I'd rather be free to consume a super product that is unpopular (and do it basically for free) like NCAA running, than pay more to consume a mediocre product that is popular and wastes my time and money.
NASCAR is popular. I don't care. So was bowling. On TV every weekend. Great. Don't care. I'll let the masses watch bowling and NASCAR while I wait for the internet feed of the Heps to come on.
No, it doesn't bother me at all if most people don't watch track. It doesn't matter to me if Galen Rupp only makes $100,000 a year out of college vs. $10,000,000 a year if he were a basketball player because the sport isn't popular. I'd rather my sport's stars make real-person money anyway. Seriously. I can relate to a guy who's leading the Olympic steeplechase final making $20,000 a year, maybe, off of his running than I can to Carmelo Anthony Lamar Odom who makes $14,000,000 a year and has an addiction to candy that lends to extreme energy swings when he is working for that money against the Celtics.
But back to my point: the NCAA running seasons lend themselves beautifully to incredible drama. Incredible storylines. Incredible ups and downs and strategy and intrigue and sub-plots. Sure, only about 100,000 people (max) really care (that's 1 out of 300 people in the US so maybe it's less than that), but I care, so I don't worry about whether or not Joe Blow across the street cares. For the record, I think track struggles because it's just not a good dumbed-down television product. You have to know things about the sport or be personally invested in it to enjoy watching it on TV. Watching people run around a track in the same uniform to see who wins just isn't as thrilling to Generation Next as it was to whatever generation it was that actually liked track. And you can't gamble on it in Vegas. And you can't usually go to a track meet all day and drink beer like you can at horse tracks and stock car races.
Horse racing is the most similar to track. It's not really hugely popular anymore outside of three days a year. People watch the Triple Crown races sort of like people watch the Olympic 400m final. If they remember, they tune in. Hundreds of thousands of people go to Saratoga not because they are really interested in the rivalries between the horses (something people think track needs more of). No, they go because they can sit around all day and gamble away their money, drink cheap beer, get out of the house and away from their wives, get a creative sunburn and pay about $5 for the whole experience. If you want more people to recognize Galen Rupp, let them gamble on the guy. Let them sit around all day drinking beer with their buddies under sun-shiney skies while they wait for him to run.
But enough on that. I'm excited to watch Rupp live this weekend in Fayetteville in the conclusion to a great year of NCAA competition. And, for the first time, if I had to put my money on anyone to pull off a truly grueling double win, I'd put it on Galen Rupp.
The Rupp File
1500m 3:39.14 May 2009
3000m 7:44.69i Feb 2009 (*previously 7:49.16 July 2005 American Junior Record)
5000m 13:18.12i February 2009 American Open Record
10000m 27:33.48 April 2007 Collegiate Record (since broken by Sam Chelanga)
Galen Rupp's Records (9)
American Junior Records: Indoor and outdoor 3000m (7:59 and 7:48), Outdoor 5000m and 10000m (13:37 and 28:15)
Collegiate Records: Men's outdoor 10000m (since broken), Men's indoor 5000m, Men's outdoor 4xMile
American Records: Men's indoor 5000m, Men's outdoor 4xMile
Galen Rupp's NCAA Championships (7)
2007: NCAA Team Cross Country Champion (and individual runner-up)
2008: NCAA Team and Individual Cross Country Champion
2009: NCAA Team Indoor Track & Field Champion, Individual Champion at indoor 3000m and 5000m, Relay Champion at indoor Distance Medley Relay (1600m leg)