Brits Are Pumped For Mara
News From Africa
More Buzz Post-London
Elite Results From This Weekend
British Distance Woes: What Can Be Done?
Note this is only a partial archive for April 28th. The left column and quote of the day are accurate. This column was how it appeared on April 27th. Our apologies.
Drake Turns 100
Brutus Hamilton/NYRR Distance Carnival
Tyson Gay Runs 46.34 At Sun Devil Track Classic
Webb's 4:00 Win
Michael Coe's 3:56
Puma Street Meet Winners Announced
We Have Our Winners: What Does Fast Mean To You? The voting was very tight and 2 hardcore LetsRun.com fans were neck and neck with Kara Haas coming out on top. She'll gets a VIP prize pack and the opportunity hang out with Usain Bolt this Sunday at the Boston Street Meet. Preview video below. Top 5 entries at the article above.
LRC Review: Must Read Kenny Moore's Best Efforts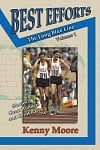 Kenny Moore's Best Efforts Is Back In Print When this book showed up at LRC corporate headquarters to be reviewed, the response was, ""Holy sh*t! That book is one of the top 2 running books I've ever read." The offical LRC review is in and it is very positive: "I believe a great work only receives the label 'great' if it has passed the test of time. Best Efforts passes the test because it will refresh the man or woman who was following the runners of the 60s, 70s and 80s." Also as a special to LRC readers, you can buy an autographed copy of the book for only $14.95.