Doug Logan Proposes Jamaica vs. US Sprint Meets We commend Logan and USATF for thinking outside the box. Penn Relays is basically Jamaica vs. America and the fans love it. USA Today: Logan Asks For Jamaica-US Showdown
News From Kenya
*Asbel Kiprop Beaten In Early Season 800m, Running 1:52!
*Noah Ngeny Urges Kenya Athletics To Enlist Paul Tergat As Mentor To Kenyan XC Teams
*Moses Mosop And Florence Kiplagat Hope To Be First Couple To Medal At Worlds
National Governing Boards Want Answers For Scherr's USOC Resignation Sounds like bad blood between Scherr and new head Stephanie Streeter. *Stephanie Streeter To Replace Scherr
Brannen Injured Again, On Comeback Trail
*Fukuoka Cross Country Recap/Results *Brett Larner's Fukuoka XC Recap
Diamond League: IAAF Raises The Bar
Christiano Ronaldo Going To Usain Bolt For Speed Advice Bolt is flying in to meet with world's best soccer player in exchange for signed jersey.
NCAA distance running is at another level this year:
Sensational Results From Alex Wilson As 15 Teams Go Auto In The DMR!
*Notre Dame Alex Wilson Thread/Results/Start Lists *Results Some dreams become reality, others are mercilessly crushed: Rojo's Cornell DMR is the first team not to auto qualify despite a new Ivy Record of 9:35.13 (a record run with Rojo's top runner Jimmy Wyner watching from the sidelines injured). Jason Vigilante is working his magic at Virginia as his squad got the victory.
On the boards: *HOLY CRAP! ND DMR!
*Video
FSU Might Lose 2007 NCAA Team Title In Track Due To Cheating Scandal And Joe Paterno goes way ahead of Bobby Bowden in the career football wins list. Huge punishments looming, FSU officials upset with severity.
Good News
*NYRR Pledges $190,000 To 6 Top US Distance Training Groups Amazing.
*Al Michaels To Return To Olympic Telecasts In 2010 Do you believe in miracles?!
*Churandy Martina Loses Silver Medal Appeal - But The Medal's In His Hands As Crawford Graciously Gave It To Him We love this move by Crawford.
Paula Radcliffe Out Of London With Broken Toe!! A bunion caused her to change her stride, which resulted in the break.

Brief Chat With Cal's Michael Coe He's running very well.
Young Linet Masai Looked Upon As Leader Of Kenyan Senior Women's XC Squad
Recommended Read: Seb Coe And Ron Hill Remember Track Enthusiast And British Journalist John Rodda, Dead At 72
LRC The Week That Was Sick action at the Big 12 meet from German, Jenny and Sally, our thoughts on the conference action and US Indoors. Plus, the World's Best 10k, Paul Tergat's savvy win, Ryan Hall's preparations for Boston, recommended reads, and Australia's answer to German Fernandez. Speaking of Fernandez, we're still looking for photos of his amazing run this past weekend. Please email us if you have any.
U Of Toronto Close To Signing Bolt To Come Run Open 100m To Unveil New Track We'd love to know how much it is costing them.
*Countdown To Liftoff: Bolt Running First 100m On March 14th
*Bolt Satisfied With Last Weekend's Relay Performances
European Indoor Track & Field Championships Are This Weekend
*Craig Pickering Wants European Gold After Silver In 2007 And Missed Exchange In Beijing
*IAAF's European Indoor Preview
*UK Long Jump Record Holder Chris Tomlinson Out Of Euros With Injury
*Women's Track Events Preview
*Women's Field Events Preview
*Men's Track Preview From European Indoors
*Men's Field Preview From European Indoors
How Do The World's Youngsters Compare To German Fernandez?
*Article On Ryan Gregson's Australian U20 1500m Record, LetsRun.com And German Fernandez
*Japan's Version Of German Fernandez To Run Final Kyoto City Half Marathon
*Fukuoka International XC Race Will Be Final Qualifier For Japan's World XC Team
Dwain Explains, Agent Complains
*Dwain Chambers: I'm The Main Event
*John Regis Faces UK Athletics Probe After Chambers' Claims
Pat Butcher On The Diamond League, Dwain Chambers And The State Of Track & Field
Steph Twell And Jo Pavey Talk Running

In Case You Missed It: Terrorists Open Fire On Sri Lankan Cricket Players And Police
*Australian Olympic Great Calls For Commonwealths To Be Cancelled Due To Cricket Attacks
*Sri Lankan Cricket Team Attacked By Terrorist Gunmen In Pakistan

Kiwi News
*Nick Willis Pulls Out Of Home Meets With Hip Injury Unfortunate as he had been on a roll.
*Willis Had Been Hoping To Lower John Walker's 3:50.6 NZ All-Comers Mile Record
*Jeff Riseley Has Been Running From Fire, Hopes To Run Away From Willis He won't get the chance quite yet.
Golden League Becomes Diamond League And Prefontaine And Reebok NYC Make The Cut
*Dick Patrick Of USAToday Writes About The New Diamond League
*Cornell Grad Mark Wetmore Talks About How Reebok Got Into Diamond League
*Universal Sport's Joe Battaglia's Take On Diamond League IAAF President Diack: "The dream came through."
*London's Aviva Grand Prix Makes The Cut As Well
*Detailed PDF Explaining Diamond League All 32 events will appear every other meet.
Recommended Read: Steve Cram: Diamond League Can Bring The Sparkle Back Into Athletics
*IAAF Explanation Of Golden League
*USATF: Eugene, New York Tapped For IAAF "Diamond League"
*Reebok Grand Prix Makes Diamond Cut
Terrence Mahon On Ryan Hall's 15k: "It ended up being a grind it out day."
Mark Kiptoo Names Captain Of Kenyan World XC Team
Qatari's Dominate Asian XC Championships
*Japanese Women Win Gold Though As Team

Conference Track Action:
Big 12: German Fernandez Runs 3:55.02 NCAA Record!!! His run was so, so incredible and his future appears very, very bright. An NCAA record, basically run all alone (he won by 10 seconds) as a true freshman. If you have any photos of the race you'd like to share with us, please email us at letsrun@letsrun.com. *Results
Fernandez Mania On The Boards: FERNANDEZ - 3:55.02 at Big 12
*Over or under 13:15 for Fernandez
*Does german have the CR? 3:55.02 vs. 3:55.0?
*Would a Galen Rupp vs German Fernandez 5,000m race be the most antiicpated college match up ever? We'd watch it for sure, but it's a guy with 1 national title racing anothter with 0.
Women: Jenny Barringer 4:25 Mile For NCAA Record, Her First Big 12 Indoor Title And First Defeat Of Sally Kipyego Usually this would get front center billing, but Fernandez stole the show at the Big 12 meet.
*Big 12 Final Results: Texas Men, Texas A&M Women Win
Sunday:
SEC: Arkansas And Bucknam Win Results: Men (Ulrey 3:59) Women Tennessee Over LSU
Big 10 Women's Results Minnesota Over Penn State Men Minnesota Dominates
Heps: Cornell Dominates Men And Women's Meet Congrats to LetsRun.com's Rojo's distance squad for another great performance.
Big Sky: NAU Crushes Field At Big Sky, Scoring 61 Points In 3k And 5k
Saturday:
ACC: Florida State Men And Women Win ACC
SEC Day 1: SEC Results (Dorian Ulrey 7:55 3k Win, Top Mile Qualifying Time)
Mountain West: BYU Men And Women Win Mountain West
MPSF: MPSF Results (Rupp 1:49.87, Centro Jr 7:55)
*More Conference Results


Paul Tergat Battles Back To Win Lake Biwa Marathon
The great one may have resurrected his career with this gutsy win.
*Photo Gallery
*Lake Biwa Video Highlights
*Message board thread blow by blow

Sydney Track Classic *Results
Recap: Steve Hooker vaulted 5.95 and Asafa Powell in the "B" heat 400 ran a huge PR of 45.94.
*IAAF Preview Of Sydney Track Classic
*Asafa Powell Wants Sub-10 Next Thursday In Melbourne The guy did 7 straight sub-9.90s after flopping in Beijing.
*Steve Hooker Going For World Record As 7 Olympic Gold Medallists Will Compete Even Hooker's rival, Lukyanenko, says the record "can happen, for sure." Asafa Powell will race at 400m.
*Meticulous Planning Helped Steve Hooker Overcome Pole Vault Yips To Win Gold
*Asafa Powell Has Spent Off-Season Fixing Usain Bolt's Car
*Sports Psychologists Helping Asafa Powell Get His Groove Back
*IAAF Preview Of Meet An Australian male hasn't had a field world record since 1935.
*Sydney Track Classic Video Highlights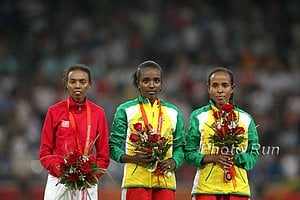 Move Over Dibaba ...
Defar: 14:24.37 WR!!!
Boards: DEFAR SMASHES WORLD 5000M RECORD IN STOCKHOLM
Ethiopian Meseret Defar closed in 30.3 (last 200) and 2:46 (last 1,000) to break countrywoman and rival Tirunesh Dibaba's old mark of 14:27.42 and win by over 1 minute! Also: Paul Koech (sub 8:00 steeplechaser) goes 7:32.80 for world lead.
*Stockholm Preview: Defar Going For 5k, Kaki For 1,000m, Hooker For Vault Record In GE Galan
These Should Inspire You
Meet The Unbelievable Kelly Jaske *Latest Jaske Thread She didn't run in high school, she didn't run in college. Now the 32-year-old Harvard law school grad is banging out 100+ mile weeks and just got 2nd in the US Half Championships while working a full-time job.
Plus: Poignant Brief Chat With 44-Year-Old Super Mom Colleen De Reuck She was amazingly 3rd behind Jaske in Houston. For someone who no longer considers herself elite, De Reuck can still perform with the best.
New LRC Usain Bolt Boston Celtics Photo Gallery
The world's fastest man was in Boston Friday night with front row seats at the Celtics game. LetsRun.com was on hand as the Celtics won their 17th straight, and Bolt got the lead in the associated press recap of the game: "After racing within a game of tying a team winning streak, the Boston Celtics were all abuzz -- with talk of a famous face in the front row. Olympic gold medalist sprinter Usain Bolt watched as the defending NBA champs won their 17th straight and improved to 25-2 with a 125-108 victory over Chicago on Friday night."
Foot Locker Nationals Turns 30 In Historic Fashion
*Girls' Results *Boys' Results *New Foot Locker Photos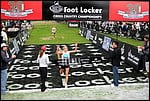 LRC Girls: Jordan Hasay Gets Bookends In Thrilling Race The girls' race featured the last three defending champs for the first time ever and it did not disappoint. Unheralded Allie McLaughlin made the race, opening up a big lead and nearly pulling a Rudy. Last year's champ Ashley Brasovan led the chase and caught McLaughlin in the last quarter mile and appeared to be on her way to victory but Hasay, who won as a freshman, was not done yet. She stormed back the final 200m to get the win to go out just like she started her high school career - on top. Read the recap above and watch this video if you want to see the *Girls' Results. *Excellent Video (no chop) of the final part of the girls race. Well worth a watch.


LRC Boys: Solomon Sails Maryland's Solomon Haile crushed the field as expected and LetsRun.com fan favorite Trevor Dunbar (the guy who ran a ~ 9 minute 3,200m on a snow-covered track) was an impressive second. Plus one of the runners drops the word "repose" in his post-race interview. *AP Recap
*Boys' Results
*Video with no choppiness
On the boards: A ton of threads on Solomon Haile's age. Maryland officials cleared him to compete after talking to officials in Ethiopia, but Wejo is curious about the excuse of having the Coptic calendar having him 21 years old (???)
LRC's World Famous Boards: Has Nike's NXN Ruined Footlocker's Nationals? *Trevor Dunbar wins Foot Locker H.S. Division *More Impressive than Hasay's win is that she has a 4.83 GPA How is this even possible?
LetsRun.com Rojo's Tour of China, Part 1 - Hanging Out With Usain Bolt
Rojo went to the Puma Party put on for Usain Bolt. Open bar, Chinese dancers putting on their best sorority girl imitations, and then Rojo going 1-on-1 with Bolt. Rojo actually asked Usain about moving up to the 800m. Bolt hinted the Jamaicans want him to run the 4 x 400m. More importantly, Bolt apologized for visiting Facebook instead of LetsRun.com.
2008 real,- BERLIN MARATHON - Watch Video Highlight or Race Replay *Results *Photos
Haile G. 2:03:59!!! Mititenko 4th Fastest Woman Ever Haile Gebrselassie made more history Sunday on the streets of Berlin. After going through the halfway point in 1:02:04, Haile continued to flirt with world record pace but was stalked by Boston runner-up James Kwambai. Haile threw down the gauntlet the last 7km to dispatch Kwambai and just dip under the 2:04 barrier. On the women's side, German star Irina Mikitenko ran a brilliant race, running a negative split to smash the 2:20 barrier and become the fourth fastest woman ever.
*Geb: "I can go faster."
*The Science Of Sport Analyzed Geb's Splits As The Race Unfolded link fixed
*Geb's Record in Berlin Is His 24th World Record (or 26th depending on who is counting)
*Mikitenko Moves Into Tie in World Marathon Majors Standings Gete Wami must finish 2nd or higher in New York to move ahead. If she doesn't, they will be tied (and tied in the tie-breakers) so they might share the title. *Washington Post Article on WMM
*Falk Cierpinski, son of Waldemer Cierpinski, 2:13 in Berlin
On the boards:
*Wanjiru's Olympics > Geb's WR
*Haile's Splits from Berlin ... how far could you run with him??
*Live Message Board Thread
Rupp Finally Goes Sub 4: 3:57.86!!!
*Video
Torino Results - Day 2 *Highlights
*Mo Farah Sets 3k Record - Distance Recaps
*Mary Cullen Leads 3k Qualifying Times
*Men's Saturday PM Recap *Women's PM
*Women's Day 2 AM Recap *Men's AM
*Dwain Chambers Runs Just 0.03 Seconds Off Mo Greene's 60m WR
*Mo Farah Continues Hot Winter Form
*Athletics Weekly Day 2 Recap #1 *Recap #2

*Photos Day 1 *Photos Day 2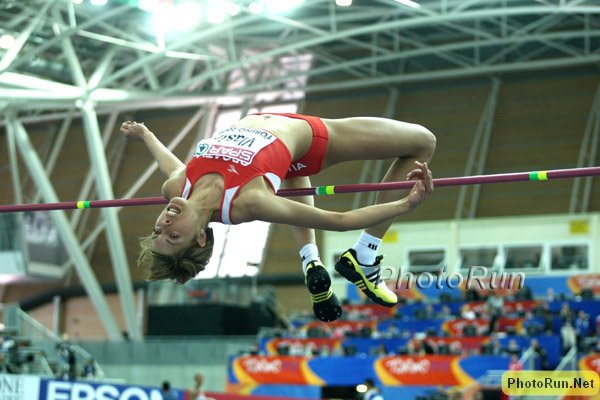 IAAF To Determine If Chambers Should Be Banned For Damaging Track's Reputation With Book
*IAAF Council To Discuss Banning Chambers For Damaging The Sport
*Chambers Runs Great But Gets Terrible News
*Farah's Win Combined With Chambers Drama Makes For High Drama In UK
*Victor Conte Scoffs At Dwain Chambers Taking Lie Detector Test
Euro Indoors Day 1 *Results *Photos Day 1 *Photos Day 2
*Favorites Advance In Distance Events In Turin
*More Photos From European Indoors
*Day 1 Recap From Athletics Weekly
*UK's Greg Rutherford Came Back From Months Of Injury
*Link Thanks To T&F News: Dwain Chambers Favored By Bookies In Turin, WR At 16:1
*Bronze For Ireland In Hurdles
*France's Doucoure Runs Sloppy Race But Returns To Winner's Podium Nonetheless
*European Athletics: Day 1 Was Full Of Drama
But I Trusted Him!
*Former Chambers Agent John Regis Fighting For His Name After Allegations
*UKA Head C. van Commenee On Upcoming Meeting With Dwain Chambers
Interviews
*Learn More About Miler Jeremy Roff
*Update On Pennsylvania HS Superstar Chanelle Price Now At UTenn
*T&F News Interviews UW's Jordan Boase - America Is Loaded In The 400m

Slightly Humorous
*Simon Hart Calls Out Seb Coe For Not Practicing What He Preaches Seb wants the stars to race each other, but some feel he and Ovett didn't race enough.
*Kenya Kicking Ass In Rugby! They Crushed Hong Kong 53-7 And Look Pretty Tough In The Photo
*Russian Minister Calls Mother Russia's 2014 Olympic Facilities Horrible
Headwind/Cool Temps Result In Asafa Powell Running 10.23 As Steve Hooker Wins *Results
In the 5k, Collis Birmingham got the win in 13:16 as junior phenom Ryan Gregson showed he's missing some fitness due to his stress fracture as he only managed a 13:56. British miler Andy Baddeley ran a 13:20 in the same race. *Photos Of Powell In Melbourne
*Powell: "To Do 10.23 In March Is Good"
*One Melbourne Writer Expected More From Asafa
*Stars Win In Melbourne In Windy Conditions
*Australian Vaulters Accidentally Smash Up Airport As Poles Get Stuck In Escalator
Bolt New
*Bolt To Run In Canada On June 11th
*Bolt Now Sleeping Better Thanks To Sealy Mattresses!
IAAF Statement On Whereabouts Rule
Preview Of Saturday's Fukuoka XC Race Which Is Amman Qualifier
Big March Meet On Tap In Melbourne Thursday (Late Wednesday Night In US)
*Get Live Updates From Thursday's Melbourne Meet
*Preview Of World Athletics Tour Meet In Melbourne
*Steve Hooker Has Had Some Time To Rest Up After 12 Attempts At Bubka's World Record
*Andy Baddeley Making Rare 5k Attempt In Melbourne
*Asafa Powell Ready To Write Name In Record Books In Melbourne
From Yesterday:
*Hooker And Powell Highlight Melbourne Field
*David Oliver Will Run 110 High Hurdles Again In Melbourne
*Wild Article About Vaulter Steve Hooker
*Famous Video Of Steve Hooker Busting His Nuts On A Bad Takeoff
*Mottram Addresses Audience In Melbourne On Olympic Disappointment And Current Injury Status
Lago Half Marathon In Italy Sports Pretty Strong Field
Blogs, Interview And Opinion
*Interview With Kim Smith After She Runs 14:39 (#4 All-Time)
*Nate Jenkins' Blog "Too often we as athletes and coaches lose sight of the forest through the trees."
*British Heptathlete Talks About How Being On "Gladiators" Got Her In The Best Shape Of Her Life
*Sara Hall's Big Weekend In Boston Came After Time Off For Nagging Injuries
*Video Interview With Jeremy Wariner
Dwain Chambers' New Book Is Coming This Week & We're Loving It
Chambers' Book Is Being Serialized In The Daily Mail This Week.
*2nd Excerpt: "What the **** is Flaxseed Oil?"
*Day 1: "Only the Stupid Get Caught." Chambers isn't sure the drugs helped him too much although he later said he could squat 50kg more because of them.
*Chambers On Coe/Ohuruogu: "Any athlete who misses three tests has to be very naive or has something to hide."
*Chambers: "I don't think the authorities are serious about the drugs issue." If they were, they'd test more in October, Nov., Dec.
*Despite Having Taken EPO 9 Times That Month And Actually Rubbing The Cream Into His Arm When The Drug Testers Showed Up, Chambers Passed Test After Test
*Dwain Chambers Calls Himself A "Walking Junkie"
*Dwain Chambers' Ex-Agent Threatens To Sue Him For Claim In Book Chambers says in his new book that John Regis knew he was a cheat.
*John Regis To Be Investigated By UK Sport
Usain Bolt News
*Bolt Anchors 4 x 100 In Jamaica *Video Of Bolt's Race All we can say is he certainly doesn't appear to be in 9.69 shape.
*Bolt To Run 1st 100m On March 14th In Spain
It's Official: Isinbayeva Signs Sponsorship Deal Worth "A Couple Of Million" Per Year
*Isinbayeva To Retire After 2013 Worlds
Kelly Sotherton Pulls Out Of Euros With Heel Injury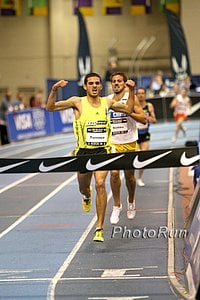 USATF Indoors: *Results *Day 1 Photos *Day 2 Photos
Lolo Jones And Terrence Trammell Win $25,000 Visa Prizes At USA Indoors, Trammell Just Misses US Indoor Record In Hurdles, Stuczynski Gets AR
LRC Day 2 USATF Indoor Distance Recaps Khadevis Robinson taught another lesson in 800m running, 2007 NCAA runner-up Katie Waits got herself a national title after a subpar 2008 and Anna Willard prevailed over a pair of running wives Shayne Culpepper (back running strong after baby #2) and Sara Hall (who ran well this weekend).
LRC Distance Recaps From Day 1 David Torrence had his coming out party, Amy Yoder got her first indoor title and Rob Myers got another US Indoor title on day 1 (over Alan Webb).
*Second Place Has Sara Hall Looking Up
*USATF Day 1 Recap: Andra Manson And Amy Acuff Repeat Winners in High Jump
On the boards: Empty Seats at USATF Indoors
*The Death of USATF Indoor
*What does Alan Webb have to do to be good again?
*From Letsrun in 2028: "Alan Webb is the Greatest US Distance Runner You've Never Heard Of"
Great Interviews/Profiles:
An Absolute Must Read For All American Distance Fans - Ryan Hall's Learning From Past & Getting Ready For Boston This article is full of great insight as it talks about how Hall didn't take enough time off after London last year and tried to force his workouts but is back now after an inspirational trip to Zambia. And the great news is Hall says his training is "way better than bfeore the Olympics."
*Interesting Profile Of British 3k Record Holder Mo Farah Inspired by Gebrselassie, Cram and Arsenal, Farah is primed for a great 2009 after a winter training session in Africa, where he found time to dance with Haile at Haile's house.
*American Miler Jon Rankin Talks About Getting Dropped By Nike & Getting Ready For Online Business School: "I Take My Hard Days Hard And My Easy Days Very Easy"
Tommie Smith/John Carlos Documentary In The News
*John Carlos Revisits Harlem And The 1968 Olympics
*Documentary Helps Smith, Carlos Mend Strained Relationship
*Reuters Blog: Tommie Smith and sport laid the groundwork for Obama's rise
*Smith Got ESPN To Do 1 Hr Special Not Just Short Reenactment
We Agree: Documentary On Smith/Carlos Is "Must-See
Lananna Reacts To Project 30 Suggestions
"Look at Lolo Jones. She's great, fantastic, but she stumbles over a hurdle. Did she underperform? I guess if you just did it by the medals, you could say that. But she's pretty darn good. I think there were some really fantastic overperformances, too. I'm always in defense of the athletes. It's difficult when we have a system which puts so much emphasis on a small number of athletes being able to perform every four years, and I think, some will superachieve, and some will not. I don't think the Olympic Trials has an enormous amount to do with that. Did the U.S. underperform? I don't know. How do you determine that. Just by medals? The discus was pretty good. (Shalane) Flanagan was pretty good. And who was going to beat Usain Bolt?" - Vin Lananna
Kwik-E With Shane Knoll, MSU Junior Who Ran 3:57 At Meyo World Famous LRC Boards: Most overlooked 3:57 of the year We shamefully ignored Knoll's studly mile.
LetsRun.com Boston 08 LetsRun.com Party Photos The party hosted by Puma was a smashing success. A packed house, as those passionate about running (from ages 5 to 65+) came to celebrate a great weekend in Boston. LetsRun.com fans celebrated with Rojo, Wejo, Matt Taylor, and a few legends in the sport, including former marathon world record holder Steve Jones and Olympic Silver Medallist Sonia O'Sullivan. The Harpoon beer was flowing, DJ Inkognito kept things going and contrary to popular opinion, there was a healthy mix of males and females. The reviews were excellent. "It's refreshing not to see the same 50 people (industry insiders) at a party." "Most favorable female-to-male ratio I've seen in a long time."
101 Years Old, Still Smoking, Running and Drinking: Buster Martin: "I'm not worried about the fags because I'll carry them with me. Everyone says smoking kills but it's taking a long time in my case." The 101-year-old legend plans on smoking while running Sunday's London Marathon.
LetsRun.com 2007 Worlds Coverage:
*Sunday's Homepage Ndereba marathon
*Saturday's Homepage
*Friday's Homepage Tyson Gay
*Thursday's Homepage Lagat
*Wednesday's Homepage Lagat
*Tuesday's Homepage Bekele 10k
*Monday's Homepage Tyson Gay
*Sunday's Homepage Dibaba/Goucher 10k
*Saturday's Homepage Kibet Marathon
LetsRun.com London Men: Lel Leads 3 Under 2:05:30!!!, Ryan Hall 2:06:17
Ryan Hall Goes Through Halfway on World Record Pace
The 2008 Flora London Marathon will be remembered for a long time. The lead pack of 9 went through 5k at 14:21 (2:01 pace). They continued together (yes, all 9) through halfway on world record pace (1:02:13). Ryan Hall then went to the front soon after and asked the pacemakers to go FASTER. Soon Hall was off the back, but he would catch the leaders briefly again and go on to run 2:06:17. Until Sunday, only 7 guys had ever run under 2:06:15, now 11 have. Up front, it came down to a 3-man battle over the final mile before Martin Lel got his 3rd straight World Marathon Major win over the final quarter mile as he led 6 guys under 2:07 and to $50,000 bonuses each. Recap, photos, video above
This Guy Has Totally Won Back Our Respect
Maasai Warriors Finish Marathon link fixed One of them went back to the course and finished the race a day after being forced to go the hospital after a ceremonial wrap cut off his circulation. He said, "It was very important for me to do this. This is what I came to England for."
LetsRun.com Ryan Hall Reflects On His Incredible Run We tell you (and let you watch) what Ryan, his dad, his granddad, his coach and even Martin Lel had to say about Ryan. Lel was full of praise for the American and shocked by Ryan's attempt to get the pacemakers to go even faster. If Hall didn't already have your respect, he does after reading this article, as he pays homage to a throwback type of guy - Steve Jones. Text and Video.
LetsRun.com Video: Ryan Hall Talks About His 2:06:17 at the 2008 Flora London Marathon
*More LRC London Videos Here
*Photo Gallery
2008 ING New York City Marathon *Results *Searchable Results *Video: Men's Highlight Video *Photo Gallery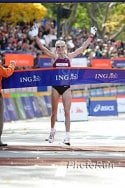 Women's Race: Paula Dominates Goucher Third
Paula Radcliffe showed why she's the best marathoner in the world as she dominated the women's field in the second half of the ING NYC Marathon. Radcliffe took a different strategy this year in NY. She led every single step of the way, but she said with the high winds her plan this year was to save something for the end and run negative splits and it showed. She poured it on the final six miles, winning by nearly two minutes. Radcliffe never looked back and said when she turned for the final quarter mile at Columbus Circle, she wasn't even positive she had the race won. American Kara Goucher ran up front for most of the race and had a successful debut in third in 2:25.53 (American debut record). Olympic silver medallist Catherine Ndereba, Dire Tune, Rita Jeptoo and Gete Wami were left in Radcliffe's wake, causing Wami to tie with Irina Mikitenko for the World Marathon title. The World Marathon Major race directors were then left to vote to break the tie. They voted for Mikitenko and just like that she got $500,000 and Wami got nothing.
*Radcliffe Doesn't Look Back En Route To 3rd Win
*Paula Destroys Top-Class Women's Field
*Mikitenko Awarded WMM Prize In Tie-Breaking Vote
*Women's Recap And Race Replays From UniversalSports.com
*Paula Post-Race Press Comments
On the boards: Wami gets nothing of World Marathon Prize while tying for spot #1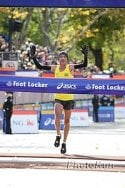 Men's Race: Marilson Gomes Dos Santos Storms From Behind To Win Coming into the 2008 ING NYC Marathon, Abderrahim Goumri had the distinction of being the top marathoner in the world who had never won a marathon (2nd in London in 2007, 3rd in London in 2:05:30 this year, and 2nd in NY last year). On Sunday in NY, he was clear of the field and on his way to what seemed to be his first marathon victory. However, savvy 2006 NY champ Marilson Gomes Dos Santos saved his best for last and stormed from behind in the final mile to overtake Goumri and get the win (afterwards Goumri said a missed fluid bottle might have caused him to run out of steam). Dos Santos ran 1:02 for the second half for a big negative split. Veteran Paul Tergat said he twisted an ankle on the course but returned to action with a fourth place finish. American Abdi Abdirahman led the American charge in 6th place as four Americans were in spots 6, 7, 8 & 10.
*Men's Recap and Race Replays From UniversalSports.com
*Gomes dos Santos Is Going To Disney To Celebrate
*NYT: New York Brazilians Say "Gomes who?"
On the boards: Nate Jenkins at NYC marathon?