Distance Recaps from Day 1 of the USA Track & Field Indoor Championships

by Christopher Lotsbom
February 28, 2009

Photos from photorun.net
More:
*LRC Distance Recaps From Day 2
*Day 1 Photos
Here's a recap of all the distance events run on Saturday, February 28, finals first.

Men's 3000 meter Final: David Torrence Arrrives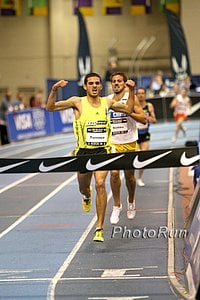 The men's 3K featured plenty of talent, though the question many track fans were asking was who would win the title. When the gun fired, the pack of 16 went out in a at a pace of 1:04 for the first 400m. Massachusetts own Nate Jenkins and Nike's Josh Rohatinsky quickly took to the front, where a lead pack of 8 was starting to pull away. At the 1K, Ryan Fennelly of the Philly R T C led the pack in 2:42.58, with Rohatinsky sitting in second. Through the mile in 4:20 was Rohatinsky, followed closely by former Cal bear David Torrence, steeplechaser Brian Olinger, and 2004 Olympian Jonathan Riley. The same pack passed the 2K in 5:22.70, with a second group close behind. With 800 to go, Olinger started to make a move, but was followed by the rest of the pack. David Torrence seemed to come out of nowhere, as he took the lead with 200 to go and didn't look back. Finishing in 7:53, he led ASU's Brandon Bethke (7:54) and Jonathan Riley (7:55) to the line, as the group finished one-two-three. David Nightengale finished fourth, and Daniel Huling in fifth. Torrence captured his first USA Indoor Title, and was extremely pleased with the race.

"This was the first time both my health and fitness came together at the same time. This was the first race where I told myself that I had it," remarked Torrence, who also said this was the first of what he hopes to be many championships.



Men 3000 Meter Run
===============================================================
       World: W 7:24.90  2/6/1998    Daniel Komen, KEN
    American: A 7:32.43  2/17/2007   Bernard Lagat, Nike
        Meet: M 7:42.81  3/5/1994    Moses Kiptanui, Kenya
    Name                    Year Team                    Finals
===============================================================
Finals
  1 David Torrence               Unattached             7:53.67
  2 Brandon Bethke               Unattached             7:54.20
  3 Jonathon Riley               Nike                   7:55.79
  4 David Nightingale            ZAP Fitness            7:57.01
  5 Daniel Huling                Reebok                 8:00.15
  6 Blake Boldon                 Boulder Running        8:00.97
  7 Stephen Haas                 Team Indiana           8:02.11
  8 Josh Rohatinsky              Nike                   8:02.69
  9 Brian Olinger                Reebok                 8:04.03
 10 Jeffrey Powers               Team Indiana           8:04.56
 11 Michael Crouch               Queens Charlotte       8:05.11
 12 Mikhail Sayenko              Club Northwest         8:05.42
 13 Anthony Gallo                Run Flagstaff          8:11.35
 14 Nathaniel Jenkins            Saucony                8:17.44
 -- Christopher Clark            Unattached                 DNF
 -- Ryan Fennelly                Philly R T C               DNF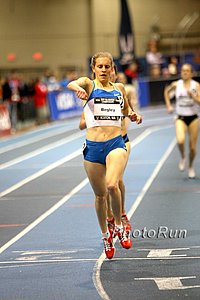 Women's 3000 meter Final: Amy Begley Gets Her First Indoor Title

Unlike the men's 3K, the women did not stick together in a tight pack for very long. They began to string out very early, as Olympian Jen Rhines took the lead and pushed the pace through the first 800, coming around in about 2:20. Following Rhines were Reebok Games mile champ Lindsey Gallo, surprise 2008 Olympian Amy Yoder-Begley, as well as Delilah DiCrescenzo of 'Hey There Delilah Fame'. At about half-way, the fast early pace started to take its toll, as Rhines began to fade. Going through 2K just under 6 minutes, Yoder-Begley and Gallo were soon joined by Sara Hall. Hall had gone out with the second pack in the beginning, and used her slower start to her advantage. With 200 to go, Hall came even with Yoder-Begley, and they would stay that way until the very end. The Olympian Yoder-Begley would just out kick the surging Hall by .45 of a second, 8:53.27 to 8:53.72, earning the former Arkansas Razorback her first USATF national indoor title.
Yoder-Begley said her plan was "from seven laps, the goal was to grind it down. I've been working on my speed and kick." And she would need that kick in the end, which ultimately proved to be the difference between first and second.



Finals
  1 Amy Begley                   Nike                   8:53.27
  2 Sara Hall                    Asics                  8:53.72
  3 Julie Culley                 New York AC            8:55.62
  4 Lindsey Gallo                Reebok                 8:56.92
  5 Rebecca Donaghue             New Balance Bost       9:01.08
  6 Delilah DiCrescenzo          RIADHA / Puma          9:02.50
  7 Nicole Bush                  Unattached             9:04.35
  8 Elizabeth Maloy              Unattached             9:10.56
  9 Jennifer Rhines              adidas                 9:11.19
 10 Kristin Anderson             Unattached             9:13.79
 11 Lindsay Allen                McMillan Elite         9:14.32
 12 Jennifer Donovan             New Balance Bost       9:15.49
 13 Amanda LoPiccolo             Syr. Chargers TC       9:23.20
 14 Ann Detmer                   Wisconsin Runner       9:24.11
 15 Aileen Conlon                Nike Cnt Park TC       9:28.80
 -- Rebecca Guyette              McMillan Elite             DNS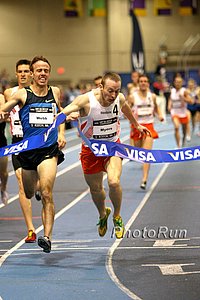 Mens 1500 meter Final
The men's 1500 would end the night, and it was filled with talent, despite the scratch of 2007 World Champion Bernard Lagat. Alan Webb was the early leader, followed by Tommy Schmitz, John Richardson, and 3 time US Indoor Champ Rob Myers. As Webb remained the leader, the pack behind him shuffled around. Myers, Steve Sherer (doubling in the mile and 800) and Liam Boylan-Pett were the 3,4, and 5 runners with a quarter to go. That's when Meyers began to make his move, as he ended up passing Webb with 200 meters to go, just as the bell rang. The two battled through the final lap, but Myers went to an extra gear with about 50 meters to go, holding off the early leader. He ended up breaking the tape in 3:45.73, .09 of a second ahead of Webb's 3:45.82.
When asked about the close finish, Myers responded, "You're never sure until you cross the line. I wasn't about to let up at the end."
With that, Myers took home his fourth 1500 title from a US Indoor Championship.




Finals
  1 Rob Myers                    Reebok                 3:45.73
  2 Alan Webb                    Nike                   3:45.82
  3 Steve Sherer                 New York AC            3:46.14
  4 Liam Boylan-Pett             Unattached             3:46.46
  5 Matthew DeBole               Unattached             3:47.43
  6 Chris Lukezic                Reebok                 3:47.51
  7 Jordan Fife                  Team Indiana           3:48.43
  8 Tommy Schmitz                Wisconsin Runner       3:49.01
  9 John Richardson              Reebok                 3:49.55
 10 Eric Ashe                    Unattached             3:50.42
 11 Kyle Alcorn                  Nike                   3:52.61
Women's 800 (Semi-Finals)
In the first heat of the Women's 800, Jesse Carlin (Nike) took the pace out fast in 29.84. Through the 600m mark in 1:33.12, Carlin held the lead with Nikeya Green and Katie Waits close behind. With 50 meters left, Waits came even with Carlin, passing her and going on to win in 2:05.35. Chantee McBride ended up in second (2:05.94) and Carlin in third (2:06.01). The surprise of this heat was Nikeya Green, who failed to advance to the finals tomorrow, as she finished fifth in 2:06.37
The second heat was led wire to wire by Treniere Clement, who won in 2:06.44. Going out in 1:00.65, Clement looked good, as she seemed to control the field. In second was Ty Davis of Team Indiana, finishing in 2:06.74. The surprise of the second heat was that 2008 Olympic Trials 800 champ Hazel Clark did not start, as she pulled out because of an illness.
Qualifying for the finals: Katie Waits (2:05.35), Treniere Clement (2:06.44), Chantee McBride (2:05.94), Ty Davis (2:06.74), Jesse Carlin (2:06.01), and Angee Henry (2:06.02).

Men's 800 (Semi-Finals)
The men's 800 featured three semi-final heats, but the first one was by far the most star-studded. Khadevis Robinson, Christian Smith, and Steve Sherer were the favorites going in, and they all qualified for the next round. Golden Coachman took the lead for the first 400, and brought the field through in 55.32. Smith, who was sitting in second, passed Coachman and led through the 600 mark in 1:23.44. But Robinson would take the lead the last lap and get the win in 1:49.95. Smith finished second in 1:50.07 and was happy to get into the finals, as he had been sick for the past few days. Sherer crossed in third, 1:50.25.
In the second heat, Karjuan Williams was the only one to qualify, as he ran 1:50.70. The highlight of the race came when the lead pack of four were rounding the final turn. The group scattered as feet were tangled up, but thankfully no one fell.
Two members of the Oregon Track Club Elite, Mark Wieczorek and Matt Scherer, qualified in the thrid heat. Scherer held the lead until the final 20 meters, but Wieczorek ended up catching and passing his fellow teammate, finishing in 1:49.96, the second fastest time of the day. Scherer came in at 1:50.06
Qualifying for the finals: Khadevis Robinson - 1:49.95, Mark Wieczorek - 1:49.96, Karjuan Williams - 1:50.70, Matt Scherer - 1:50.06, Christian Smith - 1:50.07, Steve Sherer - 1:50.25.
More: A special shout out has to go to Nick Wade of North Attleboro, MA, who ran the third leg of the High School 4x400m relay for Massachusetts. Wade, who won the Massachusetts All-State 600m on Friday in 1:21.06, will run under Letsrun.com co-founder Robert Johnson at Cornell University next year. Finishing in 3:21.99, the Massachusetts relay came in second to Connecticut. When asked about running for Rojo next year, Wade exclaimed, "I can't wait. What could be better! It's gonna be awesome!" Good choice Robert! Wade is a great kid who has an excellent future ahead of him.
Tomorrow, look for the finals of the men's and women's 800m, as well as the women's 1500m. Hopefully, the action on the track will be as good as it was Saturday, for that willbe hard to top!
Christopher Lotsbom is an avid runner and a senior at Walpole High School in MA. He looks to continue both running and writing next year in college. We swear we didn't put him up to interviewing one of Rojo's recruits.


---
Runner's World &
Running Times



Combined Only $22
a Year
Save $87

---

Running & Track and Field Posters
---
---