Conference Track Action:
Big 12: German Fernandez Runs 3:55.02 NCAA Record!!! His run was so, so incredible and his future appears very, very bright. An NCAA record, basically run all alone (he won by 10 seconds) as a true freshman. If you have any photos of the race you'd like to share with us, please email us at letsrun@letsrun.com. *Results
Fernandez on the boards: FERNANDEZ - 3:55.02 at Big 12
*does german have the CR? 3:55.02 vs. 3:55.0
Women: Jenny Barringer 4:25 Mile For NCAA Record, Her First Big 12 Indoor Title And First Defeat Of Sally Kipyego Usually this would get front center billing, but Fernandez stole the show at the Big 12 meet.
*Big 12 Final Results: Texas Men, Texas A&M Women Win
ACC: Florida State Men And Women Win ACC
SEC: SEC Results (Dorian Ulrey 7:55 3k Win, Top Mile Qualifying Time)
Big 10 Women's Results Men's Results
Mountain West: BYU Men And Women Win Mountain West
Heps: Day 1
MPSF: MPSF Results (Rupp 1:49.87, Centro Jr 7:55)
*More Conference Results

Paul Tergat Battles Back to Win Lake Biwa Marathon
The great one may have resurrected his career with this gutsy win.

Sydney Track Classic *Results
Recap: Steve Hooker vaulted 5.95 and Asafa Powell in the "B" heat 400 ran a huge PR of 45.94.
*IAAF Preview Of Sydney Track Classic
*Asafa Powell Wants Sub-10 Next Thursday In Melbourne The guy did 7 straight sub-9.90s after flopping in Beijing.
*Steve Hooker Going For World Record As 7 Olympic Gold Medallists Will Compete Even Hooker's rival, Lukyanenko, says the record "can happen, for sure." Asafa Powell will race at 400m.
*Meticulous Planning Helped Steve Hooker Overcome Pole Vault Yips To Win Gold
*Asafa Powell Has Spent Off-Season Fixing Usain Bolt's Car
*Sports Psychologists Helping Asafa Powell Get His Groove Back
*IAAF Preview Of Meet An Australian male hasn't had a field world record since 1935.
USA Indoors Starts Saturday In Boston *Meet Website
*Bernard Lagat Is Out, But Terrence Trammell, Alan Webb, And Adam Nelson Are All Entered
*IAAF Preview Of USA Indoor Meet
*USATF Previews Men's Fields At USA Indoor
Lake Biwa Marathon Preview: Does Tergat Have Anything Left In The Tank? Paul Tergat will take on the 8th placer from the Olympics, Yared Asmeron, as well as slew of sub-2:10 Japanese.

Leading Kenyan XC Runners Think Ethiopia May Be Trying To "Trick" Them With Bekele Injury
Dwain Chambers News
*Chambers Talks About Wanting To Kill Himself
*Dwain Chambers Talks About His Controversial New Autobiography "Race Against Me" Which Comes Out March 9th
World's Best 10K Is Sunday *2008 Results
Shalane Flanagan To Have Hands Full In Loaded Race The women's race is unreal this year as it has defending champ Lornah Kiplagat, double Olympic silver winner Elvan Abeylegesse, Olympic marathon champ Constantina Tomescu, and Vivian Cheruiyot fresh off her 8:30 Kenyan NR. Defending champ Deriba Merga leads the men.*Kiplagat Reflects On Winning $50,000 Last Weekend *Linet Chepkurui Granted Leave From Kenyan XC Training To Compete
Will Mary Akhor Lose Her Car? A movement seems to be underway to strip her of her car.
Doping News: USADA Funding Study On Possible HGH Urine Test
*IAAF To Have Biggest Anti-Doping Effort At 2009 Worlds
British 4 x 400 Runner: "When you're running indoors it's two laps."
*Quote From Renato Canova From LRC Boards In Kenyan Press: "[Moses] Mosop knows very well that [Kenenisa] Bekele in shape is unbeatable in cross and 10,000m. I told him that never I want to hear the word Bekele from his mouth. His model must be Zersenay Tadese, that in three years he has won three titles in half-marathon and one in cross." To Read Canova's Post Click Here. LRC Editor's note: In declaring Mosop the clear favorite for the men's senior world XC title, we clearly forgot to think about Tadese, who took down the title the last time Bekele faltered in Mombasa.
Bernard Lagat Withdraws From USA Indoor Championships With Injury News "hurts" all parties involved.
Universal Sports To Expand TV Network To 20 New US Cities
Isinbayeva And Defar To Headline In Prague Both targeting world records.
Recommended Read: Great Article On America's Best Female Runner Kara Goucher

Women's 400m Hurdles Should Provide Excitement In 2009, If They Race Each Other

Love It: Tony Reed Inspiring Blacks To Run

*Rwanda's Top Athlete To Train With Wanjiru Group In Kenya
*Paul Tergat To Compete In Ireland Road 10k
*LJer Mokoena To Compete For 2nd Time In South Africa
*Q-Chan Can't Stay Away, Is Coming Out Of Retirement For Marathon "Thank-You Run"

Zap Fitness To Spend Winter Time At Furman

David Monti Reports Shocking Results Of RAK Half 10k Splits Though Puerto Rico hosts the World's Best 10k this weekend, the world's fastest 10k may have taken place in the first half of the RAK Half Marathon last Friday. Why? Well, 8 men split under 28:00 for 10km at the RAK Half, which is double the amount of sub-28 clockings in any other road 10km run in 2008. Men's top finishers from the 2008 World's Best 10k are here. More on 2009 race here: Linet Chepkurui Gets Approved To Run World's Best 10k
G'Day, Mate - Australian Pro Season Kicks Off This Weekend *Plus: Athens To Host Next Big Euro Indoor Meet
*Recommended Read: Asafa Powell Leaving No Stone Unturned In Quest To Perform Big On Biggest Stage
*Australian Meet Organizers Excited To Have American Olympic Champion Stephanie Brown-Trafton In The Discus
*Preview Of Sydney Track Classic Coming Up On Saturday
*Tired Hooker Returns Home To Vault Outdoors With Bubka Singing His Praises
Look For Some Very Fast Times In Rotterdam Marathon The 3rd-fastest marathoner of all-time, Will Kipsang (2:04:59, '08), Sub-2:06 guy Kipsang, and 2nd-fastest half marathoner of all-time, Patrick Makau (58:52, '09), should duke it out.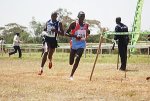 LRC The Week That Was This week we give you the stats that prove to you that American distance running is at an all-time high, give out free coaching advice and do our best to answer the age-old question nature or nurture? Plus we take you way back in the LetsRun.com archives and prove to you Ryan Hall was training as a marathoner in high school.
NYRR Setting Up Meet In Cali To Help People Get World "A" Standard In 5k, 10k And Steeple On Track Not sure if these meets are replacing Stanford or what. Mary W really seems to get it. It's not new news, but we missed it. It's a video interview and there isn't any info about Stanford.
Lolo Jones Says She'd Rather Wear A Tracking Device Than Be Subject To New WADA Rules "Maybe in the future they will find a tag they can put on us like dogs have."
Recommended Read: Edwin Moses On The Difference In Attitudes Towards Drugs Between Major Pro Sports And Track & Field
News From Excited Kenya
*Kenyan Coach Upset That Mosop Won By Such A Huge Margin Disappointed that Kenyans didn't run as a team in the tryout!
*Coach Publicly Demands Strict Discipline From Top Athletes In Kenyan Training Camp Awesome article.
*Kenyan Media Are Stoked At Absence Of Kenenisa Bekele, Tirunesh Dibaba And Sileshi Sihine And they think it might be a trick by their rivals.
Marathon Updates
*Tokyo And Rotterdam Announce Elite Marathon Fields Patrick Makau, fresh off his studly RAK Half Marathon win, will debut at Rotterdam.
*Remember Him? Peter Gilmore Headlines Elite Napa Valley Marathon Entrants
*More On Tokyo Marathon Elite Field
*Honolulu Marathon Brings In $100 Million For Local Economy
Britain
*36-Year-Old Donna Fraser Running Better Than Ever When sprinters get better at that age, we worry.
*Chambers To Compete For Britain As #1 Chance For Gold
*Steve Cram Impressed With Mo Farah
Must Watch: Amazing Full-Length Documentary Of Peter Snell With Fascinating Race And Training Footage, Interviews And Historical Detail
Results From Ethiopian National XC Championships 20-year-old Wude Ayalew was the surprise winner of the women's senior race in her first XC race of the year. Mestawet Tufa had to drop out and Gelete Burka only got third. The men's race missed Kenenisa Bekele and Sileshi Sihine but still Tariku Bekele and Tadesse Tola were in the race. They were no match for another surprise winner by the name of Gebregziabher Gebremariam.
T&F News Points Out: Stacy Dragila Held AR In PVault For Over 9 Years That is amazing in such a young event. Dragila is totally a class act and so is the new record holder Jenn S.
Big Weekend For Kenya
*Amazing Stories From Kenyan XC Trials As Lucky 24 Now Head To Month-Long Training Camp
*Birmingham Goes Great For Kenyans: Choge Takes Down Lagat, Viv Cheruiyot Runs National Record 8:30 3k And Bungei Wins 800m
*Wild Card Picks Announced For Kenyan World Teams World senior XC silver medal winner Leonard Komon receives wild card.
News From Britain Kingdom Of Van Commenee
*Marilyn Okoro Quick To Credit Van Commenee After Super 1:59 Indoor Clocking
*Van Commenee Given Credit For Hot Indoor Times Of Some UK Athletes
*BBC Piles On The Praise For Van Commenee And The New-Look UK Athletics Team
*Ohuruogu Shocked At Her 200m Performance In Birmingham She just missed her PR by .01.
*Mo Farah's 7:34 Is The 2nd-Fastest Ever Clocked By A European A training stint in Kenya seems to have Farah running better than ever.
2009 Kenyan XC Champs
Husband And Wife Moses Mosop And Frances Kiplagat Win
Paul Tergat is confident a Kenyan will win world XC for the first time in 10 years with Bekele and Tadese likely out. IAAF recap above, Reuters article saying Mosop and Kiplagat are married.
LRC Exclusive: Famed Coach Renato Canova Posts About Coaching The First Husband-Wife Winners
More: The Standard: Moses Mosop Puts On Breathtaking Performance As He Gets 21-Second Victory!!! The 2007 silver medallist has to now be considered the favorite for gold in Amman.
Sunday Nation: Mosop Has Time To Salute Crowd After Romping To Victory Click here to see a sweet photo.
Jr. Girls: *World Youth & World Jr Champ Mercy Cherono Will Be Looking For World XC Title After Dominating Victory
*Kenyan Team Announced: Leonard Patrick Komon and Pauline Korikwiang Get Wild-Card Entries Komon is a former silver winner and Korikwiang won junior girls gold in 2006.
Pre-Race: Mission "Beat Ethiopia" Starts
Pre-Race: May A World-Beater Step Forward Please
*Race Preview
Profile Of Rwanda's Lone Distance Prospect: Sylvain Rukundo He ran 64:27 at the RAK Half.
A Look At How Drunk Ivan Ukhov's Exploits Compare To Other Great Athletic Drunks In History He's got nothing on the Australian who consumed 52 beers on a trans-Atlantic flight.
Janice Josephs Jumps 6.75 In South Africa
Kibet And Kiplagat Win Glo Lagos International Half Marathon In Nigeria And Take Home Big Paydays
John Hancock Financial Announces Stout Boston Marathon Elite Fields Wow, we thought Ryan Hall and Kara Goucher were going to have only one really legitimate contender each, but it looks more like 3 or 4 tough ones on each side with Lidiya Grigoryeva and new world 15km co-record holder Deriba Merga also in the fields.
RAK Marathon - No Senior Half Marathon Records, But Several Other Records Were Set *Interesting Write-Up Of RAK Race Deriba Merga tied the 15km world record of Felix Limo as he led Patrick Makau through in 41:29. Then eventual race winner Makau nabbed the official 20km world record away from Haile G by 10 seconds (55:38), though Wanjiru ran 55:31 last year en route to his half marathon world record. Also, the women's junior half marathon world record was broken by Ethiopian Abebu Gelan at 1:07:57. That's right guys, a junior girl ran under 68 minutes for the half marathon. Great Race Photos From PhotoRun
Weekend Action:
Glo-Lagos International Half Marathon Will Be Held Saturday And Feature Top Front Runners Lornah Kiplagat, Tsegay Kebede And Luke Kibet
*Birmingham: Yelena Isinbayeva Will Be Jumping In Birmingham This Weekend And Will Probably Break Her Own WR Again *UK Sprinters Will Be Battling For Spots On European Championship Team On Saturday *Lagat Going For 1,500 WR?
Follow Sat-Sun Big East Championships From Here The Big East Championships are at the Armory this year.
The Toughest Qualifying Race In The World: Kenyan XC Trials Are Saturday
*Big Names Put Reputation On Line In Kenyan Trials
*Kenya Hopes For A World Beater At World XC's
*It Should Be A Wild One: Kenyan XC Trials Saturday Morning
*IAAF Preview Of Meet: Kenyans Are Pumped As Rumors Are Spreading That Defending Champs Dibaba And Bekele Are Likely Out With Injuries
*A Look At The Top Kenyan Men Who Are Looking For 1st Male World XC Champion Since 1999
*3:30, 7:28, 12:48 Guy Isaac Songok Hoping To Make Team Despite Injury
RAK Half Marathon: World Half Record Survives As 5 Break 60:00 (But World's Best At 20km Falls), Dire Tune Runs 67:18
*Patrick Makau And Deriba Merga Go Out Very Fast, Maybe Too Fast (13:40), Give World Record A Scare But Fade To 58:52 And 59:18 The $100,000 world record bonus had them going for it but the pace was a tad too hot too early as the last 1.1 k was barely run a 3:00 per km pace. Merga, who had the lead at 15km, ended up third. Amazingly, Makau may end up getting the 20km world's best as he split 55:38 there. *Splits/Results For Top Competitors *Interesting/Detailed Explanation Of Prize Money You had to break 1:00 to get full money for a top 5 finish. *Women's Results
More From Wednesday's 20th GE Galan
*IAAF Recap Of Meet/Defar's World Record
*Sub-25 Last 200 Gives Yuriy Borzakovskiy Sweet Revenge Over Beijing Gold & Silver Winners In Stockholm When you go sub-25 in the last 200 of an 800, you deserve to win.
1 Hr. Drug Rule Gets More Reaction
*Ohuruogu Says Footballers Will Have Trouble With Rule - Feels Vindicated By Athletes' Uproar
*Christine Ohuruogu Pleased Tennis Now Subject To Same Doping Controls As Track - Warns Athletes To Avoid Her Mistake
Olympic Medal Mania For Administrators Travels To South Africa
*New Head Of South African Olympics Says "12 by 2012"
Lornah Kiplagat Says She'll Feed The Poor With Lagos Half Marathon Prize Money

*Big Names (Bolt, Fraser) Set For Jamaican UWI-Gatorade Invitational Track Meet On Saturday
*Masai Looks To Lead Kenyan Women In Amman
*Grace Momanyi Hopes To Defend Kenyan XC Title After Being Kicked Off Beijing Team
*Women's Shot Put Battle To Be Waged In New Zealand
*Great Fields Set For Glo-Lagos International Half In Nigeria
*Rwanda's Sylvain Rukundo Adds To Already Stacked RAK Half Field In UAE Friday
*Lake Biwa Marathon Invited Athletes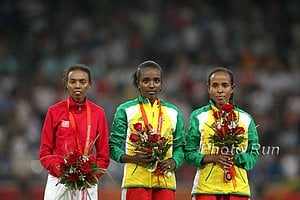 Move Over Dibaba ...
Defar: 14:24.37 WR!!!
Boards: DEFAR SMASHES WORLD 5000M RECORD IN STOCKHOLM
Ethiopian Meseret Defar closed in 30.3 (last 200) and 2:46 (last 1,000) to break countrywoman and rival Tirunesh Dibaba's old mark of 14:27.42 and win by over 1 minute! Also: Paul Koech (sub 8:00 steeplechaser) goes 7:32.80 for world lead.
*Stockholm Preview: Defar Going For 5k, Kaki For 1,000m, Hooker For Vault Record In GE Galan
Olympic & World Championship News
*The Line Is Set: Chicago Getting 8/11 Favorite Odds On Winning 2016 Olympics Bid
*Golf Wants In On Olympic Action
*Willis Gets Free Entry Into Berlin 2009 From NZ Federation
Top 10 News Reads Of The Day
1. Article Describing Bolt's 400m Struggle 400m was a stretch for the big man.
2. Jelimo Scraps Indoor Season Injury leaves dominant Kenyan unfit for indoors.
3. Preview Of Top-Notch GE Galan Meet Wednesday In Stockholm Steve Hooker, Abubaker Kaki and others to put on a show for packed Stockholm indoor stadium.
4. WADA Head Claims Athletes Haven't Had Everything Explained About 1-Hour Rule Christine Ohuruogu missed 3 tests without excuse but she's a celebrated Olympic gold medalist so everyone should relax.
5. Jamaican Junior 100m Record Holder Signs Big Deal With Adidas
6. Interview With Rising Aussie Star Jeff Riseley
7. Mottram To Eye Marathon After 2012
8. Rupp Deservedly Named USATF Athlete Of The Week Even though he wasn't named the athlete of the meet at Tyson.
9. Brief Chat With Shayne Culpepper
10. Not Clear Yet Whether New Plasma Replacement Therapy Will Be Banned For Olympic Athletes
Results
*Kebede Primes For London With Domestic 15k Win
*Here's A Way To Improve Relays: Run Them In February Like Jamaica!
*Simon Sawe Wins One For Mom - Joan Benoit Samuelson 2nd In 1:23 Half Marathon
The only must read in the industry
LRC: The Week That Was Another great week indeed. We cover it all, from Galen Rupp's American record to 23 guys breaking 8:00. Along the way, we answer the question, "Where is Alan Webb's Speed?," give a thumbs up to Doug Logan and give you a shocking photo of Usain Bolt on the dance floor courtesy of a British tabloid. You'll definitely want to read all the way to page 2 as the photo and caption are quite entertaining.
Bolt Named Jamaica's Sportsman Of The Year For 2008 Calls award his most cherished yet.
Runner's Tribe Writes New Rules For USATF This is a pretty funny and witty read.

Chicago's 2016 Olympic Bid Delivered By Jesse Owens' Grandson
NCAA: Centro Jr. Is 319th American To Break 4 In The Mile T&F News has updated their chronological list of every sub-4:00 clocking in American history.
*Cornell's Jeomi Maduka Improves To 6.70m In LJ, 3rd In The World We thought maybe 21'9" was a fluke, but 21'11.75" at the Armory set us straight.
Drugs And Sport: Is There An Untarnished Sport Right Now?
*Swimmer Jessica Hardy And Supplement Co. Battle On After Positive At Trials
*Paul Kimmage's Article That Set Off Lance Armstrong
*Athletes Set To Air 1-Hour Rule Concerns To WADA
*Do Anabolic Steroids Make You A Better Athlete?
*Russian Biathletes Were Using New Substance, Not EPO
*Phelps To Escape Criminal Charges Due To Lack Of Evidence
*Blood Plasma Therapy Helping Athletes Get Back To Health More Quickly
The Great Coaching Of Centro Sr. Proven Yet Again
Wash Times Article On Lindsay Gallo And Julie Culley Working With Centro
More NCAA News
*Centro Jr. And Wheating Set UO Mile/800 Records *MBoard: Centrowitz: Best American running family ever?
*Baylor Men Win 33rd Consecutive 4x400m Race
*UW's Jordan Boase Sets 400m World Lead In 46.15
NCAA Action Gets Real Hot - Particularly In Washington
Husky Invite: Unreal fast performances all over the place on the oversized track. *Results The results were so fast across the board that message boarders have declared: "It's official to make NCAAs, you have to run in Washington."
Jenny Barringer Shatters Collegiate Record By Running 15:01 *Video Of Barringer's Record Run
OSU: Fernandez Runs 7:47 Message Board: Fastest Time Ever For Amercan Jr But It Won't Count As Oversized Track He was pushed to the limit by Michael Coe, who ran 7:48. *Video: Coe-Fernandez Final 3 Laps All together 12 guys broke 8:00.
*Wheating Runs 1:47.03 *Video: Wheating Makes It Look Easy
*Centro Jr. Runs 3:57
BU Valentine: 2 Providence Guys Go 3:57 As 7 Break 8:00 *Providence On Fire At BU As Dominic Channon Also Sets New Zealand Jr. Record Of 7:58 *Women's Results
UVA Duals: Wyner Breaks 8:00 To make it 20 23 guys this weekend that broke 8:00 - UNREAL!
BU Valentines Day: Mary Cullen Runs 8:43 3k

Tyson Invite: *Tyson Invite Results
American Record For Rupp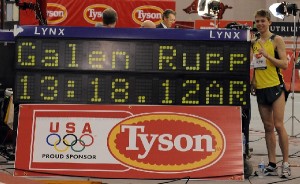 The wonder kid continued his incredible senior year by running 13:18 to break Doug Padilla's 27-year-old American record (although Rupp was beaten in the race). We should take a second to pause and realize how sick Doug Padilla's record was. Padilla ran 13:20 at Millrose 27 years ago. Sick. Really sick. (Padilla's record before 18,000 didn't even get the lead in the Sports Illustrated recap). You can watch Padilla's run in its entirety here). In other action Shalonda Solomon set a US record at 300m. Terrence Trammell just ran the 60m sprint and he came out with a big win over a strong field, Nick Symmonds edged KD in the 800, and Anna Willard and Nick Willis won the miles. The men's mile was very tactical and featured a fall of Dorian Ulrey (video of fall here).
AP Recap: Galen Rupp Gets American Record At Tyson Invite
*Oregonian Story On Rupp With Photo, Post Race Interview
*Ulrey Tripped Up On Way To Strong Finish
On the boards: Galen Rupp of the University of Oregon - Congratulations on your new American and Collegiate Indoor 5k Record
*Photo
Journals And Interviews
RR: T&F News Interview With LJ WR Holder Mike Powell
*Carrie Tollefson Journal Update
*Interview With Angelo Taylor After Visiting Troops In Iraq
LetsRun.com Reacts To Project 30 Report
Wejo: The Project 30 Report - Much Ado About Nothing
Rojo: The Whole Concept of Project 30 Is Flawed The US actually won more medals and more golds in 2008 than they did in 1976 and the amount of competition is way, way up.
Alberto Salazar Agrees With Rojo & Wejo: Salazar Calls USATF Report "Overreaction to dropped batons," Disagrees With Shortening Trials
USATF Task Force Report On High Performance Issued *Full report
These Should Inspire You
Meet The Unbelievable Kelly Jaske *Latest Jaske Thread She didn't run in high school, she didn't run in college. Now the 32-year-old Harvard law school grad is banging out 100+ mile weeks and just got 2nd in the US Half Championships while working a full-time job.
Plus: Poignant Brief Chat With 44-Year-Old Super Mom Colleen De Reuck She was amazingly 3rd behind Jaske in Houston. For someone who no longer considers herself elite, De Reuck can still perform with the best.
New LRC Usain Bolt Boston Celtics Photo Gallery
The world's fastest man was in Boston Friday night with front row seats at the Celtics game. LetsRun.com was on hand as the Celtics won their 17th straight, and Bolt got the lead in the associated press recap of the game: "After racing within a game of tying a team winning streak, the Boston Celtics were all abuzz -- with talk of a famous face in the front row. Olympic gold medalist sprinter Usain Bolt watched as the defending NBA champs won their 17th straight and improved to 25-2 with a 125-108 victory over Chicago on Friday night."
Foot Locker Nationals Turns 30 In Historic Fashion
*Girls' Results *Boys' Results *New Foot Locker Photos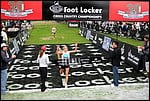 LRC Girls: Jordan Hasay Gets Bookends In Thrilling Race The girls' race featured the last three defending champs for the first time ever and it did not disappoint. Unheralded Allie McLaughlin made the race, opening up a big lead and nearly pulling a Rudy. Last year's champ Ashley Brasovan led the chase and caught McLaughlin in the last quarter mile and appeared to be on her way to victory but Hasay, who won as a freshman, was not done yet. She stormed back the final 200m to get the win to go out just like she started her high school career - on top. Read the recap above and watch this video if you want to see the *Girls' Results. *Excellent Video (no chop) of the final part of the girls race. Well worth a watch.


LRC Boys: Solomon Sails Maryland's Solomon Haile crushed the field as expected and LetsRun.com fan favorite Trevor Dunbar (the guy who ran a ~ 9 minute 3,200m on a snow-covered track) was an impressive second. Plus one of the runners drops the word "repose" in his post-race interview. *AP Recap
*Boys' Results
*Video with no choppiness
On the boards: A ton of threads on Solomon Haile's age. Maryland officials cleared him to compete after talking to officials in Ethiopia, but Wejo is curious about the excuse of having the Coptic calendar having him 21 years old (???)
LRC's World Famous Boards: Has Nike's NXN Ruined Footlocker's Nationals? *Trevor Dunbar wins Foot Locker H.S. Division *More Impressive than Hasay's win is that she has a 4.83 GPA How is this even possible?
LetsRun.com Rojo's Tour of China, Part 1 - Hanging Out With Usain Bolt
Rojo went to the Puma Party put on for Usain Bolt. Open bar, Chinese dancers putting on their best sorority girl imitations, and then Rojo going 1-on-1 with Bolt. Rojo actually asked Usain about moving up to the 800m. Bolt hinted the Jamaicans want him to run the 4 x 400m. More importantly, Bolt apologized for visiting Facebook instead of LetsRun.com.
2008 real,- BERLIN MARATHON - Watch Video Highlight or Race Replay *Results *Photos
Haile G. 2:03:59!!! Mititenko 4th Fastest Woman Ever Haile Gebrselassie made more history Sunday on the streets of Berlin. After going through the halfway point in 1:02:04, Haile continued to flirt with world record pace but was stalked by Boston runner-up James Kwambai. Haile threw down the gauntlet the last 7km to dispatch Kwambai and just dip under the 2:04 barrier. On the women's side, German star Irina Mikitenko ran a brilliant race, running a negative split to smash the 2:20 barrier and become the fourth fastest woman ever.
*Geb: "I can go faster."
*The Science Of Sport Analyzed Geb's Splits As The Race Unfolded link fixed
*Geb's Record in Berlin Is His 24th World Record (or 26th depending on who is counting)
*Mikitenko Moves Into Tie in World Marathon Majors Standings Gete Wami must finish 2nd or higher in New York to move ahead. If she doesn't, they will be tied (and tied in the tie-breakers) so they might share the title. *Washington Post Article on WMM
*Falk Cierpinski, son of Waldemer Cierpinski, 2:13 in Berlin
On the boards:
*Wanjiru's Olympics > Geb's WR
*Haile's Splits from Berlin ... how far could you run with him??
*Live Message Board Thread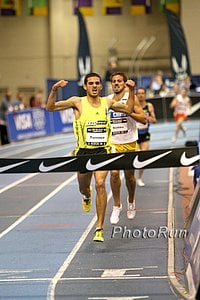 USATF Indoors: *Results
LRC Distance Recaps from Day 1 David Torrence had his coming out party, Amy Yoder got her first indoor title and Rob Myers got another US Indoor title on day 1 (over Alan Webb).
*USATF Day 1 Recap: Andra Manson And Amy Acuff Repeat Winners in High Jump
New Diamond League With Central Contracts May Be Latest Attempt To Save Our Sport On a normal day, this would be big, big news. The idea is to force the world's top stars to square off against one another. It is what is needed to save our sport.
Ryan Hall 43:23 At Publix Gasparilla
A decent run for Ryan as he prepares for the Boston Marathon. It was well off Todd Williams' American record of 42:22 and even off Keith Brantley's course record of 42:50.
*Message board thread with post from guy who rode next to Hall on a bike
Educate yourself:
*A Lengthy Interview From Todd Williams In 2003 After His Retirement In the 1990s, American longer distance running was the Bob (Kennedy) and Todd show.

*USADA Will Help Fund Further Study Of Urine Test For HGH $65,000 for a 6-month test.
How Do You Spell "Big Ego"? After Disasterous 2008, Australia's 400 Hope John Steffensen Says He Can Medal In 2009 While 7 gold medallists shared the track for training, he reserved the entire track for his own press conference which he showed up 28 minutes late.
Preview Of Next Weekend's Portugal Almond Blossom XC Race
New York Times Examines The Great Strides Women Have Made In Running Since The 1970s Cops used to pull women over that were running in the rain, thinking they were runaways.
Friday: Holy Sh**!!! Kim Smith Runs 14:39.89 And Wins By Almost 3 Minutes Who says you need a big-time meet or big-time rabbits to run fast? Smith did it in the middle of the day and was rabbited by LRC favorite Lesley Higgins, who took it less than 1,200. Smith did the rest to become the #4 time performer of all time. *Dad Monti's Recap Of Race
Meeting Of World Record Holders In Czech Produces WR & Several World Leaders
*Meseret Defar Runs 9:06.26 As Ismail Ismail Ran The 4th-Fastest 800 Ever (1:44.76)! Abreham Cherkos ran 13:07 as well.
Athens Grand Prix
*IAAF Recap Of Athens Indoor Meet
*Ivan Ukhov Goes For World Record, Settles For 7'10.5" World Leader *Athens Results
Oscar P Gets Out of Hospital After Boating Accident
*Pistorius' Manager Van Zyl Slams Media For Speculating He Was Drinking
Makau's 20k Mark From RAK Half Won't Count As Remeasurement Shows It Was 73m Short
It's Official: Yelena Isinbayeva Signs Big Deal With Li Ning Sportwear
Athletics Kenya Head Accuses Bahrain Athletics Association Of Practicing "Modern Slavery"
John Godina Retires The 3-time world champ and 2-time Jesse Owens Award winner plans on staying involved with the sport and is volunterring with USADA.

Oscar P Gets Out Of Hospital After Boating Accident
*Pistorius' Manager Van Zyl Slams Media For Speculating He Was Drinking It's hard to blame them when there is a sunken boat and reportedly empty alcohol containers.
Liu Xiang's Coach Says It Will Be Difficult For Xiang To Run Top Times Again
Jerome Young Formerly Stripped Of Medals For Doping Acknowledgements This now means Tyree Washington is the 2003 world champion although he has lost a relay gold. *Article On Washington's Reaction To Drug News From Last Summer
Chats And Journals
*Runner's Tribe Chat With Kenenisa Bekele
*Stephanie Brown-Trafton's Online Journal
*David Oliver Ate McDonald's To Get Healthy Again In Beijing

Recommended Read: Revisiting Kenyan Violence 1 Year Later "I killed six Kikuyu."
Informative Drug Articles
*IAAF 2008 Doping Test Report
*Great Comparison Of NBA Drug Testing To WADA Standards NBA testing = complete joke. WADA testing = borderline draconian.
*Expert: Using "Biological Passport" Seems To Be Effective Deterrent To Dopers In Cycling
*Good News: WADA Says They Are Close To Instituting Bio Passports Across More Sports
The OLYMPIC SPIRIT
*"2012 Games Will Be Memorable Only With Good British Performances" How inspiring.
*Push Is On In UK To Secure Private Cash To Support Olympians
*Van Commenee Wants 6 Medals For UK At European Indoor Meet
*Money Raised In UK Could Fund Coaching Academy (Only $20 Million Necessary!)
Big News We Missed: Hall And Kastor Sign Asics Extensions Adidas apparently went after Hall with an offer.
USATF And WADA Opinion And Controversy
*LRC RR: Deena Kastor Offers More Thoughts On Professionalism And Project 30 Report
*LRC RR: Anonymous 2007 World Champion Writes Letter To The USATF
*Some Athletes Claiming New WADA Rules Violate Rights To Privacy
*WADA Holding Strong - Hopes Tide Of Negative Press Will Subdue
Athletics Weekly Provides Splits For Mo Farah's 7:34 3k Clocking Mo Farah might not be getting enough credit for going to Africa to train and coming back a total stud. His 7:34 was incredible as he almost broke the UK 2k record en route, then closed in 29 to win.
*Great Article On Jesse Williams And The US High Jumping Scene Thanks to Williams, Eugene is currently High Jump Town, USA.

USATF Indoor National Champs Are This Weekend
Flu Forces Symmonds Out Of USATF Indoors *Funny Preview *Women's Meet Preview From USATF
Lolo Jones Updates Her Online Diary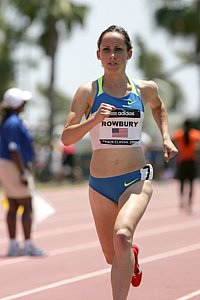 Tuesday: A Great Day For Profiles And Updates
*Great Shannon Rowbury Profile
*We Always Look Forward To These: Brief Chat With Elva Dryer
*Interview With One Of LRC's Favorites: Allen Johnson
*Profile On Amazing Asafa Powell We agree with Powell: "It's a lot easier now being in second place. It gives you something to work for. I'm working hard to get myself back on top. I'm working on everything. I've been working with a psychologist and others, just so I'm ready to win when the times comes."
*Check Out A New HS Running Site "Distance Gala Weekly" - Hasay Interview
*Hasay To Try For 3000m Record At Nike Indoor Nationals
Some New Names, Old Names And Surprise Names In The Armagh Road 5k (Ireland) Results *Photos From Armagh 5km Road Race From Last Thursday Former Princeton Tiger and current Zap Fitness runner David Nightingale won the race ahead of, among others, Irishmen Keith Kelly and Mark Carroll. Good week for Nightingale continues: David Nightingale 2nd In Irish XC Race
QOD: Look Out World, Georgia Freshman Torrin Lawrence Is Going To Be Insanely Good
Great Read On 1904 Olympic Marathon Champion, American Thomas Hicks, Who Brazenly Used Rat Poison And Brandy To Get Himself To The Line First Doping's been going on for centuries, but back then it was encouraged.
Cutest News Of The Day: 10-Year-Old 5th Grade Girl Wins Louisiana State Meet D2 3,200 It's only Louisiana, but still this is insane.
Loaded Japanese Team Takes Final Yokohama Women's International Ekiden *IAAF Recap USA places 7th. The Japanese team was comprised of the best women's runners in Japan and they won over Kenya fairly comfortably. *Great Photos Of The Race *Yokohama Ekiden Thread
Bolt Improves His 400m Form Early In The Season With 45.54 *Usain Bolt Thread
Boating Accident Sends Oscar Pistorius To Intensive Care But He Should Be OK
International Results
*12,000 Watch Beautiful Blanka Clear 2.00m For 42nd Consecutive Meet We find this streak totally unbelievable.
*German Pole Vaulter Spiegelburg Sets National Record With Big 4.71m Win
*Janice Josephs Jumps Big 22'2" In South African Meet
News From Europe - UK Indoor Grand Prix In Birmingham *Combined Results *Results By Event With Splits
BBC Recap: Mo Farah Knocks More Than 6 Seconds Off His NR (7:34)
LRC: Bernard Lagat Runs 3:38 And Loses For 1st Time In 2009 Choge gets the win as Rob Myers runs 3:40.
*Vivian Cheruiyot Sets Kenyan National Record In 3k (8:30)
Telegraph: Mo Farah Finds Redemption A good day for Brits as 16 PBs are set and 2 British records. Marilyn Okoro just missed the British record in the 800 by running 1:59.27.
Guardian: Simeon Williamson Wins 60m In 6.53 Then Talks Trash About Dwain Chambers
IAAF: American Carmelita Jeter Gets World Lead (7.11) In 60m On 3 Hrs Sleep As Does Lolo Jones In 60mh
Canada: Tyler Christopher Runs 46.08 As XMan Only Does 47.20
AP: Lolo Jones Wins 60m Hurdles
Pre-Race: Pickering Looking For Redemption After Last Week's DQ
Italian Champs: Day 1: World Lead In 400 (46.03)
French Champs: Day 1 Recap *Results
Russian Winter Throwing Champs: Recap
12,000 People Show Up To Watch Just High Jump In Croatia As Vlasic Clears 2.02
Bolt's Manager: Bolt Likes To Party, Which Means Dance - Not Drink
Lagat To Make USA Indoor Championship Debut *Interview With American 1,500m Man Chris Lukezic He says Lagat asked him to rabbit him this weekend in Birmingham, where Lagat will chase 1,500m WR! We hope to see Lukezic have a great year after disappointments in '07 and '08.
*Special Offer: Buy 1 Ticket Get 1 Free At USATF Indoors
Others May Be Staying Home, But German Is Pulling Out All The Stops To Go To Amman - He May Skip NCAA Indoors To Do It He's going to run Big 12s and score for the team, then take off the rest of indoors in favor of going for a medal in Jordan (a la Ritz). Coach Dave Smith says he and German have big plans for an outdoor 5k.
Isinbayeva Upset By 1-Hour Rule, Too
*Isinbayeva Isn't Bored With Setting New World Records And Signing Ridiculous Endorsement Deals
*Ohuruogu Feels Vindicated Because Everyone Is Complaining About WADA's Rules That She Broke 3 Times
*More On Ohuruogu And Her Manager Ricky Simms
News And 'Views
*Defar's Great 2009 Is Making Up For Finishing Behind Dibaba In 2008 Olympics
*Kwik-E With Colorado Buffalo Kenyon Neuman
*Shannon Rowbury's Blog Entry On Mountain Run In Mexico's Mountains
*Ours Too! Lolo Jones Calls Allen Johnson Her Hero
*Anna Alminova Hoping To Complete 1,500m/3,000m Double At European Championships - Please Look Closely At Her Samples!
Great Interviews/Profiles:
An Absolute Must Read For All American Distance Fans - Ryan Hall's Learning From Past & Getting Ready For Boston This article is full of great insight as it talks about how Hall didn't take enough time off after London last year and tried to force his workouts but is back now after an inspirational trip to Zambia. And the great news is Hall says his training is "way better than bfeore the Olympics."
*Interesting Profile Of British 3k Record Holder Mo Farah Inspired by Gebrselassie, Cram and Arsenal, Farah is primed for a great 2009 after a winter training session in Africa, where he found time to dance with Haile at Haile's house.
*American Miler Jon Rankin Talks About Getting Dropped By Nike & Getting Ready For Online Business School: "I Take My Hard Days Hard And My Easy Days Very Easy"
Drunken High Jumper Staggers Back Better Than Ever The best HJumper in the world is Ivan Ukhov, who was infamously hammered last year at a meet. His coach said it best: "Strong people always go further after some life problems and even become stronger."
Olympic Gold Medal Winner In Hammer Throw Collapses & Dies at Practice at Age 26 Kamila Skolimowska had won gold at age 17. *She Passed Out In The Weight Room
Peter Snell Institute Of Sport Falls Victim To Recession
An Interesting Look at How Records Are Ratified Many of the best marks by British athletes aren't technically the British record due to a lack of paperwork.

British Athletics Set to Unveil New City-Based Team Summer Series The action-packed, two-hour contests will be modelled after Twenty20 cricket.
Chief Starter From 1956 Olymipcs Dies at 91
WADA Defiantly Defends 1-Hour Rule Every athlete on WADA's list must predict their whereabouts every day and be right there during a pre-determined hour. We can definitely understand how this would be very difficult for many top athletes to accept.
Carl Lewis Dismayed That Project 30's Doping Suggestions Have Been Overlooked We hope to comment on this soon.
USATF Announces Yokohama International Women's Ekiden Team

Inspired Mo Farah On The Comeback Trail

SAD: Kenyan Runners Jefferson Siekei And Training Partner Killed In Motorcycle Accident *Kenyan Runners' Deaths Spur Coaches To Preach Safety On The Roads

Liu Xiang Almost Back To Training

Russia Names Their European Championships Squad

USATF Announces New Board Of Directors
Athletics Weekly Recaps Weekend Action From Europe
Video Of Isinbayeva's 2 World Records: 4.97m And 5.00m
Interview With Jeremy Scott, World's Tallest-Ever Elite Pole Vaulter
Erik Heinonen Living In Moldova Working For Peace Corps
Jack Daniels Talks About Closing Of High Altitude Center
News From Kenya
*Kenyans In Big Push To Make Worlds XC Team
*Matthew Kisorio And Moses Mosop Among Favorites For Kenya's Men's Team
*Lornah Kiplagat Donating To Famine Victims
Drugs All Over The News
*A-Rod Video Talking To The Media About Drug Use *A-Rod's Excuses: I Was Stupid, Young 25-Year-Old $25mil a year doesn't buy morals.
*Floyd Landis On The Road To Recover Career
*Gert Thys Doping Case Might Have Hit A Snag
*Judge Wants Bonds Trainer To Testify
*Pettite Meets With Authorities About Clemens
Lance In 4th In Tour Of California After 2 Stages
Pro News
*Hooker's World Pole Vault Tour Continues, But Again He Comes Up Short Of WR
*Lolo Jones Ends Lopes-Schliep's 7-Race Win Streak
*Video: Fam Talks With Jack Daniels After USATF XC Disappointment
*Tomoe Yokoyama Comes Back To Take Ome Marathon Win
Africa
*Haile G Pulls Out Of Glo Half Marathon
*Preview Of Kenya's Women's XC Trials
*Kiprop And Belete Take Belgium Eurocross Race
*3k World Record Holder Daniel Komen Says Athletics Kenya Needs To Change Racing Schedule
*Frank Fredericks Inducted Into African Hall Of Fame
*Kenyan Runners Trying Like Crazy To Qualify For World Selection Race
UK News
*Charles van Commenee Ready To Be Judged On Medal Count
*UK Athletics Just Want To Move On And Let Dwain Compete (Now That He's The World Leader)
*UK Athletics Won't Promote Dwain Chambers' Book On Their Website We can't believe Chambers' people tried this angle.
*News And Quotes From After UK Championships
Tommie Smith/John Carlos Documentary In The News
*John Carlos Revisits Harlem And The 1968 Olympics
*Documentary Helps Smith, Carlos Mend Strained Relationship
*Reuters Blog: Tommie Smith and sport laid the groundwork for Obama's rise
*Smith Got ESPN To Do 1 Hr Special Not Just Short Reenactment
We Agree: Documentary On Smith/Carlos Is "Must-See"
European Action
Baala 3:34 French Record, Lolo Runs World Leader, Vlasic Loses In 2.05m Effort

UK Champs & Euro Trials *Results *Photos
*Mo Farah Gets 1,500 Win As 36-Yr-Old Donna Fraser Completes 200-400 Double
*Donn Fraser Running PR's At Age 36 In UK Champs
*Van Commenee: Chambers has paid "a high price for what he has done in the past"
*Jeannette Kwakye Leading New UK Sprint Charge
*Dwain Chambers Twice Runs PB And World Leading 6.51 Reigning Euro silver medallist Craig Pickering was DQd for a false start and may miss out on Euros. *More On Chambers
*IAAF Recap Of Day 1 Of British Champs
Pre-Race: Pickering Faces Trial Of Character
Pole Vault News
*Isinbayeva Debuts With World Record Of 5.00m! Jenn Stuczynski went 4.82 at Reebok.
*Hooker To Go For Bubka's Record At Bubka's Meet In Russia
Russian Indoor Champs
Day 3: Anna Alminova Runs 4:02 Week After Running 8:28
Day 2: Unheralded Krivoshapka Cruises World-Leading 50.55
Day 1: Women's 400m And 800m World Leads In Moscow

Valencia
*Nuria Fernández Shatters Spanish Indoor Record And Runs 4:01.77 She almost broke it by 6 full seconds. In the men's action, Abraham Cherkos ran a world-leading 7:34.05 as Keitany won again at 1,500. *Cherkos Challenged By Choge To Line
Double European Indoor 400m Champion David Gillick Of Ireland Runs 46.18
Usain Bolt Starts Year With 46.35 Win In 400
Paris: Hooker Scares Bubka's World Record Once Again In the TJ, Teddy Tamgho went 17.58
Kenyan XC
*World Jr 3k Champ Champion Mercy Cheron Dominates Jr XC Race In Kenya
*Little Known Peter Kosgei Wins For 2nd Week in Row At North Rift Valley Champs We're assuming this isn't the Peter Kosgei D3 champ.
*Soldiers Dominate Civilians In Nairobi Race
Pro Action: *Quick Summary Results from Duesseldorf Borzakovskiy behind Boaz Lalang and Ismail Ahmed Ismail in the 800.
*Full Duesseldorf PSD Bank Indoor Results
UK Champs: Start Lists And Results
*Dwain Chambers The Favorite At Today's UK Champs
Steve Hooker Talks About Being So Close To Bubka's World Records
Todd Williams: If you want your 15k American record to stand, start praying he won't run all-out!
Ryan Hall To Run Gasparilla 15k Feb 28 In Tampa
Lananna Reacts To Project 30 Suggestions
"Look at Lolo Jones. She's great, fantastic, but she stumbles over a hurdle. Did she underperform? I guess if you just did it by the medals, you could say that. But she's pretty darn good. I think there were some really fantastic overperformances, too. I'm always in defense of the athletes. It's difficult when we have a system which puts so much emphasis on a small number of athletes being able to perform every four years, and I think, some will superachieve, and some will not. I don't think the Olympic Trials has an enormous amount to do with that. Did the U.S. underperform? I don't know. How do you determine that. Just by medals? The discus was pretty good. (Shalane) Flanagan was pretty good. And who was going to beat Usain Bolt?" - Vin Lananna
Kwik-E With Shane Knoll, MSU Junior Who Ran 3:57 At Meyo World Famous LRC Boards: Most overlooked 3:57 of the year We shamefully ignored Knoll's studly mile.
LetsRun.com Boston 08 LetsRun.com Party Photos The party hosted by Puma was a smashing success. A packed house, as those passionate about running (from ages 5 to 65+) came to celebrate a great weekend in Boston. LetsRun.com fans celebrated with Rojo, Wejo, Matt Taylor, and a few legends in the sport, including former marathon world record holder Steve Jones and Olympic Silver Medallist Sonia O'Sullivan. The Harpoon beer was flowing, DJ Inkognito kept things going and contrary to popular opinion, there was a healthy mix of males and females. The reviews were excellent. "It's refreshing not to see the same 50 people (industry insiders) at a party." "Most favorable female-to-male ratio I've seen in a long time."
101 Years Old, Still Smoking, Running and Drinking: Buster Martin: "I'm not worried about the fags because I'll carry them with me. Everyone says smoking kills but it's taking a long time in my case." The 101-year-old legend plans on smoking while running Sunday's London Marathon.
LetsRun.com 2007 Worlds Coverage:
*Sunday's Homepage Ndereba marathon
*Saturday's Homepage
*Friday's Homepage Tyson Gay
*Thursday's Homepage Lagat
*Wednesday's Homepage Lagat
*Tuesday's Homepage Bekele 10k
*Monday's Homepage Tyson Gay
*Sunday's Homepage Dibaba/Goucher 10k
*Saturday's Homepage Kibet Marathon
LetsRun.com London Men: Lel Leads 3 Under 2:05:30!!!, Ryan Hall 2:06:17
Ryan Hall Goes Through Halfway on World Record Pace
The 2008 Flora London Marathon will be remembered for a long time. The lead pack of 9 went through 5k at 14:21 (2:01 pace). They continued together (yes, all 9) through halfway on world record pace (1:02:13). Ryan Hall then went to the front soon after and asked the pacemakers to go FASTER. Soon Hall was off the back, but he would catch the leaders briefly again and go on to run 2:06:17. Until Sunday, only 7 guys had ever run under 2:06:15, now 11 have. Up front, it came down to a 3-man battle over the final mile before Martin Lel got his 3rd straight World Marathon Major win over the final quarter mile as he led 6 guys under 2:07 and to $50,000 bonuses each. Recap, photos, video above
This Guy Has Totally Won Back Our Respect
Maasai Warriors Finish Marathon link fixed One of them went back to the course and finished the race a day after being forced to go the hospital after a ceremonial wrap cut off his circulation. He said, "It was very important for me to do this. This is what I came to England for."
LetsRun.com Ryan Hall Reflects On His Incredible Run We tell you (and let you watch) what Ryan, his dad, his granddad, his coach and even Martin Lel had to say about Ryan. Lel was full of praise for the American and shocked by Ryan's attempt to get the pacemakers to go even faster. If Hall didn't already have your respect, he does after reading this article, as he pays homage to a throwback type of guy - Steve Jones. Text and Video.
LetsRun.com Video: Ryan Hall Talks About His 2:06:17 at the 2008 Flora London Marathon
*More LRC London Videos Here
*Photo Gallery
2008 ING New York City Marathon *Results *Searchable Results *Video: Men's Highlight Video *Photo Gallery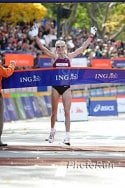 Women's Race: Paula Dominates Goucher Third
Paula Radcliffe showed why she's the best marathoner in the world as she dominated the women's field in the second half of the ING NYC Marathon. Radcliffe took a different strategy this year in NY. She led every single step of the way, but she said with the high winds her plan this year was to save something for the end and run negative splits and it showed. She poured it on the final six miles, winning by nearly two minutes. Radcliffe never looked back and said when she turned for the final quarter mile at Columbus Circle, she wasn't even positive she had the race won. American Kara Goucher ran up front for most of the race and had a successful debut in third in 2:25.53 (American debut record). Olympic silver medallist Catherine Ndereba, Dire Tune, Rita Jeptoo and Gete Wami were left in Radcliffe's wake, causing Wami to tie with Irina Mikitenko for the World Marathon title. The World Marathon Major race directors were then left to vote to break the tie. They voted for Mikitenko and just like that she got $500,000 and Wami got nothing.
*Radcliffe Doesn't Look Back En Route To 3rd Win
*Paula Destroys Top-Class Women's Field
*Mikitenko Awarded WMM Prize In Tie-Breaking Vote
*Women's Recap And Race Replays From UniversalSports.com
*Paula Post-Race Press Comments
On the boards: Wami gets nothing of World Marathon Prize while tying for spot #1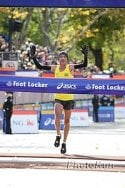 Men's Race: Marilson Gomes Dos Santos Storms From Behind To Win Coming into the 2008 ING NYC Marathon, Abderrahim Goumri had the distinction of being the top marathoner in the world who had never won a marathon (2nd in London in 2007, 3rd in London in 2:05:30 this year, and 2nd in NY last year). On Sunday in NY, he was clear of the field and on his way to what seemed to be his first marathon victory. However, savvy 2006 NY champ Marilson Gomes Dos Santos saved his best for last and stormed from behind in the final mile to overtake Goumri and get the win (afterwards Goumri said a missed fluid bottle might have caused him to run out of steam). Dos Santos ran 1:02 for the second half for a big negative split. Veteran Paul Tergat said he twisted an ankle on the course but returned to action with a fourth place finish. American Abdi Abdirahman led the American charge in 6th place as four Americans were in spots 6, 7, 8 & 10.
*Men's Recap and Race Replays From UniversalSports.com
*Gomes dos Santos Is Going To Disney To Celebrate
*NYT: New York Brazilians Say "Gomes who?"
On the boards: Nate Jenkins at NYC marathon?