The Week That Was Feb. 9-15, 2009
February 16, 2009
*Last week's week in review can be found here.
By LetsRun.com
There was a lot of action both on and off the track this week. So much so that there is even a 2nd page of The Week That Was this week. Be sure to read it as it has a great tabloid photo of Usain Bolt. Let's break it down right away. Domestically, the action was dominated by the Tyson Invite in Arkansas as well as another super-fast meet at the oversized track in Washington. Where to begin?
---
Race Of The Week: Tyson 5k
To us, the Race of the Week was the 5k at the Tyson Invite, where Galen Rupp broke the American indoor record by running 13:18.12. The race was fantastic on a number of fronts. First of all, people ran fast, which is nice so the uninformed media can have their feel-good little story of a new American record. Once again, Galen Rupp did a little bit more than we expected. We thought something between 13:20 and 13:28 was realistic but Rupp was better than we predicted. He certainly deserves a Thumbs Up for his performance.
But to us, the race was riveting because there was intrigue. If you didn't watch the race, you missed half the story. The pacesetter only went maybe a mile. After that, Ethiopians Marcos Geneti and Bekana Daba alternated sharing the lead, with Daba doing most of the work.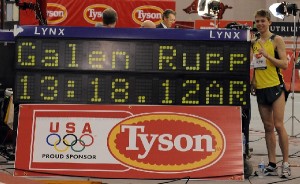 At 3,600, Daba, who'd had the lead since the 3,200 meter point, got tired of leading and motioned with his right hand for the person behind him (in our mind he might have thought Geneti was still there but in reality Rupp was behind) to take the lead. Rupp simply ignored the request. Just over a lap later at the 3,850 mark, Daba went a step farther. Daba moved out to lane two to demand that Rupp share the burden.
Rupp, in a move that would make most coaches happy but Steve Prefontaine squirm in his grave, simply slammed on the brakes and refused to lead as the lead group of 4 almost bunched into each other. Daba gave up and ended up leading once again. At 4k, Daba did it again; he motioned to Rupp or Geneti to take the lead but they refused. With 500 to go, Daba finally saw his desire to have Rupp in the lead realized as Daba once again went to lane 2 and Rupp had no option but to take the lead if he wanted to get the American record.
As they approached the bell, the race really got going as Sam Chelanga made his bid for glory and the lead at the same moment that Daba did. At the bell, the three were basically three wide and only separated by .22. In the end, thanks to a scintillating 27.11 final lap, Daba got a much-deserved victory, but Rupp really made him work for it as he showed a great kick thanks to a 27.27 final lap.
Rupp doesn't have elite speed at 800 or the mile, but he's so strong that he's getting fast enough to kick at 5k and 10k.

And it would be a shame for us to neglect mentioning that the old 5k record belonged to Doug Padilla, who ran it on the tight Millrose track in 1982 with zero rabbits. Rupp's current coach, Alberto Salazar, took things into his own hands from the gun. Watch the race here and tell us you don't think it's superior to Rupp's 13:18.12.
---
Where's Alan Webb's Speed?
Speaking of speed, a lot of people are asking us this week, "What Happened To Alan Webb's speed?" In case you didn't watch the mile in Arkansas, the first 1,209 went out in a very pedestrian 3:08. Then Nick Willis simply destroyed the field thanks to a 54.44 final 400 and 26.63 final 200 to win in 4:02.70. Webb, on the other hand, finished a well-beaten 4th in 4:05.60.
Webb ran the final 400 in 56.96, with his last 200 being the fastest at 28.22. Certainly not impressive, but the fact of the matter was he was also well beaten the week before. What did him in in Boston and Arkansas wasn't a lack of speed but rather a lack of fitness.
Don't believe us? Well, 800 US Olympian Christian Smith, who ran a very strong 2:21.90 in the 1k the week before in Boston, was also in the mile in Arkansas. He has plenty of speed. How much speed did he have at the end of the mile? Not much. His fastest lap was a 28.91 and his last 400 was 58.45.
To watch Webb's race on television and say he's lost his speed shows a lack of true understanding of the sport. Willis is simply in way better shape than Webb and everyone else in the field at this point and it showed big time over the last 400.
---
Speaking of the mile, can we give a Thumbs Down to the entire field for being scared to death of Nick Willis? Willis said he felt flat so he didn't go with the rabbit. The rest of the field simply bowed down to Willis and refused to pass him. Willis covered the first 409 in 65.56 and - guess what - he was in the lead! Unbelievable.
We actually enjoyed the race as we get so tired of seeing rabbitted affairs.
And one more comment about the mile: While Webb continued to struggle, Bernard Lagat continued to shine:
On The Boards *Lagat Runs 3:51 Mile In France Indoor Win
*Lagat Runs Scintillating Indoor Mile, Greg Nixon Leads World In 200, 300 And 400m
American Record For Rupp *Photos *Tyson Invite Results *Oregonian Story On Rupp With Photo, Post Race Interview
*Ulrey Tripped Up On Way To Strong Finish On the boards: Galen Rupp of the University of Oregon - Congratulations on your new American and Collegiate Indoor 5k Record
---
Stat Of The Week (Does .29 Mean Anything To You?)

A Thumbs Up is certainly in order for the renewal of the great rivalry at 800 meters between Khadevis Robinson and Nick Symmonds. After failing to make the Olympic team, Robinson debated quitting the sport, but we are glad he came back. In his opener for 2009, Robinson took a page from Symmonds' book and came from off the pace. His frantic late charge on Symmonds came up a bit short as he got second in 1:47.76 to 1:47.72. It's unbelievably how close to each other these guys end up when they race each other.
Last year, they raced twice indoors and Robinson won both by a total of .25 for two races. He won by .01 at Reebok (1:46.95 to 1:46.96) and by .24 at USAs (1:50.92 to 1:51.16). Now Symmonds returns the favor by .04. So in their last 3 indoor races, they've been separated by a total of .29. Unbelievable. So on average, they are less than a tenth of a second away from each other.
---
Project 30 Task Force Report Released
Moving away from the track, last week the USATF Project 30 Task Force Report was issued. We were a bit worried early in the week that everyone was just going to buy USATF head Doug Logan's assumption that the US had a huge failure in Beijing and tons of changes are needed. The fact of the matter is the US did amazingly well in the 2007 world champs and won a lot of golds. At the 2008 Olympics, the US won a lot of medals but not very many golds as many of America's biggest names like Jeremy Wariner, Allyson Felix and Tyson Gay failed to deliver gold. The mainstream media reported it as a big failure when in reality that wasn't the case.
To us, huge changes aren't needed as nothing had changed systemically between 2007 and 2008. Sports are full of randomness (if you want to read a great article that explains randomness in sports, read this excellent NYTimes piece on the NBA). Thankfully, a few days after the report came out, some big names in the track world, from Alberto Salazar to Vin Lananna, have come out and basically supported our point that yes, some changes are needed, but Team USA and The Trials are working pretty damn well.
As a result, Lananna gets our first quote of the week.
Quote Of The Week #1: Vin Lananna On Project 30
"I'm always in defense of the athletes. It's difficult when we have a system which puts so much emphasis on a small number of athletes being able to perform every four years, and I think, some will superachieve, and some will not. I don't think the Olympic Trials has an enormous amount to do with that. Did the U.S. underperform? I don't know. How do you determine that. Just by medals? The discus was pretty good. (Shalane) Flanagan was pretty good. And who was going to beat Usain Bolt?"
Exactly - no one was going to beat Bolt. Yet the way you hear van Commenee and Logan talk about it, thanks to them there won't be any medals left for Jamaica to win as the UK and USA will be winning so many more. Van Commenee is actually a big-time coach so we can see him helping them win a lot more than Logan.
Van Commenee Officially Takes Over UK Athletics Sorry Jamaica, according to their administrators, between the UK and USA, there won't be many medals left for other countries in 2012.
USATF Task Force Report On High Performance Issued
*Executive Summary *Full report *USATF CEO's Doug Logan's Comments *AP Article On Project 30 Medals Report AP *"Change Never Comes Out Of A Climate Of Comfort," Says Doug Logan Washington Post *Project 30 Task Force Critical Of Athletes, Agents, Coaches And Management Of USATF NY Times
*Thread On Project 30 Task Force LetsRun.com
Reaction: Lananna Reacts To Project 30 Suggestions
Salazar: Salazar Calls USATF Report "Overreaction to dropped batons," Disagrees With Shortening Trials
Wejo: The Project 30 Report - Much Ado About Nothing
Rojo: The Whole Concept of Project 30 Is Flawed The US actually won more medals and more golds in 2008 than they did in 1976 and the amount of competition is way, way up.
---
Logan may be a bit off in his assessment of Team USA's performance in Beijing, but we are very, very encouraged by his stance on drugs. Check out what he said about San Diego State hiring former drug cheat Larry Wade as a track coach:

Quote Of The Week #2: Doug Logan On Drug Cheats
"In general, I am disturbed about the propensity of some colleges, whether NCAA or others, to hire athletes who have a record with taking performance enhancing drugs and thinking, well, we're just hiring him as a coach. It's extremely difficult to accept when they wouldn't think of a hiring a plagiarist in their English department or someone who has a tainted record with lab results in one of their science departments."
We couldn't have said it better ourselves. Using drugs in sports isn't some minor offense; it is complete fraud and people need to realize it and we're very glad that Logan understands this because much of the mainstream media doesn't get it. Lots of writers have been comparing Michael Phelps' use of marijuana and Alex Rodriguez's use of steroids when in our minds the two aren't remotely comparable.
Using marijuana? Totally stupid for someone with millions in endorsements, but it's something that 47% of Americans have done. Bad judgment? Yes. But not a big deal. Using PEDs is a form of fraud and way, way worse. But don't tell that to this writer who thinks what Phelps did is way worse than Rodriguez.
Not sure if we ever linked to this: Trackshark 9 Part Video Interview With Doug Logan
---
Collegians Continue To Run Fast, Fast, Fast (On Oversized Tracks)
Earlier we mentioned Vin Lananna. We should point out that his team is running extremely well right now. This week saw his Oregon Ducks break indoor school records at 5k, 800 and mile, as - in addition to Rupp's 13:18 American record - Matt Centrowitz ran 3:57 in the mile and Andrew Wheating ran 1:47.03 in the 800. So in the last two weekends, the school records have been set at Oregon in the 800, mile, 3k and 5k. We guess that, considering Oregon used to largely ignore indoors and that this team has two Olympians on it, it's not unexpected but it still needs to be acknowledged. Far too many people just complain about how Lananna is an unbelievable recruiter. Yes, that's true, but he's a pretty decent coach as well.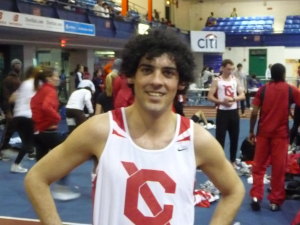 Gratuitous Plug - Jimmy Wyner (And
Rojo) Get Their First Sub-8 3k. One Of 23 (4.3%) For The Weekend.
But evidently so are most college coaches, as the results across the country were simply staggering. All told in meets in Boston, New York and Washington, some 23 guys broke 8:00 in the 3,000. Earlier we reported that 20 guys did it, but we were wrong as we forgot to look at the "slow" heat in Washington, where 3 guys broke 8:00 and the winning time was an NCAA automatic 7:53.64 by Stanford's Elliott Heath! 7:53 in the non-elite heat. Are you serious?
Admittedly, not all of the guys breaking 8:00 were collegians; by our count "only" 15 were.
On the women's side, the performance of the week came from Jenny Barringer, who ran a ridiculous 15:01 collegiate record. Well, we're not sure if it's a collegiate record as it was done on an oversized track. It's certainly not eligible for an IAAF record, so we don't think it really should count as a collegiate record either but the NCAA doesn't seem to care. A collegiate best? Yes. But indoor track should be run on a 200 meter track.
Quite honestly, we're not sure what to think of the fact that performance after performance is being done on oversized tracks. LetsRun.com co-founder Robert Johnson will be the first to put his team on a plane to a last chance meet at an oversized track, but that doesn't mean we think it's the way the sport should be run, as it muddles the picture for record-keeping purposes and for obtaining qualifying marks for championship meets. We're not sure really. What do you think?
We do know that track was way more popular when guys raced without rabbits and on small tracks. In case you didn't bother to watch it above, scroll down here to see the American record 5k from MSG in 1982.
Oh yeah, German Fernandez, a freshman, ran 7:47 for 3k and we almost didn't mention it. Fernandez is good - really, really good. Watch it below.
*UW: UW Results MBoard: "It's official to make NCAAs, you have to run in Washington."
Jenny Barringer Shatters Collegiate Record By Running 15:01 *Video Of Barringer's Record Run
OSU: Fernandez Runs 7:47 Message Board: Fastest Time Ever For American Jr But It Won't Count As Oversized Track He was pushed to the limit by Michael Coe, who ran 7:48. *Video: Coe-Fernandez Final 3 Laps All together 12 guys broke 8:00.
*Wheating Runs 1:47.03 *Video: Wheating Makes It Look Easy *Centro Jr. Runs 3:57
UVA Duals: Wyner Breaks 8:00 To Make it 20 23 Guys This Weekend That Broke 8:00 - UNREAL!
More of The Week That Was: Page 2: Usain Bolt opens up on the track and in the tabloids, our weekly drug update, recommended reads and much more.
We feel bad for nearly forgetting about you, German:
More of The Week That Was: Page 2: Usain Bolt opens up on the track and in the tabloids, our weekly drug update, recommended reads and much more.