The Week That Was Feb. 9-15, 2009
February 16, 2009
*Last week's week in review can be found here.
By LetsRun.com
Page 2: Usain Bolt opens up on the track and in the tabloids, our weekly drug update, recommended reads and much more. To see page 1, click here.
---
Usain Bolt Makes Noise On & Off Track
The biggest man in track and field, Usain Bolt, made big news last week both on and off the track. On the track, Bolt opened his 2009 campaign with an easy win in the 400 - as he coasted the last 150 and still ran 46.35, which left his coach Glen Mills "satisfied."
Off the track, Bolt proved that he is indeed a big-time celebrity as the British tabloid "The Daily Star" did a big spread on Bolt's antics recently in a Miami nightclub.
Rather than tell you what Bolt did, we think we'll just let you look at the photo; it says it all.
Picture of The Week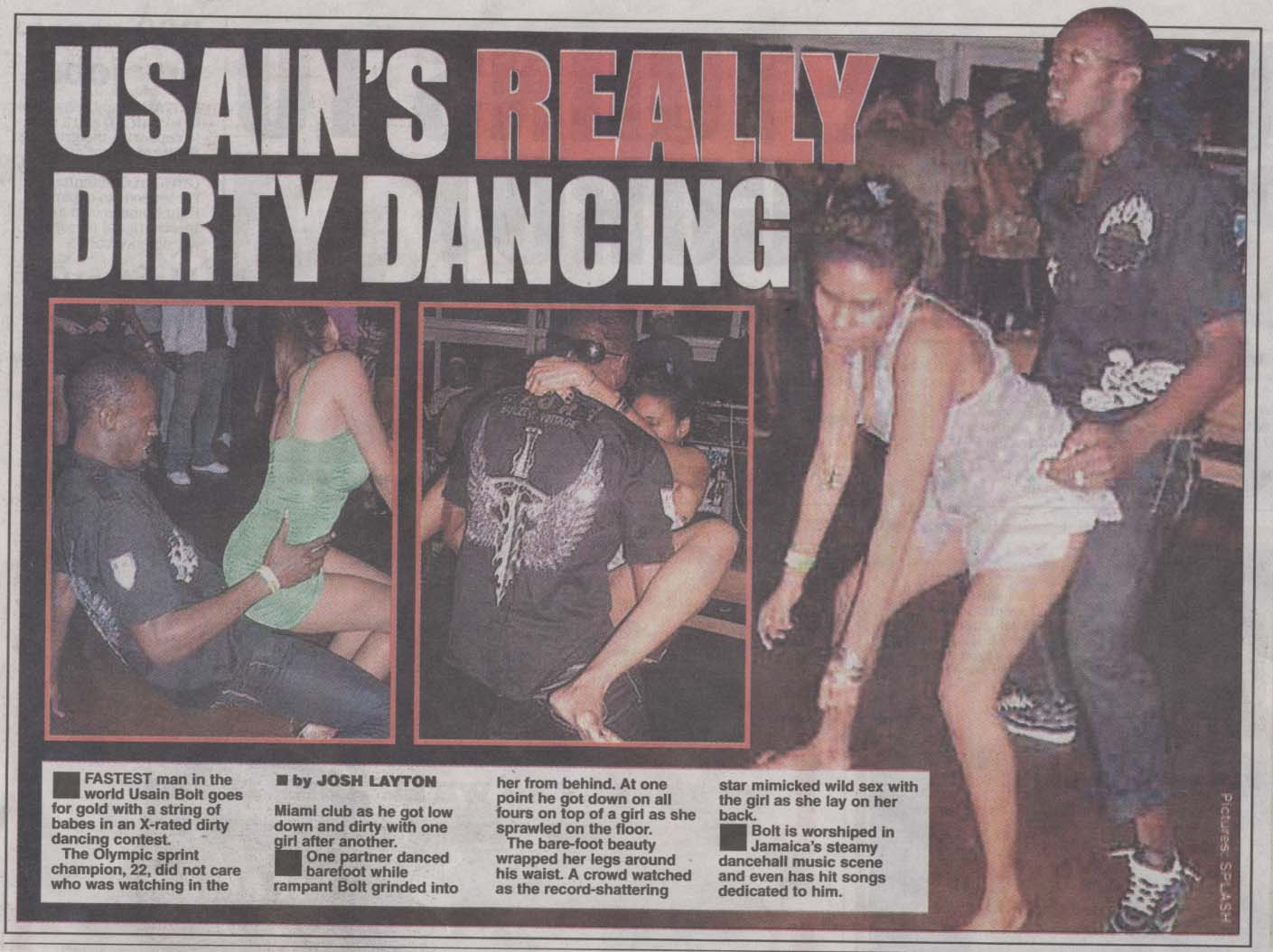 Mimicking sex on the dance floor? Wow.
---
Dwain Chambers Makes Noise On & Off Track
Speaking of sprinters, the one man who we've heard dare to say that he thinks he might be able to beat Bolt, Dwain Chambers, made some noise last week when he frankly admitted that maybe he should have lied when he asked about the extent of his illegal drug use. "When you lie, you seem to be forgiven. So I was probably better off lying in the first place." You can listen and watch Chambers' whole interview to the BBC online here.
It really is a great interview because he's right in so many ways. The whole drug issue is very complex issue and Chambers' interview starts to get at just how complex it really is. The drug cheats that lie and say they didn't do drugs, like Tyler Hamilton, are welcomed back but those that admit it seem to be ostracized. Sadly, it's better to deny, deny, deny in the manner of Marion Jones rather than be honest like Dwain Chambers. Chambers is being forced to repay old earnings. Regina Jacobs, Marion Jones - the deniers - they never did this, did they?
Chambers really gets at the heart of the complexity of the drug issue when he points out the different plight of himself compared to Olympic 400 champ Christine Ohuruogu. Sadly, the interviewer wasn't sophisticated enough to pick up on the brilliant point that Chambers was making. If you are on drugs, just skip the tests and you'll be welcomed back to the British Olympic team. Get caught and then admit it and you are screwed for life.
The great interview can be watched here: *Chambers Regrets Honesty About THG.
On the track, Chambers was brilliant once again as he twice ran a world-leading 6.51 to win the British Championships.
UK Champs & Euro Trials *Results *Photos
*Dwain Chambers Twice Runs PB And World Leading 6.51 Reigning Euro silver medallist Craig Pickering was DQd for a false start and may miss out on Euros. *More On Chambers
*IAAF Recap Of Day 1 Of British Champs
Pre-Race: Pickering Faces Trial Of Character
---
Weekly Drug Update - The NCAA Bans Its Own Water
Since we talked about Chambers, we should probably give out our weekly drug update. If you ever wanted to know why the public doesn't care as much as we do about drug offenses, it's partly because the drug authorities go after very innocent drugs as well. The NCAA has sent out a memo to its schools warning that certain flavors of its official water - Vitamin Water - shouldn't be served at college events because they contain banned substances.
We're not making this up. The NCAA actually sent out a memo. If you want to read it, click here.
So remember, Rescue green tea is a no-no because it contains caffeine, but focus - kiwi strawberry is fine. Defense raspberry-apple is good as well, but power-C dragonfruit is a no-no as it contains Taurine.
Honestly, we assume a college kid could still, despite the memo, drink all the water they wanted and be fine, but the fact that we aren't 100% certain is a problem. The drug people need to go after the big drugs with a vengeance and let everything else go.
*Article On NCAA Banning Its Own Water
*Massage Therapist Chris Whetstine Settles Lawsuit Against Nike, Employee Whetstine was accused, by some, of massaging illegal substances into Justin Gatlin, causing him to test positive. Then Whetstine was physically assaulted by a Nike employee.
Drug Update:
Systematic Russian EPO Doping In Biathlon World Cup Opener "Is that all or just the tip of the iceberg?" We in track and field are guessing there's an iceberg.
---
Before we call it a week, we thought we should give a Thumbs Up to former Providence star Mary Cullen for setting the Irish record in the indoor 3k by running an 8:43 at BU all by herself. Like Oregon, Providence had a great weekend all around as they had two guys go 3:57 at BU and another go 7:58. Ray Treacy's boys and girls are running very well right now.
BU Valentine: 2 Providence Guys Go 3:57 As 7 Break 8:00 *Providence On Fire At BU As Dominic Channon Also Sets New Zealand Jr. Record Of 7:58
---
Recommended Reads/Watches
ESPN did an hour-long documentary on Tommie Smith and John Carlos. "Return to Mexico City" is our must-watch event from last week. It's being replayed several times this week - click here for show times.
Our must-watch race from the week is Doug Padilla's 27-year-old American record run from the 1982 Millrose Games. What a race. To see it go is a bit sad, but 27 years is long enough.

In our recommended reads, we encourage you to read two articles about Julie Culley and Lindsey Gallo. The two runners are Matt Centrowitz's latest projects and they both had the races of their lives last week. We meant to give them even more props last week but ran out of time and are pleased that the media realized how special their week was.
Brief Chat With Julie Culley She went out and got 2nd at USA XC behind Emily Brown.
The Great Coaching Of Centro Sr. Proven Yet Again
Wash Times Article On Lindsay Gallo And Julie Culley Working With Centro
*Super Recommended Read: Great Read On Hurdle Legend Renaldo Nehemiah Renaldo Nehemiah, former world record holder in the 110-meter high hurdles at 12.93. This article, written by Steve McGill, is amazing, though it might take you a good hour to read. Hurry, your boss isn't looking.
---
Does A John McDonnell Jinx Exist Like The SI Jinx?
"You hate to put the monkey on his back, but I think he's going to be a great one. He's got great speed and he can run distance. He's got great potential."
- Legendary former Arkansas coach John McDonnell on 3:57 miler Dorian Ulrey, prior to Ulrey racing in the John McDonnell mile at Arkansas, where he was tripped and fell with 200 meters left.
---
Momentum Shifts In 110 Hurdles
One thing we forgot to mention was that 29-year-old Terrence Trammell continued his fine indoor campaign by winning the 60 meters in Arkansas in 6.56. Add that to the wins in the 60 hurdles that he had at Millrose and Reebok and add in a 2nd at Millrose in the flat 60 and you've got a great indoor season. Meanwhile, his two big rivals are all out of competition as Dayron Robles bit the dust last week.
Robles Joins Liu Xiang On The Injured List Momentum is shifting in the 110m high hurdles.
*Liu Xiang Almost Back At Full Strength
*Dayron Robles Calls Off Indoor Season Due To Injury