Preview of 2008 Reebok Grand Prix
May 30, 2008
By LetsRun.com

*
Start lists

Thursday was media day at the Reebok Grand Prix and the attention rightfully was on the Tyson Gay-Usain Bolt showdown at 100m (and the Veronica Campbell-Brown, Lauryn Williams (1 and 2 at worlds last year) showdown in the 100m.
There is a lot of mainstream news coverage on the 100m showdowns so we won't overdo it here. The meet website has a nice little video player with highlights you can select of the press conference. We talk a little about the 100s and then give our distane previews.
Gay vs Bolt 100m
Both Bolt and Gay have had great success at 100m after having more initial success 200. Michael Johnson's 200m world record came up and Tyson Gay was full of praise, "When you think about Michale Johsnon you're going to think about one thing, the world record...It was so amazing, so out there."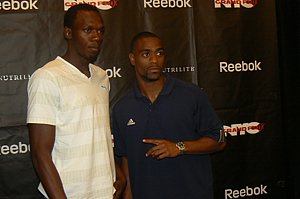 Usain Bolt really is unusual in how he started excelling at the 100 this year. His coach told him he had to run a second event and as he said, "I just don't want to do the 400m."
Bolt ran 10.02 last year but his transformation as a 100m runner has been amazing this year. He ran 9.76 earlier in the month and followed it up with a 9.92.
Gay, the double world champion, has been impressed by Bolt's running this year. Gay said, "The 9.76 was amaziing. He would have had the world record if Asafa hadn't broken it last year."
The 6'5" tall Bolt has been trying to work on his start with his lanky frame and it has paid off this year. Now what he needs to work on is his finish. He could have run even faster than 9.76 but some accused him of letting up before the finish. Bolt said he was not letting up, rather he was trying to see how fast he was running, and he pointed out that the clock is right at the finish so you have to look at it before you finish. It was quite comical to hear the second fastset guy ever in the world say, he had to look over and look at the clock before his finish. As he said, "after you've passed the line you've passed the clock (you can't see it)." (The people at The Grand Prix read this piece and have added the Bolt quote to their excellent video highlights. It's here "Easing up at the Finishline") Hopefully they'll put the clock on Saturday a few meters behind the finish in hopes of coaxing a world record out of Mr. Bolt.
While Bolt is the youngster, he has competed in the Olympics before while Gay has not. Tyson said he has been feeling a lot of pressure this year after last year's success. It's refreshing to hear a double World Champ admit to feeling pressure. (It's also refreshing to hear him talk about being in the USADA pilot program where athletes undergo baseline blood testing to prove they are clean).
Tyson Gay only ran 10.05 to win the 100m at the adidas meet (But he came back to scorch the field in the 200, running 20.08 into a big headwind) two weeks ago. However, he said that was mainly because he did not warm up too much before the 100. He said he only warmed up a little and was better prepared for the 200.
Both guys expect to run fast on Saturday and it should be a great, great matchup.
More on Gay and Bolt:
*Excellent Video Highlights of Press Conference (We brought a camera as well. We don't see two of our favorite parts They've added added our favorite part. 1) Where Usain Bolt talks about having to look at the clock before the finish ("Easing up at the Finish") and 2) When Tyson Gay really has no idea that Justin Gatlin may be trying to come back this year. (The Reebok people have told us this is in the 2nd half of "Tyson Gay and Usain Bolt discuss the drug situation in track")
*USAToday article on Bolt-Gay Showdown Nice article from Dick Patrick.
*AP Recap of Press Conference Tyson Gay, Usain Bolt Talk About Their Showdown, Justin Gatlin and More
"Is he (Justin) coming back? I don't know what he's been doing. I don't know if he's at home doing his sit-ups and working hard. I thought he was doing football. But with the work we've been doing this season, it'd be hard for him to come back and be competitive."
*Reuters: Usain Bolt Working on His Start
Lauryn Williams vs Veronica Campbell-Brown in Women's 100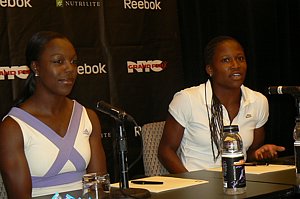 Veronica Campbell-Brown and Lauryn Williams went 1-2 in the 100m at Worlds last year and the finish was so close (1/1000th of a second) that they had to wait 5 minutes to learn who won the race.
They're racing again on Saturday and it probably will be very close again (Campbell-Brown beat Williams by 1/100th two weeks ago to win the 100 at the adidas meet).
For Williams, 2008 is already going much better than 2007 where she was a huge surprise at Worlds. She struggled all year with injuries and was only able to run Worlds because she was the defending World Champ and had a wild card into the meet(she said she thought of giving up her spot). She said, "Definitely things are a lot more on the sunnyside (this year). This is a year where it's do or die... You either pull what is ailing you down the track with you or you stay home.. You have to make a choice: are you going to make excuses or are you going to go to Beijing?"
Lauryn Williams is a great story teller and gets along well with Campbell-Brown. You have to watch her story ("Lauryn Williams Shares a story from last year's 100m final") of what happened prior to the 100m worlds final last year when a guy, right before the 100m final got lost in the stadium, and wondered into the athlete changing area. He kept pestering Williams and Campbell-Brown for directions since they spoke English and neither one wanted to talk to him as they were minutes away from their race. Both women laughed hilariously when recapping the story.
While friendly off the track, they'll be far from friendly on the track on Saturday. As Campbell-Brown said once you enter the arena, "(Even) If youre twin sister is in the race your aim is to beat her."
*Excellent Video Highlights of Press Conference (Be sure to click on the highlight "Lauryn Williams Shares a story from last year's 100m final")
*More on Lauryn Williams, Veronica Campbell-Brown from RunnersWorld
Mens 800
The 800 is always one of the most exciting events in track and field even if no one is in it but considering that this field is stacked, it's going to be a real treat to watch this one. This race is loaded as it includes world indoor bronze medallist Youssef Kamel who has run 1:43 the last 4 years, 4-time US outdoor champ Khadevis Robinson, 3-time US outdoor champ and 2003 world indoor champ David Krummernacker, 2004 US Olympic Trials champ Jonathan Johnson, 2008 US leader James Hatch, 2002 NCAA champ Sam Burley, 2007 NCAA champ Andrew Ellerton as well as the Commonwealth champion at 1500 Nick Willis.
Men's 800 Field 2008 Reebok Grand Prix

Jebreh Harris USA
J. Johnson USA
Gary Reed CAN
K. Robinson USA
James Hatch USA


Yusuf Kamel BRN
Andrew Ellerton CAN
David Krummenacker USA
Derrick Peterson USA
Sam Burley USA
Nick Willis NZL
That's a really good list of names but the one entrant who deserves the most hype is Canada's Gary Reed, the 2007 world outdoor championship runner-up, who is focused on winning gold in Beijing. If you didn't read the great profile of Reed earlier this year, please read it now. Reed, "I don't drink, I don't party, I go to bed, I eat right. I do all these things for a reason.. This is the shot, this summer, the Olympic Games. This is the best chance I will have in my life. And there's no amount of money, whatever, I just wasn't interested. If I'm not interested, I'm not interested."
The race is a bit hard to predict as it's the first big effort by Robinson and it's Reed's outdoor opener. A lot of other guys have been struggling. If you are a fan of Krummenacker, we suggest you get your butts in the stands as sadly it appears like his days as an elite runner are numbered as he's been struggling mightily. Kamel comes here after getting 6th in Hengelo and Johnson comes here after running 1:46 twice in Brazil. It will be interesting to see Willis in a top notch 800 as we think he can do some damage.
LRC Predictions: 1) Reed 2) Robinson 3) Robinson 4) Willis
Women's 800

Women's 800 Field 2008 Reebok Grand Prix

Katie Waits USA
Neisha Bernard-Thomas GRN
Myriam Jamal BRN
Treniere Clement USA
Diane Cummins CAN
Morgan Uceny USA


Nicole Cook USA
Erin Donohue USA
Nicole Teter USA
Hazel Clark USA
Nikeya Green USA
Kameisha Bennett-Martin USA
This race features 6 of the LetsRun.com US Women's top 10, but it is Maryam Jamal's to lose.
Jamal the World Champ at 1500 last year, got left in Pamela Jelimo's 1:55.76 wake last weekend in Hengelo, but she still ran a 1:58.66 pr to finish 2nd.
Hazel Clark leads the US challengers to Jamal. Hazel is undefeated in 2008 in the 800 outdoors and ran 1:59.82 a couple of weeks ago in Puerto Rico for the win. She'll face a much stiffer test here in Jamal, but should challenge upfront.
There is a gap between Clark and the rest of the field, but no doubt the rest of the field will have their eyes set on the 2:00:00, Olympic "A" standard. American Erin Donohue (2:02.04) got the win at the adidas Track Classic and gives the 800 another go here. In addition to her win, her confidence is boosted by her training partners, Shannon Rowbury and Shalane Flanagan, the two US distance standouts in 2008 so far.
Neisha Bernard-Thomas was second behind Donohue at adidas and Morgan Uceny ran 2:02.17 a couple of weeks ago as well.
Everyone else in the field has a question mark or two. The big names are Diane Cummins, Treniere Clement and Nicole Teter. Cummins has been a steady performer on the world scene (5th at Worlds in 2001, Pan Am Games champ last year), but this is her first 800 of the year (she opened in 2:01 last year).
The bigger question marks surround the Americans Teter and Clement. Clement has dominated the US 1500m ranks this year, but has only run 2:05 so far this year, and 4:22. Is something wrong or has she been delaying the start of her competitive season? We'll find out for sure on Saturday.
Teter burst onto the world scene in 2002 with an American record indoors, a 1:57.97 outdoors, and a Golden League 1500m win. She has been plagued by injuries off and on since but dipped under 2:00 last year and ran well this indoor season. However, this is her first full race of the outdoor season (she rabbited a 1500m last weekend). Is she firing on all cylinders? Teter ran an 800 on Thursday night at the Nike campus and won in 2:04.46. If she still comes to NY and runs, it at least bodes well for her injury status, but she only has 1 month to get into top form.
Predictions: 1) Jamal 2) Clark 3) Cummins 4) Uceny
Mens 1,500
If you want to know what is going to happen in this race, we suggest you pull out a VHS copy (it's a joke) of the adidas Track Classic from 2 weeks ago as the third through seventh placers from that race are all racing here and are the people most likely to win this race.
Men's 1500 Field 2008 Reebok Grand Prix

Kevin Sullivan CAN
Boaz Cheboiywo KEN
Jim Wyner USA
Lopez Lomong USA
Chris Lukezic USA


Andy Smith USA
Grant Robison USA
Nate Brannen CAN
Brendan Mahoney USA
Moise Joseph HAI
Jon Rankin USA
At the adidas meet, here is who was 3rd-7th: 3rd Kevin Sullivan 3:35.78, 4th Lopez Lomong 3:36.36, 5th Jon Rankin 3:36.61, 6th Nate Brannen 3:37.69, and 7th Boaz Cheboiywo 3:37.98. Expect those guys to battle it out for the win. The only addition that is could conceivably be in the mix is American Chris Lukezic, who is looking to make amends for a disappointing 2007 when his seasonal best was 3:36.95 after running 3:33.28 the year before. This is Lukezic's first big-time 1500 of the year so it will be interesting to see how he does. Lukezic's training partner Kevin Sullivan has been running great so that should give him some confidence.

2004 US Olympian Grant Robison, who has a pr of 3:35.75 from 2003, but hasn't broken 3:40 since 2003, is in the field as well.

Other things too watch: 1) How will the Jon Rankin/Lopez Lomong battle play out. Those two may end up battling it out for the final US Olympic spot.
2) Will Nate Brannen get the Olympic A standard for Canada?

LRC Predictions: 1) Lomong 2) Sullivan 3) Rankin

Men's Steeple
Only seven men in history have gone under 8 in the steeple, (We should say 7 as former world record holder Brahim Boulami was a cheat), Paul Kipsiele Koech is certainly one of them. He may have the longest streak in history as he's done it 5 years in a row.

Men's Steeple Field 2008 Reebok Grand Prix

Aaron Aguayo USA
John Langat KEN
Yoshi Iwamizu JPN
Solomon Kandie KEN
Eric Emilsson SWE
Jon Pierce USA

Paul Koech KEN
Steve Slattery USA
Brian Olinger USA
Dan Huling USA
Jake Morse USA
Matt Forys USA
Saturday's race is the outdoor opener for Koech who had a great indoor campaign, highlighted by a world indoor silver in the 3k and a Kenyan national record of 8:06.48 in the 2 mile, in a race where he put a scare in the great Kenenisa Bekele.

If those great credentials don't make it obvious, let us state it simply. The 26 year Koech is the big-time favorite. Koech is hoping to use this race as a springboard to greater things in Beijing, as despite his success his only medals on the world stage are the indoor silver and a bronze in the steeple at the 2004 Games.

Behind, Koech, the race will feature many of America's best steeplers. Steve Slattery, the 2003 US champion, will be looking to prove that he can produce in an Olympic year. In 2004, Slattery was 5th in the steeple after winning the US title the year prior. Last year, like in 2003, Slattery had a great year as he ran the two fastest US times of the year, led by his 8:15.69 pr. That's the good news. The bad news: his 2008 season has been a disaster so far. 6th indoors at USA in the 3k, outdoors he ran a 14:30 in the Carlsbad 5k before dropping out of the 5k at both Mt. Sac and Stanford. A good race here will alleviate concerns about him. A bad race and it's time to panic.

The person likely to be the top American is former Ohio State star Brian Olinger. He's been running very well early in 2008 (13:31 at Mt. Sac and a 8:32 steeple) and is hoping to become an Olympian like his coach Robert Gary. Last year, Olinger ended 2007 strongly by running a pr of 8:19.29 after not making the final at USAs.

We're sure American Aaron Aguayo will take offense at us labeling Olinger as the one most likely to be first American. Aguayo had a sensational 2007 as he finished 3rd at NCAAs, 2nd at USAs and dropped his PR from 8:35 to 8:20.34. Aguayo and Olinger are similar on paper but this is Aguayo's first race of the year and thus we think he'll have a tough time beating Olinger.

Japan's national record holder in the steeple Yoshi Iwamizu is in the race. He won't challenge for the win, however, as the Japanese record is only 8:18.93.

LRC Predictions: 1) Koech 2) Olinger 3) Aguayo

Men's 5k
Ethiopia's Ali Abdosh comes into New York after running a great 13:08 5k in the wind of LA to win the 5k at adidas two weeks ago. He will be hard to beat as he's trying to prove to the Ethiopian selectors he deserves an Olympic bid. Prior to LA, he was 3rd in the African champs. Clearly he's the one to beat in this race.
Men's 5k Field 2008 Reebok Grand Prix

Sam Chelanga KEN
Scott Overall GBR
Yuta Takahashi JPN
Josphat Boit KEN

Alistair Cragg IRL
Ali Abdosh ETH
Rod Koborsi USA
Shadrack Kosgei KEN
Kenyan Shadrack Kosgei who ran 13:01 in 2005 is in the race but he's been running a lot on the roads this spring and not dominating there so don't expect him to contend here. The only one really likely to challenge Abdosh is former Arkansas star Alistair Cragg. Cragg ran a 13:07.10 pb last year and 13:08.97 in this meet two years ago. He seems to be in good shape this year so he'll be in the mix.

Great Britain's Scott Overall, who was 3rd at Mt. Sac in 13:28.33 is also in the field.

LRC Predictions: 1) Abdosh 2) Cragg 3) Your guess is as good as ours. Kosgei?

Women's 1,500

Women's 5k Field 2008 Reebok Grand Prix

Carmen Douma-Hussar CAN
Jenelle Deatherage USA
Sarah Jamieson AUS
Sara Hall USA
Roisin McGettigan IRL
Malindi Elmore CAN

Julie Culley USA
Lindsey Gallo USA
Amy Mortimer USA
Mestawot Tadesse ETH
Korene Hinds JAM
Mardrea Hyman JAM
The women's 1,500 is a tough one to predict as there isn't a real dominant stud who should run away with it. It's likely to be a very competitive race that likely will be set up to give a ton of runners in the field who need the Olympic A qualifying standard (4:07.00, if you haven't run that time, you're not going to the Olympics if you're in the US) including Amy Mortimer, who just missed it last week, plus Lindsey Gallo, Sara Hall, and Jenelle Deatherage. Based on results this year, Australia's Sarah Jamieson is probably the favorite as she ran 4:06 last week in Boston. Canadian Olympians Melindi Elmore and Carmen Douma-Hussar both have the A standard but haven't run great so far this year. Elmore has run 4:02 before and 4:05 last year but only ran 4:13 in her opener at the Adidas meet two weeks ago where Douma Hussar was 6th in 4:09.74 in her outdoor opener. If Douma Hussar improves, she might be one to watch. Ethiopian Mestawat Tadese was 2nd last year but hasn't finished higher than 8th in any of her races this year. Jamaican Korine Hinds who has been doing well in the steeple (9:28.86 pb) and set an 800 PR already this year (2:03.52) will run a rare 1,500 where her PB is only 4:17.00.
Predictions: We have no idea. Too hard to predict honestly. Let's hope the ladies that need the A standard get it.

Women's 5k

Women's 5k Field 2008 Reebok Grand Prix

Lauren Fleshman USA
Marina Muncan SRB
Julia Lucas USA
Amy Hastings USA
Georgie Clarke AUS
Andrea Grove CAN
Sara Slattery USA
Maureen McCandless USA


Kim Smith NZL
Molly Huddle USA
Melissa Cook USA
Sentayehu Ejigu ETH
Katie McGregor USA
Carrie Tollefson USA
Arianna Lambie USA
Eloise Wellings AUS
Our prediction for this race is easy.
New Zealand's Kim Smith, who ran a sensational 30:35.54 10k in her last race at Stanford, will win on Saturday unless 22-year old Ethiopian Sentayehu Ejigu, who ran 14:35 in 2005 (but only 15:27 in 2007) and is making her 2007 debut, returns to her old form. We're assuming since she came over from Ethiopia that she must be in decent shape.
After those two, the race features a lot of people who might make the US Olympic team, led by Lauren Fleshman. Most of the rest of the Americans in the field will be looking for the Olympic A standard of 15:12.00. Luckily for them, the predicted high for New York on Saturday is only 76 degrees.

LRC Predictions: 1) Smith 2) Ejigu 3) Fleshman

Comments, suggestions? Email us at [email protected]

---
Runner's World &
Running Times



Combined Only $22
a Year
Save $87

---

Running & Track and Field Posters
---

Great Running Shoe Deals Nike Lunar Glide $79.99 A very popular innovative Nike shoe on sale now.
---