*NYC Reebok Grand Prix:USAIN BOLT 9.72 World Record!! *Meet Results
*Bolt Runs 9.72.The Jamaican put on a show in the Big Apple to conclude a meet that showed excactly what track can be in this country- a large sold-out crowd, live tv and unreal perforamnces.*Message Board Thread Here
*LRC Distance Recaps Paul Koech Runs 8:01 In Steeple - US All-Comers Record!!!!!
*Ny Times Recap
*IAAF recap of Meet


LRC Preview
Gay, Bolt Campbell, Williams Address the Media The highlight of the meet is the 100m showdown between Tyson Gay and Usain Bolt. The women's 100 has a great field (Veronica Campbell, Lauryn Williams, Allyson Felix). We include a preview of all the distance races which are led by a very strong men's 800 and we give you the letsrun.com predictions. There also is a great men's shot, Liu Xiang versus Terrence Trammell in the hurdles , Sanya Richards in the 400, and Jenn S in the pole vault.
More Coverage, Highlights at the link above. Tickets Still Available!!
*Despite Late Start, Tollefson Still Hoping for Beijing Brith Tonight at Reebok Games
Previous:
*NY Times Profile of Usain Bolt: From 200 Specialist to 100 meter Favorite
*Liu Xiang New York Times Profile
*Usain Bolt Tells New York Press He's Working On His Start - Unsure if he'll race 100 at Olympics
Steeplechase World Record Holder Saif Saaeed Shaheen Defeated In 1st Race Since 2006. He ran 13:29 for 5k.

Only in Kenya - From Obscurity To Olymipc Contender
Kenyan Prison Services Champs: Bernard Rotich Runs Fastest Ever 10k on Kenyan Soil The unheralded 22 year old is now a force as he clocked a 27:09 at altitude. Ridiculous. Especially considering his pr was 28:31.In the women's 5k, C. Ndereba was encouraged by form on road to marathon in Beijing.

Tyson Gay/Asafa Powell To Battle At Paris Golden League meet on July 18. The sprint stars already had agree to square off in England on July 25.

Pat Tyson Goes Full Circle: Becomes First Fulltime Coach in Gonzaga History From Mead (Spokane), To Ukentucky to Eugen to Spokane.
Olympic Marathon Champ Noguchi Will Not Train at Altitude in China Because of Earthquake, She Will Run World Half after the Olympics
More Japanese News: Japan's Men's Olympic Marathon Team and Catherine Ndereba to All Run Sapporo Half Marathon June 16th
Drug News: Scientists Want to Use Hair Testing to Detect Steroid Use Going Back a Year, but WADA Isn't as Certain
*Drug Cheat Katerina Thanou Wants to Be on Greek 4*100 Team BBC
Paul Stoneham Still Giving It a Run The 37 year old was on Joe Vigil's perfect 1-2-3-4-5 team at the DII Cross Country Nationals and actually transferred from a top 10 ranked D1 Texas team to run for Vigil
Oscar Pistorius to Run Paralympic Race on Saturday
Thread of the Week? High School 4x800m Boys record Given a Scare The thread was started to talk about North Penn's impressive 7:38.79 4*800 but turns into a historical gem with talk of the incredible 4*800 duel in 1965 between two local powerhouses Andrew Jackson and Boys HS in NY. They both ran 7:35.6 a national record that stood for 36 years (and still is the most impressive 4*800 mark on the books as the difference in the quality of the tracks is worth more than .07 seconds and that is how much their record was beaten by). There is a link to a NYTimes article on Julio Meade, the Jackson runner who Marc Bloom calls "the best runner I ever saw". Meade committed suicide outside a courthouse in 2001 after pleading builty to money laundering. If you have a historical race you think we should give publicity to, email us.
Adam Nelson Getting Hypnotized Trying to Win Gold in Beijing "U.S. shot-putter Adam Nelson, a two-time Olympic silver medalist, is willing to try anything — legal — to win gold at this summer's games in Beijing."
British News
Micah Kogo and Irina Mikitenko Win Inaugural BUPA London 10000 The new race was held on the course London hopes ends up being the marathon course in 2012. The men's race proved to be very exciting as the Kogo ripped the 2nd 5k in 13:34 to defeat Zersenay Tadese, Mo Farah and Martin Lel. In the women's race, 2008 London champ Mikitenko won easily.
*Brtitish Marathoner Mara Yamauchi Asks UK Athletics If She Can Stay At Home & Train She's comfortable training in Tokyo and doesn't want to go to Macau. We say let her do as she pleases.
*British Marathoners Rally Around Radcliffe
*Brit Hayley Haining Training In Case Paula Radcliffe Has To Withdraw From Beijing The 35-year old says she'll be ready regardless.
IAAF Golden League Is Coming:
Women's 800 and Men's 1,500: The IAAF examines the top contenders in the two middle distance vents eligible for the $1 million jackpot this year. The rise of Jelimo has been so sudden she isn't even mentioned.
Arkansas Columnist Calls NCAA Regionals An 'Unnecessary Evil'
15 Runners DQ'd In California Road Race For Wearing Headphones
Jana Rawlinson Diary: The Australian hurdler talks about what it's like to train in America at UC Irvine (Same track that Cornellt trains at on spring break). Apparently Irvine is the place to be as drug cheat world champion Christine Ohuruogu has also been traininng there. The highlight of the trip? A trip to Disneyland with her kid.
Paula's Good Friend Liz Yelling Talks About Paula's Chances for Beijing
Hengelo Photo Gallery Now Available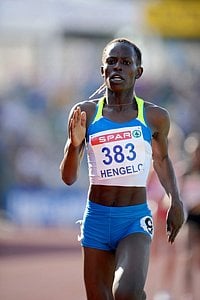 Weekend Action: *Results *Video Highlights
Hengelo: Pamela Jelimo 1:55.76, Geb Sub 27, Bekele Sub 13 It was expected to be an Ethiopian night in Hengelo, but 19 year old Pamela Jelimo emerged on the world scene in a big, big way with a stunning 1:55.76 800. Sileshi Sihine outkicked Haile G for the win in the 10k, and Kenenisa Bekele went sub 13 in the windy conditions. American Matt Tegenkamp ran 13:28.
*Free Video Highlights from the Meet
*Watch The Full Meet on Demand on WCSN.com ($4.95 a month)
*Irving Saladino Jumps Farther Than Anyone Else Has In the Last 14 Years Shows how week the long jump has been that 6 men have still jumped farther.
*Video of Saladino's Jump
Great Interview: Jos Hermens Talks About Saladino, Haile Gebrselassie He says Geb did NO speed work shorter than 2000m prior to the race.
On the boards: Jelimo's 1:55.76 possibly the fastest clean mark ever?
John McDonnell Was Pushed out as Olympic Coach Because He Coached Too Many Foreigners Seems like they could have figured out he coaches foreigners before giving him the job. But McDonnell never has played the USATF game and he realizes what being an Olympic coach in track really means, "You're basically a baby sitter"
*John McDonnell Says He's Not Disappointed about Not Being an Olympic Coach He said, "I have done what I wanted to do all my life, and that's coach a college team. I was paid by the University of Arkansas, and that's where my allegiance has been all along"
*Columnist Is Really Upset John McDonnell Got Kicked Out as Olympic Coach
*Message board thread
Tirunesh Dibaba To Go For World Record in 5k in Exxon Mobil Bislett Games on June 6th A year ago, her rival Meseret Defar got the record in the same meet and Dibaba is very focused on takeing it from her. The Russian 5k champ will rabbit.
Paula Radliffe Has Been Told By Some Specialist That Beijing Is "Impossible" - She doesn't care and is willing to take some risks.
The Heavyweights Will Finally Fight Tyson Gay & Asafa Powell To Clash At Crystal Palace On July 25th
*Video: Gay /Powell Talk About Upcoming Battle
Monday Bolder Boulder: They've got both USOlympic Marathon Trials champs.
*Deena Kastor Going for 4th Bolder Boulder Title
*Ryan Hall, Torres Brothers are US Team for Bolder Boulder
Paula Radcliffe Has Stress Fracture Still Hopes to Compete in Beijing She's the only woman toeing the line who could win not at her best.
*Mesage board thread
*Paula Is Frustrated, but Optimistic About Beijing www.telegraph.co.uk
*Specialist Says Odds are Against Radcliffe Being Ready for Beijing www.guardian.co.uk
Great News: Three Cheers: IAAF Golden League to Be On ESPN, With Repeats on ESPN2, ESPN Classic IAAF This is the best running news we've heard ina long, long time. The top meets in the world will get a ton of exposure. The repeats on ESPN2 and ESPN Classic will hopefully bring a few new fans to the sport. We have no idea who negotiated this with Masback gone but they deserve major props. Somebody appears to get it. (The only bad news is that Pre and Oslo are the same weekend. Clearly, the IAAF doesn't totally get it)
Texas A&M Women Now #1, Men Fall to #3, LSU Men Now #1 Pat Henry is clearly making a big impact.
300,000 Chinese Expected to Turn Out to Watch Liu Xiang Test Run at Olympic Stadium over Multiple Days in Beijing IAAF
1500m Update: Rowbury Has Gone from Obscurity to the Favorite, Alan Webb May Not Open Until Prefontaine link fixed