Blue Blood & New Blood in 800 as Bryce Hoppel & Nia Akins Win 2023 US Titles
By
Jonathan Gault
EUGENE, Ore. – It was a case of blue blood and new blood in the 800-meter finals on the final day of the 2023 Toyota USATF Outdoor Championships. On the men's side, Bryce Hoppel, Isaiah Harris, and Clayton Murphy, who have combined to make 11 World/Olympic teams, went 1-2-3 in a hard-fought battle ahead of 2021 Olympian Isaiah Jewett, who went from 1st to 4th in the final 100m. 
Men's race video  (If you need a VPN to watch the video below click here)
The women's team was a different matter as 1st placer Nia Akins and 3rd placer Kaela Edwards will both be heading to their first World Championships with veteran Raevyn Rogers taking the other spot in 2nd. Reigning world champion Athing Mu, who finished 2nd in the 1500 yesterday, rounds out the team for Budapest, while Ajee' Wilson, who had not missed a team since turning pro in 2013, was dead last in 2:05.88.
Article continues below player.
Women's race video (If you need a VPN to watch the video below click here)
The men's race was a physical affair that came down to the wire. As he did in the Olympic Trials final two years ago, Jewett took the race out, but his pace was far less aggressive (51.89 today vs. 50.60 in 2021), something he later said he regretted. He would hold the lead all the way until the final straight, but started rigging up with Hoppel, Harris, and Murphy breathing down his neck. Those three were all tiring as well, but ultimately it was Hoppel who held on best, winning it in 1:46.20 as first Harris and then Murphy edged past Jewett to round out the team. NCAA champ Will Sumner, who turned pro with adidas after Friday's semifinals, ran in last most of the way and had the best final 100 in the field, but it was too little, too late and he wound up 5th in 1:47.41.
Men's results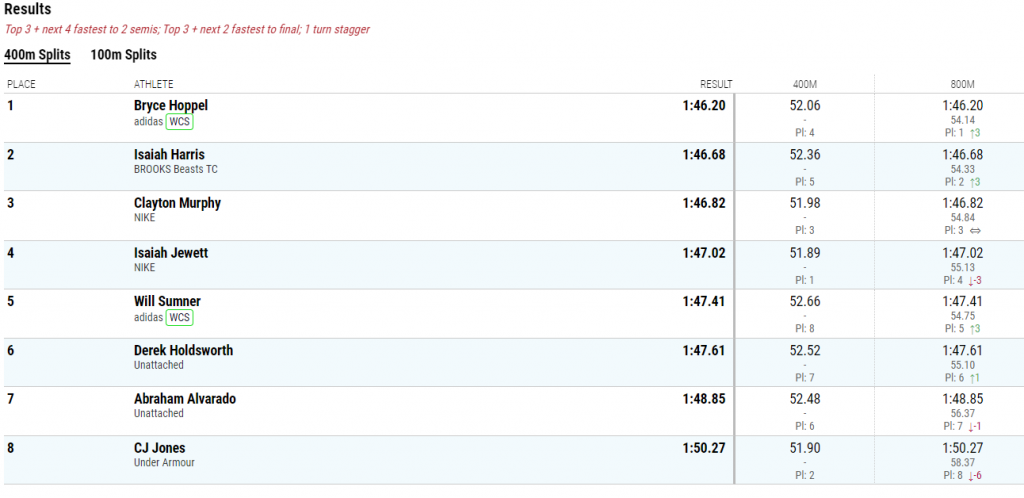 In the women's race, as is her custom, NCAA champ Michaela Rose of LSU led through 400 in 58.37, but the race took a surprising turn when Rogers, known for leaving it late, moved to the lead just before the final turn. She would lead until the halfway down the home straight when Akins, only 4th with 200 to go, caught her and powered away to win her first national title in 1:59.50. Third place was up for grabs off the final turn and it went to Edwards, the 2016 NCAA mile champ at Oklahoma State who, at 29, is heading to Worlds for the first time. Wilson was never a factor on the final lap, running in last and slowing to a jog as she crossed the finish line.
As in the men's race, the winning time of 1:59.50 was fairly pedestrian — it was the slowest to take gold at USAs since Alysia Montaño ran 1:59.87 to win in 2010.
Women's results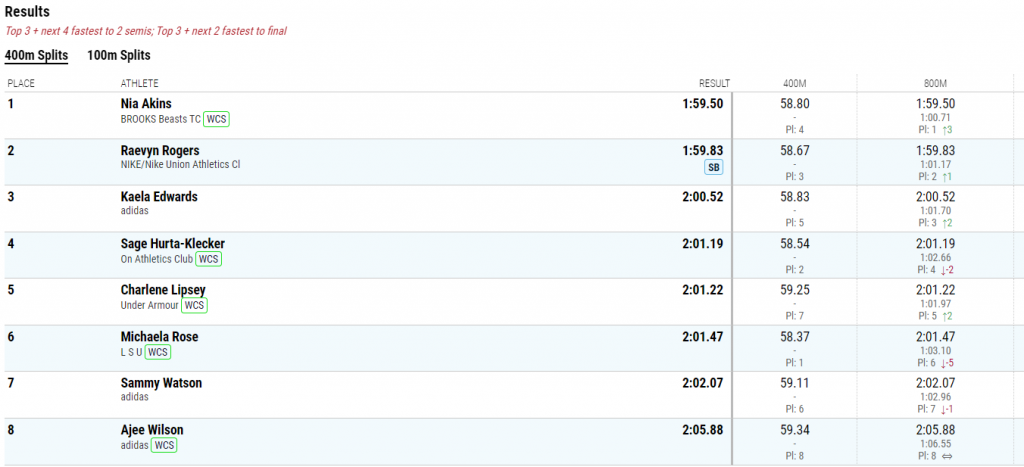 Quick Take: The men's race was a "bloodbath"
In the last 21 years, there has only been one slower winning time in the men's 800 than today's 1:46.20 (that was 2018, when there was no team to make and Murphy won in 1:46.50). Jewett's first lap of 51.89 was not all that fast and yet no one could close faster than 54 seconds for the second lap. Part of the reason for that is there was a lot of bumping for position throughout the race, making it difficult for anyone to establish much of a rhythm. Perhaps no surprise, then, that the three most experienced runners in the race are the ones who wound up making the team.
An official raised their yellow flag at the 200m mark after some bumping between Harris, Hoppel, and CJ Jones, but ultimately no one was DQ'd – a logical decision, especially considering Hoppel, who was most affected, wound up winning the race anyway.
"That's the 800, especially a final of this talent," said Harris, who called the race a "bloodbath." "Everyone's fighting for that space that first 200, everyone wants that good position. There's going to be shoving. I shoved someone, Clayton shoved someone, Bryce probably shoved someone. Everyone shoves someone. So it's just racing. I was hoping that there were no petty DQs. And we were all talking about that at the end. If someone stepped on the line? Sure, DQ them. But a little bit of shoving, that's part of the sport."
Quick Take: Is Bryce Hoppel the new Ajee' Wilson?
In the past 10 years, you could count on one thing: Ajee' Wilson making the team. Since the start of 2013, Wilson had run 18 US finals and finished in the top three in 17 of them (the lone exception was 2015 USA indoors when she fell), making all 11 teams on offer. Wilson's streak finally ended today but Hoppel now has one of his own. Between indoors and outdoors, Hoppel has won the last four US titles and has finished in the top three in all seven US finals he has run dating back to 2019, including making all four outdoor teams he's gone out for.
Quick Take: Isaiah Harris is back on the team on a great day for the Brooks Beasts
Harris finished 6th in the US final in 2016 as a freshman at Penn State and is the only man to run in every final since, finishing 2nd, 2nd, 4th, 4th, and 6th. He had to wait six years to make his second outdoor team (he did make World Indoors last year) but knew he had a great shot the way things had been going in training and was glad he could put it together in the final today.
"I knew that this year was my most consistent training, my healthiest year," Harris said.
Harris rewarded the faith Brooks showed in signing him at the start of 2022 and helped contribute to one of the best days in Brooks Beasts history. The Beasts had not put a runner on a US World/Olympic team since Drew Windle in 2017 (Allie Ostrander made it in the steeple in 2019 but had just signed following the NCAA season) so for Harris to make it and Akins to win the women's race – the Beasts' first outdoor title since Nick Symmonds in 2015 – was a big deal.
Correction: An LRC reader pointed out that the Beasts also sent Brannon Kidder to Worlds in 2019 when he was 6th at USAs after the US got an extra spot due to Donavan Brazier winning the Diamond League final.
Quick Take: Three down, three to go for Clayton Murphy
Murphy has now made five teams in the 800 (2015, 2016, 2019, 2021, 2023) but his last two appearances at global champs have not ended the way he wanted as he made the final but finished last both times. Murphy said that he viewed today's race less as a US final and more like the third round of a six-step process to make the World final in Budapest.
Quick Take: Isaiah Jewett missed a golden opportunity today
Jewett was expecting CJ Jones to lead this one and was caught a little off-guard when he found himself in the front. Afterwards, Jewett said he was frustrated that he couldn't run better, adding that he should have gone out harder and pushed harder during the second lap instead of settling in.
Jewett is right. With all the shoving and arm-fighting going on behind him, Jewett had the smoothest ride of anyone to the finish, was able to run the shortest distance possible, and still only managed 1:47.02. He had a golden opportunity and that sort of run just isn't good enough to make a team.
Quick Take: adidas made Will Sumner an offer he couldn't refuse
Sumner, who was 5th today, turned pro this weekend and said he will be based near his hometown of Marietta, Ga., moving forward, though his future coaching situation is still up in the air. Sumner also said that initially it was a tough call between turning pro and staying at the University of Georgia, but once he found out his value it was an easy call. There's not a lot of money in track & field and future success is never guaranteed, so when you get a big offer, it usually makes sense to take it.
Quick Take: The 800 was not a young man's race this year
The 800 often favors younger athletes and while Hoppel (25), Harris (26), and Murphy (28) aren't old, they're middle-aged by 800 standards. This was the first time since 2013 that the US World/Olympic team does not contain at least one college runner:
2015: Clayton Murphy
2016: Clayton Murphy
2017: Isaiah Harris
2019: Bryce Hoppel
2021: Isaiah Jewett
2022: Brandon Miller
Quick Take: What a race and year for Nia Akins
If you said that Nia Akins would win the US 800m title at the start of 2023, not many people would have believed you. Akins had gone sub-2:00 for the first time in 2022, but didn't make the 2022 USATF 800m final and the US is stacked at 800. The US had 3 finalists at Worlds last year, plus Sage Hurta-Klecker who was third in the Diamond League final, not to mention the first and third placers at the World U20 champs. Nia Akins was a promising talent but she had a lot in front of her.  
She's now the USA champion and undefeated on the year indoors and out. It's a nice story for Akins given some of the opportunities she missed. She was among the favorites for the NCAA title during her senior year at Penn in 2020, but both the NCAA indoor and outdoor championships were cancelled due to COVID. She made the final of the Olympic Trials in 2021 but fell. Akins finally had the opportunity to shine this weekend and she took it.
No nation is stronger than the US in the women's 800, and while there is a clear top three on the global stage right now in Athing Mu, Keely Hodgkinson, and Mary Moraa, if you're the US champion, you are one of the best in the world and have a great shot at making the final.
Quick Take: Raevyn Rogers gets it done as usual
Rogers came into USAs in an unusual spot. She did not have the Worlds standard, had not broken 2:00 all year, and finished 10th in the Paris Diamond League on June 9 – the lowest finish of her life in an 800 race. But Rogers put it together when it mattered, breaking 2:00 for the first time this year to finish 2nd in 1:59.83. She still doesn't have the standard, which is 1:59.80, but after running 2:00 four times and 1:59 today should have a high enough world ranking to make it to Worlds.
Rogers still hasn't won a US title and with no Mu and Wilson way off her game, this might have been her best chance. But she was in a great mood afterwards and happy with where she is at right now.
"It's different when you're running and you can run with joy," Rogers said. "I hope you can feel the energy I'm exuding. I didn't feel this way last year."
Rogers' runner-up finish was the lone bright spot in a rough meet for coach Pete Julian's Nike Union Athletics Club. Reigning champ Sinclaire Johnson was only 4th in the 1500, Donavan Brazier is injured and may not compete at all in 2023, and UAC's other three athletes (Ella Donaghu in the 1500, McKenna Keegan in the 800, David Ribich in the steeple) failed to make the final in their events.
Quick Take: Kaela Edwards, who didn't even make USAs last year, is on her first team at age 29
Edwards was an NCAA mile champ in college and has had some indoor 800 success, finishing 2nd at USAs in 2020 and 3rd this year, but has struggled to put it together outdoors over the years. Edwards was 4th at USAs in 2018 but since then has not even been close to making the team, going out in the first round in 2019 and 2021 and failing to make the meet entirely in 2022. Edwards, who is coached by her partner, 2015 NCAA 1500 champ Chad Noelle, and suffers from Graves' disease, said the difference this time was that she was able to run her best when it mattered most.
"This is the best I've ever peaked in the outdoor season," Edwards said. "Usually I'm my best in February and April."
Edwards doesn't have the Worlds standard but easily has enough points to get in via world ranking.
Quick Take: Ajee' Wilson says she's been dealing with something for the past few years but declined to elaborate
At the time, Wilson chalked her disastrous 2:17 in New York on June 24 up to a bad day, but clearly it was part of something larger as Wilson acknowledged today that she came into USAs knowing she wasn't where she needed to be. What, exactly, is ailing Wilson is unknown as she declined to go into specifics.
"Mostly I just keep things in-house," Wilson said. "It's something I've been battling with over the years and felt like I had a handle [on it]. But not so much."
Wilson has had a number of good races over the last couple years, notably her win at World Indoors last year and a 1:58.16 in Paris a month ago, so it's not as if she can't run well while dealing with this mysterious problem. But it's obvious something is up as the Ajee' Wilson we saw today bore little resemblance to the one we saw in Paris or the one who had made every World/Olympic team since 2013.
Sage Hurta-Klecker after taking 4th