Sharon Lokedi SHOCKS World, Wins 2022 New York City Marathon
First World Marathon Major Win for an Under Armour Athlete
By LetsRun.com
November 6, 2022
NEW YORK – A debutante from Kenya won a warm 2022 TCS New York City Marathon today as many expected. However, the winner was not the great Hellen Obiri, who came into her debut with much fanfare after one of the greatest track careers in history, but rather the unheralded Sharon Lokedi – the 2018 NCAA 10k champ for Kansas – who pulled off one of the biggest upsets in NYC Marathon history by winning in 2:23:23.
Obiri was in the lead pack of four until just before they entered Central Park during mile 23, but ended up fading to sixth in 2:25:49. In Central Park, it was a three-way battle for glory between Lokedi, 2022 World champ Gotytom Gebreslase of Ethiopian (2:18:11 pb) and Lonah Salpeter of Israel, the 2:17:45 woman who earned the bronze at Worlds this year. That trio wound up finishing in the reverse order of their previous accolades as Gebreslase fell off first at 40k and ended up third in 2:23:39 while Salpeter (2nd in 2:23:30) hung with Lokedi until a mile remained.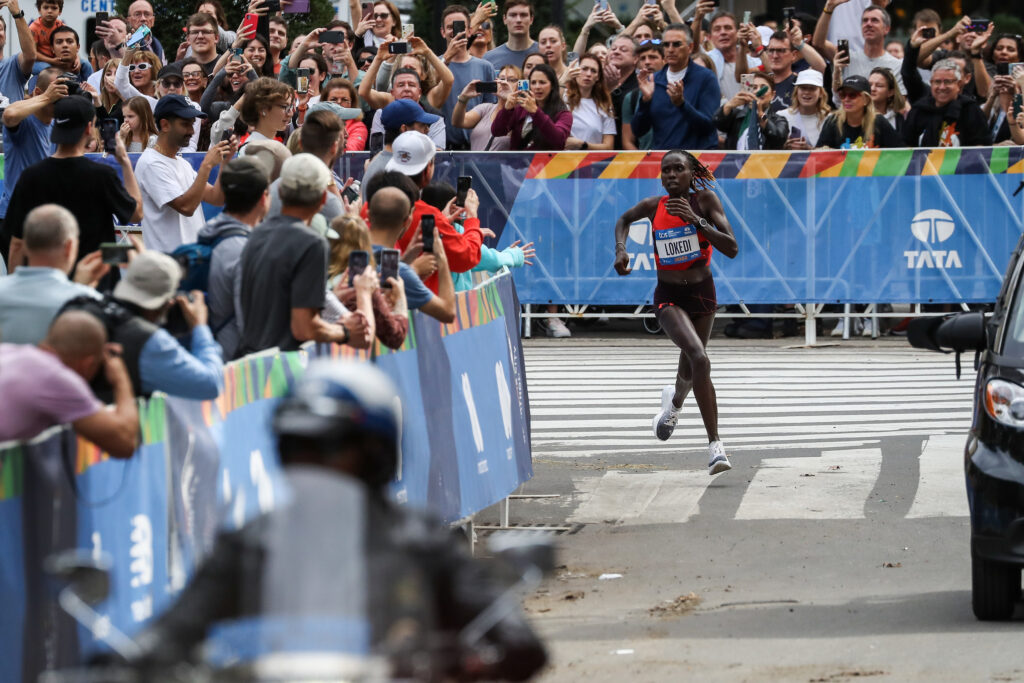 Three Americans ended up in the top 10. 2020 Olympian Aliphine Tuliamuk, who ran 2:26:18 for 7th, led the way with Emma Bates (2:26:53, 8th) and Nell Rojas (2:18:32, 10th) behind her. Lindsay Flanagan (2:29:28) also broke 2:30 as Stephanie Bruce ran 2:30:34 (13th) in her final marathon while former American record holder Keira D'Amato ran 2:31:31 (15th) in her third marathon since July.
Article continues below player.

The Race
On a warm day that featured temps in the low 70s at the finish (68 degrees at start Sunny, with 81% humidity, 61 dew point), a pack of 11 women hit halfway in 72:17. Around the 16-mile mark, three women broke free but, but that group didn't include the eventual top two. Instead, it was Obiri, 2021 runner-up Viola Cheptoo (who would end up 5th in 2:25:34) and Gebreslase that put the hammer down. At 30k (18.6 mi), they had 11 seconds on Salpeter and Lokedi, but by 20 miles the lead was down 5 seconds and they were caught before 35k.
Lokedi would break Gebreslase and Salpeter in Central Park for the huge upset win.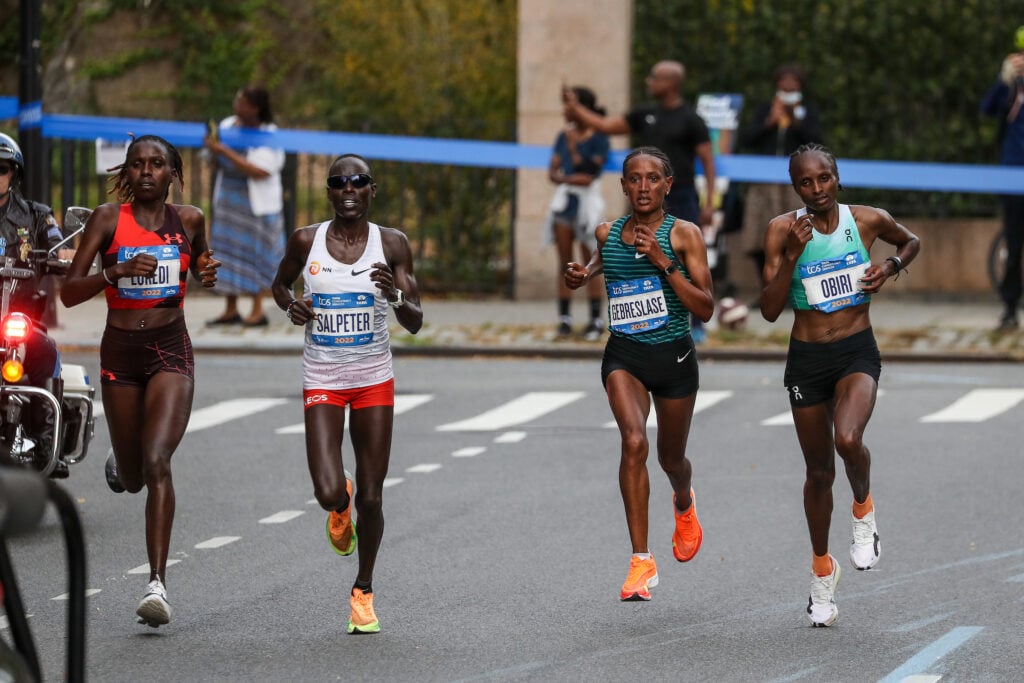 Analysis below results.
Top 25 Women's Results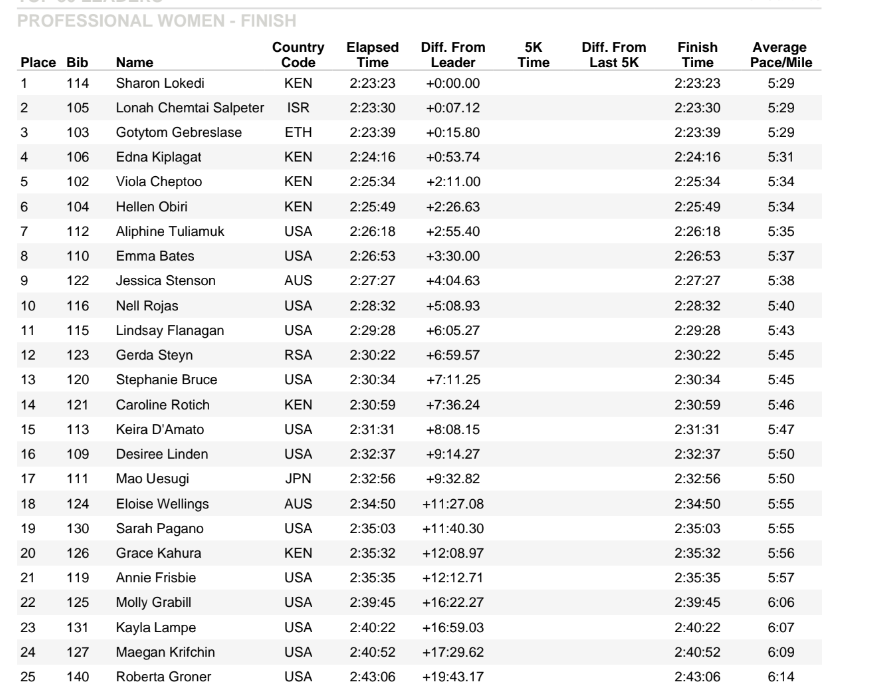 Quick Take: This was a huge upset – Sharon Lokedi had done nothing in her career indicating she was going to win the 2022 New York City Marathon

Yes, Lokedi was a very good runner at Kansas. As a freshman in 2015, she was 10th in cross country. The next year she was 5th (but only 44th and 45th in her final two NCAAs), and on the track, she denied Karissa Schweizer the 10,000/5,000 double in 2018 when Lokedi won her one and only NCAA title in the 10,000.
But pretty good NCAA runners don't normally win the NYC Marathon. In fact, only one other ex-NCAA runner had won until today (Shalane Flanagan in 2017). And Lokedi's pro credentials were modest – very modest. As a pro, she improved her track pbs to 15:13.04 and 31:11.07 and 68:14 but those times are more than 1 minute, 2 minutes, and 5 minutes off the world records in those events.
The second and third finishers in New York today have half marathon pbs of 65:36 and 66:09, respectively. Of course, they were doubling back from Worlds in July whereas Lokedi was running the first marathon of her career today.
The last race that Lokedi finished prior to today, was the NYC Mini in June and she did very well there, running 30:52 for 2nd, which was arguably the best race of her pro career. (She then dropped out of the BAA Half later that month). Then she was off to Kenya for a big bout of training that clearly paid off (see next point).
Quick Take: Lokedi knew she was ready to run well but did not expect to win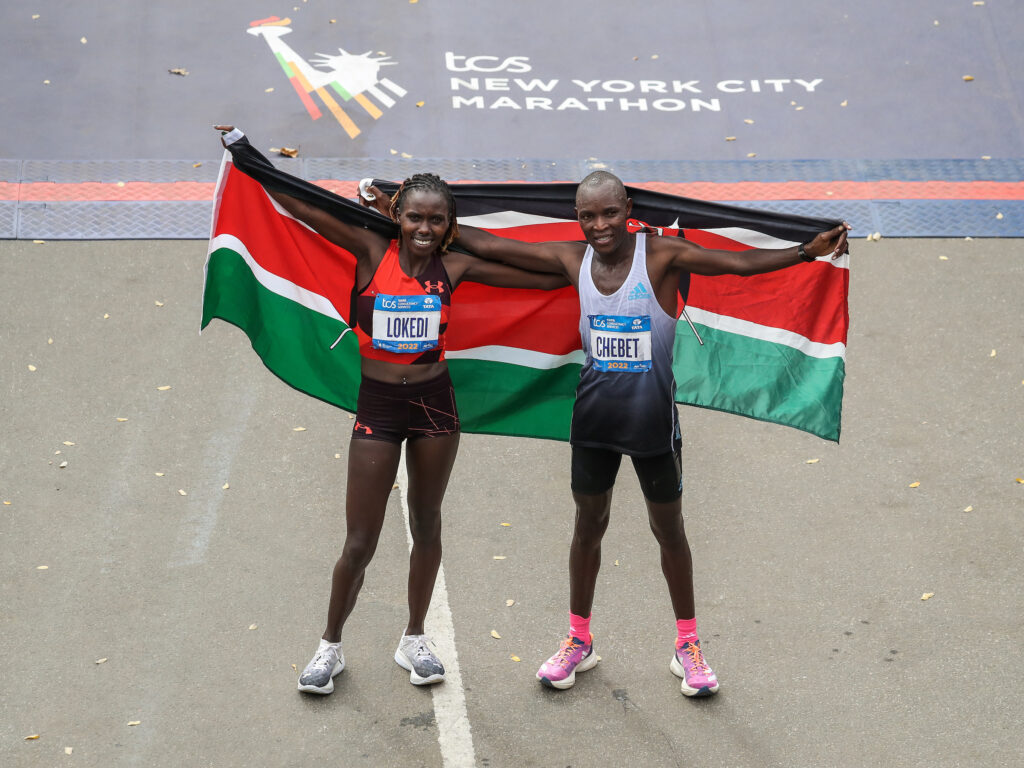 Though Lokedi is a member of the Flagstaff-based Dark Sky Distance team, she trained for this race in Kenya. That allowed her to train with minimal distractions, and she responded to the workouts very well. Coming into the race, both she and her coach Stephen Haas knew she was ready for a good day.
"Everything she was doing was just so good," Haas said. "The long runs especially were awesome. I knew she was going to have a good one…I was trying to tell a lot of people internally with Under Armour we need to make this a big deal because I think she's going to do well."
Lokedi, for her part, said she didn't expect to win. But she felt good at halfway and also knew she was typically a good heat runner, her last race notwithstanding (at the B.A.A. 10K in June, Lokedi dropped out with just 200m to go after struggling in the hot conditions). 
While Lokedi was an NCAA champion in college, Haas, who also represents Lokedi, said they didn't receive a lot of offers from shoe companies when she came out of Kansas in 2019. Still, he had a feeling that she would excel upon moving to the roads.
"I told Chris [Layne head of Total Sports], I really think we as a company need to invest in her as an athlete because I think she can be really good in the marathon," Haas says.
Since then, Lokedi has stayed injury-free and gradually increased her mileage from around 70 per week in college to 100-120 for this buildup. She achieved some modest success at shorter distances, winning the Falmouth Road Race in 2019 in addition to her second place at the NY Mini 10K this year, but it's clear now that the marathon is where her true talent lies.
As the other results from the men's and women's race showed, this was a very tough race in which to debut, with the heat and NYC course making it extremely difficult to gauge one's effort. Lokedi managed it all perfectly, racing with wisdom beyond her years to become the second woman in the last three NYC Marathons to win the race in her debut (Joyciline Jepkosgei also did it in 2019).
Quick Take: Today was a big validation for Under Armour's commitment to running
Two years ago, Under Armour did not have a competitive shoe, and as a result, a number of athletes left the brand, including Rachel Smith (Schneider), who switched to HOKA just days before making the Olympic team at 5,000 meters. Australian Olympian Morgan McDonald is another who left, joining the On Athletics Club in 2021. Haas, who coaches the UA-sponsored Dark Sky Distance team, said the brand was at a crossroads; if the brand was going to continue to sponsor elite runners, it needed to vastly improve its product. Under Armour decided to go all-in and Haas feels today's result validated that decision. It was the first WMM win by an Under Armour athlete.
"They made the investment, they put the money behind it, they got the right people to build the shoes, and I hope they feel as happy as I do at this moment for all the hard work that went into it," Haas said. "Because making a supershoe in a year and a half is tough."
Lokedi raced today in the 324 Under Armour Elite – a version of the Flow Velociti Elite that the brand launched this fall – which was only approved by World Athletics a week ago.
MB: UNDER ARMOUR wins the NYC Marathon
Quick Take: Aliphine Tuliamuk returns to the marathon in fine style – with a pb and top American honors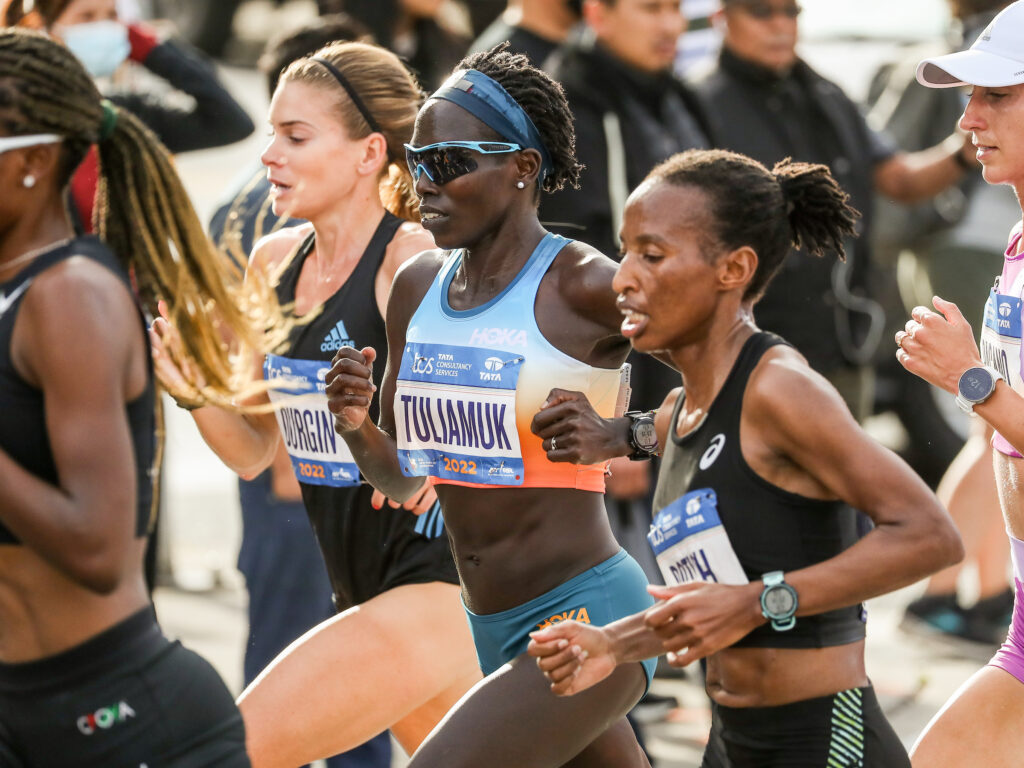 Tuliamuk had not finished a marathon since winning the Olympic Marathon Trials in February 2020, dropping out in her only start at last summer's Olympics due to hip pain. But today, with daughter Zoe in tow, Tuliamuk made a successful return to the marathon by running a pb of 2:26:18 to finish as the top American in 7th overall. Tuliamuk said the performance ranked as one of the best in her career. 
"Just because it was an international field," Tuliamuk said. "It was an amazing field and I remember going into the race thinking if I can get top 7, that would be really good."
Tuliamuk suffered a significant setback in her buildup when she developed an edema on her medial malleolus, a bone in her ankle. She was forced to take about 2.5 weeks off in September, typically a crucial period in a marathon block.
But once Tuliamuk returned to training, she ran some of her fastest workouts ever – her 15-mile tempo ahead of NYC was faster than what she ran before the 2020 Trials. The question for Tuliamuk and her coach Ben Rosario was whether she had enough of a base beneath her. Tuliamuk showed today that she did.
"I wish I would have had a few more weeks," Tuliamuk said. "But I'm focused on gratitude."
Today was a reminder of just how tough and talented Tuliamuk is. Americans like Sara Hall and Keira D'Amato have show it's possible to have marathon success deep into your 30s; Tuliamuk is still only 33. If she can stay healthy in 2023 and string together some consistent training, the best could be yet to come.
Quick Take: Another solid marathon by Emma Bates
Bates is similar to her Team Boss teammate Scott Fauble in that she rarely has a bad day in the marathon; the "worst" of her seven marathons was a 7th-place finish at the 2020 Olympic Trials, which was still a pretty solid showing. Bates added to her consistency today by finishing 8th in 2:26:53 – 35 seconds behind top American Tuliamuk – after doubling back from a 7th-place finish at Worlds in July.
"Anytime you run under 2:30 for New York I think is a good day…Top 10, you can't be upset about that," said Bates, though she added that she always shoots for top 5 when she enters a World Marathon Major.
Quick Take: Four marathons may have been one too many for Keira D'Amato in 2022
It's almost impossible to run two world-class marathons six weeks apart, something Keira D'Amato discovered today as she positive-split a 2:31:31 (72:30-79:01) to finish 15th after running 2:21:48 in Berlin on September 25. D'Amato said before the race she felt as if she was playing with house money this year after breaking the American record in January.
Hellen Obiri's debut fizzles
There was a lot of talk before and after the race on Hellen Obiri's fitness. She and her coach Dathan Ritzenhein were very bullish on her workouts. On prominent coach afterwards told us he heard mention of Obiri being in good enough shape to break the world record on a flat course. Yet when the marathon got super serious the final 5 miles Obiri was going in the wrong direction.
There's a reason they run the race. Debuting in NY on a warm day isn't the easiest of debuts, but then again Sharon Lokedi might beg to differ.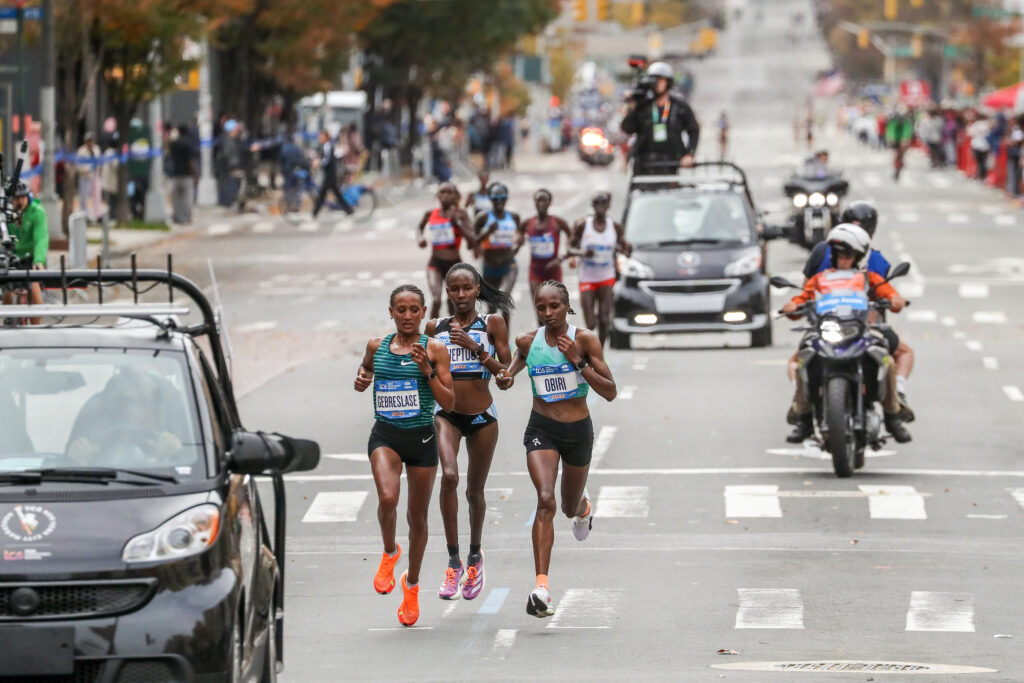 Quick Take: Des Linden: "That was embarrassing"
Usually when Des Linden comes into a marathon in shape, she runs well. Not today. After leading early and hitting halfway in 72:37, it looked as if Linden had a good one going. But she uncharacteristically faded over the second half, splitting 80:00 to come home in 16th overall. Linden did not pull punches afterwards, calling the performance "embarrassing," even though she was proud of how she prepped and put herself in contention during the race.
Talk about the race on our world-famous fan forum / messageboard.
About LetsRun.com: LetsRun.com is the home of professional running. Cited by media outlets all over the globe including the New York Times, Washington Post, USA Today, Sports Illustrated, Outside, ABC's Good Morning America, The Times (London), and the Daily Nation (Kenya). The NY Times described LetsRun as, "The influential website that serves as something of a superego for American running." If you'd like to take your fandom to the next level, join the LRC Supporters Club.