Sharon Lokedi Wins NCAA 10,000m as Six Women Break 30-Year-Old Meet Record
By LetsRun.com
June 7, 2018
EUGENE, Ore. — Kansas' Sharon Lokedi earned her first national title with style in tonight's 10,000 final, as she smashed the 30-year-old meet record by 19 seconds to win in 32:09.20, closing it out with a sparkling 68.66 final lap, as the first six women all beat Sylvia Mosqueda's previous meet record of 32:28.57, with Louisville freshman Dorcas Wasike a surprising second in 32:11.81.
A big story line heading into these championships centered around Missouri's five-time NCAA champion Karissa Schweizer and her attempt to win double titles in the 5,000 and 10,000. That's something only two women have done in the last 20 years and Schweizer, who led with 500 to go but wound up third in 32:14.94, found out how difficult it is to pull off. Now Lokedi will attempt to pull of the double in Saturday's 5,000 final, where she'll have the unenviable task of facing NCAA XC champion Ednah Kurgat of New Mexico and Schweizer.
When the 10K is stacked…

the TOP 5 FINISHERS BREAK THE MEET RECORD!

Kansas's Sharon Lokedi ran a 32:09.20 to take home the #ncaaTF 10K title ?and record! pic.twitter.com/O0BMJbUiar

— NCAA Track & Field (@NCAATrackField) June 8, 2018
The Race
As you might expect in a race that saw the top six women eclipse the previous meet record, the pace was fast throughout. New Mexico's Alice Wright — a grinder who finished second in each of the past two years — was the first to take up the pace, as she hit 1600 in 5:06 and would lead through 4800. At that point, defending champ Charlotte Taylor, feeling the pace start to slip, got things going again and continued to push, but eventually ceded the lead to Schweizer with six laps to go. Schweizer and Notre Dame's Anna Rohrer would trade the lead until three laps to go, when Schweizer dropped a 74.80 to break up the six-woman lead pack (the final three laps would be the three fastest of the race).
With three to go, only Schweizer, Taylor, and Lokedi remained with Wasike, Wright, and Rohrer strung out behind them. Schweizer and Lokedi dropped Taylor on the backstretch of the penultimate lap, but they weren't speeding up. At least, they weren't speeding up until Lokedi passed Schweizer with 450 to go, a move to which Schweizer had no response.
Though Wasike began to roll on the final lap — she closed in 69.25 — Lokedi was already gone and ran unchallenged for the last 400 (closing out the race with a 4:54.66 final 1600). Wasike would move up to take second and make it a Kenyan 1-2 as Schweizer had to settle for third.
Article continues below player.
Lap-by-lap splits can be found here.

Quick Take: A well-deserved (and long-awaited) first national title for Sharon Lokedi
Lokedi has run well at NCAAs plenty of times in the past — she had finished 10th, 6th, 6th, 5th, 3rd, 3rd, and 6th — but until today, she had never won.
"It was just pure joy," Lokedi said on what went through her mind after crossing the finish line. "Just finish and look and I'm a champion!"
Lokedi said that there was no big change between today and when she fell short in the past. She just kept chipping away at the boulder, and today, the boulder broke.
"It's just the same thing, the same competitors. Just putting yourself out there and just believing that you can do it. I've worked so hard for this."
Lokedi said she did not have some grand strategy — which wasn't necessary for most of the race, as the fast pace essentially dictated the race to her. And when she did decide to go, there was not much calculation behind it. She just felt that it was time.
"Got out there and was like, well, go for it," Lokedi said.
Lokedi still has another year left of XC/indoor eligibility, so she'll be back in Lawrence this fall. One other note: Lokedi is one half of a very fast couple. Her boyfriend, Edward Cheserek, won three NCAA 10,000 titles during his career at Oregon.
Quick Take: Karissa Schweizer's double attempt falls short, but she can still go out as a champion in Saturday's 5k final
Schweizer, with her 32:00 pb and 4:27 mile speed, was certainly the favorite in this race, but this was a deep field and they were determined to make her work for the title. Schweizer remains a fantastic runner, and finishing third in 32:14 — a very strong time — is nothing to be ashamed of. But Schweizer, the reigning 5k champ, did not enter the 10k to finish third, and we're sure she's disappointed with the outcome (she did not come through the mixed zone after the race).
Because we didn't get to talk to Schweizer, we didn't get her thoughts on it, but there are a couple things that could have contributed to her defeat tonight. First, Lokedi ran a terrific race — 32:09 is only nine seconds off Schweizer's PR, and to run that while closing in 68 seconds would have taken a strong effort to overcome. Second, Schweizer ran very hard at regionals two weeks ago in Sacramento — 32:14 in the 10k and 15:19 in the 5k two days later. Lokedi ran both events in Sacramento too, and both races were pretty quick for her as well (32:21/15:27), but for anyone to bounce back from that and run well in another 10k — this was just Schweizer's third of her life — was going to be tough.
Schweizer will still have a shot for redemption in the 5k, but it's fair to wonder how much tonight's hard effort took out of her.
Quick Take: Dorcas Wasike surprised everyone (including herself) by taking second
Wasike, who hails from Nairobi, was just hoping to finish in the top eight tonight, and was pleasantly surprised to finish second behind her fellow Kenyan Lokedi. Wasike made up a lot of ground after she was dropped initially with three laps to go, and admitted that, looking back, she may have cost herself a shot at the win by waiting too long to kick.
"When I was starting to push, I thought that if I would start earlier, I would maybe win," Wasike.
But that can be excused: Wasike is only a freshman, and this was her first NCAA track final.
"Now I know," Wasike said.
Quick Take: The British 4th and 5th placers Charlotte Taylor and Alice Wright both want to stay in the US and run professionally

Today's race was likely the last time that New Mexico senior Alice Wright will ever wear the UNM singlet in a competition. Wright said she'd like to stay in the US and train and will see what options are out there for her in terms of professional running.

If nothing materializes, she could potentially use an indoor season of eligibility as she thinks she likely has a medical redshirt season available, but she's never excelled indoors (she never scored at NCAA indoors but was 9th in the 5k the last two years). If this was Wright's last race for UNM, it was a great career as she was a four-time top-20 performer in cross country and part of two NCAA title teams (20th as a frosh, 5th as a soph, 19th as a junior and 14th as a senior) and a four-time scorer in the 10,000 at NCAAs (8th as freshman, 2nd as a sophomore and junior).
Wright was thankful for all who have helped her at UNM.
"It feels it amazing. I owe it all to my coach. Everyone who has helped me at UNM, I really owe all of my success to them for keeping me healthy and making me prepared for the championships," said Wright who added that Joe Franklin does a great job of peaking her for the championships.
The defending champ Taylor was proud that she ran for the win even though an injury over the winter put her behind schedule in terms of her preparation as she "got a very late start" to her season prep.
"I was feeling good and I felt I was going to go for it. I was going to make a move. It's been a bit of a rocky season so I didn't really have the strength to do that today. And it didn't quite come off but I'm glad I put myself out there and went for the win," said Taylor, who said there was no way to know she didn't quite have the strength to pull it off unless she tried it.
"I'm super happy I was able to make the start line as it was looking a bit touch and go at one point. It was great to be in this race," said Taylor.
In terms of a professional career, Taylor would like to stay in San Francisco if she can. "I'd like to stay with my current setup. I'm really happy where I am right now but I'll have to see what opportunities I'm going to have."
Photos of the race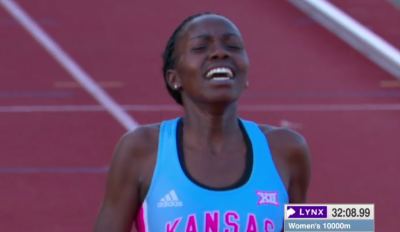 Be a fan and talk about the action our world famous messageboard / fan forum: