2022 Brussels DL: Mageean Stuns 1500 Field, Wightman PRs to Win 800, & Knighton Claims First DL Win
By Jonathan Gault and Robert Johnson
September 2, 2022
The 2022 Diamond League regular season came to a wild end in Brussels at the Memorial Van Damme meeting on Friday. From an American perspective, the highlight was Grant Fisher clobbering Bernard Lagat's American record in the 5,000 meters by running 12:46.96 to narrowly lose out to Kenya's Jacob Krop who ran a world lead of 12:45.71. That race gets its own article here.
That was far from the only drama in the Belgian capital, however. The women's 1500 saw a huge breakthrough for Ciara Mageean, who upset Laura Muir and Diribe Welteji to win in a huge Irish record of 3:56.63, while 1500 world champ stepped down to tackle a loaded 800m field and beat them all with a Scottish record of 1:43.65.
Article continues below player
Like our coverage from Albuquerque?
In the sprints, 18-year-old Erriyon Knighton claimed his first Diamond League victory, winning the 200 in 20.07 (-2.9 wind) while Shericka Jackson ended Shelly-Ann Fraser-Pryce's undefeated season, edging her out 10.73 to 10.74. Mondo Duplantis also suffered a shock defeat to the Philippines' Ernest John Obiena after missing all three attempts at 5.91m, while Kara Winger earned just the second DL victory for an American javelin thrower (she had the other, 12 years ago) by throwing an American record of 68.11m on her final attempt. Winger's mark is also a new world lead. One other world lead came from Ukraine's Yaroslava Mahuchikh in the high jump (2.05).
Our full recap and analysis appears below starting with the distance events. *Compiled results
Distance events
1500m Women: Ciara Mageean runs the race of her life for 3:56 victory
After a summer that saw her earn silver at the Commonwealth Games and European Championships, Ireland's Ciara Mageean finally got the big win she had been craving all year, and it came with a humongous personal best: at the age of 30, Mageean dropped her pb from 4:00.15 to 3:56.63 to score the upset victory.
The race began quickly, with pacer Noelie Yarigo hitting 400 in 60.6, but the only woman who showed any interest in following was 20-year-old Diribe Welteji of Ethiopia, coming off a 3:56 pb and win in Chorzow last month. By 800 (2:05.0), Welteji had separated from the field, and by the bell she had 10 meters on the chase pack that included Ethiopia's Freweyni Hailu, Laura Muir, and American Elise Cranny. Mageean was there too in fifth place, but after spending the previous 200 meters bridging the gap from the third pack to the second pack, it was fair to wonder how much she had left.
A lot, as it turns out. On the back straight, Mageean began to push and moved up into third with 200 to go as she and Hailu pulled up onto Welteji's shoulder. Mageean had one card left to play, attacking off the turn, and the gambit worked as she began to pull away from Welteji. Muir, who had been shuffled back to fourth on the turn, was coming hard now, and Hailu wasn't fading, but neither could catch Mageean who took more than two seconds off Sonia O'Sullivan's 27-year-old Irish record thanks to a 61.7 last lap.
Muir was second just behind in 3:56.86 and Hailu third in 3:56.94 as seven women in all broke 4:00.
Quick Take: What a race and what a year for Ciara Mageean
Mageean's preparation for the 2022 season isn't how you would typically draw up a breakout season. She tore her calf before the Olympics last year, which led to her elimination in the first round, and was still battling a calf injury in January this year. Then she changed coaches to Helen Clitheroe in April, didn't run Worlds, and got COVID before Commonwealths.
But Mageean has been nothing short of outstanding over the last two months, taking silver in the 1500 behind Muir at the Commonwealths and Europeans and putting up a dogged fight on the last lap in the latter. That sort of run against Muir, who ran 3:55 at Worlds, suggested Mageean was in shape to better her 4:00.15 pb, but even Mageean wasn't expecting to improve by this much.
"A time of 3.56.63 is something that blows my mind," Mageean said. "People say that in athletics and in life every so often you have a day where you are completely in the zone. It doesn't happen when you want to and you never know when it will happen. I can only say that this is how I felt today: I was in the zone and it felt like I was running on clouds."
Clearly it meant a lot to Mageean as she had to take a moment to collect herself on the track before embracing Muir and breaking into a joyous celebration.
Perhaps the craziest thing about Mageean's breakthrough is her age: 30. When is the last time an elite women's 1500m runner ran a four-second pb at the age of 30?
Quick Take: Heather MacLean and Elise Cranny back up their Monaco runs while Sinclaire Johnson struggles
Heather MacLean stayed red-hot by finishing 5th in 3:58.76 – her third 1500m pb in the last month, while Elise Cranny ran aggressively and was rewarded with another sub-4:00 (though her 3:59.61 was just off her 3:59.06 in Monaco). Both ran well against quality competition, but the same cannot be said for US champ Sinclaire Johnson. Johnson ran great at the two biggest meets of the year, dominating the US final and finishing 6th at Worlds, but in her two European 1500's this year she has run 4:02.87 for 9th in Monaco and now 4:10.29 for 14th in Brussels.
Men's 800: Jake Wightman runs big PB to take down Emmanuel Korir
In the final race on the track, the battle between the men's 1500 and 800 world champs lived up to the hype. The pace was hot (50.17 for the first racer) but the 1500 world champ Jake Wightman, who came in with a 1:44.18 pb, was right there (50.37). On the backstretch as they approached 200 meters to go, Wightman did the same thing he did at Worlds and went to the lead early as he hit 600 (1:16.83) in the lead. Olympic and world 800 champ Emmanuel Korir was close behind and they came off the final turn 1-2. 
In the homestretch, Wightman pulled away for the win in a pb of 1:43.65, breaking Tom McKean's 1:43.88 Scottish record from 1989 in the process. Korir kept running hard to the finish (perhaps hoping to get enough points in the DL final?) but he got nipped at the line for second by Worlds silver medallist Djamel Sedjati of Algeria as both were timed in 1:44.12.
Quick Take: Jakob Ingebrigtsen, were you watching this race?
 If you were, it might be time to get a little bit concerned that Jake Wightman's win in the men's 1500 at Worlds might not be a one-off event.
Ingebrigtsen likes to front-run as he doesn't have great 800 speed, but Wightman's 1500 pb is within a second of Ingebrigtsen's (3:28.32 vs 3:29.23) while his 800 pb is 2.79 seconds better than Ingebrigtsen's (1:43.65 vs 1:46.44).
If you were hoping to see Wightman vs Ingebrigtsen in the DL finale, we've got bad news for you. Wightman said after the meet today that he's running the 800 next week and then will wrap up his season at the 5th Avenue mile.
MB: Jakob Ingebrigtsen were you watching? Jake Wightman 1:43.65. 
Quick Take: Korir did enough to get in the DL final where American Bryce Hoppel also has the option to run
If we did our math right (8 points for 1st, 7 for 2nd, 6 for 3rd, etc.) the DL 800m point totals are as follows.
Marco Arop 25 
Benjamin Robert 22
Jake Wightman 21 
Gabriel Tual 17 
Peter Bol 14 
Emmanuel Korir 11 
Wycliffe Kinyamal 11 
Bryce Hopppel 10
Several guys are next in line if there are any scratches, including Clayton Murphy at 8.
Women's 3000 steeplechase: 18-year-old Jackline Chepkoech earns first DL win with big pb
This race was announced as an attempt on the 8:44 world record for Worlds silver medalist Workuha Getachew, but that went out the window almost immediately as the first kilometer was 3:00.85. The pace would slow over the next kilometer with 18-year-old Commonwealth Games champion Jackline Chepkoech of Kenya leading at 6:04.90, and with two laps to go she led by 18 meters.
Getachew would cut that deficit in half at the bell and would continue to close on the last lap as Chepkoech struggled over the final water jump. But Chepkoech would remain just out of reach and go on to win in a seven-second pb of 9:02.43 thanks to a fine 2:57.53 final kilometer. Getachew took second in 9:03.44 as Americans Emma Coburn wound up 8th (9:14.43) and 10th (9:20.93), respectively.
Quick Take: Jackline Chepkoech is quickly rising up the ranks
Chepkoech entered 2022 with a pb of 9:27 and having never raced outside of Kenya – though she did win the World U20 title last year at age 17. In the last month, she has quickly made the leap from age-group talent to one of the best steeplers in the world.
Chepkoech lowered her pb to 9:15 at Pre and won the Kenyan World Championship trials in June, but failed to even make it out of the rounds at Worlds.
Since then, she's been on fire. She ran another pb to win the Commonwealth title, took another six seconds off her pb to finish 5th in Monaco, and tonight PR'd by another seven seconds. She's now run 9:02.43 – just .08 off the pb of Coburn, a three-time global medalist – and is still only 18 years old. You're going to want to remember the name Jackline Chepkoech.
Quick Take: A poor year for the Americans continues
American stars Emma Coburn and Courtney Frerichs have struggled this year, but two weeks ago in Monaco, Coburn rebounded by leading most of the race and running 9:07 to finish 4th. But she could not build on that positive momentum as Coburn could only manage 8th tonight in 9:14.43. Frerichs ran a disastrous 9:32 in Monaco, and while she was better in Brussels tonight, she was still not competitive, taking 10th in 9:20.
One-Hour Run: Sabastian Kimaru Sawe comes up just short of Mo Farah's world record
While it was initially reported by some that the men's one-hour run world record fell in Brussels for the second time in three years, the reality is Mo Farah's record of 21,330m from 2020 survived – although Kenya's Sabastian Kimaru Sawe gave it a good scare, running a Kenyan record of 21,250 meters.
Somehow, Sawe didn't realize he didn't get the record as this is what he told race organizers.
"I don't know how many records I ran tonight, but I came here for just one, the 1-hour record," Sawe said. "That was the goal and we did it. I attacked after 35 minutes, that was the plan and it worked out. I kept on running after the clock stopped, cause I couldn't see the clock at that moment, so I ran a bit further. But I am really happy that we got the 1-hour record and maybe next year I can run even further, cause I feel that it is possible."
Some of the previous holders of this record are among the biggest names in the history of the sport. Sawe is decidedly not – he wasn't even the most notable Kenyan in this race as former half marathon WR holder Kibiwott Kandie was also entered and finished second at 20,940 meters
But Sawe, who has come out of nowhere at age 27 and had just one race result in 2020 or 2021 may not stay anonymous for long. That's because he's been sensational of late, running 59:02 in Seville in January and 58:02 in Rome in March as well as 26:54 on the roads in April.
Today, he went out aggressively hoping to get the record as he split 10,000 in 27:56but he hit 20k in 56:20, putting him behind pace as world record pace is 28:07 10k pace (59:27 half marathon pace).
One-hour run world record progression
20,944m Jos Hermens, Netherlands, 1976
21,101m Arturo Barrios, Mexico, 1991
21,285m Haile Gebrselassie, Ethiopia, 2007
21,330m Mo Farah, Great Britain, 2020
Sprints
Men's 400 Hurdles: dos Santos remains unbeaten
Alison dos Santos' unbeaten streak was under threat coming off the final turn as he only led by a foot or two heading into the next to last hurdle. But there was no doubt who was the best over the last 75 meters as dos Santos pulled away to win in 47.54 as Worlds 5th placer Khallifah Rosser of the US was second in 47.88. Another American, CJ Allen, crossed the finish line in third but was DQ'd for rule 22.6.1 for going over the side of a hurdle.
200m Men: Knighton gets his first Diamond League win
American teen phenom Erriyon Knighton picked up the first Diamond League win of his career at the age of 18 years and 216 days with a 20.07 win in the men's 200, running into a -2.9 wind out of lane 7. Knighton isn't the youngest Diamond League winner ever (he might be on the men's side) however as Ukraine's Yaroslava Mahuchikh won the 2019 Doha HJ at 17 years and 9 months. Dominican Alexander Ogando was second in 20.18.
Final, Wind: -2.8
100m Women: Jackson ends Fraser-Pryce's undefeated season
For the first time in 2022, World champ Shelly-Ann Fraser-Pryce was beaten in her specialty distance as World silver medalist Shericka Jackson passed her late to take the win in 10.73 to SAFP's 10.74. Fraser-Pryce got her typical fast start but could not completely separate and that opened the door for the 200 ace Jackson to strike. American Sha'Carri Richardson, running in her first Diamond League since May, was 5th in 10.93, one place and .02 behind American Aleia Hobbs, the winner in Lausanne last week.
This was the first time Fraser-Pryce has failed to break 10.7 in a final in 2022 and it comes one week after she was forced to withdraw from Lausanne out of precaution for a hamstring injury. But SAFP said she was healthy today.
"I feel okay about today´s race," Fraser-Pryce said. "It wasn´t anything spectacular but I felt good. I do not have any injury so that is the most important part. I am not sure about Zurich I will have to wait and listen to my body."
Final, Wind: +0.6
400m Women: Cofil breaks 50 for the first time
21-year-old Fiordaliza Cofil of the Dominican Republic, who was 6th at Worlds, had a great last 100 as she went from third to first and got the win in 49.80, her first sub-50 clocking. Worlds bronze medalist Sada Williams was second in 50.15, just ahead of Cynthia Bolingo, who lowered her own Belgian record from 50.29 to 50.19 for third. Kenya's Mary Moraa, the bronze medallist in the 800 at Worlds, was last at 300 but she ended up 4th in a Kenyan record of 50.67 (previous pb and record 50.84) as she made history as the first Kenyan women to compete in a sprint event on the Diamond League circuit. 
100m Hurdles Women: Camacho-Quinn keeps rolling
Though she was beaten in cool, windy conditions earlier this week in Lucerne, Jasmine Camacho-Quinn remained undefeated in Diamond League competition this year by running a season's best of 12.27 to win in Brussels. Incredibly, Camacho-Quinn has won all six Diamond League 100 hurdle events this year – though she was only third at Worlds in July.
Final, Wind: +0.1
Field Events
Pole Vault Men: Obiena upsets Mondo
After 17 straight wins to start 2022, Sweden's Mondo Duplantis finally tasted defeat as he failed all three attempts at 5.91m while the Philippines' Ernest John Obiena made 5.91m on his final attempt. Duplantis, whose last loss came on August 26, 2021, looked bemused after hitting the mat following his final miss. This was just the fourth time in 2022 Duplantis failed to clear 6 meters.
Javelin Women: Kara Winger throws huge American record
American Kara Winger was planning on retiring at the end of the 2022 season but she may want to rethink that given how she's been throwing recently. After a bronze medal at Worlds, Winger thew a season's best of 64.68m to win NACACs and today in Brussels unleashed the throw of her life, a 68.11m sixth-round bomb to win the competition, establish a 2022 world lead, and break Maggie Malone's American record of 67.40m.
In the process, the 36-year-old Winger became the first American, male or female, to win a Diamond League javelin since the first year of the DL in 2010. The winner in 2010? Also Winger.
Triple Jump Men: Martinez wins with only legal jump
Cuba's Lazaro Martinez, the World Indoor champion, hurt himself in round two and did not end up jumping in any of the final four rounds. The good news for Martinez is his second-round jump was measured at 17.49m – which was enough to hold on for a narrow win over Burkina Faso's Hugues Fabrice Zango (17.40m).
Here is what Martinez said after the meet.
It was a very good competition in a nice athmosphere and I had a very good jump in my second attempt. Unfortunately I felt some pain in my muscle and it prevented my from doing the remaining attempts. Luckilly it was enough to secure the win here.
I feel that I´m in great shape and I didn´t want to take any risks, because I still have the final of the DL next week.
I´m satisfied with the year that I had, although things didn´t go as I wanted at the world championship in Eugene. On the other hand, I won the world title indoor in Belgrade.
High Jump Women: Mahuchikh moves into tie for 10th all-time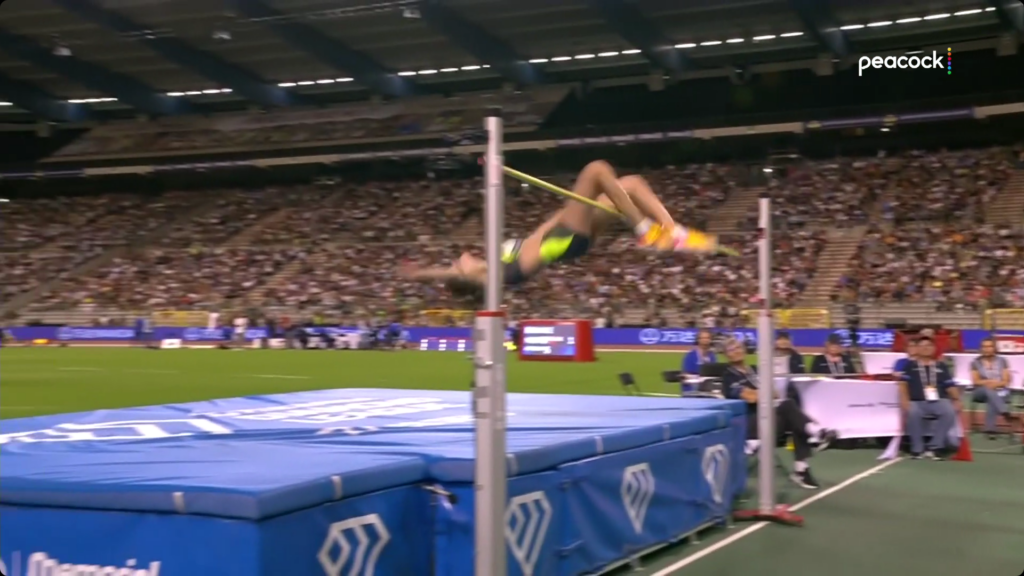 Ukraine's World Indoor champ Yaroslava Mahuchikh cleared 2.05m on her second attempt, an outdoor pb (her indoor best is 2.06) to move into a tie for 10th on the all-time outdoor list. She took a few good attempts at 2.10m, which would have been a world record, but came up short.
Long Jump Women: Brume wins
Nigeria's Worlds silver medalist Ese Brume took the win in this non-DL event with a best leap of 6.83m.
Final
Talk about thee meet on our messageboard.
5000 Recap: Grant Fisher Runs 12:46.96 to Smash American 5000m Record Grant Fisher obliterated Bernard Lagat's American record at 5000.