Rest of Day 1 Goes to Form – Donavan Brazier and High Schooler Cade Flatt Have Fastest Qualifying Times
by LetsRun.com
June 23, 2022
If you expected nothing of consequence to happen on a day mostly full of prelims at the USA Track and Field Championships, you were mistaken.
First Sha'Carri Richardson bombed out of the 100m in round 1, and then Cole Hocker did the same in the 1500. 
Sha'Carri and Cole get their own stories at the links above.
The performance of the night was Fred Kerley running a 9.83 world leader in the 100m in round 1 of the 100 and he didn't even push hard through the tape.
"That was one of the most effortless 9.83s I've ever seen in my life," said former Olympic 100 champ Justin Gatlin on the USATF.tv broadcast.
In other news of note, Tara Davis also fouled out of the long jump.
Article continues below player.
Below we recap the rest of the distance action which did largely go to form.
In the men's 800, world champion Donavan Brazier had the fastest time of the day and looked healthy, as high schooler Cade Flatt had the second-fastest time of the day and missed Michael Granville's high school record by .08.
The big 3 advanced in the women's 800, and Evan Jager looked decent in advancing in the men's steeple. 
For post-race interviews of many of the top stars runners including Allyson Felix, Christian Coleman, Evan Jager, Ajee' Wilson, Cade Flatt, Bruce Hoppel and Raevyn Rogers, go to our YouTube page.
Women's 800: Big 3 Cruise
The women's 800m prelims went according to form as the big 3, Athing Mu (Olympic gold medallist), Raevyn Rogers (World and Olympic medallist), and Ajee' Wison (World medallist) all advanced with ease.
Mu, the favorite for gold at Worlds, didn't leave any room for error. She opened a big lead up the 1st 200m (27.76)  and thus never had to deal with possibly falling. She shut it down the final 100m but still easily advanced with a 2:01.24 win. World indoor champ Ajee' Wison also went out hard (27.7) and won heat 3 in the fastest time of the day (2:00.34), largely in part to Olivia Baker taking the heat out in 57.69.


Quick take: The semis at USAs are easier than Worlds
At the World Championships and Olympics recently, they have taken 24 runners in the semifinals and then trimmed that down to 8 for the final, which makes for some very difficult racing.  At USAs, they went from 30 runners today to 16 for the semis which means we expect all the big favorites to advance to the final. To be honest, with Eugene being a 9-lane track, at Worlds we'd recommend World Athletics go from 48 to 18 in the first round. Run 6 heats of 8 and take the top 3 in each heat in the first round to the semis.
Men's 800: Brazier and High Schooler Cade Flatt have Fastest Times of Day
The men's 800 very much went according to form as all of the top 10 fastest men of 2022 advanced to the semifinals. 
The biggest news was that 2019 world champ Donavan Brazier, who is battling a case of bursitis in his right foot, and only had to run round 1 to secure his automatic spot for Worlds,  looked pretty good in heat #2 as he went from third to first in the closing meters, recording the fastest time of the night (1:46.49) in the only heat that saw a sub-1:47 winning time. In that same heat, 19-year-old high schooler Cade Flatt looked very much like he belonged as he once again came up just short of Michael Granville's 1:46.45 US high school record after finishing just behind Brazier in 1:46.53.
Brazier said he wants to race more before Worlds but will base his decision on the next round on how his Achilles and legs feel after today.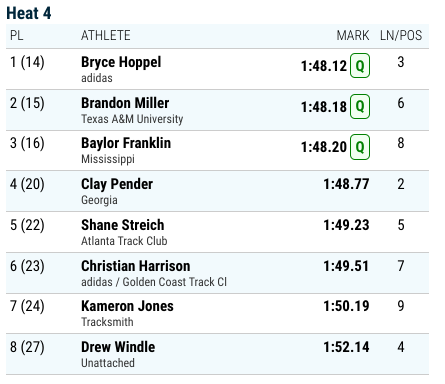 The 10 Fastest US Men of 2022 / Result
| | | | |
| --- | --- | --- | --- |
| 1 | 01:45.07 | Bryce Hoppel | Q – Won heat 4 in 1:48.12 |
| 2 | 01:45.09 | Brandon Miller | Q – 2nd heat 4 in 1:48.18 |
| 3 | 01:45.37 | Derek Holdsworth | Q – Won heat 1 in 1:47.14 |
| 4 | 01:45.50 | Erik Sowinski | Q – Rabbitted heat 1 and then finsished 2nd in 1:47.49 |
| 5 | 01:45.54 | Clayton Murphy | Q — Looked good in heat 3 before letting up (1:47.49) |
| 6 | 01:45.55 | Isaiah Harris | Q – Won heat #3 in 1:47.10 |
| 7 | 01:45.87 | Isaiah Jewett | Q – Led heat #2 until the very end up only got final auto spot by .02 in 1:42.62 |
| 8 | 01:45.97 | Brannon Kidder | q – 4th in heat 3 (1st time qualifier in 1:47.40) |
| 9 | 01:46.19 | Jonah Koech | Q – Looked good in heat #3 where he recorded same time as Harris |
| 10 | 01:46.31 | Vince Crisp | Q – third in heat 3 (1:47.48) |
Men's Steeple: Evan Jager Looks Ok but doesn't get Worlds standard
There were no surprises in the steeple prelims as you could run 8:29 and make the final, but all eyes were on American record holder Evan Jager, who has struggled this year in his return to steepling from injury. Jager looked fine and got second in his heat in 8:23.57 as he kept sprinting down the homestretch when he had a top 5 spot secure, perhaps trying to dip under the Worlds standard of 8:22 which he missed. Jager is right on the edge for getting into Worlds via ranking (49th and they take 45) but it's going to be hot during the final.
MB: Does USAs really count the same as NCAAs for world ranking points? Will Evan Jager get in on ranking if he's top 3?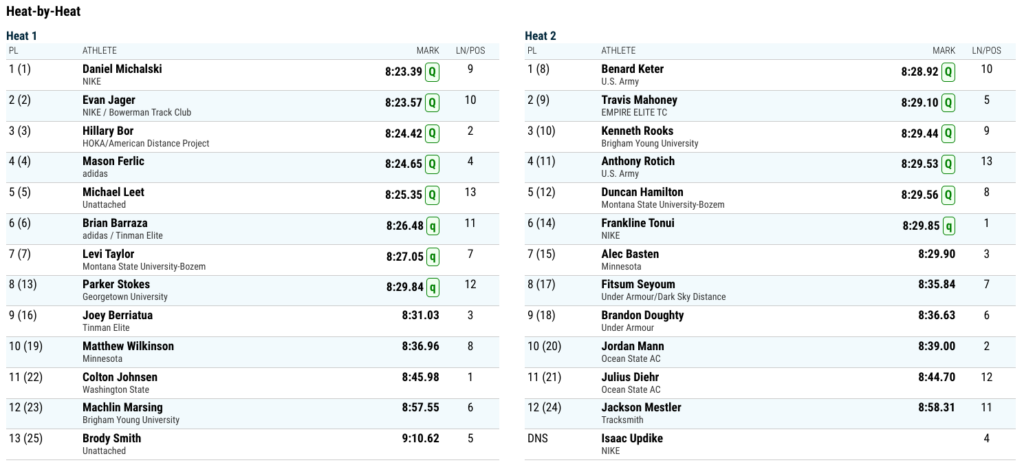 Women's 1500: Most of Favorites Cruise, Including 10k Champ Schweizer
In the women's 1500, New Balance Boston teammates Elle St. Pierre and Heather MacLean didn't mess around as they ran up front throughout the first heat and went 1-2 with MacLean winning in 4:07.96 to St. Pierre's 4:08.52 as the top 6 in the heat all advanced as it easily was the fastest heat of the day. MacLean looked great.
The other two heats were much slower – 4:14.34 was the winning time for Sinclaire Johnson in heat 2 and 4:10.39 for Cory McGee in heat 3 – and without too much drama in the end as the top 3 all ended up well clear of 4th. Two of the 10 fastest women in the field didn't advance, both women who had run 4:04 pbs in their last race before USAs. 4:04.26 runner Eleanor Fulton was 5th in heat 3 in 4:11.50 while 4:04.50 Dani Aragon was last in heat 2 in 4:22.78.
For post-race interviews of many of the top stars runners including Allyson Felix, Christian Coleman, Evan Jager, Ajee' Wilson, Cade Flatt, Bruce Hoppel and Raevyn Rogers, go to our YouTube page.
Talk about Day 1 at 2022 USAs on our world-famous fan forum / messageboard.