Sha'Carri Richardson Bombs Out of USAs in 100m Round 1
by LetsRun.com
June 23, 2022
For the second straight year, Sha'Carri Richardson won't be at the major global championship in the 100m. And this year it was because of what she did on the track.
Article continues below player.
Last year, the big shock at the US Olympic Track and Field Trials in Eugene came a few days after the meet was over when Richardson's win in the women's 100 was nullified after she tested positive for marijuana.
Today the stunning development at the 2022 USATF Outdoor Championships in Eugene came just a few hours after the meet started when Richardson was eliminated from the women's 100 after running just 11.31 in the third preliminary heat and finishing 5th in the heat.
What happened? We have no idea as Richardson didn't stop to talk to the media afterward, but on a nice sunny afternoon with temperatures in the 70s in Eugene, Richardson's first 10 meters were not good as her 2.29 split was the slowest of everyone in the 31-person field. But not false-starting is a smart strategy. Surely, Richardson would get up to speed and cruise to the semis.
Except it never happened. Richardson never challenged for the top 3 and ended up 23rd fastest of 31 finishers on the day, and with only 16 advancing to the semis, Richardson's 100m foray at USAs was over before most people even knew it started.
Full Race Video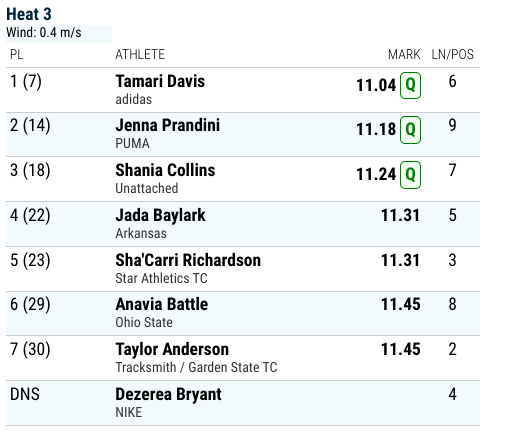 Quick Take: Choke Job?!
This was one of the most shocking developments in a 100m round 1 ever. Assuming Richardson does not have some injury we don't know about this a very big choke job. Granted with the depth in the US, getting out of round 1 at USAs often is harder than getting out of round 1 at Worlds, but it is still not difficult for a sprinter of Richardson's caliber. Either she took this way too lightly or let the pressure get to her. The end result is the same. For the second straight year the world will be deprived of Elaine Thompson vs Sha'Carri Richardson vs Shelly-Ann Fraser-Pryce at Worlds.
More: *Watch the Race Here
Discussion: Sha'Carri Richardson runs 11.31 and OUT of USAs 
*What other athletes have bombed out in a prelim?! 
For post-race interviews of many of the top stars runners including Allyson Felix, Chistian  Coleman, Evan Jager, Ajee Wilson, Cade Flatt, Bruce Hoppel and Raevyn Rogers, go to our youtube page,
Talk about Day 1 at 2022 USAs on our world-famous fan forum / messageboard.