NC State and BYU's Whittni Orton Win 2021 NCAA Cross Country Champs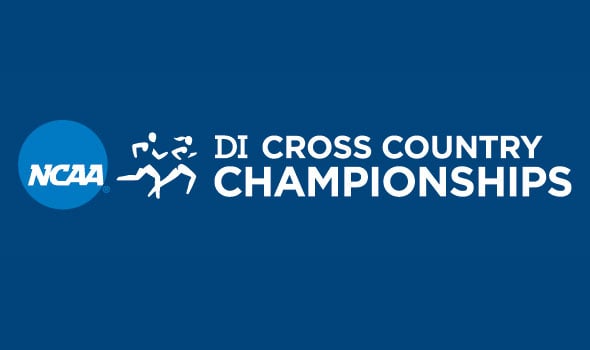 November 20, 2021
by LetsRun.com
November 20, 2021
TALLAHASSEE, Fla. — Whittni Orton powered away from the field over the final 800m to become the first female BYU athlete to win the NCAA cross country title, but it was not enough to bring BYU a repeat team title, as NC State's great depth prevailed and they won their first NCAA cross country team title with 84 points.
BYU was 2nd with 122 points, New Mexico 3rd with 130, and Colorado rounded out the podium with 187 points on a sunny day ideal for fast times (temperatures in the 50s).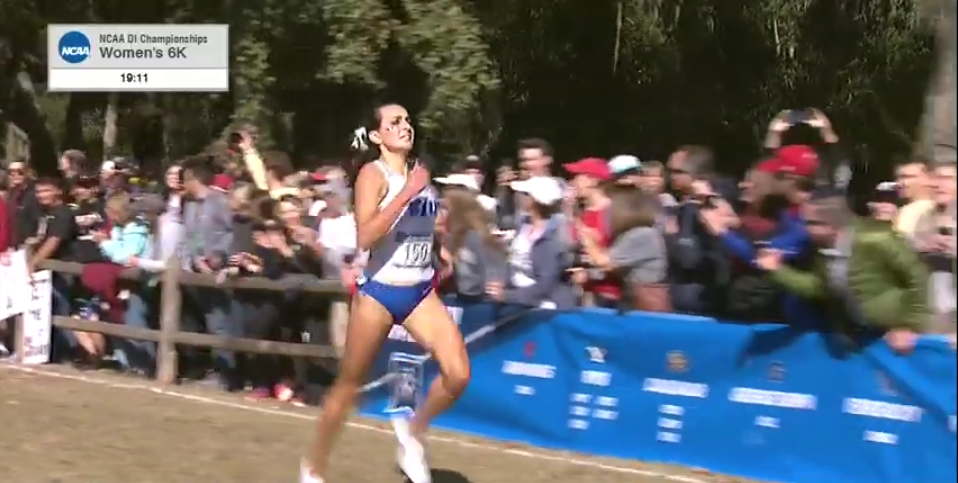 Article continues below player
In the individual race, Orton ran 19:25.4 to win as 2020* NCAA Champ Mercy Chelangat was 2nd (19:29.3), as West Virginia's Ceili McCabe (19:29.5) continued her breakout season in 3rd.
NC State led the race throughout as they topped the team standings at all the splits along the course. BYU got off to a terrible team start. Orton got out well the first kilometer, but the rest of the BYU team was back in the pack and they were only 14th as a team at 1.1km. They would battle back throughout the race but NC State and coach Laurie Henes (an individual NCAA champion herself on the track) were the deserving champions.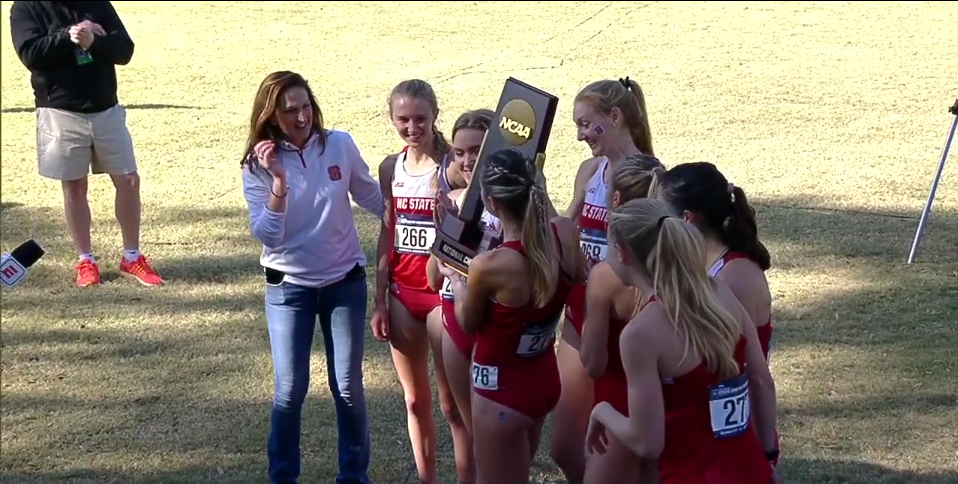 Individually, there was a pack of 9 together at the 5k mark and then Orton made her move for the finish and it was no contest.
Analysis and interviews, below results. A full race replay appears at the bottom of this article.
Live thread: Official 2021 NCAA Cross Country Nationals DI Live Discussion Thread
Top 10 Women's Results 6km (Full results here)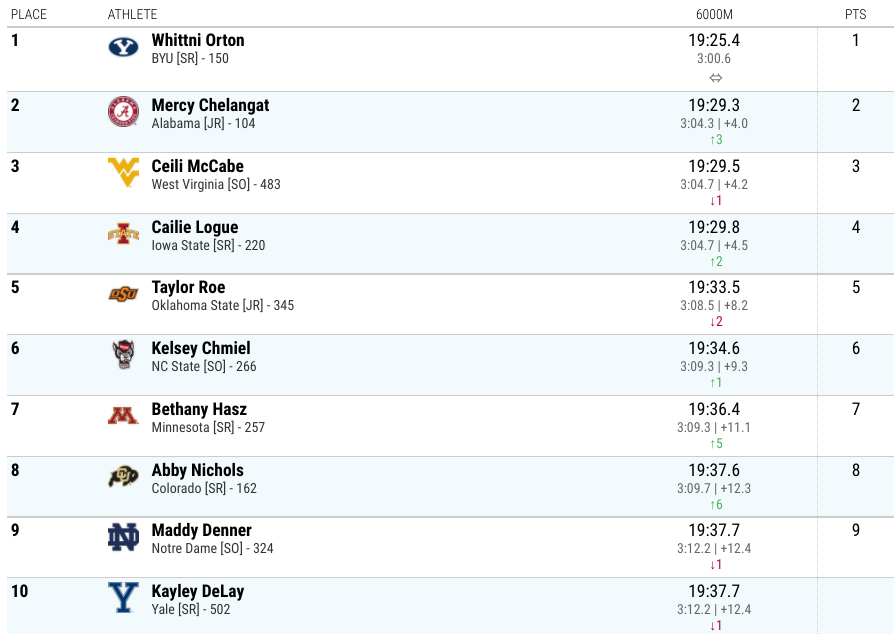 Top 20 Teams (full here)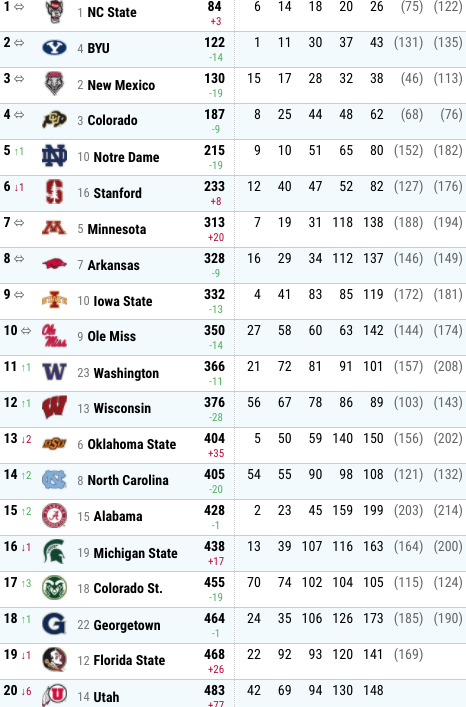 Quick Take: It was worth the wait for NC State
NC State won its first women's NCAA XC title in program history, and their victory today is one of the best stories the sport has seen. Coach Laurie Henes, an NC State lifer in her 30th year on the coaching staff in Raleigh, was finally rewarded with an NCAA title. Katelyn Tuohy and Kelsey Chmiel, who went 1-2 at NXN in both 2017 and 2018, delivered on the hype and brought an NCAA title to NC State. And Allie Hays played the hero role, running the race of her life to finish 22nd overall and finish as the Wolfpack's #3 runner.
Hays finished 12th in the 5k at NCAA outdoors in 2019 for Columbia, but missed the 2020 outdoor track season due to the COVID postponement. Even when competition resumed for most schools in 2020-21, the Ivy League again cancelled all of their championships, robbing Hays of her senior year.
We asked her why she came to NC State for her fifth year as a grad student. Before we could even finish asking her, Hays began pointing to the Florida turf on which she had just helped deliver the national title.
"I chose to come here for today," Hays said. "I had a lot of faith in these girls, even before I met them."
Hays indeed proved to be the missing piece to the title team. NC State returned all seven from its runner-up squad in March. But this fall, Henes subbed in Hays and Samantha Bush (32nd) for last spring's #5 Savannah Shaw (who was 98th in March) and #6 Mariah Howlett (130th). Adding two All-Americans in Hays and Bush to a roster that already featured three (Chmiel, Tuohy, and Hannah Steelman, who all finished in the top 24 today) was a recipe that could not be beaten. If NC State ran well today, they were not going to get beaten, and the Wolfpack ran amazing.
The win for NC State and Henes was the second straight by a female-coached team and that is something a number of coaches in the sport will be happy about. BYU's Dijleet Taylor admitted that she did not know Henes very well, but said before the race that if anyone was going to win it aside from BYU today, she hoped it would be NC State.
"Just happy for Laurie," Taylor said. "If it wasn't going to be me, it was going to be her, so to have female coaches go 1-2, that's a win."
Quick Take: Whittni Orton's faith was rewarded
In six years at BYU (Orton turned 24 last month), Orton had battled injuries on and off. In March, she led much of this race but faded to 17th by the finish as she had only been running for four weeks leading up to the race.
This fall, Taylor deliberately took a cautious approach with Orton, racing her just twice before NCAAs. She also had Orton back off in workouts and run them easier, which put Orton's faith in Taylor to the test.
"We took a completely different way of training this last year that brought a little bit of lack of confidence as well," Orton said. "…I like to push a lot and I like to 'go dark' in practice and kind of see where I'm at…When you think of your success and what you've done in your success in the past and it's a completely different route, it can throw you off a bit."
Taylor also praised Orton's patience today as a key to her victory.
"It was something that she lacked in her early years of racing," Taylor said.
She may have been a different route, but the result was the best yet for Orton, who is out of eligibility and will be turning pro.
Quick Take: BYU wasn't quite as good as in March, but they still ran well today
Ahead of the meet, Taylor believed it would take under 90 points to win today, such is the talent of the top teams this year. She was proven correct as NC State won with 84. BYU scored 122 — 26 more than the 96 they scored to win in March with the same five scorers, but Taylor was proud of her team, especially after how poorly they got off the line (BYU was in 14th at the first split at 1170m).
"We didn't position ourselves super great at the start of the race, but I thought our women moved really well," Taylor said. "They fought today. That was kind of the team motto going in, is 'let's fight for it.'"
Orton ran better today than she did in March (1st vs 17th) and #2 Anna Camp was nearly identical (12th vs 11th). The difference came at #3, #4, and #5. In March, Aubrey Frentheway was 15th, Sara Musselman was 33rd, and McKenna Lee was 41st. Today, they were 38th, 53rd, and 46th, respectively. Not quite good on a day when they had no margin for error.
"It would have taken a lot more," Taylor said. "They were the better team today."
Over the last three years, no women's team has been better than BYU, who have gone 2nd, 1st, and 2nd in that span at NCAAs.
Quick Take: New Mexico and Colorado do what they always do
BYU has been the best in the country of late, but the other podium teams, New Mexico and Colorado, haven't been too shabby either. New Mexico, who was 3rd today, has notched 12 straight top-10 finishes, with podiums in half of them. Colorado, who was 4th, was in the top 10 for the ninth year in a row, including five podiums.
Interview with runner-up Mercy Chelangat of Alabama
Talk about the race on our world-famous fan forum / messageboard.
Full Race Replay