Men's 10K: Woody Kincaid Outkicks Grant Fisher to Lead Bowerman 1-2; Joe Klecker Is On Athletics Club's First Olympian
By Jonathan Gault
June 18, 2021
EUGENE, Ore. — If Monday was Black Monday for the Bowerman Track Club, with the twin blows of Shelby Houlihan's four-year suspension for a positive drug test and steeplechaser Evan Jager scratching from the Olympic Trials, then tonight was Red Friday. Red for the lightning bolts on the jerseys of Bowerman teammates Woody Kincaid and Grant Fisher, who went 1-2 in tonight's 10,000-meter final to close out a terrific first day of action at the 2020 US Olympic Trials at Hayward Field. Though BTC didn't get a fairytale 1-2-3 sweep — two-time defending US champ Lopez Lomong dropped out of the race grabbing his hamstring just before halfway — tonight's results should raise the mood in what has been a trying week for the team.
Kincaid won the race in 27:53.62, his first US title, thanks to a 53.47 last lap — more than a second faster than anyone else in the field. Fisher, who took the lead just before the bell and led until Kincaid passed him with 150 to go, was second in 27:54.29 as Joe Klecker of the On Athletics Club took third in 27:54.90. All three men are first-time Olympians. 35-year-old unsponsored Ben True finished in the cruelest position of all, 4th, in 27:58.88.
Though the pace was hot early — NCAA XC champ Conner Mantz of BYU led through 1600 in 4:22, hoping to earn the 27:28 Olympic standard — the standard chase would not last long. By halfway (13:56.89), they were over 20 seconds behind pace and the lead pack — alternately led by the US Army WCAP's Emmanuel Bor, Gonzaga's James Mwaura, and NCAA 4th placer Robert Brandt of Georgetown — remained large. With two laps to go, 16 men were still in the lead group and things were beginning to bunch up, with Galen Rupp — still in the thick of things in his fourth Olympic Trials — almost falling with 850 remaining.
Reid Buchanan of On/Mammoth Track Club upped the pace from the 67/68-second laps the field had been running by going 63.99 on the penultimate lap. The kicking did not begin in earnest until the bell, however, at which point Fisher moved to the front and inserted a savage surge to rip apart the pack. Kincaid was the only man to immediately answer, with Klecker working hard to bridge the gap, which he closed on the back straight.
By 200 to go, those three men were eight meters clear of True in fourth and the Olympic team was settled. The question now was who would get to call themselves US champion — a title neither Kincaid, Fisher, nor Klecker had ever earned. Fisher, who had demolished Kincaid over the final 800 at the Portland Track Festival three weeks ago, looked to be the best bet, but Kincaid had other plans, moving around Fisher with 150 to go before separating on the home straight. He won thanks to a 25-second final 200 as Fisher held on for third and Klecker celebrated in third to join mom Janis, the 1992 Marathon Trials champion, as an Olympian.
Article continues below player.
Though the pack did not truly separate until the final lap, in the end, this race was not close. The three Olympians closed way faster than anyone else over their last lap: 53.47 for Kincaid, 54.53 for Fisher, and 54.54 for Klecker. No one else closed faster than 58. 
Watch the final lap (and 9 minutes of highlights) here:
Quick Take: Redemption for Woody Kincaid, whose kick was deadly
It has been quite a journey to Tokyo for the 28-year-old Kincaid. He was a good collegiate runner at the University of Portland, but hardly a star: his best finish at NCAAs was 5th, and he was only 9th in his final NCAAs despite running a pb of 13:32. A month after that race, he ran his first Olympic Trials and bravely pushed the pace in the 5k with Brian Shrader (they didn't have the standard) but wound up 9th.
Flash forward three years and Kincaid, now running for BTC, was among the best in the country and running the 5,000 final at USAs. But he didn't have the World Championship standard, and when Paul Chelimo motioned for Kincaid for take over the lead midway through the race, Kincaid declined. He finished 3rd but his 13:26.84 time was four seconds off the qualifying standard and he did not get to go to Worlds.
This time, Kincaid and his coach Jerry Schumacher made it a point to get the standards out of the way early. That allowed Kincaid to focus on place, not time tonight. And when the race came down to a kick over the final lap? Well, that just played into the hands of Kincaid, who said after the race, "I'm naturally a sandbagger."
"[The 53-second last lap] was not hard at all," Kincaid said. "That's the easiest part. The last lap is always the easiest part. It's just everything you've got. I wish I could reinforce that. It's all about getting to the last lap for me. Cranking 53, 57, 51 — it's just what you have to do to win. Getting into position to win is the hard part." 
Kincaid could not get into position three weeks ago in Portland as Fisher demolished him over the last lap, closing in 55.76 to Kincaid's 58.40 in the 5k. So what changed tonight?
"I think nerves. A few weeks ago I wasn't as nervous. It seems like the more nerves you have in a race, the better — that instinct takes over. My biggest weakness as a runner may be that last three laps, I fall off. But today I worked really hard to stay on it."
Kincaid said he will need to confirm his plans with Schumacher, but for now he wants to double back in the 5k and says he would run both events in Tokyo should he qualify.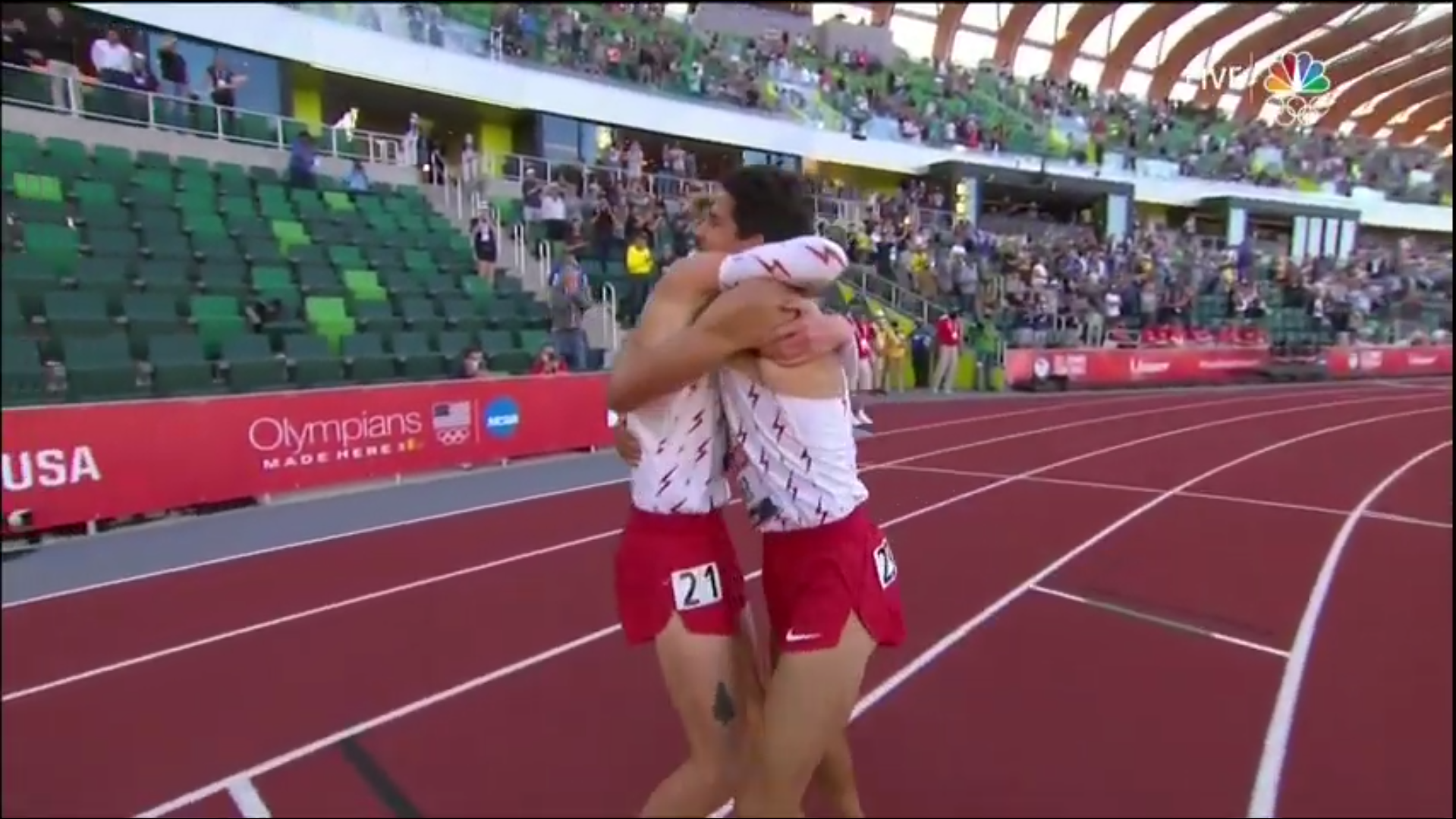 Quick Take: Kincaid on why he believes in Shelby Houlihan — and why people should believe in him
Kincaid was asked after the race whether it was distracting dealing with the Houlihan saga as he prepared for the most important race of his life, but he said it wasn't as he, personally, has no doubts about the situation.
"I think Shelby is innocent, so it's not as distracting as you think. I think it would be more distracting if I was like, 'Maybe she did,' but she didn't, so it's not that distracting…
"I wrote a post to support her. You could ask me now or in 10 years. She's innocent."
And given Houlihan's positive test and Kincaid's significant improvement post-college, what would he say to anyone who has doubts about him?
"If anyone doubts my performance, [they're] in the wrong. What do you want me to say?"
Quick Take: Grant Fisher delivers on the hype
Fisher was a prep phenom, winning two Foot Locker titles and breaking 4:00. He was an NCAA champion at Stanford, winning the 5k in 2017. And tonight he made his first Olympic team at the age of 24. America loves to hype the next big thing and talk about Olympics in their future, but by the time the next big thing has made it to the pros, we have often diverted our attention elsewhere. Grant Fisher has simply continued to get better as he has climbed the levels, and tonight he realized his high school potential by making it to the Olympics. Something tells us he's not done.
Quick Take: Joe Klecker repays On's investment
Klecker was twice an NCAA runner-up in college, but did not get his last opportunity to win a national title as his senior season in 2020 was cut short by COVID. He turned pro instead, and became the first athlete for the On Athletics Club, which was established last year.
On placed a significant bet on Klecker's success. They made him the centerpiece of their professional group, basing it in Boulder at his request and giving him final say on their coaching hire (eventually Dathan Ritzenhein). It was a lot of faith in a man who had never won an NCAA title.
Tonight, Klecker repaid it. In the very first race for an On Athletics Club athlete at the Olympic Trials, Klecker made the team.
"My NCAA career was cut short, but making the Olympics today makes up for that," he said.
Heading into the race, Ritzenhein told Klecker that no one had had a more perfect buildup. Prior to tonight, Klecker had run 11 races as a member of OAC, and had run 11 PRs.
"I haven't had a bad workout," Klecker said. "I haven't missed a mile. Literally, everything since Dathan's coached me has gone 100% according to plan."
Next up for Klecker: his first-ever international trip. Though he's had a passport for a while — his hair is so long in his photo, Klecker said, that "they probably won't even let me leave the country with it — it doesn't look like me at all" — he has never left the US. The closest he has come is Grand Portage, a Minnesota lake town on the border of Ontario. 
"I've seen Canada but I don't know what it's like on the other side," Klecker says.
He'll be traveling somewhere a little more exotic than Canada next month. Next stop, Tokyo.
This is what the Trials is all about. @JoeKlecker and his coach @djritzenhein embrace after he just made his first Olympic team. #TrackFieldTrials21 pic.twitter.com/GWVzO0MMlC

— Chris Chavez (@ChrisChavez) June 19, 2021
Quick Take: This is a young US team
The 10k is not typically a young man's game. Over the last five Olympic cycles, the average age of the 10k team is 26.9, and just three athletes have made it under the age of 25. The last three teams have all featured at least one athlete aged 30+. Tonight, two 24-year-olds made it (Klecker and Fisher), with the 28-year-old Kincaid the "old man" of the group. 
Quick Take: Ben True's Olympic Trials heartbreak continues
Let's get this straight: Ben True did not run badly tonight. Not many unsponsored 35-year-olds can run 27:14 for 10,000 meters, as True did in February, or finish 4th in the US. Just to get to this point at his age is impressive. But the Olympic Trials are cruel in their simplicity. The top three make the team (Editor's note: That's normally true. In 2016, fellow Dartmouth alum Abbey D'Agostino made the team in the 5000 in 2016 after finishing 5th) and True was fourth. And by that measure, he failed.
True did not have the best kick in the field, and he knew it, but ultimately opted against trying to make a move to string out the pack with a few laps to go.
"There was a pretty stiff wind on the back stretch and I thought if I made a move the three guys behind – Woody, Grant, and Joe – were all going to be able to match me. It was slightly risky and when Reid made a move, I was hoping it would take a little sting out of their legs. But no, it didn't."
When True ran that 27:14 back in February, he was optimistic about his chances to make the team; he had the strength, he just had to develop the kick. But True's training has not gone great since then. While Kincaid, Fisher, and Klecker — all at least seven years younger — plowed ahead over the last few months, True was struggling to hold on.
"I don't think I was really in the fitness I was, say in February," True said.
True has done some impressive things on the track, making World Championship teams in 2015 and 2019 and winning a Diamond League 5k. But he has never made an Olympic team on the track — despite finishing 4th, 5th, and 6th at the Trials. And barring a miraculous increase in his ability to kick by next week's 5k final, he probably never will. It's nothing to be ashamed of. These teams are really hard to make.
Looking ahead, True said he plans on making his marathon debut in the fall.
"I'm pretty old now. I think the last few years I've realized the track wasn't for me anymore and began to focus more on the roads. I think this race showed that, unless I can get my leg speed back, the younger guys can turn it over better than me."
Talk about the Day 1 action on our world famous messageboard.
More day 1 coverage from LetsRun.com.
Men's Shot Put: Ryan Crouser SHATTERS 31-Year-Old World Record The first world record at the newly-renovated Hayward Field has fallen on the first day of the 2020 US Olympic Track and Field Trials — and it was set by an Oregon native. Ryan Crouser crushed the men's shot put world record by 25 centimeters (9+ inches).
Day 1 Qualifying: 1500s and 5ks Start without Houlihan, Brazier and Hoppel Advance But not Convincingly, Abbey Cooper Inspired Again We tell you everything you need to know about qualifying in the all the running events on Day 1 at the Trials.
For complete Olympic Trials coverage, check out the LetsRun.com front page each day or go to our Trials special section after the fact.