Day 1 Qualifying: 1500s and 5ks Start without Houlihan, Brazier and Hoppel Advance But not Convincingly, Abbey Cooper Inspired Again
by LetsRun.com
June 18, 2021
After an extra year of wait, the 2020* US Olympic Trials got underway Friday in the newly renovated Hayward Field. The two big finals were the men's shot put final and the men's 10,000m final, and neither one disappointed. Ryan Crouser stole the show in the shot put final as he threw 23.37 to crush the world record (which gets its own recap here) and Woody Kincaid outkicked Bowerman teammate Grant Fisher to win the 10,000m as Joe Klecker got the third Olympic spot (recap here).
Below we recap all the other action starting with the distance races, round 1 of the women's 1,500 and 5,000, and the men's 800m. There were no major surprises in any of the distance prelims, but athletes started to flex their form, and also talk about (or not talk about) the Shelby Houlihan drug suspension.
Women's 1500: Simpson & Purrier win heats, stay quiet on Houlihan as only four women are eliminated
The first running event of the 2020 Olympic Trials was also the most pointless as USATF ran an entire round of the women's 1500 to eliminate four women.
Article continues below player.
With the top six athletes in each of three heats and the next six fastest women advancing, there were 24 spots up for grabs in Saturday's semifinals, and all of the women you would expect — Jenny Simpson, Elle Purrier, Shannon Osika — advanced with ease.
There were, however, a few notable athletes who won't be in the semis. After Thursday's is-she-or-isn't-she drama, Shelby Houlihan, the American record holder, who was handed a four-year ban for a positive drug test last week, was removed from the start lists from the event this morning and did not run. Her Bowerman Track Club teammate Elise Cranny did not start, scratching in favor of the 5,000 meters. Of the athletes who did race today, the most notable non-advancer was Alexa Efraimson, the sixth-placer at the last Trials, who was eighth in heat 2 in 4:16.70, missing the final time qualifier by almost two seconds.
Simpson, the four-time US champion, went out at the back of heat 1 but closed very well over the final 100 meters, taking the heat win in 4:11.34, the fastest time of the day, and celebrating by flexing her biceps after crossing the finish line. Pre-event favorite Purrier also looked comfortable in winning heat 3 in 4:11.78. Heat 2 was the slowest of the bunch, with a pair of Danis — Aragon and Jones — going 1-2 in 4:13.34 and 4:13.47.

Quick Take: The 1500 women we spoke to declined to pick a side on the Shelby Houlihan case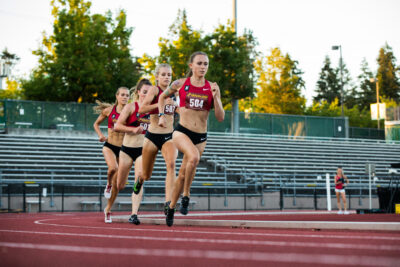 Obviously the absence of Houlihan, the two-time defending champion who has run over a second faster than anyone in American history, has a huge impact on this event as there is now an extra spot to fight for on the team. A number of the athletes running today were asked for their thoughts on the situation; the ones we spoke with all refrained to pass judgment.
Simpson said she appreciated the question and that it was an "important discussion" but said she would prefer to address it after Monday's final, once her job in Eugene is done. Purrier declined to share her views, saying she is just focusing on herself this week.
"I know that there's a lot of hype and everything going on, but it doesn't really do me any good to worry about it because there's nothing I can really do to change it," Purrier said.
Dani Jones was a little more forthcoming.
"Either way, it's a really, really sad situation," Jones said. "No matter what you believe, it's sad for our sport. It's sad for people in this event. I'm really trying to stay in my lane right now. This is a big weekend for everyone right now. I don't really know enough about the situation, but either way, it's disappointing and it's upsetting."
Meanwhile Shannon Osika, who is the #2 seed in the field this year based on her 4:00 sb, said that she is "neutral."
"It's unfortunate and I feel really bad for the position Shelby is in," Osika said. "But it is what it is."
Quick Take: Jenny Simpson is still excited to be here, 13 years after her first Olympic Trials
You'd think that advancing to the next round would be old hat to Simpson at this point, who has made every US team since she was a 20-year-old in 2007. But she celebrated her heat win today as if she were someone running her first Trials, which Simpson said was due to the energy of her support team.
"My high school coach is here," Simpson said. "That's 100 percent of that energy. To think my high school coach is still coming to Trials in 2021, I still want to put on a show for people dedicated to me."
Simpson said that Jay Getty, her coach at Oviedo High School in Florida, typically uses his summer vacation (he's a teacher) to come watch her at the Olympic Trials and that she truly values the support, 16 years after she graduated.
Quick Take: Dani Jones says this is the fittest she's ever been
2021 has been the first full year for Jones under her coach Joe Bosshard, and after running back-to-back PRs heading into the Trials, she feels good about her chances this week. 
"[Joe] has really dialed in on my weaknesses," Jones said. "Obviously I have a great foundation coming from the University of Colorado, but he's really just sharpened me. I feel really great and as confident as I've ever been."
Quick Take: Please stop running races to eliminate four athletes, USATF
If a prelim only eliminates four athletes from a 28-person field (it was 30 but there were two DNS's), that prelim needs to be scrapped or the field needs to be enlarged. The current three-round system is in place to ostensibly mimic the Olympic format. But the Olympics take 45 athletes and USATF only takes 30.
Last year, we asked USATF why they only take 30 athletes, and this was their response:
"Three heats of 10 has been in place since the 2004 Trials. The rule exists so that there's consistency in the number of athletes in all races and so that athletes have the best opportunity to race well on an uncrowded track."
Sorry, but it needs to change, because the current system benefits no one. Fans don't get any drama because almost no one is eliminated, and a bunch of athletes who could add real stakes to the first round are forced to sit on the sidelines. Add 10-15 athletes to the field, add a fourth prelim heat (there, we solved the crowding issue for you), and the meet will be better for everyone.
Quick Take: Elise Cranny should have scratched before the meet
Elise Cranny was one of a number of athletes to enter both the 1500 and 5000 meters at this meet. But she is the only one who ran the 5000 and did not start the 1500. That shouldn't be happening.
If you're an athlete who is focusing on the 1500, it's logical to enter both events — if disaster strikes and you fall in the 1500, you can try to come back and run the 5000 later in the day. But if you are planning on racing the 5000 and have no intention of running the 1500, all you're doing is taking a spot that could have gone to a deserving athlete. Cranny should have scratched from the 1500 earlier this week and given another athlete a chance to make the meet.
Quick Take: What has happened to Alexa Efraimson?
Efraimson was 6th at the 2016 Trials as a 19-year-old and 5th at USAs in 2017 at 20. She didn't make the USA final in '18 or '19, but she did run 4:04 as recently as two years ago. But she didn't race at all last year (she underwent shoulder surgery in October 2020) and has been poor this year after joining new coach Pete Julian's training group. She's still only 24 but has not PR'd since May 2015 — her senior year of high school.
Men's 800: Brazier and Hoppel Through, But Not Convincingly
The first round of men's 800 brought few surprise casualties, as seven of the top eight seeds moved on to the semifinals, with notable favorites Donavan Brazier, Bryce Hoppel, Clayton Murphy, Isaiah Harris, Brandon Miller and Isaiah Jewett all getting auto Qs. The lone exception was Clemson redshirt senior Kameron Jones, who improved his pb to 1:45.47 this season but could only manage 1:48.86 today.
Brazier and Hoppel, the reigning world champion and fourth-placer from 2019, respectively, both did not appear in peak shape in their heats, though Brazier ran a seasonal best of 1:45.00.
Hoppel needed to use a few extra gears in the final 50 meters to take second in heat 1 in 1:48.38, while Brazier was boxed in and in fourth place with 100 to go in heat 2 but passed on the inside to win.
Three of the four heats were slow today, with no times under 1:47.83, but heat 2 was very quick, with veteran Erik Sowinski pushing the pace. Sowinski finished fourth but got a time qualifier in 1:45.47, his fastest time since 2018. Brannon Kidder, who made the Worlds team in 2019, ran a pb of 1:45.06 for second, while two-time US runner-up Isaiah Harris got a seasonal best of 1:45.25.

Quick Take: Hoppel and Brazier did little to answer questions about their health and fitness today
We had questions about the condition of both favorites entering this meet, as Brazier had only run two 800s this year entering the Trials, while Hoppel missed his sponsor's flagship track event, the adidas Boost Boston Games, on May 23. Neither completely dispelled our concerns in this first round.
To be fair, Brazier ran a seasonal best today and won his heat, but he nearly made a tactical mistake. He was on the rail behind Sowinski, Harris and Kidder entering the final straight, entirely boxed in and bringing back memories of the 2016 Trials, when he failed to make it out of the first round. Luckily for Brazier, Sowinski drifted to the outside, allowing Brazier to make a move to the inside and win. Brazier seemed unconcerned and confident after the race, citing that the heat was quick enough that he would have made it through to the semifinal anyway.
"I knew that if I had a strong enough last 100, the guys tend to swing wide,"  Brazier said.
Brazier also dismissed questions about his physical health after the race.
Perhaps more concerning was Hoppel's run, as he led for the first 600 meters but appeared to strain in the final 100, holding off two men by 0.11 seconds to take second, but allowing Atlanta Track Club's Abraham Alvarado to win the heat.
Asked whether he is healthy and 100%, Hoppel said the race was "Probably harder than I thought, but I think I underestimated the field."
Hoppel acknowledged that the competition in tomorrow's semifinal will be "a lot better." He also did not engage in injury talk after the race, simply attributing his absence at the Boost Games to "sharpening" for the Trials.
Quick Take: The collegiate studs ran smart
NCAA champion Isaiah Jewett (USC) and runner-up Brandon Miller (Texas A&M) entered this meet as two of the three fastest men in the country in 2021, but we questioned how their tactics (front-running) would translate to this stage. Each got the job done today.
Jewett ran from the front but conservatively, winning heat 4 in 1:47.83 in a negative split, looking strong as he ran alongside 2016 Olympic bronze medallist Clayton Murphy in the final 100 meters.
"I'm glad I got that race out of the way because it got me right back into the mojo of running, and it's always a great time to race all these pros," Jewett, who won the NCAA title only a week ago, said.
Miller, conversely, sat in second place for the first 600 meters of heat 2. With 100 to go, he'd been boxed in as two men, Michael Rhoads and Sean Dolan, moved up on his outside. Miller navigated himself to the outside and closed hard to finish third and get an auto Q. Rhoads, a 2020 Air Force Academy graduate, and Dolan, a Villanova student, took the top two spots in the heat. 
Shane Streich of Lipscomb and Samuel Voelz of Notre Dame also qualified for the semifinals, closing well in heat 1 behind Alvarado and Hoppel. All four of those athletes finished within 0.14 seconds of each other in the heat.
Notably, US Army runner and former UTEP standout Jonah Koech, who just became eligible to compete for the US this month, also qualified for the semifinals, running 1:47.92 for third in heat 4.
Quick Take: Murphy and Harris looked composed
Though our expectations may be slightly lower for Clayton Murphy and Isaiah Harris than Brazier and Hoppel, both have experience on the world stage and are seeking a return to peak form this year. Both ran tactically sound races today, sitting in the pack for the first lap and closing well. 
Murphy finished second in heat 4, just a hundredth of a second behind Jewett, after being in fifth at the bell. He said that wasn't his plan, but he made a strong move in the third 200 and looked content to jog alongside Jewett in the final straight.
"I made a move with 350 to go, and just had to push it all the way through and survive and advance at this point," Murphy said. "I had to make up for some early stupidity."
Harris was also in fifth at the bell in heat 3 but came around on the outside, as he often does, to take third in 1:45.25, behind Brazier and Kidder.
Women's 5000: Abbey Cooper Inspires Again
Abbey Cooper (née D'Agostino) inspired the world in the 5000m prelims at the Rio Olympics when she fell to the track with fellow competitor Nikki Hamblin and then stopped and picked her up before trying to run to the finish with what turned out to be a torn ACL. Cooper and Hamblin won the Olympic Fair Play award for their heroics.
Cooper was back inspiring in the 5,000m prelims on the opening day of the Track Trials in Eugene, which was hard to do considering 16 of the 20 runners made the 10,000m final.  However, Cooper, who has struggled since 2016, had not run under the 15:10 Olympic standard. (She ran 15:13 in her only 5k this year). Knowing the quality of the women's 5,000m runners, Cooper figured the final would go that fast. One problem: the forecast for Monday and the 5,000m final shows a high of 95 degrees.
Cooper said her coach Chris Layne told her 45 minutes before her prelim started about the weather forecast and she might want to get the standard tonight.
After Erika Kemp led the first 3 laps, Cooper had a decision to make. Did she really want to try to be an Olympian or not?  Cooper decided to give it a go. She said after the race, "1200 in, I felt OK and knew I had to go out on a limb. That was Jesus helping me. I wouldn't have done that if Coach Layne didn't say anything."
Cooper took the lead before the mile mark and pushed the pace. The field tried to stay with her for a little while but after 2 laps she was clear of the field and she continued to push.  Cooper started whipping off laps in the 71-73 range. She'd have to keep that up, as with 4 laps to go she needed to run 4:45.65. With 800 to go, she still needed to run 2:21.48. She had a little room at the bell, only needing a 71.13, and she ran a 68.94 to the delight of the surprisingly small Hayward crowd to finish in 15:07.80.
It didn't make her an Olympian again, but it gives her a shot again if she can finish top 3 on Monday, and was another unexpected inspiring performance.
Behind Cooper, Rachel Schneider led the qualifiers in heat #1 and should be a factor in the final. The rest of the big guns were in heat 2 with 2021 breakout star Josette Norris, the top seed Karissa Schweizer, her stellar teammate Elise Cranny and the NCAA champ Elly Henes all finishing within .17 of one another to make the final. They should all be in the mix in the final, and Cooper may be a factor as well, as the solo run in the heat was her best run since the Olympics.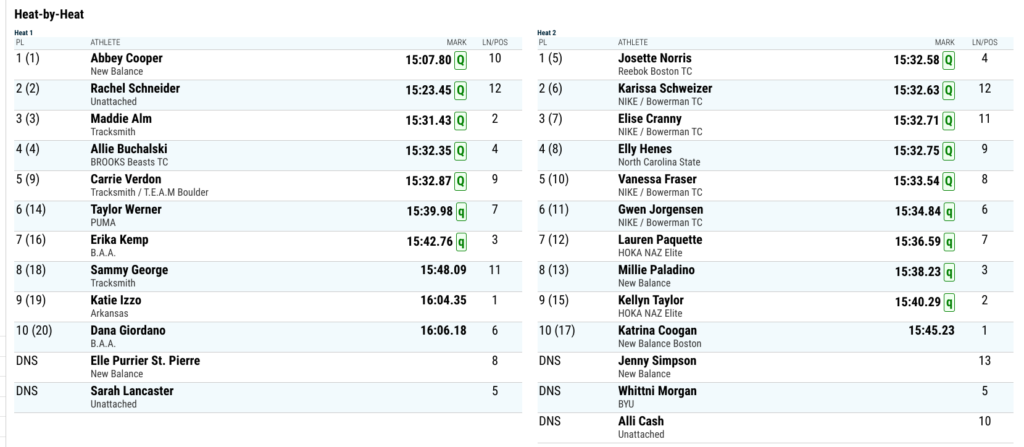 Women's 100: Sha'Carri Richardson goes 10.84
Sha'Carri Richardson entered her first Olympic Trials as the heavy favorite to win the women's 100 meters and today's prelims did nothing to change that status. Running in the last of four heats, Richardson cruised to a 10.84 despite a mediocre start, easily clocking the fastest time of the day (no one else ran faster than 10.96).
There were a couple of notable personal bests in the earlier heats. In heat 1, Gabby Thomas took a tenth of a second off her pb to win in 11.00 and hit the Olympic standard for the first time. Then in heat 3, Javianne Oliver, the 2018 US champ in the 60 meters, did Thomas one better, taking .01 off her pb to run 10.96.
Tamara Clark of Alabama, who ran 10.88 (+2.2 wind) to finish 3rd at NCAAs last week, surprisingly failed to advance after running 11.20 to finish 5th in heat 1.

Women's 400: Jonathas, Felix, Hayes win heats easily
There were no surprises in the first round of the women's 400, as all of the top eight seeds advanced to the semifinals. USC senior and NCAA indoor champ Kaelin Roberts, who would have been the 7th seed, was a pre-meet scratch, but otherwise the favorites came through comfortably.
2019 Worlds fourth-placer Wadeline Jonathas had the fastest mark of the afternoon, running a seasonal best of 50.64 — encouraging for Jonathas, who ran 49.60 in 2019 but hadn't yet broken 51 in 2021 until today.
The other heat winners were U.S. track legend Allyson Felix (50.99), 2017 US champ Quanera Hayes (52.34), and Gateshead Diamond League winner Kendall Ellis (51.02). Each made their win look easy, but especially Hayes, who jogged the final 50 meters in her first race since April 10.
Talitha Diggs, the 18-year-old Florida freshman and daughter of four-time Olympian Joetta Clark Diggs, also got a big Q, running 51.74 in heat 4 to follow up her NCAA runner-up finish from six days ago.
This is a wide-open event to watch over the next two days, as the top two 400 runners in the country by time this year (Athing Mu and Shamier Little) are running other events. And of course, because Felix is seeking to make her fifth Olympic team.

Men's 400: All the Favorites and LaShawn Merritt Advance
With 16 of the 26 starters making the semi-finals there weren't any big surprises out of round 1.
Trevor Stewart, the 4th placer at NCAAs, had the fastest time in 44.75. His North Carolina A&T collegiate teammate, Randolph Ross, who won NCAAs in a world-leading 43.85, had the most eventful semifinal as he was running out in lane 7 and had some work to do the final 100m to make sure he was in the top 3, but he hit the afterburners and got in top 3 in his heat in 45.61.
LaShawn Merritt is a two-time world champ and the 2008 Olympic champ, but he hasn't been sub-45 since 2017. He finished 5th in his heat in 45.81 and Lewis Johnson on NBCSN was asking him about the future in the sport and whether he was done, assuming he didn't make the final. Merritt gave the indication he'd keep running this year and said, "I'm overcoming some injuries. I wanted to come here and have fun. I did a lot in this sport. I wanted to see what I could do after this toe injury. There's some things I want to do in life I haven't been able to do yet. Like family, like business. I still love this."  Turns out Merritt was the final qualifier for the semis.
In heat 4, Michael Norman was beaten by Elija Godwin of Georgia who didn't make the NCAA final but won the heat in 44.81 to Norman's 45.18.
Norman said the plan was to dominate the heat, not take it easy. "I think it was just first round jitters. I'm a little bit scared to go back to Coach Watts," he said.