Kigen Chemadi Saves His Best for Last to Win 2021 NCAA Steeple Title
by Karl Winter
June 11, 2021
After seven men finished within one second of each other in his prelim heat, Middle Tennessee State senior Kigen Chemadi knew he had to try something different in the final. Chemadi executed it perfectly, turning a tactical men's steeplechase final into a three-lap sprint to win his first NCAA championship in his final collegiate race. The victory was the first NCAA title for a Middle Tennessee State athlete in any event since 2003.
 "It's a big win for me," Chemadi said. "It's a big, big win for the university because it puts our school [on] the map in the NCAA."
Article continues below player
The Kenyan finished third in the steeple at the 2019 NCAA Championships, and this season had only run 8:37, but peaked perfectly, making a strong move with 1100 meters remaining and never relinquishing the lead, finishing in 8:28.2, the fastest NCAA time this season.
The Race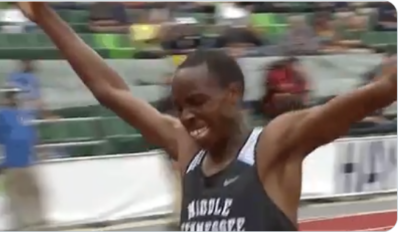 Early on no one wanted to join Washington State junior Colten Johnsen at the front. On the third to last lap, Chemadi made his move and dropped a 67-second lap, then followed it up with a 64.29, the fastest two laps of the race thus far.
Oklahoma State junior Ryan Smeeton and Minnesota's Alec Basten went with Chemadi and BYU senior Garrett Marsing moved up to fourth place after the penultimate water jump. The group of four broke away at the bell, and Basten tried to pass Chemadi after the third-to-last barrier. Chemadi held him off, getting to the final water jump first, with Smeeton flanking both.
"I knew I'm good in water jumps," Chemadi said. "So once I passed the water jump, I was getting some hope like I'm going to win it."
Smeeton, who closed hard to get second in 2019, attempted to make his move on the home straight, passing Basten, and charging toward Chemadi, but disaster struck on the final barrier. Smeeton stuttered his steps and caught his foot on the barrier, falling to the track. 
Basten avoided Smeeton to finish second, but Chemadi was away and clear, completing a 61.25 final lap to take the win. Basten finished in 8:29.03, the only other collegian to break 8:30 this season. Smeeton closed in 63.19 despite the fall and got up for third.
Results
1, Kigen Chemadi, Mid. Tenn. State, 8:28.20. PB
2, Alec Basten, Minnesota, 8:29.03. PB
3, Ryan Smeeton, Oklahoma State, 8:30.70. SB
4, Garrett Marsing, BYU, 8:31.54. PB
5, Duncan Hamilton, Montana State, 8:31.55. PB
6, Ky Robinson, Stanford, 8:32.01. PB
7, Derek Johnson, Virginia, 8:32.95. PB
8, Parker Stokes, Georgetown, 8:33.44.
9, Felix Kandie, Liberty, 8:34.15.
10, Ahmed Jaziri, Eastern Kentucky, 8:34.85.
11, Bennett Pascoe, Arkansas State,8:42.37.
12, Colton Johnsen, Washington St., 8:46.89.
Quick Take: The steeple always provides drama 
The NCAA steeplechase sometimes gets a bad wrap as an event populated by athletes who cannot compete in the 1500 or 5000, but you can't say it's not exciting. Though the men's steeple hasn't been fast recently (nobody has cracked the collegiate top-10 list since 2013), the last three NCAA championship races have featured dramatic falls and finishes on the final lap. 
In 2018, Houston's Brian Barraza had a big lead at the bell but hit the deck on the fourth-to-last barrier and faded to eighth. In 2019, Indiana's Daniel Michalski had the lead and fell on the last water jump, then Stanford's Steven Fahy fell off the final barrier but won anyway. This year, the final lap leader, Chemadi, stayed out of trouble to win, but Smeeton looked like he could have made a serious bid for the victory in the final 50 meters if he hadn't fallen.
Quick Take: Basten, Marsing get Trials standards
Smeeton is Canadian and Chemadi is Kenyan, but Basten and Marsing entered NCAAs with the possibility of also punching a ticket to return to Hayward Field for the U.S. Olympic Trials. Both entered the meet less than three seconds short of the standard of 8:32.00, but had entered the Trials in case they got the standard before the declaration window closed. Chemadi's big move helped them to push the pace and get it, as Basten ran 8:28 and Marsing ran 8:31.54 for fourth.
You can watch the full race below:
Talk about the NCAA action on our world famous fan forum / messageboard.