2021 Gateshead DL Recap: Dina Asher-Smith Wins Sprint Showdown as Hillary Bor Becomes 3rd American to Win a DL Steeple
by LetsRun.com
May 23, 2021
The 2021 Diamond League season kicked off with typically British weather — cold (50s), rainy, and windy — at the Muller Grand Prix Gateshead on Sunday. So perhaps it was appropriate that two British stars shone the brightest. In the women's 100 meters, Dina Asher-Smith prevailed in a battle of the stars, running away from sprint sensation Sha'Carri Richardson to win in 11.35 as the race was run into a huge 3.1 m/s headwind. Later, middle distance star Laura Muir earned a dominant win in the women's 1500 meters in 4:03.73, four seconds clear of runner-up Rababe Arafi.
From an American perspective, the big story was Hillary Bor's victory in the men's steeplechase — just the third ever by an American in that event. There were also wins for Kenny Bednarek in the 200 and Jakob Ingebrigtsen in the 1500, while Mariya Lasitskene and Mondo Duplantis were upset in the high jump and pole vault, respectively.
Article continues below player
Full recap and analysis below.
(Note: Normally we paste the results into our recaps but the DL has sent out full results but you can find them by  clicking on the various events here.)
Men's steeple: Bor makes history
2019 US steeple champ Hillary Bor made history in a couple of ways on Sunday: he became just the third American (after Emma Coburn in Shanghai in 2014 and Evan Jager in Monaco in 2017) to win a Diamond League steeplechase. And he recorded, by far, the slowest winning time in the history of the Diamond League — his 8:30.20 was almost 10 seconds slower than the previous record (8:20.27, Jairus Birech, Birmingham 2012).
Bor won't care about the latter stat, as times were slow across the board on a cold, wet, and windy day in the northeast of England. The win was what was important today, and Bor looked great in achieving it, separating on the back straight to kick away from sub-8:10 men Leonard Bett of Kenya (9th at 2019 Worlds) and Djilali Bedrani of France (5th at 2019 Worlds).
The Race
It became clear very quickly that nobody was going to run fast, and the split at 1k (2:55.60) was one you'd expect to see Beatrice Chepkoech lay down in a women's steeple. Even that pace was too much for American Stanley Kebenei to handle, as he was off the back shortly after 1k and wound up dropping out.
After speeding up moderately for the second kilometer (2:51.65), Australian James Nipperess led, but he would be passed by Bett with two laps to go and then Bor with 600 remaining. Still no one had created any meaningful separation, and at the bell, it was Bor, followed by Bett, Canadian Matt Hughes, and Bedrani.
At that point, Bor launched into his kick, and finally the rest of the field began to crack as Bor opened up a gap on the back straight and would not be challenged the rest of the way. All he had to do was clear the water jump and final barrier to cement a famous win, and he hurdled both smoothly, giving him time to celebrate before crossing the line first thanks to a 61.3 final lap.
Quick Take: A great win for Bor, but let's acknowledge the context
Full credit to Hillary Bor, who looked terrific over the final lap today. You can only beat the people on the start line, and Bor did that in convincing fashion.
That said, this was far weaker than your typical Diamond League field. There were no Ethiopians, Conseslus Kipruto is still awaiting the outcome of his defilement case in Kenya, and the big star, two-time World Championship medalist Soufiane El Bakkali, was a late scratch due to travel issues.
Bor's win — and in particular, the way he achieved it — is a big boost for his Olympic hopes. He ran slower than his last time out, 8:22 at the USATF Grand Prix on April 23, when he was well-beaten by Isaac Updike and Mason Ferlic. Times didn't mean much today, but Bor beat a couple of quality runners in Bett and Bedrani. A strong last lap will be essential if Bor is to make his second Olympic team, and based on today's evidence, he's rounding into form nicely.
"I felt strong all the way through," Bett told meet organizers after the race. "My training is going well so I am very happy with today's performance."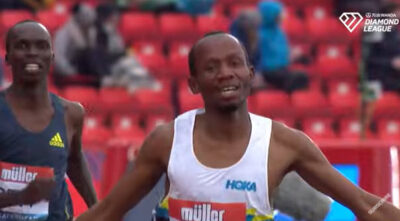 Quick Take: This was the first DL win by a HOKA athlete
Per HOKA sports marketing head Mike McManus, Bor's win today was the first victory ever for a HOKA ONE ONE-sponsored athlete in a Diamond League points race. The brand certainly got some nice exposure today as there were three HOKA athletes in the field (Bor, Hughes, and Kebenei) and one of them won the race.
MB: American Hillary Bor just won the Gateshead DL steeple – Is that HOKA's 1st DL victory ever?
Quick Take: A disastrous run for Stanley Kebenei
Stanley Kebenei is the second-fastest American steepler in history, but unless something changes drastically over the next four weeks, he will not be on this year's Olympic team. In his season opener on April 23 — his first track race in 18 months — Kebenei could only manage 8:30. Today, he was even worse, as he struggled to hold on to the modest opening pace and ultimately wound up dropping out. With Bor returning to form, Evan Jager returning to the event, and Updike, Ferlic, and Sean McGorty all making improvements, Kebenei will need to be close to his best to make the team in Eugene. On today's evidence, he is nowhere near that level.
Men's 1500: Jakob Ingebrigtsen wins as Hoare proves he belongs
When the start lists for the Gateshead meet were published, we immediately became excited for the men's 1500 as we wanted to see how Jakob Ingebrgitsen, the 3:28 man, Ollie Hoare, the 2021 world leader, and Stewart McSweyn, the Aussie record holder, stacked up against each other.
And that's exactly what we got.
Heading into the final turn, those three had gapped the rest of the seven-man lead pack that was together at the bell, but at the finish, Ingebrigtsen won in 3:36.27 to Hoare's 3:36:56 as McSweyn was third in 3:37.32.
The race
The three fearless racers — as TV commentator Steve Cram so perfectly summed up the leading trio of McSweyn, Hoare and Ingebrigtsen — weren't afraid of the conditions and they went with the rabbits in this one. The opening lap was quick (56.37) and the field was single file, but the pace slowed from there as they hit 800 in 1:54.51 and 1200 in 2:54.63. Despite the slowing pace, the racers were single file for most of this one although the lead pack of seven bunched up a little bit at the bell (2:40). The big three were up front throughout (with rabbits taking them through 1100) with Ingebrigtsen serving as the first racer. Coming off the final turn, Hoare was perfectly positioned on Ingebrgitsen's shoulder but Ingebrigtsen never gave up the lead. He gradually pulled away throughout the final 100. 
Quick Thought: This race ended up being a win-win for the top two. Ingebrigtsen got a win his outdoor opener and Hoare proved he belonged. 
As well as Hoare had been running in the US, today's showing wasn't a surprise but we should remember this was his DL debut and he was quite pleased afterwards. Here's what he had to say after the race.
I've been in America on my own just pushing the pace, but to be in a race like this with talented individuals able to push the pace was a great indication of how my race preparation is going.
Having four Australians in the Diamond League 1500m just shows you where we're at right now and we should be extremely proud.
I haven't had that head to head competition at all so it was a great indication to run with people as talented as that; it was a real treat and I'm really thankful.
I'd never raced a lot of those guys before so to be able to race that tactically and figure where I am and what to improve on, it was fantastic for me. I watched Diamond League on TV when I was growing up and now I'm here. It was a great opportunity for me and I'm thankful for that.
When a favorite like Ingebrigtsen wins, we sometimes take it for granted. Taking care of business was something he needed to do and he did it — in weather that wasn't too foreign to him.
"This is normal weather back in the west coast of Norway. It's really tricky to run fast in these conditions and it turned out to be a tactical race," said the former teen phenom, now 20. "Today really didn't have anything to do with the times, racing in these conditions, because all of a sudden if you get a sudden gust of wind then everything is ruined."
MB: Jakob opens at 3:36 vs Cheptegei opens at 3:37
Women's 1500: Laura Muir destroys the field

Race favorite Laura Muir of Great Britain used a 62 flat last lap to destroy the field and win the women's 1500 in 4:03.73 as she won by a full four seconds with 3:58 1500 runner Rababe Arafi of Morocco second (4:03.73). Brit Katie Snowden, the surprise winner of the Track Meet last weekend, was third in 4:08.92.
"Today wasn't about times, it was about getting out there and getting a win in front of a home crowd," said Muir. "I'm really, really pleased, I just wanted to sit in and use my strength over the last half, which I did. I'll have to watch the race back but it went really well."
Men's 5000: Spain's Mohamed Katir springs the upset
Based only on personal bests, the results of today's men's 5,000 meters will go down as one of the biggest upsets in the 12-year history of the Diamond League, as 13:50 man Mohamed Katir of Spain outkicked 12:51 man Nicholas Kimeli of Kenya to win in 13:08.52 and become just the second European man (after Mo Farah) to win a Diamond League race at 5000 meters.
The personal bests are a little misleading, however, as the 23-year-old Katir, who was born in Morocco, has only run one 5,000 in his career, and that came three years ago. Katir has actually been in fine form in 2021, running 7:35 for 3,000 indoors (a nine-second pb) and 3:33 for 1500 outdoors (a three-second pb). Today, he got another huge pb and impressively kicked away from Kimeli thanks to a 56-second last lap.
With a mile to go, Kimeli and Katir had broken away from the rest of the field, and the question was whether Kimeli could create any separation on the 3:33 man Katir before it came time to kick at the bell. The answer was no, and after a 63.10 penultimate lap, Katir responded to the bell by taking the lead on the first turn of the final lap.
Kimeli wasn't licked, however, as he stalked Katir down the back straight, and even as Katir opened a small gap around the final turn, Kimeli still looked strong, with another trick up his sleeve.
The problem for Kimeli was that Katir had an extra gear as well, and he hit it with 100 meters to go, stretching his gap all the way to the finish line to win in a 42-second pb.
Quick Take: What a run from Katir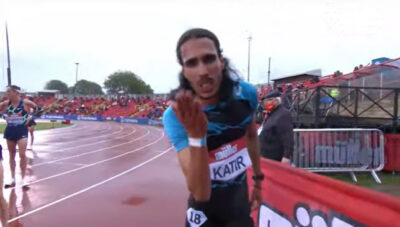 Coming in, we expected Kimeli, who had an outstanding 2020 campaign, running pbs of 12:51 and 26:57, to run away from this field. And Kimeli ran well — he beat everyone else in the race by 10 seconds. He just didn't run as well as Katir, who was terrific. 13:08 in the conditions today — it was cold, windy, and pouring rain — is worth sub-13:00 on a good day. 
We should note that, just as in the steeple, this was not a top-quality DL field — the Ethiopians, who have dominated this event on the DL circuit in recent years, were totally absent. But this was still a fine run considering the weather.
Sprints
Women's 100: Dina Asher-Smith pulls off the upset
Is it an upset when the 2019 Worlds silver medallist at 100m – Britain's Dina Asher-Smith – beats someone who didn't even qualify for Worlds in 2019 – Sha'Carri Richardson? Yes it is if you've been watching Richardson run this year.
But that's what happened today. On a day that featured British weather, the Brit Asher-Smith got the win in the women's 100 in 11.35 (-3.1 m/s) to Richardson's 11.44 as the 2009, 2013, 2015, and 2019 world champ and two-time Olympic champ Shelly-Ann Fraser-Pryce was fourth in 11.51.
Quick Take: Losing here was good for Sha'Carri Richardson in the long run
Losing is never fun but we think this blessing in disguise for Sha'Carri Richardson. If she had blitzed everyone in this one, all of the pressure would have been on her. Now, Asher-Smith will have to deal with all of the added pressure and Richardson has something to motivate her and keep her grounded.
Men's 200: Kenny Bednarek looks great
Kenny Bednarek narrowly lost to world champion Noah Lyles two weeks ago at Mt. SAC, but he has responded well since heading to Europe, winning in Ostrava on Wednesday in 19.93 and earning the win today in 20.33. That came into a huge headwind (3.0 m/s), but it was a hugely impressive performance as Bednarek defeated runner-up Aaron Brown of Canada by a massive .46 margin.
Women's 100 hurdles: Sember takes the win
Cindy Sember, the fourth-placer at the 2016 Olympics, took the win here, joining sister Tiffany Porter as the only Brits to win a Diamond League 100 hurdles race. Sember and the rest of the field looked shocked to see the clock after finishing, as the winning time was 13.28 — over a second off Keni Harrison's 12.20 world record and the slowest winning time in the history of the DL (previous slowest was Danielle Carruthers' 13.04 in New York in 2011). Of course, there was good reason for that, primarily the enormous 3.9 m/s headwind.
Women's 400 hurdles: Petersen wins
Olympic silver medalist Sara Slott Petersen of Denmark won this non-DL event in 56.32, edging out Brit Jessica Turner. 
Women's 400: Ellis holds on
American Kendall Ellis, the 2019 US runner-up, got out hard, and though she was almost caught in the home straight by Jamaica's Stephenie Ann McPherson, Ellis had just enough to hold on and earn her first career Diamond League victory in 51.86. Thanks to the extremely windy conditions, only two of the eight women in the field broke 52 seconds.
Field Events
Men's Pole Vault: Kendricks wins in tough conditions
Of all the events, the conditions may have been toughest on pole vaulters today. World champ Sam Kendricks and WR holder Mondo Duplantis were the only men to clear 5.55 meters, and after Kendricks cleared 5.74, Duplantis passed his final attempt at 5.74 to try 5.80. Duplantis appeared to have cleared the bar, but he brushed it slightly on its way down, which (perhaps aided by the wind) dislodged it, handing the wind to Kendricks.
Our favorite part of this competition however is shown here:
Women's High Jump: Licwinko springs upset as Lasitskene is only 4th
Today's meet capped a week to forget for reigning world champion Mariya Lasitskene, who entered the week having won 31 of her last 32 competitions. She was only able to clear 1.80 meters on Friday in Dessau, finishing in seventh place, and was only marginally better today, clearing 1.88 to finish fourth. Prior to this week, you'd have to go back to July 2015 for the last time Lasitskene finished lower than third in a meet. She has now done it twice in three days.
With Lasitskene off her game, the winner was Poland's Kamila Licwinko, who did not miss through her winning height of 1.91 meters to earn her first DL win since 2015.
Long Jump: Randazzo pulls off the upset

There was some clutch jumping in the sixth round of this one where only the top 3 got to jump (under this year's DL format, their result in the sixth round would determine the finishing order). Spain's multi-time long jump finalist Eusebio Cáceres went 8.04 on his final jump but was topped by Italy's Filippo Randazzo, the European U23 silver medallist in 2017, who went 8.11. World champion Tajay Gayle of Jamaica had the lead at 8.00 heading into the final jump but he ended up third as he only jumped 7.91 in round 6.
Randazzo was surprised by his own performance. "I was very close to my personal best (8.12) and in this cold 8.11 is a good jump and I win the competition and I can't believe it."
Women's Triple Jump: Shanieka Ricketts takes it
World Championship silver medalist Shanieka Ricketts of Jamaica had the longest jump during the first five rounds (14.40m) and also posted the longest jump in the three-woman jump-off (14.29m) to take a deserved victory.
Women's Shot Put: Dongmo wins

Portugal's Auriol Dongmo, the 30-year-old European indoor champ, got the win in this one where no one threw far in round 6. But her victory thanks to her 18.16 sixth-round throw was just as she easily had the longest throw of the day at 19.08 in round 4.
Five years ago, Dongmo threw a national record (17.92) to make the finals in Rio. Now she's a 19.65 thrower with Olympic medal aspirations.
Men's Javelin: Krukowski picks up DL win #1
The javelin was a field event that had a "just" result in the sense that the positions in the sixth round were the same as the rest of the competition. The event winner was Marcin Krukowski (82.61 in round 4, 81.18 in round 6) as 2012 Olympic champ Keshorn Walcott was second (77.88 in round 5, 73.31 in round 6).
While Krukowski's win was his first on the DL circuit, he was disappointed the weather wasn't better. "I was angry to be honest as I wanted good weather to work on my technique and competition is the best training, but I'm happy to win," said Krukowski.
---
Talk about the action on our world-famous fan forum/messageboard: