2020 Valencia Half Preview: Jacob Kiplimo vs Kibiwott Kandie, Round 3; Rhonex Kipruto, & Genzebe Dibaba Debut

December 06, 2020
By Jonathan Gault
December 3, 2020
UPDATE: On Friday, Valencia elite athlete coordinator Marc Roig announced that Letesenbet Gidey will not run — she could not make it to Valencia due to war in her native Tigray region in Ethiopia.
Sunday's Valencia Marathon is going to be incredible. It's the deepest marathon in history and features some of the best athletes in the sport — 2:02 man Birhanu Legese, Boston/Chicago champ Lawrence Cherono, and World Half champ Peres Jepchirchir, to name just a few.
Article continues below player
We've already previewed it here: The Deepest Marathon EVER is Sunday: 2020 Valencia Is Going to Be Incredible.
Yet it may not even be the most exciting race in Valencia this weekend.
That's because the Valencia Half Marathon — which will be held on the same course, starting 30 minutes before the marathon — could be even better. Race organizers, using a budget of $6.4 million/€5.3 million (much of it provided through the Trinidad Alfonso Foundation and its billionaire benefactor Juan Roig) have assembled some ridiculous fields with the aim of breaking both the men's and women's world records.
On the men's side, we get a rematch between the gold and silver medalists from October's World Half Marathon Championships: Uganda's Jacob Kiplimo and Kenya's Kibiwott Kandie. They're joined by sub-59:00 men Bedan Karoki and Stephen Kiprop as well as one of the world's greatest distance talents: 21-year-old Kenyan Rhonex Kipruto, who ran 26:24 to break the 10k road world record in his last trip to Valencia in January and will make his half marathon debut on Sunday.
The women's race features another star making her debut in Ethiopian phenom Letesenbet Gidey. Like Kipruto, the 22-year-old Gidey has had some success in Valencia before: just two months ago, she ran 14:06 to break the 5,000-meter world record on the track. Throw in 65:32 woman Senbere Teferi and a debut from 1500m world record holder Genzebe Dibaba and it's an intriguing field.
We break down the men's and women's races below. If you missed our preview of the full marathon in Valencia, check it out here: LRC The Deepest Marathon EVER is Sunday: 2020 Valencia Is Going to Be Incredible.
Race details
What: 2020 Valencia Half Marathon
Where: Valencia, Spain
When: Sunday, December 6
How to watch: There will be a live stream on the race website. The half marathon starts at 8:00 a.m. local (2:00 a.m. ET) and the marathon at 8:30 a.m. ET (2:30 a.m. ET).
Marathon entries * Half marathon entries * Course map
Men's Race: Kiplimo, Kipruto, and Kandie make for a killer race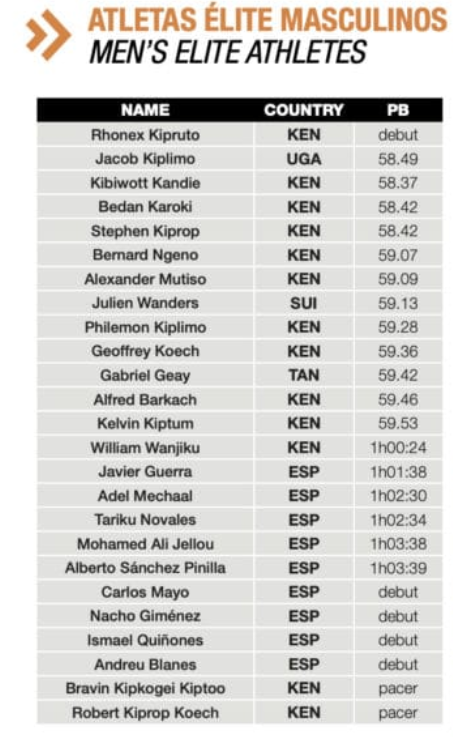 After Jacob Kiplimo defeated Joshua Cheptegei to win the World Half in October, we compared Kiplimo and Cheptegei to tennis stars Rafael Nadal and Roger Federer. Cheptegei, after his success in 2019 and 2020, could be on his way to becoming the greatest runner of all time…yet in Kiplimo, he has a Nadal-like rival within his own generation to push (and perhaps usurp) him.
If Kiplimo and Cheptegei are Nadal and Federer, Rhonex Kipruto may be Novak Djokovic – or at least Andy Murray. Kipruto hasn't shown the same track speed as Kiplimo and Cheptegei (though he did medal at Worlds last year in the 10,000), but his endurance chops are sick. In 2018, he ran a 27:21 10,000 to set a meet record at the World U20 Championships (beating Kiplimo by 19 seconds in that race). Most notably, he ran a world record of 26:24 for 10k on the roads in January. And that performance didn't come in supershoes — he was wearing the adidas Takumi Sens.
26:24 is moving — only Cheptegei, Kenenisa Bekele, and Haile Gebrselassie have gone faster on any surface. Clearly, Kipruto is an aerobic monster and should be capable of going well under 59:00 in good conditions — which would give him the fastest half marathon debut in history (currently it's 59:00 by Ethiopia's Jemal Yimer, who is making his full marathon debut in Valencia on Sunday).
Unfortunately, good conditions look unlikely on Sunday as the wind is forecast to be between 20 and 30 mph. This is nothing new for Valencia. Back in 2018, 30 mph winds meant that the leaders at the World Half hit 15k in just 44:13 (62:11 pace) before Geoffrey Kamworor used the massive tailwind to split 13:01 from 15k to 20k. The course for Sunday's half marathons is pretty much the same as World Half, and the wind is blowing out of the same direction (the west), so we could see a tight pack leading to a spectacular finish on Sunday.
That would be fitting as Kiplimo and Kibiwott Kandie have a habit of producing great races when they line up against each other. In their first encounter, at last year's Sao Silvestre 15K in Brazil, Kiplimo thought he had the race won, only for Kandie to steal the win at the line. Kiplimo got revenge in Gdynia in October, powering away from Kandie with a 13:38 split from 15k to 20k to win by five seconds, 58:49 to 58:54.
Kiplimo, Kandie, and Kipruto comprise the "Big 3" of this race, but there are two more guys I have to mention: Kenyans Bedan Karoki and Stephen Kiprop (apparently one of the requirements of being part of this race was your last name has to begin with K). Karoki, the World Half silver medalist in 2016, has won seven of his 12 career half marathons, including back-to-back titles at RAK in 2017 and 2018. The 21-year-old Kiprop only emerged on the scene in 2018, but he's been impressive as well, most notably tying Karoki's RAK course record of 58:42 in 2019. Expect a podium full of K's on Sunday.
The wind means Kamworor's 58:01 world record from last year is likely safe. Likewise, Kandie may be denied his fourth sub-59:00 of 2020 (his three, in RAK, Prague, and Gdynia, are already a record for a single year). But with three of the top distance men in the world on the start line, this should still be a race to savor, even if the world record may have to wait until Kiplimo and Kandie meet again at RAK in February.
JG prediction: 1. Kiplimo 2. Kandie 3. Kipruto
All three men are studs, and both Kiplimo and Kandie have been in incredible form this year (Kipruto hasn't raced since March). But Kiplimo looked so good in beating Kandie at the World Half seven weeks ago. Not sure why I would change things up and pick against him now.
Women's Race: Gidey debuts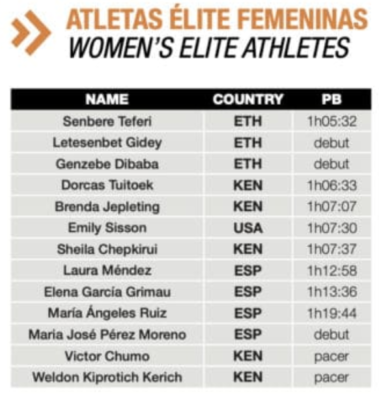 While the expected 20-30 mph winds will hurt both races, it hurts the women more than the men. The men's field is remarkable, but the men's world record is harder; even someone like Kiplimo or Kipruto would need a big day to break 58:01 (4:25 pace for 13.1 miles!).
The women's world record, meanwhile, has been broken four times in the last four years, and there's reason to believe it could have gone again on Sunday had the weather cooperated. In addition to the women's WR being on a percentage basis weaker than the men's (the women's half marathon WR is 11.2% slower than the men's whereas the women's marathon WR is just 10.2% slower than the men's), also one of the biggest talents ever is making her debut: Letesenbet Gidey.
Gidey, of course, is the newly-crowned world record holder at 5,000 meters, but that's not the biggest reason to get excited about her half marathon potential. As good as Gidey is, the 5,000 isn't even her best distance: prior to setting the WR, she had lost her last 12 races at 5,000. She seems better-suited to the 10k (where she ran 30:21, closing in 4:03 for her final 1500, to take silver at Worlds last year) or the half marathon.
But the performance we at LetsRun.com love to discuss with Gidey is her 44:20 15k world record in the Netherlands last year. Based on World Athletics' scoring tables, that was the greatest performance in women's distance running history, equivalent to a 13:42 5k, 63:07 half, or 2:11:51 marathon. That sounds ludicrous, but let's put in context how fast Gidey ran: she closed her final (downhill) 10k of that race in 29:13 (faster than the track WR) after running a 15:07 5k at the start. Even if you don't agree that Gidey's run was the best ever, it's easily the best 15k ever (no one else is within a minute of her), and 15k is less than four miles short of a half marathon.
If there wasn't so much wind, I'd expect Gidey to make a run at Ababel Yeshaneh's 64:31 world record, but I don't think that will happen unless the forecast changes. I do still expect Gidey to win, though she'll face stiff competition in her countrywoman Senbere Teferi. Just last year, Teferi broke the Ethiopian record in the half not once, but twice (65:45 to win RAK, 65:32 to win Valencia). But Teferi, who also finished sixth at Worlds in the 10k last year, opted for the Tokyo Marathon in 2020 (she finished seventh in 2:25:22) while Yeshaneh blew over a minute off her record at RAK. Anyone banking on an easy Gidey win would do well to study the results of the 2019 Valencia Half, where Teferi faced a similar track talent in Sifan Hassan (fresh off her 1500/10k double at Worlds). Teferi won that race by 21 seconds.
There are two other big names entered in the women's race, though I suppose Emily Sisson is only a big name if you're based in the US — which I happen to be. If you're interested in a full breakdown on Sisson, whom coach Ray Treacy believes is fit enough to break the American record, check out this article with insight from Treacy: LRC American Record Alert: Emily Sisson Targeting Molly Huddle's 67:25 AR At Sunday's Valencia Half Marathon
The other big name is Genzebe Dibaba, who will be racing for the first time since August 2019. Dibaba has never run a half — heck, she's never even run a 10k — and will be making her debut in Valencia. Clearly, her personal bests (3:50 WR in the 1500, 14:15 in the 5000) suggest she has some talent in the half, but who really knows what to expect? This is her first race in 16 months at a distance she's never attempted. Your guess is as good as mine.
JG prediction: 1. Gidey 2. Teferi 3. Dorcas Tuitoek
I expect Gidey and Teferi to go 1-2 in some order. Gidey is the bigger talent, so I'll roll with her. Third place is pretty wide open; it's possible that Sisson, despite owning just the sixth-best pb in the field, could make the podium if Gidey and Teferi go out fast and some of the other women try to run over their heads. But I'll go with Tuitoek, whose 66:33 pb from Istanbul last year ranks her second in this field.
Talk about the incredible races in Valencia on our messageboard in this thread which started for the marathon but will add the half marathon discussion to. MB: Are you ready for the DEEPEST marathon EVER? Sunday's Valencia Marathon is laughably good.