Doha Recap: Faith Kipyegon Sends a Message in 800 & Stewart McSweyn Breaks Aussie 1500 Record as 2020 DL Season Wraps Up
By LetsRun.com
September 25, 2020
The 2020 Wanda Diamond League season came to an end on Friday in Doha with some outstanding performances by Kenyan distance stars Faith Kipyegon and Hellen Obiri, an Australian 1500 record by the red-hot Stewart McSweyn, and another commanding 100-meter win by Jamaica's Elaine Thompson-Herah. Kipyegon ran a world-leading 1:57.68 to win the 800 and bolster her chances of a potential 800/1500 double in Tokyo, while Obiri defeated a deep 3000 field to win in her own world leader of 8:22.54. In the 1500, McSweyn earned a dominant solo win by running 3:30.51 to erase Ryan Gregson's national record, while in the field, world record holder Mondo Duplantis stayed perfect by winning his 16th pole vault competition of 2020.
Full recap and analysis below. Neither the Diamond League or World Athletics sent out compiled results so we didn't past them in the article but results can be found here
Men's 1500: McSweyn gets Australian record with tremendous solo run
25-year-old Stewart McSweyn has been in incredible form in 2020, pushing the pace and threatening Australian records every time he steps on the track. Tonight in Doha, the 1500 record of 3:31.09 belonging to his training partner Ryan Gregson (who was also in the race) was in his sights. And after near-misses in Stockholm and Zagreb, McSweyn finally got it done tonight, clocking 3:30.51 in an outstanding solo run for his second Aussie record in nine days (he ran 7:28 for 3,000 in Rome last week).
With the record on his mind, McSweyn got out hard and was right behind the pacers at 400 (54.05 for the first pacer). He was the only one willing to chase the pacers, however, and by 800 (1:51.60), he had a 25-meter gap on the rest of the field.
With victory assured barring a massive collapse, the question now was whether McSweyn could take down Gregson's record. Hitting the bell in 2:35 flat, McSweyn required a 56-second final lap, and midway around the first turn, he passed the final pacemaker, setting out alone after the record. As he rounded the final turn, the strain was evident on McSweyn's face, but he kept pushing all the way to the line and was rewarded for his fine effort, using a final lap of 55.2 (41.37 final 300) to break the record and stop the clock at 3:30.52.
"I wasn't in the best of shape coming into this race but to win tonight is something I am very delighted about," said McSweyn.
Behind him, Ethiopia's Selemon Barega won the battle for second, running 3:32.97, his second pb in 11 days. In fact, despite the pack's reluctance to follow McSweyn, the top five men all ended up running personal bests, with steeplers Soufiane El Bakkali (3:33.45) and Lamecha Girma (3:33.77) each taking over a second off their best and British miler James West lowering his pb from 3:34.56 to 3:34.07. World steeple champion Conseslus Kipruto did not fare as well, dropping out in his first race of 2020.
Quick Take: What a year Stewart McSweyn is having
Australia has churned out its fair share of distance stars over the years, from John Landy to Ron Clarke to Craig Mottram. But when it comes to the Australian record book, Stewart McSweyn's name dominates. Already the Aussie record holder at 3,000 (7:28) and 10,000 (27:23), McSweyn can now add the 1500 mark to his resume — and he's broken all three within the span of 10 months. 
Article continues below player.
The only major track records remaining both belong to Mottram — 3:48.98 in the mile and 12:55.76 in the 5,000. Based on World Athletics' scoring tables, McSweyn's 1500 (1,238 points) and 3000 (1,252 points) pbs are both worth more than Mottram's mile (1,216) and 5000 (1,226) records, so if McSweyn can carry his form into 2021 and beyond, those records could eventually fall as well. Per World Athletics, McSweyn's 3000 pb of 7:28 is worth 12:48 for 5000.
McSweyn will get another chance to break an Australian record (his own this time) as it was announced today that he'll be part of the 10,000 in Valencia next month in which Joshua Cheptegei will chase the world record.
The big question moving forward is whether he can challenge for a global medal. As great as McSweyn has been in 2020, the truth is he will need to make another leap forward in 2021 to achieve that aim. Remember, McSweyn's best performance this year (that 7:28 in Rome) only got him third place behind Jacob Kiplimo and Jakob Ingebrigtsen. Part of that is because McSweyn was the one pushing the pace, but part is because there are some big-time distance talents on the scene right now.
Women's 800: Kipyegon steps down and dominates
Ajee' Wilson and other 800-meter stars, were you watching this?
Reigning Olympic 1500 champion Faith Kipyegon was sensational during the second lap of the women's 800 tonight in Doha as she negative-split a world-leading 1:57.68 to get a dominant win and perhaps make herself a candidate for the 800/1500 double in Tokyo next year.
During the first lap, Kipyegon was content to run in the pack and she hit 400 in seventh in roughly 59.5. Then on the third turn, she went way wide, running in the middle of lane two to move up. By the time she got to 600 (1:29.24), Kipyegon had the lead and with no traffic in front of her, she was sensational during the final 200 as she covered it in an unofficial 28.4.
On our watch she went 59.5-58.2 to get the world-leading time. Behind her, Spain's Esther Guerrero, who recently won the 800 and 1500 at the Spanish champs within a span of 15 minutes, was best of the rest as she was second in 1:59.22 — her first career sub-2 clocking at age 30 (2:00.56 pb before tonight). Brit Adelle Tracey was the only other woman under 2:00 (1:59.87).
Kipyegon surprised herself with the win.
"I am happy to win here in Doha considering this is my second 800m race after about three years break from it. I wasn't really expecting to win and that's why I am very surprised not only with the win but with my record here tonight," said Kipyegon.
Quick Take: Faith Kipyegon seriously has to consider the 800/1500 double now for Tokyo
With the Russian dopers and Caster Semenya and the intersex women no longer a part of the 800, the 800 gold is wide open for next year. And in a race with just XX women, a negative-split 1:57.68 is a pretty impressive time.
| | |
| --- | --- |
| Overall | |
| Comfort | |
| Cushioning | |
| Durability | |
| Appearance | |
| Value | |
Prior to tonight, the world lead was 1:58.10. Ok, we know what you are thinking – not everyone has run the event this year. Well, the fastest non-Semenya time in the world last year was 1:57.72 (Ajee' Wilson). Wilson did run 1:55.61 in 2017 (Sifan Hassan also ran 1:56.81 that year), but the point we're making is 1:57 is a time that very few non-doped, non-intersex women in the world can run and Kipyegon did it with a big negative split.
Last month, we wrote an article about which Olympic doubles are doable. The schedule for the 800/1500 isn't perfect but it's not too bad. No runner attempting the double would have to run two races on the same day although the 1500 does begin before the 800 ends.

800: Day 1, 9:55 a.m. (prelim); Day 2, 8:50 p.m. (semi); Day 5, 9:25 p.m. (final)
1500: Day 4, 9:35 a.m. (prelim); Day 6, 7:00 p.m. (semi); Day 8, 9:50 p.m. (final)
Women's 3000: Hellen Obiri wins deep race as Aussie record falls to 10th placer
2017 and 2019 world 5000 champ Hellen Obiri used a 61.18 final lap to get the win in the stacked women's 3000 in a world-leading 8:22.54. Behind her, 2015 world XC champion and 2017/2019 10,000 bronze medallist Agnes Tirop ran well in her seasonal debut as she was closing the fastest of all over the last 100 and edged steeple world record holder Beatrice Chepkoech at the line as both were timed in 8:22.92. 2019 5000 silver medallist Margaret Kipkemboi was fourth (8:24.76) in her seasonal debut.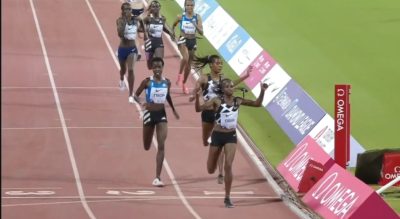 It was a very deep race as a record seven women broke 8:27, with the sixth and seventh placers setting best time for place marks. Aussie Jessica Hull wasn't one of those women but she still ended up with an Australian record. Hull stayed with the lead pack for about 2300 meters before getting dropped hard but she held on for the national record thanks to her 8:36.03, breaking Benita Willis-Johnson's 8:38.06 from 2003. Hull is now the first Aussie to set the 1500, 3k, and 5k marks in a career and she has broken them all in the last 43 days.
The Race
3:58 1500 runner Winny Chebet rabbited this one nearly perfectly through 1600 in about 4:31. After that Obiri was in the front but the pace slowed as the fourth to last lap was 68.72 and third to last lap was 69.41. Things picked up on the penultimate lap (66.16) as Chepkoech took the lead with a little more than 500 to go. However, Obiri made a big move with 350 to go and never gave up the lead although she started to tie up in the last 50 and was totally spent at the finish line.
We imagine some Shelby Houlihan fans may have thought Obiri looked beatable in the last 100. Yes, she didn't look great, but the reality is it was over 90 degrees during the race and the dew point was near 80 (when the meet started the temp was 95 with 55% humidity). A 3000 isn't all that long so the heat isn't going to have a huge impact — but it's going to have some impact and she still ran 8:22, which is four seconds faster than Houlihan's pb.
Men's 800: Ferguson Rotich wins his fifth in a row as Hoppel, Cheruiyot struggle
With American Bryce Hoppel looking to rebound after his run in Zagreb 10 days ago and 1500 world champ Timothy Cheruiyot stepping down for a rare 800, expectations were high for this race. But neither man would end up being a factor, as instead Kenyan World Championship bronze medalist Ferguson Rotich would extend his win streak to five after seizing the lead with 300 to go.
After some early bumping, Brit Elliot Giles found himself in front after 200, with Rotich slotting behind into second. By the bell (50.83 for the pacer, with Giles roughly a second back), Giles led by two meters over Rotich, with Puerto Rico's Wesley Vazquez in third and Hoppel just off Vazquez's shoulder in fourth. Cheruiyot trailed just behind Hoppel in fifth.
Rotich moved by Giles at 475 meters, and by 600 had opened up a three-meter gap on Giles, who in turn separated from the rest of the field on the backstraight. Those two remained well clear the rest of the way, and though Giles made up some of the gap as they approached the finish, could never quite mount the kick required to overtake Rotich, who earned the victory. Giles did earn the consolation of a personal best, however, running 1:44.56 to shave .12 off his best set in Marseille earlier this month.
Hoppel wound up fifth in 1:45.86, while Cheruiyot looked overmatched at 800, fading to eighth in 1:46.78.
Quick Take: Does Hoppel regret not racing more in August?
Back on August 14, Bryce Hoppel delivered a stunning 1:43.23 in Monaco, his first race since his win at USA indoors six months earlier. But rather than stay in Europe to race, Hoppel returned home to the US before traveling back to run in Zagreb last week. His second stint hasn't gone as well, as he was fourth in Zagreb in 1:44.95 and only fifth tonight in 1:45.86. It's important for a young pro like Hoppel to accrue experience racing on the circuit, but he may have been better served racing more a month ago when he was in better shape.
Women's 100: Elaine Thompson-Herah stays hot
Olympic champion Elaine Thompson-Herah claimed her second dominant win in nine days, blowing away the field in Doha just as she did last week in Rome to win in 10.87. Runner-up Marie Josee Ta Lou of the Ivory Coast was a well-beaten second in 11.21.
Men's 200: Cisse breaks Ivorian record
After running 10.04 for second in Rome last week, the Ivory Coast's Arthur Cisse went one better in Doha, clocking 20.23 to win the race and take almost half a second off his personal best. In the process, he broke the Ivorian record of 20.25 set by Wilfried Koffi Hua in 2014.
This was a rough race for the three Americans in the field. Christopher Belcher was the top finisher in 5th in 20.86, while neither Mike Rodgers nor Demek Kemp could even break 21 seconds.
Men's 400: Montgomery holds off Karam
2018 US champ Kahmari Montgomery got off to a slow start, but he turned it on around the final turn and opened up a gap entering the home straight, which enabled him to hold off Kuwait's Yousef Karam, 45.55 to 45.72.
Women's 100 hurdles: Chadwick leads Arkansas alums in 1-2 finish
American Payton Chadwick earned her third win of 2020 in a season's best of 12.78, getting out to a fast start and holding off her former University of Arkansas teammate Taliyah Brooks, the 2018 NCAA pentathlon champion who clocked a personal best of 12.86 tonight.
Men's 110 hurdles: Aaron Mallet PRs again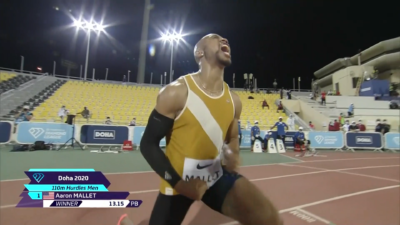 There were two false starts in this one and one was significant as Frenchman Wilhem Belocian, the man with both the fastest pb and sb in the field (13.18) was given the heave-ho. In his absence, American Aaron Mallet was sensational as he won by a quarter second in 13.15, a new pb. Mallet, the NCAA 4th placer for Iowa in 2017, has had a great 2020. Indoors, he won the US title in 7.54. Then outdoors, he's lowered his pb from 13.37 to 13.15 as he's set a pb in each of his last three races — 13.34, 13.23, and now 13.15.
Congrats to Aaron Mallett and @tracksmith on their first Diamond League win in pic.twitter.com/vhDk88ngir

— LetsRun.com (@letsrundotcom) September 25, 2020
Field Events
Men's pole vault: Mondo makes it a sweet 16
Though his winning mark of 5.82 was pedestrian by his lofty standards (even though it tied the meet record), Mondo Duplantis stayed perfect in 2020, reeling off his 16th straight victory. Duplantis had to sweat it out though — he, Sam Kendricks, and Renaud Lavillenie all cleared 5.82 and all took jumps at 5.92. But with all three of them coming up short at 5.92 (Mondo took his third attempt at 6.00 once the win was secured), the win went to Duplantis, who cleared 5.82 on his first attempt, compared to #3 for Kendricks and Lavillenie.
Women's Long Jump
:
Bekh-Romanchuk is clutch
The meet featured the controversial format where only the top 3 jumpers got to jump a sixth round, which would be used to determine the top 3 places. It wouldn't have mattered what format they used as Ukraine's Maryna Bekh-Romanchuk was clutch on her sixth jump as she produced the longest jump of the night, 6.91, to win the competition. 6.91 is just .02 off her four-year-old pb and just .01m off the mark she jumped last year to win the silver at Worlds. The format did cost Khaddi Sagnia second, however, as the Swede ended up third despite having the second-best jump of the night (6.85).
---
Talk about the meet on the LetsRun.com messageboard.