Analyzing the Men's Favorites at the 2020 US Olympic Marathon Trials: Rupp, Korir, Ward, Fauble — Who Misses Out?
By Jonathan Gault
February 26, 2020
We've taken a look at the underdogs who could make the 2020 US Olympic men's marathon team if everything breaks right on Saturday in Atlanta at the 2020 US Olympic Marathon Trials. But for everything to break right for someone like Bernard Lagat, Dathan Ritzenhein, or Jake Riley would require several things to break wrong for the four men who, based on their pedigree and recent results, have established themselves as the favorites for Saturday's race in Atlanta. That fantastic foursome consists of three 2016 Olympians — Galen Rupp, Jared Ward, and Leonard Korir — and Scott Fauble, who ran 2:09:09 to finish as the top American at last year's Boston Marathon.
As usual, there are plenty of questions heading into this Olympic Trials. But above all, two will drive the plot in Atlanta: Can anyone from the "underdog" group break into the top three? And if they can't, which one of the "Big Four" is left as the odd man out? Here's what we know about each member of the latter group heading into the Trials.
*TV/streaming information *Course map *All LRC 2020 Olympic Trials content
Related LRC Articles:
Galen Rupp — 33 years old, Nike, 2:06:07 pb (2018 Prague), 59:47 half
Last two marathons: DNF 2019 Chicago, 5th 2018 Chicago (2:06:21)
Tuneup race: 61:19 win at the Sprouts Mesa Half Marathon on February 8
Article continues below player.
I could spend many words explaining why Rupp is favored to retain his title as Olympic Trials champion, but it's easier to let images do the talking. He has one of these:
And one of these:
And he's also done this:
No one else in the men's Trials field has earned an Olympic medal in the 10k or marathon. No one else has won a major marathon. Rupp has done all three. At his best, he is untouchable. And even if he's not at his best, he remains the heavy favorite.
Only an injury could realistically derail Rupp — and for the last few months, that was a legitimate concern. Rupp went an entire year without racing after undergoing Achilles surgery in October 2018, and when he did make it back to the start line at last fall's Chicago Marathon, he wasn't fully healthy and dropped out after 23 miles with a calf strain.
However, Rupp assuaged those doubts by running 61:19 in his tuneup half marathon on February 8 — a time most of the guys in this field would kill for — and told Ken Goe his leg felt strong.
The other big development, of course, is that after close to two decades under Alberto Salazar — who was banned from the sport for four years in September — Rupp is now being coached by Northern Arizona University's Mike Smith. Smith declined to speak at length for this story, but offered the following comments:
"I think his buildup has gone well. I don't have the context of previous buildups to compare it to. What I can say is that in my estimation of what the requirements are — the course, the competition, what the goals are on that day, the objectives — I think he's prepared in a way to compete very well…
"He's healthy. I think there are some pieces that are different, like any athlete, in what you have to adjust to, further on in your career, what recovery is like. The body changes with surgery. I think there are some differences [compared to] where he's been in the past, but as far as his ability to tolerate the training and ultimately, the race, no concerns. And I've got more and more assurance of that as the weeks have gone by."
So his coach isn't worried about his health and he looked great in his tuneup race. Put Rupp on the team.
Leonard Korir — 33 years old, US Army WCAP, 2:07:56 pb (2019 Amsterdam), 59:52 half
Last marathon: 11th 2019 Amsterdam (2:07:56)
Korir ran an American debut record of 2:07:56 in Amsterdam in October, and there's reason to believe he's capable of even more moving forward. For one, that race came just two weeks after he finished 13th in the 10,000 at the World Championships. For another, Korir went out very aggressively in Amsterdam — he hit halfway in 63:02, choosing to run with the leaders rather than by himself in no-man's-land.
If Korir is in 2:07 shape in Atlanta, it's going to be very difficult for three guys to beat him. And if he's fitter than he was in Amsterdam — a huge question mark as Korir hasn't run any prep races and Korir's coach Scott Simmons did not respond to LetsRun's interview request — he could perhaps even challenge Rupp.
The main concern is that he's only run one career marathon. But again, he ran 2:07 in that race — something only five Americans have ever done — and it's not as if Korir is some massive unknown quantity. He's very consistent at shorter distances, and all of his previous performances — from making the 2016 Olympic and 2017 & 2019 World teams in the 10,000, to his many victories on the roads (including the Houston Half Marathon, two US Half titles, and three US 20k titles), to his gaudy 59:52 half marathon pb (#3 all-time US) — suggested that he would make a fine marathoner. Also: all of that stuff is far more impressive than anything Ward or Fauble has done at shorter distances (Korir beat Fauble in the 2016 Olympic Trials 10,000 by almost 30 seconds).
Yet to call Korir a lock would be a disservice to Ward and Fauble. Both of those men have run well in both Boston and New York, races and courses far more similar to what they'll face at the Trials than Amsterdam. And with all due respect to Korir's 2:07:56, personal bests aren't everything in the marathon. Just take a look at the results of last year's Boston Marathon. The 4th through 10th placers were separated by less than a minute. Here's how they ran in Boston, followed by their fall marathon result:
| | | |
| --- | --- | --- |
| Name | 2019 Boston result | 2019 fall marathon result |
| Felix Kandie | 4th, 2:08:54 | 5th Berlin, 2:08:07 |
| Geoffrey Kirui | 5th, 2:08:55 | 14th Worlds, 2:13:54 |
| Philemon Rono | 6th, 2:08:57 | 1st Toronto, 2:05:00 |
| Scott Fauble | 7th, 2:09:09 | N/A |
| Jared Ward | 8th, 2:09:25 | 6th New York, 2:10:45 |
| Festus Talam | 9th, 2:09:25 | N/A |
| Benson Kipruto | 10th, 2:09:53 | 4th Toronto, 2:05:13 |
So Fauble and Ward finished right between two guys who both went on to run 2:05 in Toronto last fall. Now that doesn't mean Fauble and Ward could have run 2:05 in Toronto, but it does show that it's not uncommon for guys with gaudy PRs to get beat by guys with slower PRs in championship-style races. Hell, Meb Keflezighi, perhaps the greatest US marathoner of all time (Editor's note: Jon, have you ever heard of Frank Shorter?), broke 2:09 once in his career and never ran faster than 2:08:37. But put him in a championship-style marathon, and he turned into Superman. If Fauble and Ward can hang with 2:05 guys in Boston, they should be able to hang with a 2:07-high guy in Atlanta.
And the biggest issue with Korir is as of now we have no idea if he's in shape at all. We are just assuming the training has gone well.
Jared Ward — 31 years old, Saucony, 2:09:25 pb (2019 Boston), 61:36 half
Last two marathons: 6th 2019 New York (2:10:45), 8th 2019 Boston (2:09:25)
Tuneup race: 61:36 for 11th (1st American) at Houston Half on January 19
I laid out the case for Ward last week when we debated which man had the best shot at the team other than Rupp. Over the last 18 months, no American marathoner has consistently run at as high a level as Ward. He's finished 6th (2018 NYC), 8th (2019 Boston), and 6th (2019 NYC) in his last three marathons, finishing as the top American in two of them and running a 2:09:25 PR in the other. He ran a 61:36 half marathon PR at Houston in the midst of this buildup, and his coach Ed Eyestone reports that Ward had no problems recovering from New York in November and quickly launching into another marathon buildup.
"I'd say it's been as good as any [buildup he's done]," Eyestone says. "Scary good in some cases, just in terms of feeling good on longer runs, on two-mile repeats, on marathon-pace runs."
Ward has been mostly healthy — Eyestone says "he had a little something for a week or two that gave us a little bit of worry" but he's not concerned for the Trials — and has topped out around 110-115 miles per week. And that's in six days because Ward, a Mormon, doesn't run on Sundays. One session in particular caught Eyestone's eye a few weeks ago — 4 x 2 miles (with roughly 5 minutes' rest) in 9:15/9:08/9:14/9:09 at 5,000 feet.
And in case you forgot, Ward finished 6th in the freaking Olympic marathon in 2016. Eyestone says that Ward is "for sure" a better marathoner than four years ago, and he's drawn confidence from Ward's ability to produce results even when things don't go according to plan.
"In 2018, he went to New York and had to be talked in by [NYRR elite athlete consultant David] Monti to go run [after a hamstring injury] and he pushed through and had a very respectable top-10 day. And then at Boston, he was in great, great shape. And I think maybe it was a late-night piece of pizza or something with the family and race morning, his stomach was not happy. Yet he pushed through to a nice, fast PR."
That said, Eyestone admits "at the Olympic Trials, enough people rise up where you usually do need to be at 100%."
And even that may not be enough: this field is strong enough at the top that Ward could have a great day and find himself off the team — Fauble did beat him when he ran 2:09 in Boston last spring. But Eyestone, a two-time Olympic marathoner himself, likes where Ward is at.
"There are some good people that he's going to have to wade through, but I'm confident if he runs his best race."
Scott Fauble — 28 years old, HOKA ONE ONE NAZ Elite, 2:09:09 pb (2019 Boston), 62:18 half
Last two marathons: 7th 2019 Boston (2:09:09), 7th 2018 New York (2:12:28)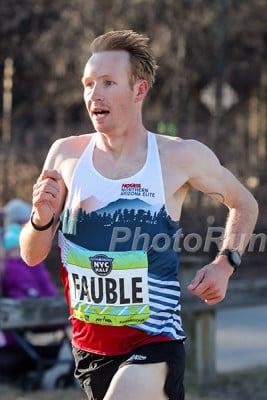 Two years ago, I touted Fauble as a dark horse for the 2020 Olympic marathon team, citing his cross country success in college (12th, 13th and 26th) and 4th-place finish in the 10,000 at the 2016 Trials. After running 2:12 in New York in 2018 and 2:09:09 in Boston last year, Fauble has transcended dark horse status and is unquestionably one of the favorites to make the team. No one will be surprised if he makes it to Sapporo.
That 2:09:09 in Boston — during which Fauble beat Ward and became just the second American under 2:10 in this Olympic cycle (Ward and Korir have since joined Fauble and Rupp in that club) — cemented Fauble's status as serious contender. Boston was encouraging not just for the time, but for the way Fauble ran, hanging with the leaders past the 20-mile mark through the Newton Hills.
Since that race, not everything has gone perfectly. Fauble hadn't planned on racing a fall marathon, but bailed on plans to run a fast half as he battled lingering back and hamstring issues from Boston. That led to some subpar results on the roads — he was just 11th at the US 10-mile champs in October — but Fauble has rehabbed diligently since then to put those injuries behind him. In fact, he is feeling better than ever.
"I am hoping that it's a blessing in disguise," Fauble told the LetsRun Track Talk Podcast. "We were able to identify some deficiencies I had, even before Boston, even when I ran 2:09 — weak external rotators in my glutes and my obliques weren't stabilizing enough. And we were able to target those through both rehab on my own and time in the weight room. So I would like to believe that was an opportunity to actually take a step forward. And I think I'm smoother than ever, I'm moving a little bit better than ever, and I think physiologically, I'm just as fit as I was before Boston."
Fauble missed a major workout and his scheduled tuneup at the Rock 'n' Roll Arizona Half in January due to the flu, but overall he and coach Ben Rosario are very pleased with where he's at. Rosario says that Fauble's buildup has been as good as before his 2:09 in Boston, with his long steady state run on February 15 — 15.14 miles at 5:07 pace at 7,000 feet — the best he's ever run for that workout.
In particular, Rosario has been impressed by the way Fauble has closed his workouts. In a race that could come down to who closes best over the final 10k, that's huge.
"Anytime we do anything that's really long, he just looks so good late in the workout," Rosario says. "He closed that 15-miler in 4:56 for his last mile. That's at 7,000 feet. I mean, that's very, very good running."
JG prediction: After Rupp, this is a really tough call. Korir, Ward, and Fauble are all fantastic runners and it's really tough to choose between them. After much debate, I'm going with Korir and Ward. Korir's upside is huge, and if he runs a good race, I find it hard to believe a sub-60:00/2:07 guy won't make Team USA. That leaves Ward and Fauble, and these guys are basically even, as they showed in splitting their last two encounters over 26.2 miles. You can pretty much flip a coin, but I'm going to go with the guy who has made this team before and finished 6th in the Olympic marathon.
So here's your 2020 Olympic team: Rupp, Korir, and Ward.