2020 Olympic Marathon Trials Preview: The Men's Underdogs – From Bernard Lagat to Jim Walmsley
By Jonathan Gault
February 24, 2020
Welcome, everyone, to one of the most exciting weeks on the running calendar. The US Olympic Marathon Trials are on Saturday, and there's no other race quite like it. For some, just qualifying is the achievement of a lifetime, their trip to Atlanta (generously paid for by the Atlanta Track Club) the reward for enduring their own personal trials: 100-mile weeks, pre-dawn runs, blisters and blackened toenails. For others, the Trials is the ultimate test, four years of work to answer the question: just how good am I? And for three men and three women, it's a chance to fulfill every high school runner's fantasy and make an Olympic team.
While we at LetsRun.com have a soft spot for the blue-collar runners, the men and women who never gave up the dream, that's not whom our coverage will focus on this week (in part because there are more of those runners than ever before). Over the next five days, we're going to be diving into the best of the best — the dozen or so men and dozen or so women who have a realistic shot at representing the US in Tokyo Sapporo this summer.
We start today with the 26 men we've categorized as underdogs. Of the 238 men declared for the Trials, only four have broken 2:10 during this Olympic cycle: Galen Rupp, Leonard Korir, Scott Fauble, and Jared Ward. Odds are, the 2020 US Olympic team will consist of three of those four men.
But!
Article continues below player.
The Trials is a one-off race. For many of the men listed below, such as Bernard Lagat, Chris Derrick, and Jim Walmsley, making the team will require the running marathon of their life — and perhaps a little help. But all of them have a genuine shot. If Villanova can beat Georgetown and the Giants can beat the Patriots, one of these guys can make the team. Let's take a closer look at them.
*TV/streaming information *Course map *All LRC 2020 Olympic Trials content
Related LRC Articles:
Old Guys Seeking Their 4th, 5th, and 6th (!) Olympic Berths
Dathan Ritzenhein — 37 years old, Hansons-Brooks Distance Project, 2:07:47 pb (2012 Chicago), 60:00 half
Last two marathons: 19th 2019 Boston (2:16:19), DNF 2016 New York
We all know Ritz has the talent to make an Olympic marathon team — he did it in 2008 (and made it on the track in 2004 and 2012), and has broken 2:10 three times, more than anyone in the field not named Rupp. And he's not washed up, either; he had the fastest half marathon (61:24) by an American in 2019.
But what Ritzenhein has not done for almost five years is actually run a good marathon. Which is kind of important.
Since running 2:11 for 7th in Boston in 2015, he's made it to the start line of just three marathons and has dropped out of two of them. Ritzenhein, who has battled chronic foot issues, has also had to withdraw from two of the last three marathons he's signed up for — including Chicago last fall. The one marathon he finished in this Olympic cycle, 2019 Boston, went poorly — Ritz struggled to a 2:16 finish while suffering cramps in his hamstring and adductors.
Neither Ritzenhein nor his coach Kevin Hanson responded to interview requests for this story, so I have no training updates to share. If his body holds up, Ritz will be a factor. But that's a big "if."
Abdi Abdirahman — 43 years old, Nike, 2:08:56 pb (2006 Chicago), 60:29 half
Last two marathons: 9th 2019 New York (2:11:34), 26th 2019 Boston (2:18:56)
Abdi surprised by making the team in 2012. Could he do it again, 8 years later at age 43?
Incredibly, Abdi has a better chance to make the 2020 Olympic team, at age 43, than he did four years ago. The Black Cactus has been counted out more times than you can count over the past decade, but here he is, fresh off a 2:11:34 US masters record in New York and a high-altitude training stint in Ethiopia with Mo Farah, a prime contender to make a fifth Olympic team.
The challenge for Abdi is summoning the same performance as NYC — or better (he was 49 seconds behind Jared Ward) — less than four months later. Consistency has been an issue for Abdi in his 40s — prior to his run in New York, he had gone 15th-DNF-26th in his three previous marathons — and that is not something that improves as one ages.
Bernard Lagat — 45 years old, Nike, 2:12:10 pb (2019 Gold Coast), 62:00 half
Last two marathons: 7th 2019 Gold Coast (2:12:10), 18th 2018 New York (2:17:20)
For Bernard Lagat to even be in position to make a sixth Olympic team — at age 45, he's the oldest man in the field — is ridiculous. Plus this is a guy who has run 3:26 for 1500 meters. Men like that — there are only two others in history — are not supposed to run marathons. Hicham El Guerrouj, who edged Lagat for Olympic 1500 silver in 2000 and gold in 2004, never raced anything longer than a 5k. Also, El Guerrouj, who is just three months older than Lagat, has been retired for 15 years.
Yet here Lagat is. He will not be a favorite — Lagat has run only one good marathon, and even that result (2:12:10 at Gold Coast last year) is one amore than a dozen guys in this field are capable of. But then you consider he's better prepared for this race than either of his previous marathons, and you look at the training he's done in Kenya, and the fact that he'll have access to Nike's Alphaflys…and you start to believe.  I know this much: I wouldn't want to have Lagat on my shoulder with a mile to go.
Did You Forget About This Guy?
Shadrack Biwott — 35 years old, Hansons-Brooks Distance Project, 2:12:01 pb (2016 New York), 61:25 half
Last two marathons: 15th 2019 Boston (2:13:11), 9th 2018 New York (2:12:52)
Tuneup race: 63:54 for 52nd (30th American) at Houston Half on January 19
During this Olympic cycle, only two Americans have three top-5 finishes in World Marathon Majors. One is Galen Rupp. The other is Shadrack Biwott. In fact, only five Americans have even one top-5 at a WMM during this cycle, and two of them are only on the list because of the freak conditions in Boston in 2018.
| | | |
| --- | --- | --- |
| Athlete | Top 5's | Races |
| Galen Rupp | 3 | '17 Boston, '17 Chicago, '18 Chicago |
| Shadrack Biwott | 3 | '16 NYC, '17 Boston, '18 Boston |
| Abdi Abdirahman | 1 | '16 NYC |
| Tyler Pennel | 1 | '18 Boston |
| Andrew Bumbalough | 1 | '18 Boston |
The chart above doesn't account for a race's depth — Scott Fauble ran 2:09:09 in Boston last year and only finished 7th — but it makes one thing clear: Biwott is at his best in championship-style races on challenging courses, and that's exactly what the 2020 Trials presents.
The concern about Biwott is that he hasn't done much since taking third at Boston in 2018. He was 9th in New York that fall — behind Ward and Fauble — and just 15th (5th American) in Boston last year as he battled patellar tendonitis, which caused him to withdraw from the World Championship marathon in October. Biwott returned to action in January by running 63:54 in Houston, and while that put him way back (52nd overall), Biwott never blasts his tuneup races — he ran just 63:52 in NYC before taking 4th in Boston in 2017.
Biwott would have had a much better shot if the Trials were held in 2017 or 2018; as things stand, Ward, Korir, and Fauble have all passed him on the US pecking order.
The Bowerman Boys
Chris Derrick — 29 years old, Nike Bowerman Track Club, 2:12:50 pb (2017 Chicago), 61:12 half
Last two marathons: 10th 2018 New York (2:13:08), 9th 2017 Chicago (2:12:50)
Tuneup race: 64:09 for 3rd at Rock 'n' Roll New Orleans Half Marathon on February 8
After finishing 4th and 5th in the last two Olympic Trials 10,000s, Derrick shifted his focus to the marathon for this Olympic cycle. So far, the returns have been middling. 9th at 2017 Chicago in 2:12:50 and 10th at 2018 NYC in 2:13:08 are decent results, but neither screams future Olympian. Derrick was hoping for a breakthrough performance in 2019, but two injuries — a plantar fascia issue in the spring, a broken ankle in the fall — caused him to withdraw from both of his planned marathons. Still, with PRs of 13:08/27:31/61:12, Derrick has the talent to make this team.
Because Derrick's ankle injury was a non-displacement fracture, he was back training relatively quickly and told LetsRun that, on paper, his Trials buildup — of which he has run almost every step with BTC teammate Andrew Bumbalough — has been "as good or better than any buildup I've ever done."
Is that enough to make the team? Well, as they say, that's why they run the race.
"Unless there's three guys who have made complete jumps from what they've shown, I feel confident that I can be there with 5-6 miles to go to contend for the team," Derrick says. "And beyond that, I don't think anyone knows."
Andrew Bumbalough — 32 years old, Nike Bowerman Track Club, 2:10:56 pb (2019 Chicago), 62:04 half
Last two marathons: 12th 2019 Chicago (2:10:56), 5th 2018 Boston (2:19:52)
Tuneup race: 64:10 for 4th at Rock 'n' Roll New Orleans Half Marathon on February 8
2020 will be the fourth Olympic Trials for Bumbalough, who came as close as 4th in the 5,000 in 2012 and turns 33 next month. There probably will not be a fifth.
"I've been chasing an Olympic team my entire career. This is my last shot," Bumbalough says, before adding, with a chuckle, "I'm trying not to look at it so bleakly."
The transition to marathoner has been a gradual one, but Bumbalough's decision to focus on 26.2 miles was always with the Olympic Trials in mind. He has steadily improved since his 2:13:58 debut in Tokyo in 2017, and his 2:10:56 in Chicago in October marked Bumbalough as a contender for the team. The problem? Three Americans beat him in Chicago, and none were named Rupp, Korir, Fauble, or Ward.
Bumbalough says that, with no interruptions due to illness or injury, his training has gone as well as possible. And while Derrick has occasionally gotten the best of him in some of their track workouts, Bumbalough has felt strong in longer, marathon-specific workouts.
So how does Bumbalough go from 4th American in Chicago to top 3 at the Trials? It's pretty simple: he was with the top Americans at 35k in Chicago before fading late. He needs to be fitter now — perhaps a lot fitter — than he was five months ago.
"I made a big jump in Chicago and [I'm] hoping for another big one, because I think it will require that next level of performance to make the team," Bumbalough says.
The Other Guys Who Ran 2:10 in Chicago
That quote from Bumbalough above applies to the next two guys as well (Parker Stinson, who also ran 2:10 in Chicago, announced his withdrawal on Monday). 2:10 is impressive, but there are probably 10-12 guys in the Trials field who could have run that time or faster under those conditions. Can one of them make another leap in Atlanta?
Jake Riley — 32 years old, Boulder Track Club, 2:10:36 pb (2019 Chicago), 62:56 half
Last two marathons: 9th 2019 Chicago (2:10:36), 15th 2016 Olympic Trials (2:18:31)
Tuneup race: 63:16 for 13th at Rock 'n' Roll Arizona Half on January 19 (course was 296m short)
Riley, a teammate of Derrick's at Stanford, was the surprising top American in Chicago in October, clocking a nearly-three-minute PB. Now fully healed from Achilles surgery in May 2018, the case for another improvement in Atlanta is that he's been able to stack another strong buildup on top of the fitness that allowed him to run 2:10 in Chicago.
"It was pretty simple after Chicago: what we've gotta do now leading into the Olympic Trials is exactly the same thing, but just do it better," says Riley's coach, three-time Olympic marathoner Lee Troop.
Troop believes Riley has accomplished that, saying that his pupil has had no setbacks and is in better shape than before Chicago. He'll need to be to make the team.
Jerrell Mock — 24 years old, BAA High Performance Team, 2:10:37 pb (2019 Chicago), 62:14 half
Last two marathons: 10th 2019 Chicago (2:10:37)
Mock took to the marathon like a fish to water by running 2:10:37 in his debut in Chicago in October, just one second behind Riley. Still only 24, Mock clearly has untapped potential in the marathon; can he unlock enough of it by February 29? It would be quite a story if a guy who never scored at NCAAs and couldn't even make NCAAs on the track as a senior at Colorado State winds up an Olympian two years later. And it's not like Mock was a huge NCAA xc star either. He was 169th at his last NCAA XC meet in 2017 (To be fair, he was 19th at NCAA xc in 2015 and did run 13:44/28:11 in college).
And One More Guy Coming Off a Strong Fall Marathon…
Connor McMillan — 24 years old, adidas, 2:12:07 pb (2019 New York)
Last two marathons: 10th 2019 New York (2:12:07), 27th 2016 Chicago (2:23:28)
Tuneup race: 10th at USA XC champs on January 18
McMillan had a tendency to be overshadowed on a loaded BYU squad during his collegiate career, so perhaps it's no surprise that his 2:12:07 in his pro debut in New York last fall largely flew under the radar. But 2:12-low in New York is worth 2:10-mid in Chicago; if the guys in the category above are contenders, so too is McMillan.
There are a couple of concerns with McMillan, who trains in Provo with Jared Ward under coach Ed Eyestone. First, it took McMillan longer to recover from New York, his first serious marathon, than it did for Ward. Going into NYC (where Ward ran 2:10:45), McMillan and Ward had done most of their stuff together; heading into the Trials, it took McMillan longer to get up to speed. Concern #2: McMillan has been a marathoner for less than a year. It's a big ask for a guy who was running in the NCAA at this time last year to compete with the Wards, Faubles, and Rupps of the world, all of whom have the strength and experience of multiple marathon buildups. But if one or two of those guys falter, Eyestone, a two-time Olympic marathoner himself, thinks McMillan will be in position to capitalize.
"I think he's in a good place," Eyestone says. "I see him as a guy who could come in and get a spot. He's not a 100-1 sort of guy going into this. There's a big four with Fauble, Wardy, Galen and [Korir]. And then I'd put Milly right with that next category of guys."
The Tinmen
Brogan Austin — 28 years old, Rabbit/Tinman Elite, 2:12:39 pb (2018 CIM), 61:52 half
Last two marathons: 1st 2018 CIM (2:12:39), 39th 2016 Olympic Trials (2:24:39)
Tuneup race: 61:52 for 28th (13th American) at Houston Half on January 19
Austin flashed potential by running 2:12:39 to win the US title at CIM in December 2018, a run that's even more impressive in retrospect considering he was on antibiotics at the time battling a respiratory infection. Though he's been a little banged up recently — he had to pull back on hill running because of a calf issue — his coach Tom Schwartz believes Austin is in shape to run 2:09 on a flat course.
"I'm just going to advise him to play it cool and not get too excited the first portion of the race," Schwartz says. "I think if he gets past the 16-mile mark, he'll be golden because I think his aerobic fitness is super high and I don't think he will fade. In fact, I think he will catch people — a lot of people."
Reed Fischer — 24 years old, Tinman Elite, debut, 61:37 half
Tuneup race: 61:37 for 12th at Houston Half on January 19
Fischer — like Austin, an alum of Drake University — made a name for himself by finishing 4th at USAs in the 10,000 on his home track in 2018. More recently, he finished just a second behind Jared Ward at the Houston Half last month, running a PR of 61:37. That race, and the workouts that led up to it, has Schwartz convinced that Fischer is the fittest he's ever been. But will that lead to a big result in Atlanta? Not even his coach knows for sure.
"The big question is how he's going to do in an event he's never run," Schwartz says. "The fitness is there to run in the 2:08:30 to 2:09 range on a flat course. So let's see how it plays out."
The Unknown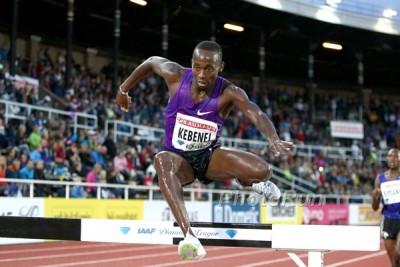 Stanley Kebenei — 30 years old, Nike/American Distance Project, debut, 61:57 half
What is a guy who finished 10th in the steeplechase at Worlds five months ago doing in the US Olympic Marathon Trials? There are two options. Either Kebenei has realized that, with Evan Jager returning and Anthony Rotich gaining citizenship, the US steeple squad will be way harder to make this year and wants to give himself another bite at the Olympic apple. Or Kebenei is in here to help his training partner Leonard Korir make the team, perhaps by acting as a personal pacemaker.
Whether Kebenei is in Atlanta to pace or race is unclear — his coach Scott Simmons did not respond to an interview request — but he's got some decent distance chops. He won the US 15k title in 2016 and was 2nd at the US Half Marathon champs last year with a 61:57 in hilly Pittsburgh, just four seconds behind Korir. Who knows if he'll be a good marathoner, but he's certainly a fun wildcard to consider.
The Ultimate Wild Card
Jim Walmsley — 30 years old, HOKA ONE ONE, debut, 64:00 half
Tuneup race: 62:14 for 7th at Rock 'n' Roll Arizona Half on January 19 (course was 296m short)
Perhaps the most-hyped athlete in the entire field, Walmsley is, depending on whom you ask, either incredibly underrated or incredibly overrated. To hear the man himself tell it, however, he's fairly realistic. When Walmsley decided to run the Trials a year ago, Galen Rupp was the only American who had broken 2:10 during this Olympic cycle. Walmsley saw a window of opportunity. Now, that window is much tighter.
"[In early 2019], you still had Galen Rupp hurt, [Leonard] Korir hadn't run 2:07," Walmsley told LetsRun. "Scott Fauble and Jared Ward hadn't run 2:09. You didn't have 10 guys all run under 2:12 at Chicago. You didn't have 14 guys are under 62:00 in Houston. Like it is night and day different scenario."
In case you're an ultraphobe, a quick bio: Walmsley is the America's best ultrarunner, and among the best in the world. He's won the famed Western States Endurance Run (100 miles) in each of the past two years, breaking the course record each time. Last year, he set a 50-mile world best of 4:50:08 (5:48 per mile). And he's not hopping in the Trials on a lark: he's been training specifically for this race, averaging 144 miles a week during his buildup.
That buildup hasn't been perfect — on February 12, he had to bail on his biggest workout of his segment because he was fatigued from a big long run (31 miles with 1,900 feet of climbing at 5:34 pace) just three days earlier — but Walmsley is happy with where he's at. He thinks he's in 2:10 shape.
Will Walmsley make the team? Probably not. And in that respect, he's not much different from the rest of the guys profiled in this article. But to write him off entirely would be foolish; in his tuneup race for the Trials, at the Rock 'n' Roll Arizona Half, he beat Jake Riley — the top American in Chicago last fall — by over a minute.
More than anything, Walmsley's run at the Trials will offer an answer to an oft-posed question on the LetsRun messageboards: what could an ultramarathon stud in his prime do against America's best over 26.2 miles if he really trained for it?
More: Podcast: Jim Walmsley Ready for His Marathon Debut at Olympic Marathon Trials
*With Secret "Trials Dagger" Shoes, Ultra Star Jim Walmsley Is Ready To Take On The 2020 US Olympic Marathon Trials
*HOKA Trials Athlete of the Day #8 Jim Walmsley Looking for Advice Before His First Marathon
Best of the Rest
In no particular order, a few notable names to watch in Atlanta. We apologize to anyone who ran under 2:12 during qualifying window but didn't make the cut.
Sam Chelanga, 35 years old (2:15:02 pb): Chelanga has exceptional PBs (13:04/27:08/60:37) but could never put it together in a marathon prior to his retirement in 2018. He came out of retirement in late 2019 and ran 61:52 in Houston, but remains a longshot in ATL.
Matt Llano, 31 years old (2:11:14 pb): Llano ran a pb of 2:11:14 in Berlin last fall and ran a solid 61:58 in Houston in January. He was 6th in the 2016 Trials.
Elkanah Kibet, 36 years old (2:11:31 pb): Kibet, a runner in the US Army, shocked everyone by running 2:11 in his debut in Chicago in 2015, but 10 marathons later, he still hasn't run faster. He did manage to run 2:11:51 for 11th (third American) in Boston last April.
Tyler Pennel, 32 years old (2:13:32 pb): Pennel broke the 2016 Trials open with a big move at 16 miles before fading to 5th. He was 4th in Boston in the awful-weather year of 2018. Most recently, he was 14th in NYC in November in 2:14.
Matt McDonald, 26 years old (2:11:10 pb): The Princeton alum, now running for the Atlanta Track Club, ran a big PR of 2:11:10 in Chicago in October. Beat Walmsley by 28 seconds in half in January.
Scott Smith, 33 years old (2:11:14 pb): The training partner/internet nemesis of Scott Fauble is coming off a 2:11:14 PR in Chicago.
Diego Estrada, 30 years old (2:11:54 pb): Finally started to deliver on some of his marathon potential (27:30/60:51 pbs) by running 2:11:54 in Chicago, but was only the 10th American in that race.
Nico Montanez, 26 years old (2:14:27 pb): The BYU alum and Mammoth Track Club athlete actually ran the fastest time by an American at the Houston Half but showed up at 61:38, just behind Jared Ward in the results, because he started roughly four seconds behind the elite field.
Luke Puskedra, 30 years old (2:10:24 pb): Puskedra, who was 4th in the 2016 Trials, retired early last year after struggling to find consistency in the marathon. He's back now for the Trials, but there are no signs he's close to his former level.

Update by Rojo:

I'm sorry, if you broke 2:12, you belong on this list so I'm doing a quick bio for you. Plus I want to give some love to Brian Shrader.
Brendan Gregg, 30 years old (2:11:38): Would it really be that shocking if someone with a 28:03 track pb made the US Olympic marathon team? Plus it needs to be remembered that the Hansons-Brooks runner ran his 2:11:38 without the Vaporflys.

Wilkerson Given, 28 years old (2:11:44): The Atlanta Track Club team member and former Furman runner was wearing the Vaporflys in Chicago but he should know the course inside and out.
Tim Ritchie, 32 years old (2:11:55): Ok if you are coaching full-time in college, you aren't making the team. But he did run 2:11:55 at CIM in 2017.
Brian Shrader, 28 years old (2:13:27): 2:13:27 in Chicago is a long way off from what will be needed to make the team, but at a half marathon in Arizona last month he crushed the likes of McDonald (by 38 seconds) and Walmsley (by 66 seconds).
Related LRC Articles:
If you want more Trials info, the Atlanta Track Club has bios up for every entrant.