Olympic Marathon Trials Question of Day: Which Man Has the Best Shot to Make the Team (Other Than Galen Rupp)?
By LetsRun.com
February 19, 2020
The 2020 US Olympic Marathon Trials are almost here. As we count down the days until the Trials (February 29 in Atlanta), the LetsRun.com braintrust — co-founders Weldon and Robert Johnson and staff writer Jonathan Gault — will be answering one pressing Trials-related question per day.
The question: Assuming Galen Rupp is a lock, who has the next-best chance to make the Olympic team: Leonard Korir, Scott Fauble, or Jared Ward?
Jonathan: This is really tough because I think all three of these guys are very close — when I looked at the Trials contenders in November, I gave each of them a 50% chance to make the team. But I also think Rupp is a lock, which means that one of them will be watching the Olympics from home. That is why the Olympic Trials are so great. Someone really, really good isn't going to make the team.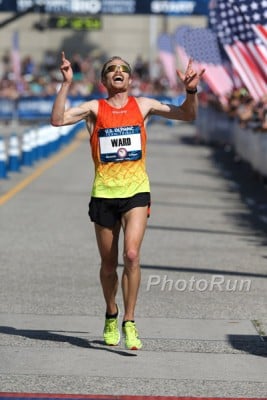 If I have to pick one guy who I'm most confident in though, it's Jared Ward. Ward was 6th at the 2016 Olympics and is a better marathoner now than he was in 2016. He battled some injury issues in 2017, but he's been as consistent as can be in his last three marathons — 6th at 2018 NYC (top American), 8th at 2019 Boston (in a PR of 2:09:25), and 6th at 2019 NYC (top American). Yes, he lost to Fauble in Boston, but he also beat Fauble at '18 NYC; like I said, they're close in ability and this isn't an easy call.
So why Ward? I have the fewest doubts about him. Korir has run one career marathon, on a pancake-flat course in Amsterdam in a race that bears zero resemblance to the Trials other than the distance. Yes, he ran 2:07:56 — but don't you think Ward, who ran 2:09:25 in Boston, could go 2:07-high/2:08-low on a course like Amsterdam? Korir may have better PRs across all distances, but I value Ward's experience more.
Ward has more marathon experience than Fauble too (10 career marathons vs. 3 for Fauble) but that's not my concern with Fauble; it's the second half of 2019. Sometimes when you push your body to the absolute limit, it takes a while to get back to yourself again. It happened to Ward after the 2016 Olympics, and it happened to Fauble after Boston this year with his hamstring and back. He was planning on running a fast half last fall and had to can it because he wasn't in a good spot to run fast. Then he had to pull out of his pre-Trials tuneup race in January with the flu. His coach Ben Rosario told you guys a few weeks ago that Fauble's training has gone great in this buildup and there's nothing to worry about. I spoke to Rosario today and he affirmed that, but I'm still a little worried. When there's so little to choose between the three, that hiccup last fall — during which time Ward was able to keep building his fitness — could be the difference.
Meanwhile, there's nothing I dislike about Ward. He ran two good marathons in 2019 and a very solid 61:36 half at Houston in the midst of his Trials buildup — which his coach Ed Eyestone told me is as good as any Ward has ever done. He's excelled in championship-style races. Why isn't he making this team?
Rojo: Well Ward may make the team, but if he doesn't it's because he wasn't born at altitude with Kenyan blood in him. The facts are Leonard Korir has been a way better runner than Jared Ward at every level.
In college, Ward's best showings at NCAAs were a pair of 4th-place finishes indoors; his best XC finish was 14th. Despite graduating at age 25, he only amassed pbs of 13:34/28:36. Contrast that to Korir, who won two NCAA track titles and was twice top 5 in cross. On the track, he ran a 13:26.01 meet record at NCAA indoors plus a 27:29 at Payton Jordan.
As a pro, Korir has improved to 13:15/27:20 on the track (Ward's PBs remain 13:34/28:36). But the scary thing is Korir seems better at the road/XC than he is on the track. He's got nine US titles on his résumé. Get back to me when Ward has won major road races like Bix, NYC Half, Peachtree, the Houston Half, or Falmouth.
Article continues below player.
Yes, Korir is inexperienced in the marathon, but he seems to thrive at the longer stuff. He broke 60 for the half in 2017, and in his only marathon, last fall in Amsterdam, he ran way faster (2:07:56) than Fauble or Ward ever have during an abbreviated buildup after running the 10,000 at Worlds. And he went out in 63:02 in that race.
My only concern about Korir is we have no idea how his training has been going (we reached out to Scott Simmons and haven't heard anything). I might pick Korir for the win at the Trials to be honest. If we know his training has gone perfectly, then Korir is the second lock on this team and there is only one spot open.
Weldon: Oh, here we go again. Born at "altitude with Kenyan blood in him." Like that is some sort of talisman that automatically puts you on the team. Shadrack Biwott, who is also in the Trials, was also born at "altitude with Kenyan blood in him" and I think you'd admit, Robert, that Ward is a better marathoner than Biwott right now.
Just say you think Korir is a better runner. Don't get me wrong, I think it can be very advantageous to grow up in Kenya at altitude.
For the record, Robert, Ward was born at moderate altitude, in Layton, Utah (altitude 4,300 feet). Now it's not Iten, Kenya, which is the center of Kenyan running in my book, and is where Leonard is from.
These three, on paper, are very evenly matched, so let's try to be logical about this. Ward and Korir both have made the Olympics before. Advantage them. Ward has run a tune-up race and done well, advantage him. That leaves Fauble as the guy missing a data point, so it's hard for me to confidently pick him. Ben Rosario seems very, very bullish on Scott and there is something to be said about the hungry lion, but without just going on a hunch I can't pick him. I feel like he's the American guy everyone expects to break through to the Olympic level, but until he does it, I'm not picking him.
I guess logically I should pick Ward as he has the tune-up race in the books, but Robert has pointed out that Korir cleans up on the US road racing circuit. He ran well at the USATF Half champs in Pittsburgh last year on a tough course (but was only 5th in 2018), so he should be fine with the hills. But a hilly, hilly marathon is very different than Amsterdam.
I'm tempted to say screw it, I love the underdog, I'm going with Fauble, as the guy seems super tough, which should help on a course like this, but like Jon I'm a little worried about his fall season. Unless I talk to him this week and get some reassurance or someone on the forums breaks down his detailed training, I'm going with Korir.
Join the discussion on our forums: Trials Question of the Day #2: Which Man Has the Best Shot to Make the Team (Other Than Galen Rupp)?
---
Yesterday's question: LRC Which "Longer" Shot Has the Best Shot? Kipyego, Bates, Thweatt, Bruce or Tuliamuk