HOKA NAZ Elite Pros Podcast Before the Trials
By LetsRun.com (sponsored by HOKA ONE ONE)
February 26, 2020
All month we've been profiling the 17 HOKA ONE ONE Athlete Taking on the Marathon Trials. From the dreamers, to the mountain women, to the mountain men, to the very unique Jim Walmsley (podcast here), we've been profiling them all.
Today we've got a special treat, a special podcast with all six HOKA NAZ Elite pros running the Trials. Ben Rosario's team has six runners at the Trials including 3 of the top 10 seeds on the women's side, and the #3 seed on the men's side.
Article continues below player
First up in the podcast are the three men: Scott Fauble (2:09 marathon #1 American in Boston, 3rd fastest in Trials), Scott Smith (2:11 in Chicago last year), and Sid Vaughn (the understudy) who are finishing off their preparations in Orlando. Then we talk to the women individually: Kellyn Taylor (6th at the last Olympic Marathon Trials and the #4 seed at Trials), Aliphine Tuliamuk (9 time national champ), and Stephanie Bruce (2 time national champ).
Definitely worth a listen. Full show notes below below.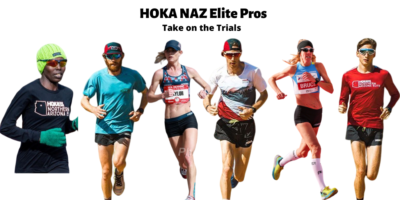 Show notes: (click on timestamp to listen there)
[2:04] Scott Fauble, Scott Smith, and Sid Vaughn
[28:32] Kellyn Taylor
[41:51] Aliphine Tuliamuk
[65:04] Stephanie Bruce – podcast with Stephanie from last summer here.
This podcast is sponsored by HOKA ONE ONE. Seventeen HOKA athletes are running the Marathon Trials and LetsRun.com is profiling them all. From the dreamers, to the contenders, to the mountain men and women, get inspired by their stories and get some training advice in our HOKA ONE ONE Takes on the Trials coverage here.
We'd love your feedback. Call 844-LETSRUN